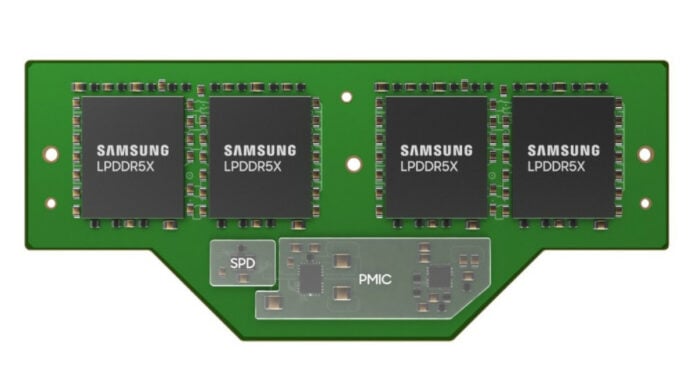 Memory modules have remained the same since the advent of traditional DIMM, SO-DIMMs and LPDDR memory, though Samsung is set to change the landscape by introducing the LPCAMM line-up, which is an all-new form factor that leverages LPDDR5X memory for blistering-fast speeds all the while consuming 60 per cent less board space than traditional SO-DIMM memory.
LPCAMM seeks to overcome the shortcomings of both LPDDR and SO-DIMMS. While LPDDR is compact, it remains permanently attached to the motherboard because it is designed to be as close to the host CPU as possible, to remain power efficient, whilst still providing high performance. Yet because it is soldered to the motherboard, it makes repairs and upgrades both difficult and costly.
On the other hand, SO-DIMMs are easily hot swappable and modular in design, though they take up much more space thus limiting use to more traditional laptop form factors in lieu of the ultra-slim laptop and thin-client PCs we've grown accustomed to. This allows LPCAMM to provide the perfect middle ground solution, plus it will be incredibly advantageous in large datacentres that require minimal down time in between maintenance and cost-efficient space savings. It's the best of both worlds.
Dr. Dimitrios Ziakas, Vice President of Memory & IO Technology at Intel, said, "The energy efficiency and repairability advantages of LPCAMM make this new form factor a game changer in today's PC market. We're excited to be a part of the new standard enabling the client PC ecosystem and pave the path for future adoption and innovation in broader market segments."
In terms of performance, LPCAMM features 4 x32 LPDDR5X memory modules directly over the compression connector allowing for a 128-bit memory bus on a singular memory module. This minimises the distance a signal travels between the memory controller and memory chipset, allowing for 7.5Gbps data transfer speeds.
What's more, it supports both dual-channel and stackable single-channel modules, so memory capacity won't be a limiting factor, with Samsung touting 32GB, 64GB, and 128GB flavours for the initial run. Finally, Samsung's particular render example measures 78 x 23 x 1mm and utilises SPD chip and power management ICs for voltage regulation and control.
Samsung says the memory modules will arrive inside the next-generation Galaxy Book laptops, which are expected to be launched in the first half of next year alongside Intel's multi-tile Meteor Lake chipsets. Interestingly, Dell also introduced full-sized CAMM early last year, so it seems like the industry is prepping the market for this new standard. I'm all for it.