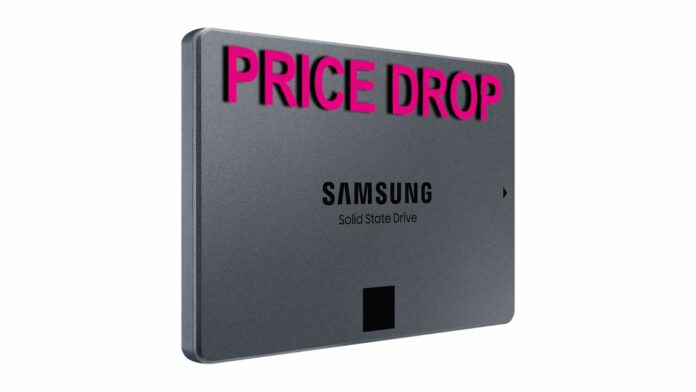 Files are always getting bigger. Whether it's the size of an expansive new role-playing game or a lofty 4K movie, gigabytes soon turn to terabytes. Fortunately, our favourite 2TB SATA SSD is now on sale. You can grab the Samsung 870 QVO at just £4 more than its lowest price ever.
NVMe SSDs have long since usurped the good old SATA. They're smaller, faster, and some are more resilient. There's still a place for chonky 2.5in storage drives, though. M.2s are more expensive, and there are far fewer slots on your motherboard. The 870 QVO is the best SSD for 2.5in SATA drives and holds a lot of value on a cost-per-TB basis.
The Samsung 870 QVO is currently down 31 per cent on Amazon, priced at £82.00 for 2TB in the UK. This is almost the lowest we've seen the drive. Our US neighbours can also net a 29 per cent discount, with a $119.99 price tag.
With up to 560MB/s sequential read speeds and 530MB/s write speeds, the 870 QVO is no slouch. It's the perfect upgrade for a hard drive, ditching the whirr of the mechanical disk for something much faster.
You can stack several of these up, so long as you can fit them in your PC case. It should also last you quite a while with an endurance of up to 2,880TBW under its belt, too.
Samsung 870 QVO SATA SSD 2TB
---
"An incredible storage upgrade for everyday users who want to ramp up their desktop PC without compromising performance."
We earn a commission if you make a purchase, at no additional cost to you.
It'll only stay at this price so long as stocks last. If you fancy getting your hands on one (or several) tomorrow, sign up for Amazon Prime, and you can get next-day delivery – not to mention everything else you get with an Amazon Prime subscription.
At Club386, we're always searching for the best deals on PC components and peripherals. Make sure you follow us on Twitter, Facebook, and subscribe to our free weekly newsletter to stay in the loop as we post more discounts.