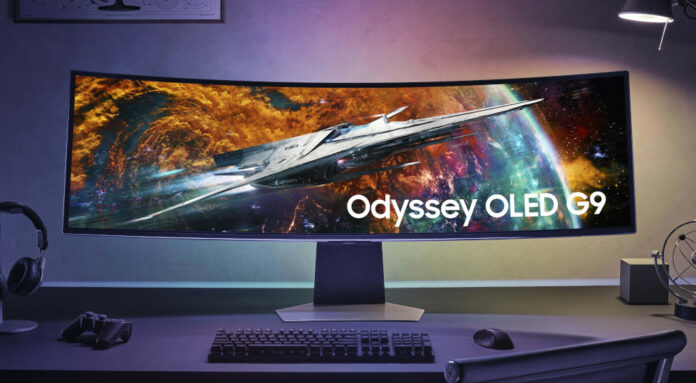 Samsung has released the Odyssey OLED G9 ultrawide gaming monitor boasting a 49in curved panel capable of delivering inky blacks and super-fast action in an immersive form factor.
Available worldwide for a whopping $2,200, Odyssey OLED G9 G95SC features a 49in (1800R) curved panel running a 32:9 dual-QHD 5120×1440 resolution at a fast 240Hz refresh rate. Thanks to OLED tech, this G9 offers impressive colour reproduction, is DisplayHDR True Black 400 certified, and touts a very low pixel response time of 0.03ms (GtG). All of this is driven by what Samsung calls 'Neo Quantum Processor Pro'.
Tapping into that processing power, this beast can play games directly from the cloud via integrated apps like Xbox Cloud and GeForce Now streaming services. Talking about streaming, owners can also enjoy video content from gaming platforms such as Twitch or movies and TV shows through Netflix, Apple TV, Disney+, and Prime Video, to name a few. Heck, there is even voice control via Alexa and Bixby to manage any smart accessories. Obviously, Samsung will bundle a remote (with dedicated streaming app buttons) to control the smart aspects of this display from the comfort of a couch.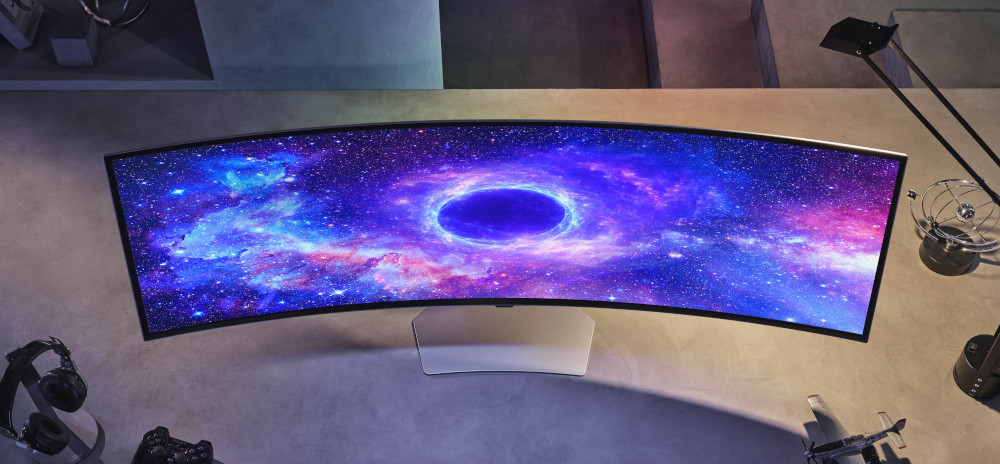 And the (coloured) icing on the cake is the usual RGB lighting found behind the brand's Odyssey lineup which can operate alone or be synced to other products for an improve immersion, unlike the dual 5W speakers that may get easily saturated at high volumes.
"With the introduction of the Odyssey OLED G9, equipped with unrivaled picture quality, we are excited to offer our customers these powerful gaming monitors and raise the bar for OLED gaming," said Hoon Chung, executive vice president of Samsung's visual display business.
Needless to say that this one is a gamer's dream, yet, when the screen doesn't disappoint when it's time to get some work done as it can operate in dual-screen mode, showing a different input on each side for better productivity. Whether or not we can combine a video input with the Display's smart capabilities – i.e. watching Netflix using the integrated app while pretending to work on a spreadsheet – remains unknown.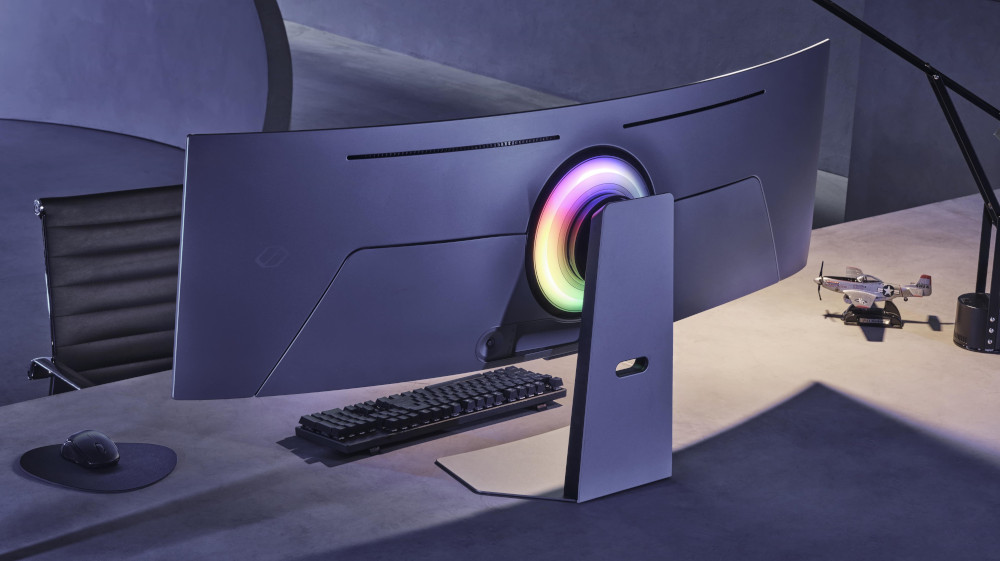 Build-wise, the OLED G9 appears gorgeously sleek, especially near the edges, and there is some flexibility through height adjustment and tilt using the included stand. This can be removed to reveal a regular VESA mount if preferred. On the back, we find one DisplayPort 1.4, one HDMI 2.1, one micro HDMI 2.1, plus a USB hub. Most bases covered, though for the price, a Type-C video port would have been nice, or perhaps Thunderbolt with a built-in KVM, too.
Finally, note that another variant (G93SC) missing the so-called 'Neo Quantum Processor Pro' will be available from Q3 2023.