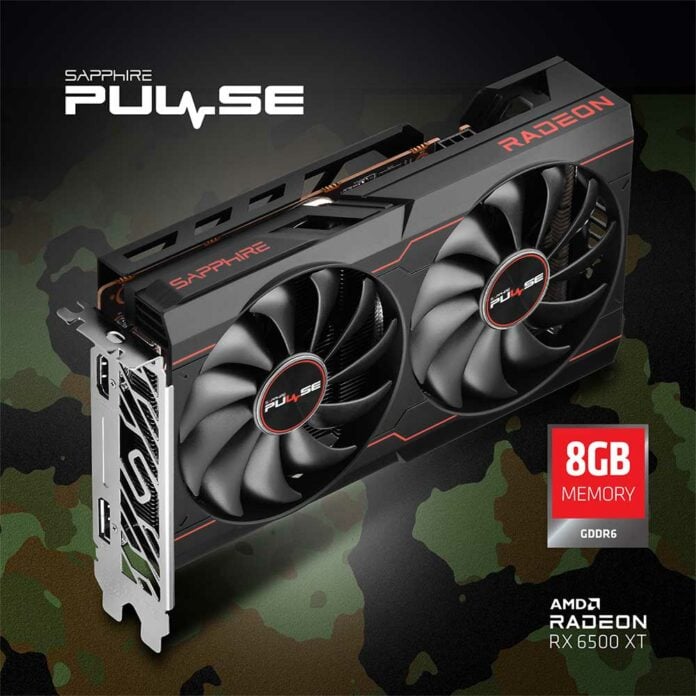 There's a new entry-level Radeon in town, going by the name of Pulse AMD Radeon RX 6500 XT 8GB. The Sapphire card crucially sets itself apart from launch models with a doubling in frame buffer.
AMD's budget offering didn't score particularly well with reviewers and consumers back in January. Club386's own verdict deemed the 6nm GPU "hamstrung by curious choices of 4GB VRAM and a x4 interface," and Sapphire has moved to alleviate at least part of that concern.
Though the latest Pulse variant doubles memory from 4GB to 8GB, other limitations remain, including a narrow 64-bit memory bus and a PCIe 4.0 x4 interface that becomes acutely problematic on older chipsets that would then be limited to PCIe 3.0 x4.
In an odd turn of events, the arrival of Nvidia's lacklustre GeForce GTX 1630 has painted rival Radeons in a more positive light. A 6500 XT with 8GB of memory naturally offers more appeal, and Sapphire evidently reckons there's enough room for pricing to make sense. 4GB cards currently retail at around the £180 mark, and the next card up the ladder, Radeon RX 6600, offers fundamentally superior performance at £320.
Measuring 194mm (L) x 107mm (W) x 40mm (H) and occupying two slots, Sapphire's 8GB card is granted a mild overclock from 2,815MHz to 2,855MHz, and the larger frame buffer operates at an effective 18Gbps. Display outputs are frustratingly limited to just the two – HDMI and DisplayPort – while board power has been bumped up from 107 to 130W.
Don't expect major performance improvements, but if the games you play run into frame buffer limitations at 1080p, an 8GB pool is a step in the right direction. Pricing will be key, and we shouldn't have long to wait as the Sapphire card is expected to drop with retailers in the very near future.