SilverStone has announced a new chassis whose design lends itself to a Home Theatre PC (HTPC) solution blending perfectly with your living room hi-fi system.
Joining its Grandia series, the GD11 is made of steel and measures 440mm (W) x 176mm (H) x 399mm (D), translating into a 30.9-litre internal volume. It rests flat on or inside your cabinet, depending on the available space, as it is not the smallest of chassis.
Thanks to its size however, there's support for SSI-CEB, Micro-ATX, Mini-ITX, and even ATX motherboards. While we are at it, SilverStone recommends installing a motherboard with PCIe x16 speed on the second slot for maximum graphics card clearance (up to 340mm). CPU coolers, on the other hand, receive only 146mm of clearance, but that's to be expected given the GD11's orientation and height.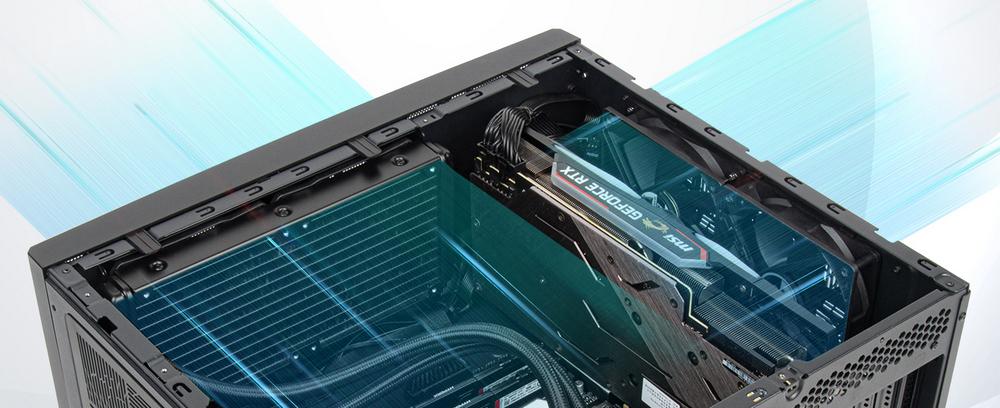 Cooling-wise, GD11 can house five 120mm fans; two in the front, two on the left side and one on the right, plus two 80mm on the rear. For liquid cooling, there's support for a 240mm radiator in the front. Just make sure to get one with a silent or at least an adjustable pump, to avoid disturbing noises when enjoying a daily dose of movies.
Both sides and front have dust filters, but not the rear, which is unfortunate for those wanting to use the front as exhaust to avoid accumulating heat inside a tight cabinet.

As with any respectable HTPC, you need at least a couple terabytes of storage. Here, SilverStone opts for triple 3.5in drive bays, which is ample as 30TB can be installed easily enough.
For I/O, meanwhile, there is one USB Type-C, two USB 3.0 Type-A, and a combo audio jack.
Finally, status LED brightness can be lowered, which is very practical if you want to be in complete darkness during a marathon movie session.
While Silverstone didn't mention any pricing, the GD11 is listed at $205 (AUD) in Australia.