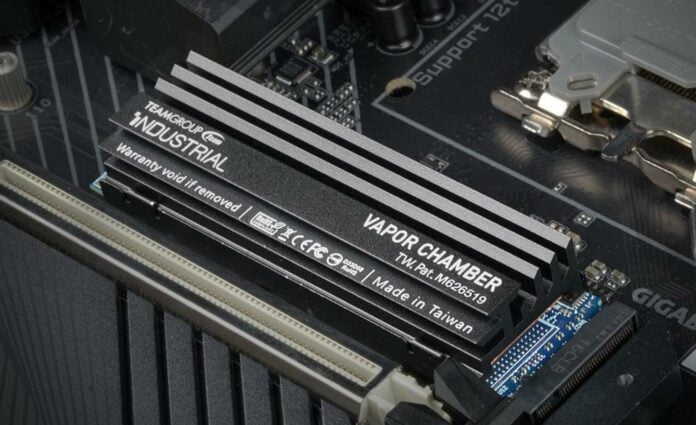 TeamGroup has announced a unique vapor-chamber-cooled M.2 SSD targeting extreme operating environments.
Lately, we have seen very interesting SSD cooling products such as Thermalright's HR-09 2280 Pro or Jiushark's M.2-Three, meant for hot-running PCIe 4.0 and upcoming PCIe 5.0 SSDs.
Today is TeamGroup's turn to provide a cooling solution in the form of the well-known vapour chamber. A vapour chamber is like a flat, large heatpipe containing a fluid that changes from liquid to gas when heat is applied. This gas moves inside the chamber until it finds somewhere cool enough for it to condense, before traveling via a wick material back to the heat source. Note that most vapour chambers don't care about orientation and will still operate even when inverted.
"The result is a liquid-cooled PCIe M.2 SSD with outstanding thermal performance that can sustain high-speed operation in harsh and dynamic industrial environments," said TeamGroup in a recent statement. The brand claims that in a high heat (85°C) environment, its cooling design reduces data read and write time by 75 per cent compared to an SSD without such a heatsink.
With the N74V-M80 SSD, TeamGroup is offering a 2280-format SSD running on a PCIe 3.0 x4 interface with NVMe 1.3 standard and using 3D TLC NAND chips. Maximum rated speeds are 3,445MB/s in read and 2,520MB/s in write, and it's available in 128GB, 256GB, or 512GB capacities backed by a three-year limited warranty. Surely 1TB and 2TB capacities should have been offered?
TeamGroup also indicated that the N74V-M80 can operate between -40°C and +85°C compared to the 0 to 70°C generally found on consumer SSDs. The MTBF is over 3 million hours.
First orientated towards professionals needing highly resistant hardware, it's just a matter of time until we start seeing similar cooling systems showing up on gaming products. Whether it's useful or not, that's another story.