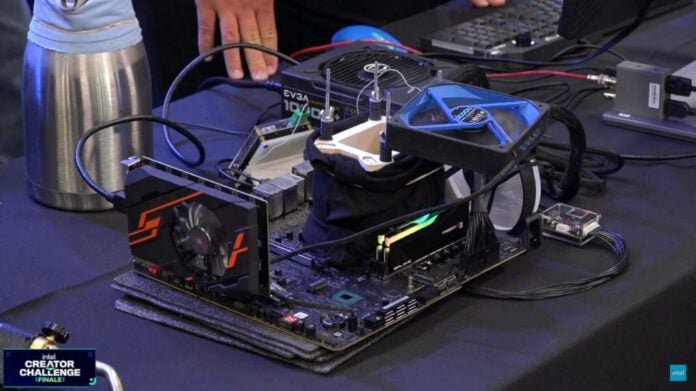 Intel's next-generation Core i9-13900KF 'Raptor Lake' processor has been overclocked to 8.2GHz on one core using liquid nitrogen.
The lofty feat, achieved during Intel's Creator Challenge event, was achieved by overclocker Allen 'Splave' Golibersuch, who kept a single core suitably chilled at -193°C in order to hit the extravagant speed. Other CPU cores were left ranging from 5.7GHz to 6.3GHz. As a reminder, the yet-to-be-released Core i9-13900KF has 24-cores (8P plus 16E with no iGPU) clocked at 3.0GHz base and 5.8GHz boost.
While these numbers are much higher than Alder Lake i9-12900K's 7.6GHz and Zen 4 Ryzen 9 7950X's 7.2GHz records, they are still far from record holder Andre Yang, who back in 2012 used an FX-8370 reach 8.79GHz using two cores.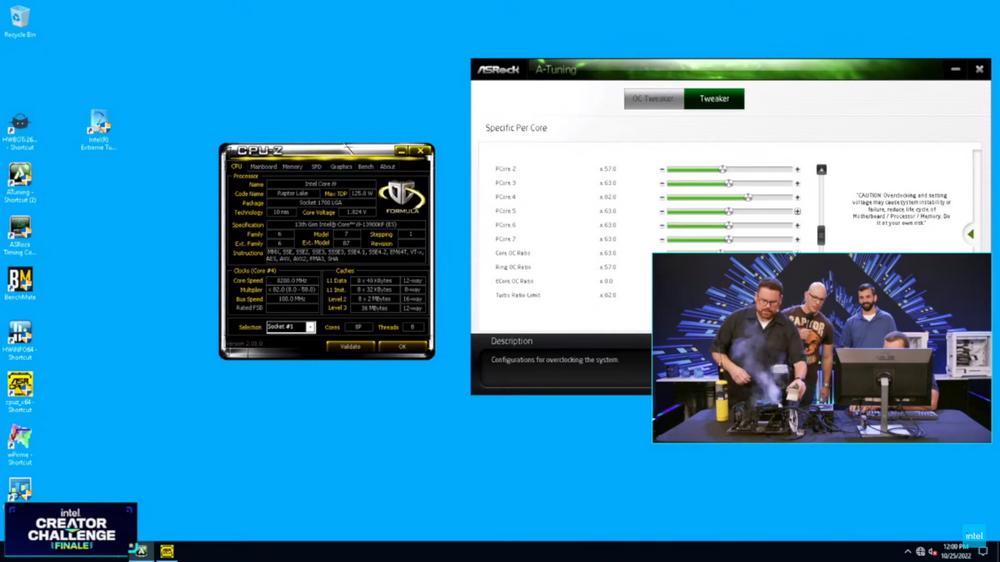 The rest of the system is comprised of a basic GPU – mainly for display output, and 32GB (2x16GB) of G.Skill's Trident Z5 DDR5-6400 CL32 memory sitting on top of an ASRock Z690 Aqua OC motherboard featuring a 20-phase SPS Dr.MOS power design. Much needed on a board that got stripped of all VRM coolers, since fewer phases or lower quality means more heat generation. If you are wondering why the GPU is plugged into the last PCIe slot, apparently the PCIe slots that run via the chipset are more stable in these kinds of extreme conditions.
During the live stream, we also got to know more about the new version of Intel's Extreme Tuning Utility (XTU) overclocking software, which offers the possibility to independently modify each core's frequency, be it P- or E-Core.
The Intel Core i9-13900KF is set to launch on October 20. Pre-order prices in the UK start at £680.