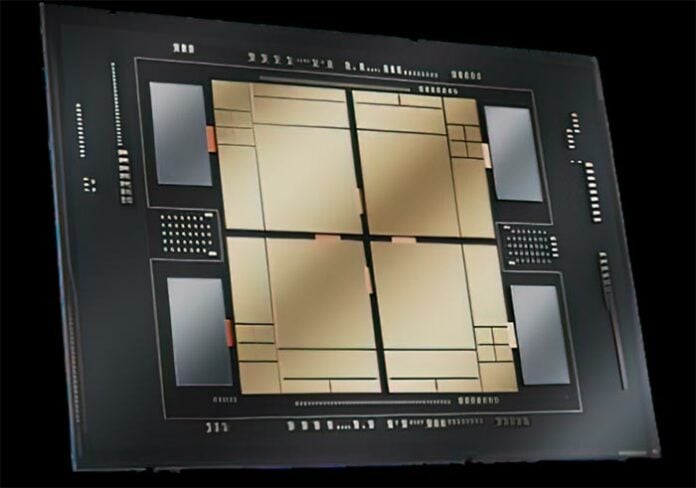 A year on from the last major update, Intel has provided more concrete details of upcoming Xeon processors during today's datacentre and AI (DCAI) investor meeting. Key among the updates is further insight into next-generation Sierra Forest E-Core chips and, for the first time, knowledge of what comes after.
Context is important. Make no mistake, Intel's fortunes are inextricably linked to how well the DCAI group performs in the next few years. The company believes there is a $110bn total addressable market opportunity for products and services within this segment, so nailing execution and engendering widespread confidence are paramount. Let's dig in.
E-Cores building out the upcoming stack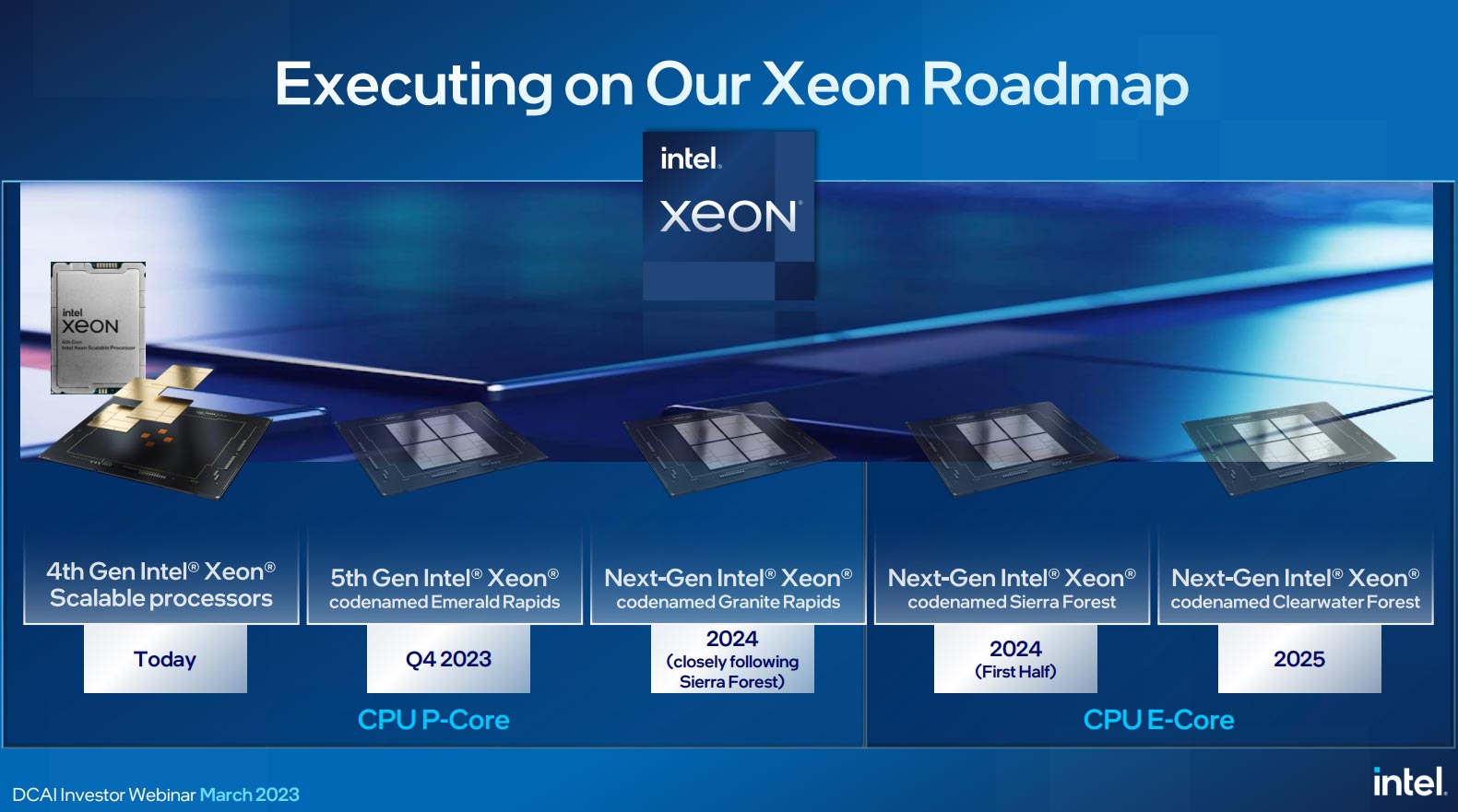 This slide ought to look broadly familiar as all but the final chip on the right has been previously divulged. We're currently in the era of high-performance P-Core server processors that are headlined by 4th Generation Xeon Scalable. Same-socket 5th Generation Xeon Scalable, codenamed Emerald Rapids, is on schedule for deliveries in Q4 this year, says Intel.
"We'll continue to move forward with our P-Core roadmap for Xeon-based products, and those are really going to be focussed on offering the best performance per core. That's a very significant metric for the cloud service providers (CSPs)," said Senior Fellow Ronak Singhal during a pre-brief call with Club386.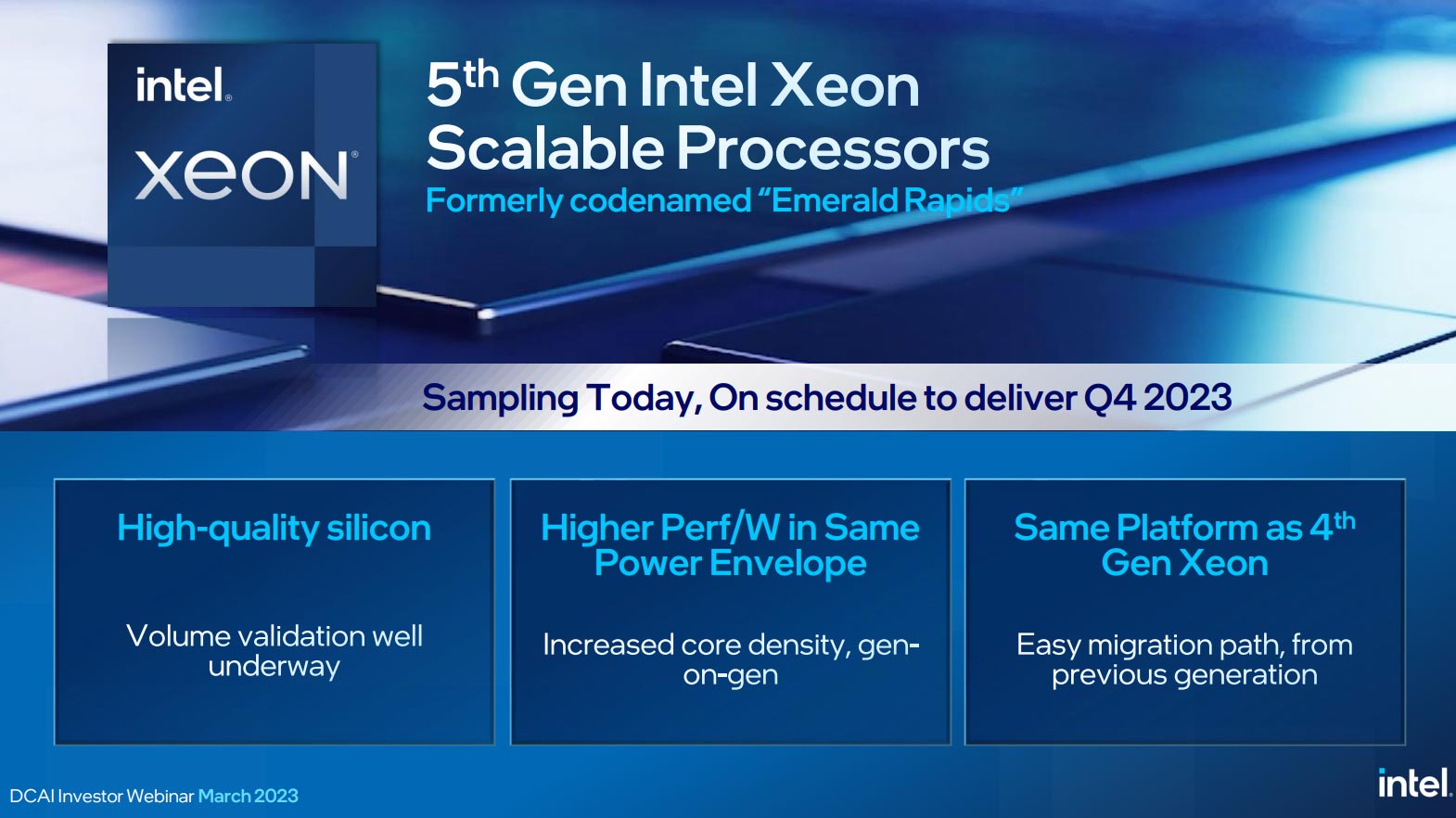 Silicon is already sampling to lead customers today, according to Intel. "Customers are able to get higher perf-per-watt and higher core counts, all in the same power envelope and platform as Sapphire Rapids. It's completely platform compatible, so for customers that have already made the investment… this is an easy upgrade," continued Singhal.
That makes sense, too, as both Sapphire and Emerald use in the in-house '7' process. It's impressive Intel is claiming higher core counts within the same power budget, though we don't yet know speeds and feeds for these next-gen P-Core champions. There's always a trade-off between investing now and waiting for something better, but with Emerald Rapids likely to be at least six months away from general availability, Sapphire has sufficient time to gain a foothold.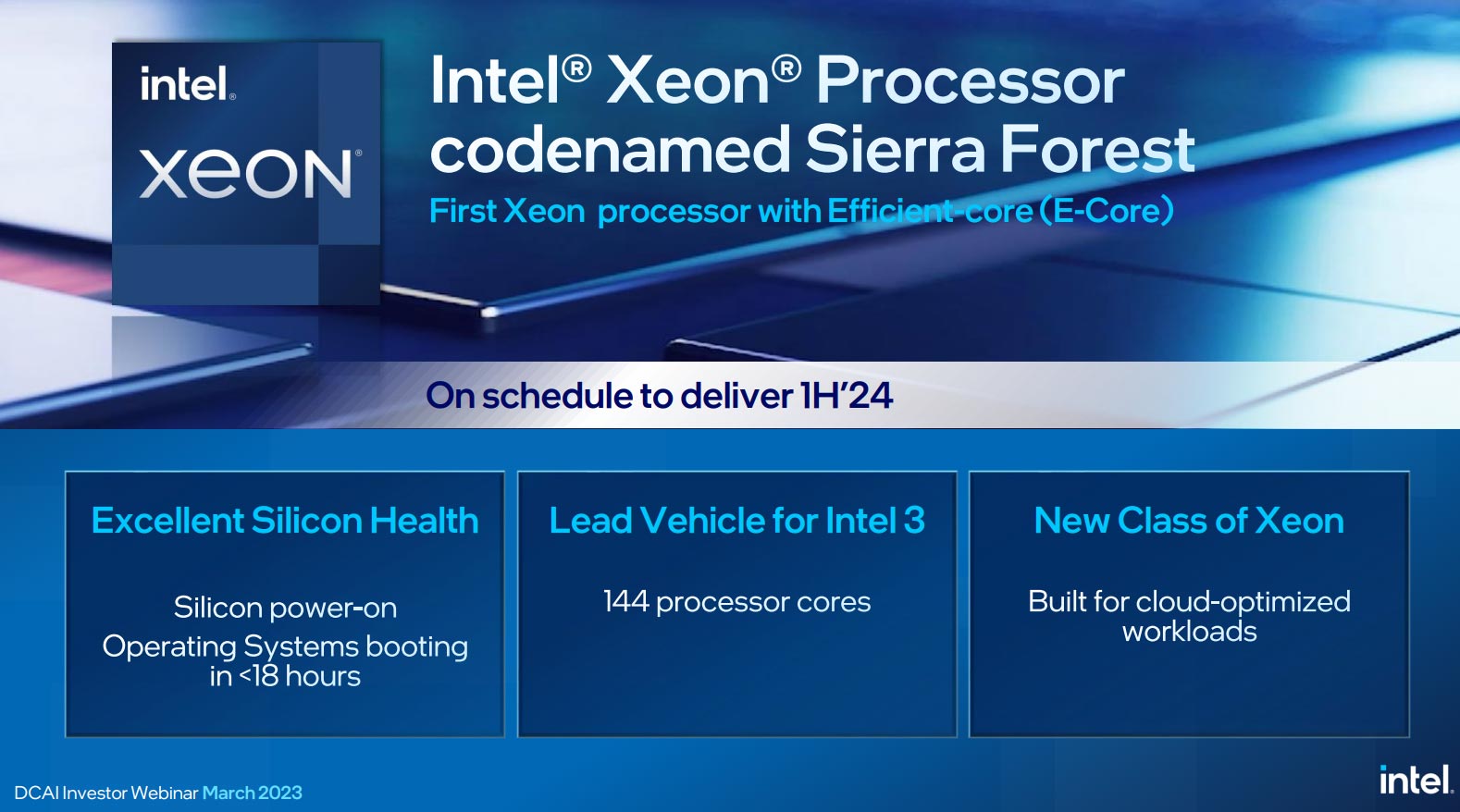 Density and power are your friends
Of arguably more interest to many potential users who don't require the intrinsic muscle of P-Core Xeons is the first iteration of E-Core processors known by the codename Sierra Forest. Underscoring the health of upcoming chips, Intel today demoed an early version of Sierra Forest running with 144 cores simultaneously, which far exceeds the maximum count of the highest-end P-Core Xeons available today.
"Targeted for the best efficiency, density and throughput performance, Sierra Forest is built for some of the emerging cloud-native workloads, but we'll also, over time, see a number of other workloads take advantage of the benefits of being on the E-Core. Cloud-optimised workloads is where it's going to start, but it's going to expand beyond that," further opined Singhal.
The question of whether a company's IT needs are better satisfied by P- or E-Core Xeons will rear its head next year, and it's an interesting one. On the one hand, there's power and performance; on the other, however, density and efficiency come into play. There will naturally be a performance/power overlap between P- and E-Core chips, so choosing the right mix, for specific workloads, may be difficult to determine for small-scale customers. This is where education will come into play.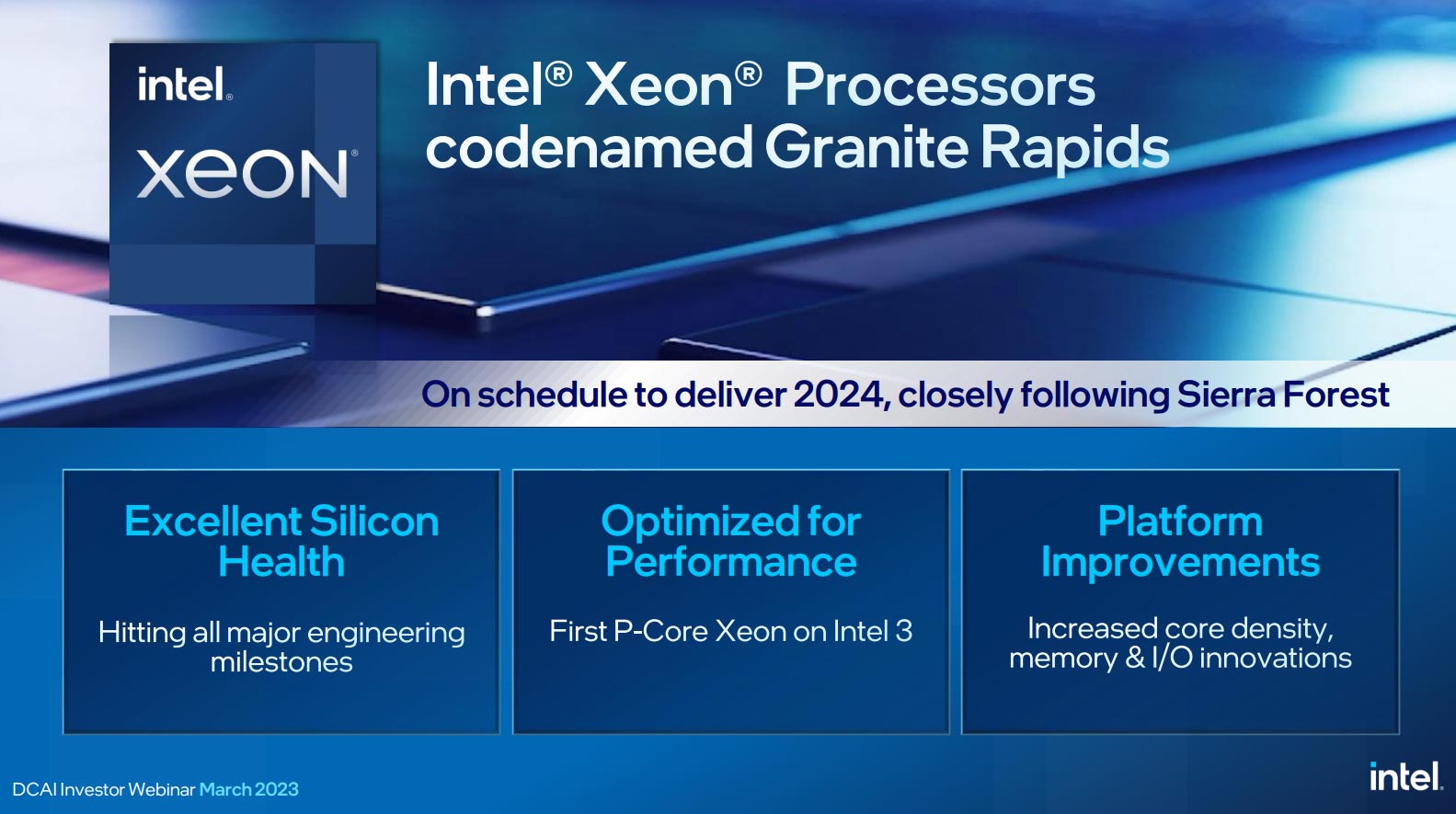 Intel 3 Sierra Forest E-Core and Intel 7 P-Core Emerald Rapids overlap from a timing perspective, but they are not a mix-and-match affair on the same platform. Using different sockets and manufacturing processes, customers purchasing only one server need to evaluate carefully.
Building out the stack, P-Core Granite Rapids, the high-performance successor to Emerald – no doubt productised as 6th Generation Xeon Scalable – is on track for delivery in 2024 and is based on the Intel 3 process first home to Sierra Forest. Similarities run deeper, actually, as the I/O portions of Granite Rapids are also the same.
Being a larger performance and connectivity shift, Granite moves to a different platform than today's Sapphire and tomorrow's Emerald – rumours are abound it's a massive LGA9000 – and it'll feature more cores, new I/O, and enhanced bandwidth. Referencing the latter, Intel also showcased a demo where an early-sample 2P server offered around 1.5TB/s of memory bandwidth.
That's coming purely from the DRAM subsystem and without the help of any HBM. Looking into the details more closely, it appears Intel used cutting-edge Multiplexer Combined Ranks (MCR) DDR5 DIMMs rated at a heady 8,800 MT/s. Interesting.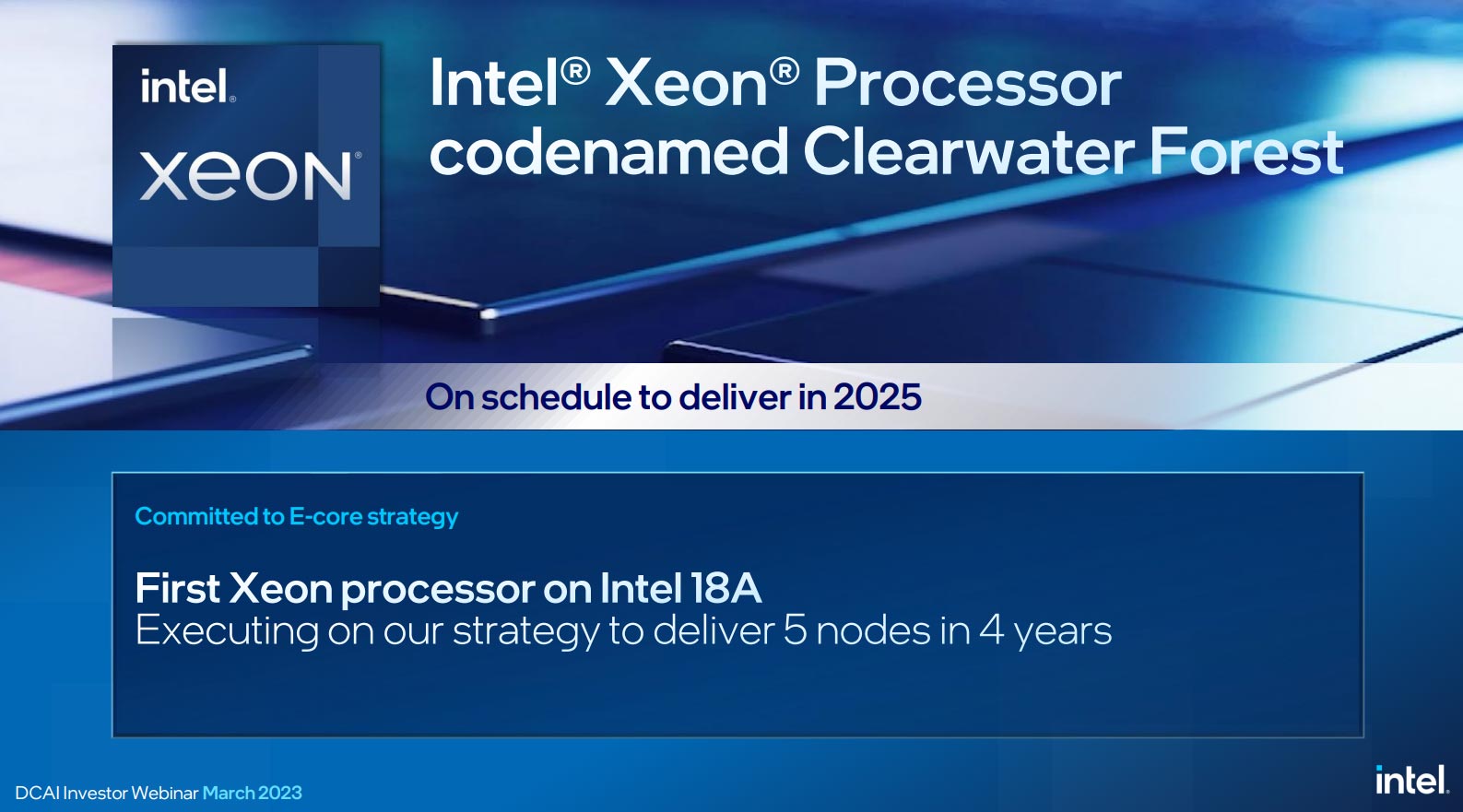 Clearing the way to 18A
Here's something really new. Still in the design process and coming in 2025, Intel will introduce a brand-new E-Core product known today by the codename Clearwater Forest. It's also notable as the first Xeon built on the leading-edge 18A process – broadly equivalent to TSMC's 2nm node – representing five nodes in four years.
18A-manufactured E-Core arrives first due to established timelines, just as Intel 3 Sierra comes before Granite. It is reasonable to assume an as-yet-unannounced Intel 3 P-Core will follow later in 2025. Back on point, Intel effectively wants customers to try out E-Core Xeons first on Sierra, and then jump in with both feet when choosing Clearwater. Building momentum.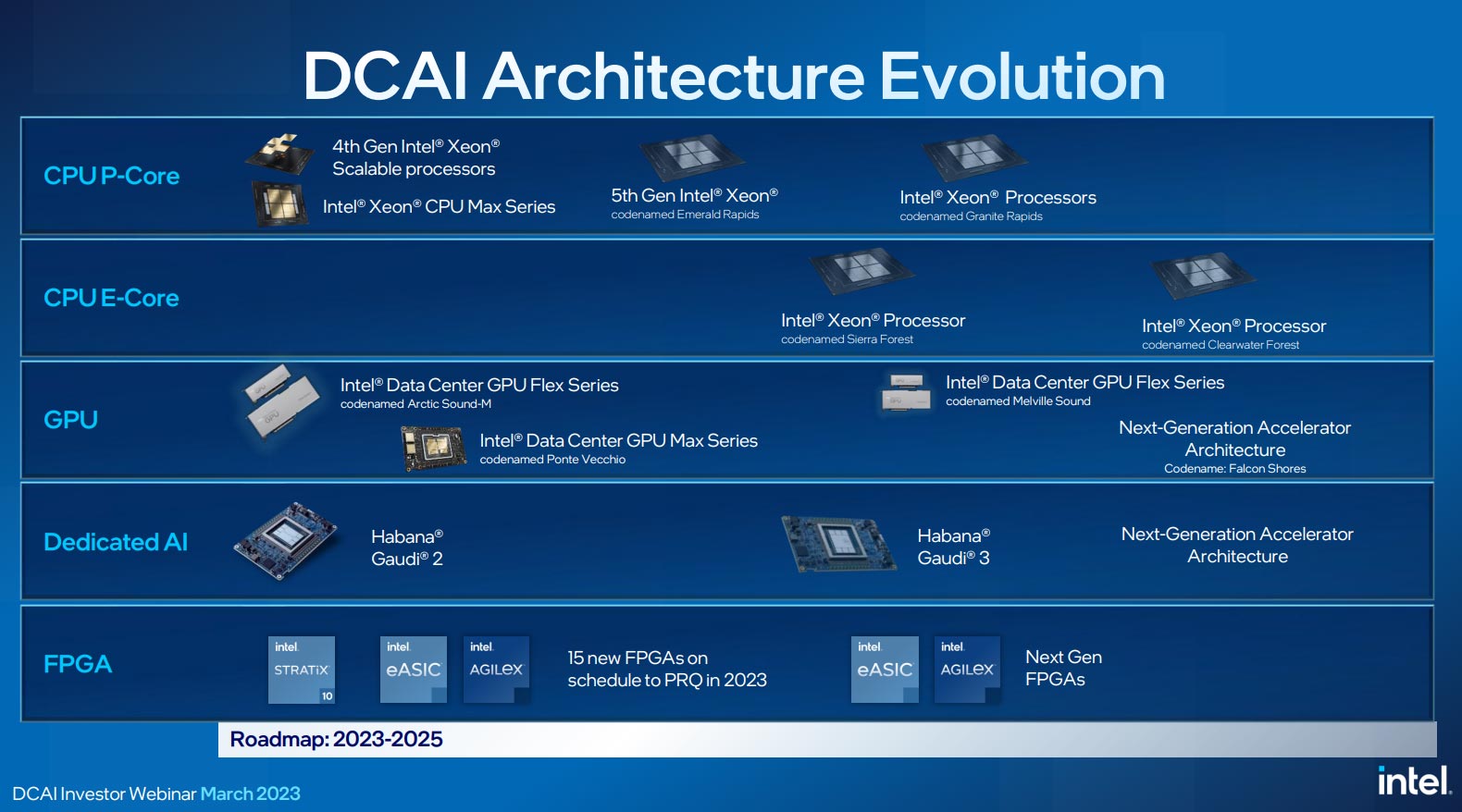 Bringing it all together, the updated server CPU roadmap now looks thus. As mentioned earlier, there's no reference HBM-equipped Max CPUs further down the line, but we fully expect them to exist at some point; on-chip memory remains an order of magnitude faster than even the most capable DRAM solutions.
Switching gears, the GPU roadmap has been tweaked to remove Rialto Bridge and jumps across to Melville Sound, likely some time in 2024, which coincides nicely with consumer Battlemage GPUs.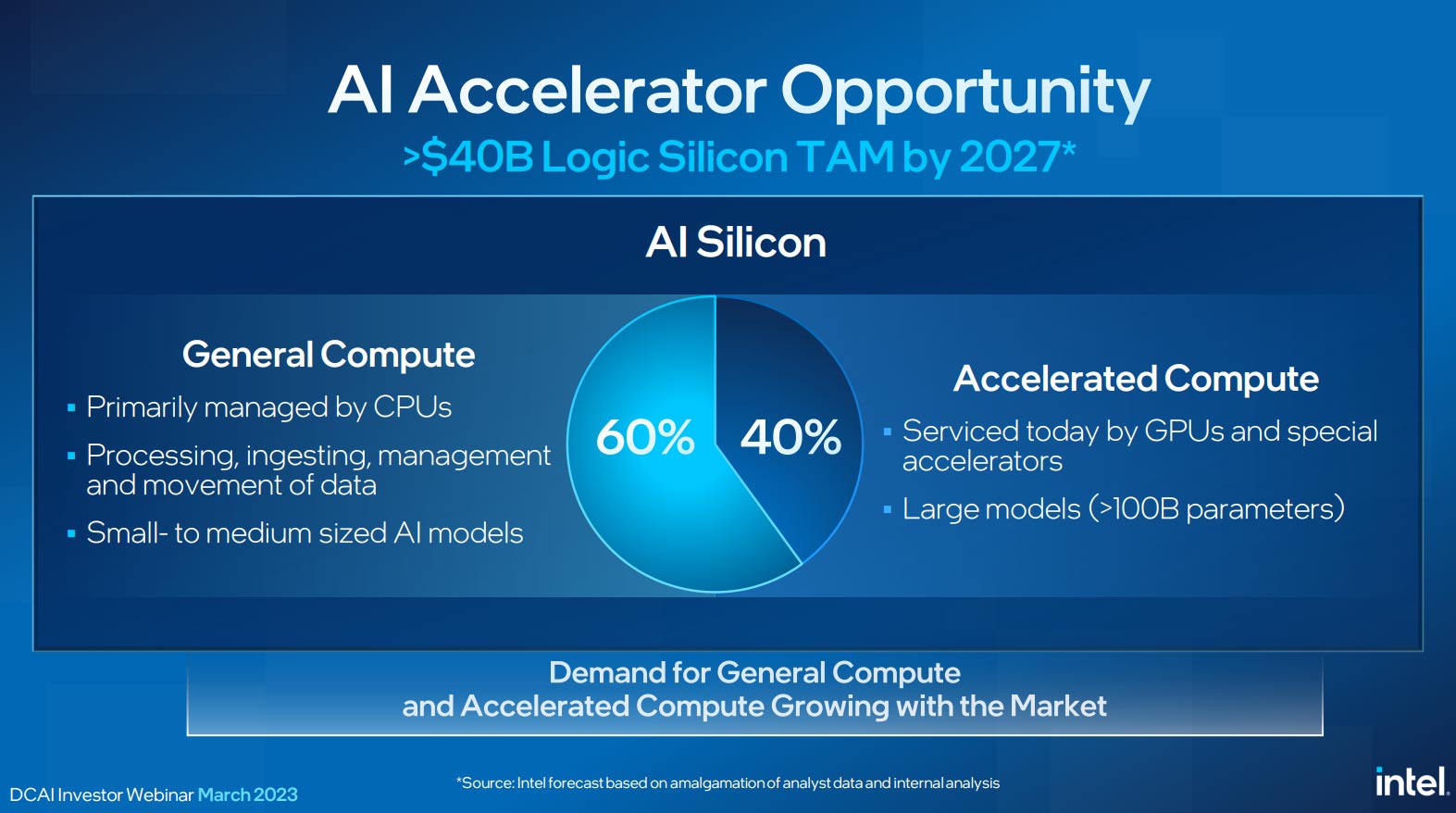 Betting big on AI
Intel is betting big on AI becoming more pervasive from both training and learning across multitude products, split between general-purpose (CPU) and accelerated compute (GPU, dedicated accelerators). Cited as a key advantage over AMD in the CPU space, Xeons' AI-optimised architecture is, the company believes, a clear value-add for small-to-medium-sized AI models, mostly from an inferencing point of view.
Intel says Sapphire Rapids chips are up to 4x faster than a same-core AMD Genoa across three common AI workloads. Visually depicted during a demonstration today, being even handed, it's easy to show huge gains on manufacturer-selected benchmarks that are optimised to the nth degree. It's reasonable to take claims with appropriate caution.
In summary, Intel now contends supply-chain issues are mostly in the rear-view mirror and is bullish on the near-term future. The CPU portfolio firms up with two swim lanes carrying P- and E-Cores, respectively. It's a strategy that appears set in stone, with introductions interleaving between the two.
The spectre of historically poor execution still casts a shadow, so for us the biggest question mark is whether Intel can actually translate an impressive-looking DCAI roadmap into the right products, at the right time, at the right price. Watch this space.