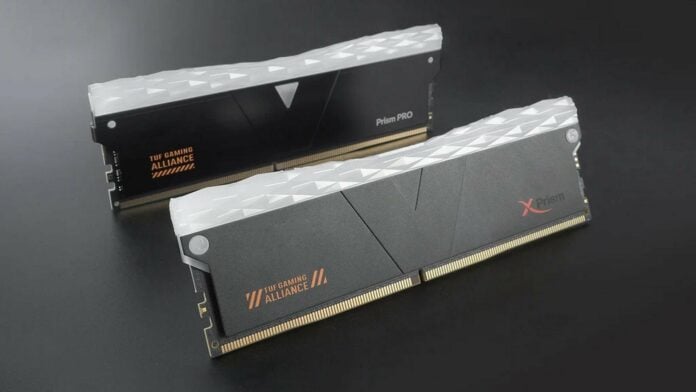 V-Color has announced Asus TUF Gaming Alliance branded memory for DDR4 and DDR5 compatible platforms, rocking up to 6,400MT/s speeds. These new XPrism series also carry RGB bars for additional flair.
The new DDR4 Prism Pro series is available in 16GB (2x8GB) or 32GB (2x16GB) kits with 3,200MT/s or 3,600MT/s speeds. The DDR5 XPrism however, only comes in 32GB (2x16GB) kits, but with speeds ranging from 5,600MT/s to 6,400MT/s. V-Color sets the timings to CL16 and C18 on the DDR4 lineup, and CL36 plus CL32 for the DDR5 modules. For a more detailed look at the specs, check the tables below.
| | | |
| --- | --- | --- |
| Model | Speed | Latency |
| DDR4 16GB (2x8GB) | 3,200MT/s | CL16-20-20-38 |
| DDR4 16GB (2x8GB) | 3,600MT/s | CL18-22-22-42 |
| DDR4 32GB (2x16GB) | 3,200MT/s | CL16-18-18-38 |
| DDR4 32GB (2x16GB) | 3,600MT/s | CL18-22-22-42 |
| DDR5 32GB (2x16GB) | 5,600MT/s | CL36-36-36-76 |
| DDR5 32GB (2x16GB) | 6,200MT/s | CL36-39-39-76 |
| DDR5 32GB (2x16GB) | 6,400MT/s | CL32-39-39-102 |
Looks-wise, outside of the TUF Gaming Alliance logo, these are similar to the brand's Manta XPrism and Prism Pro offerings. This includes the shape, black heatsink, and an RGB light bar on top. The latter is compatible with your usual motherboard RGB control software. This brings their dimensions to 138mm(L) x 47mm(H) x 8.6mm(W), so make sure to check for CPU cooler compatibility.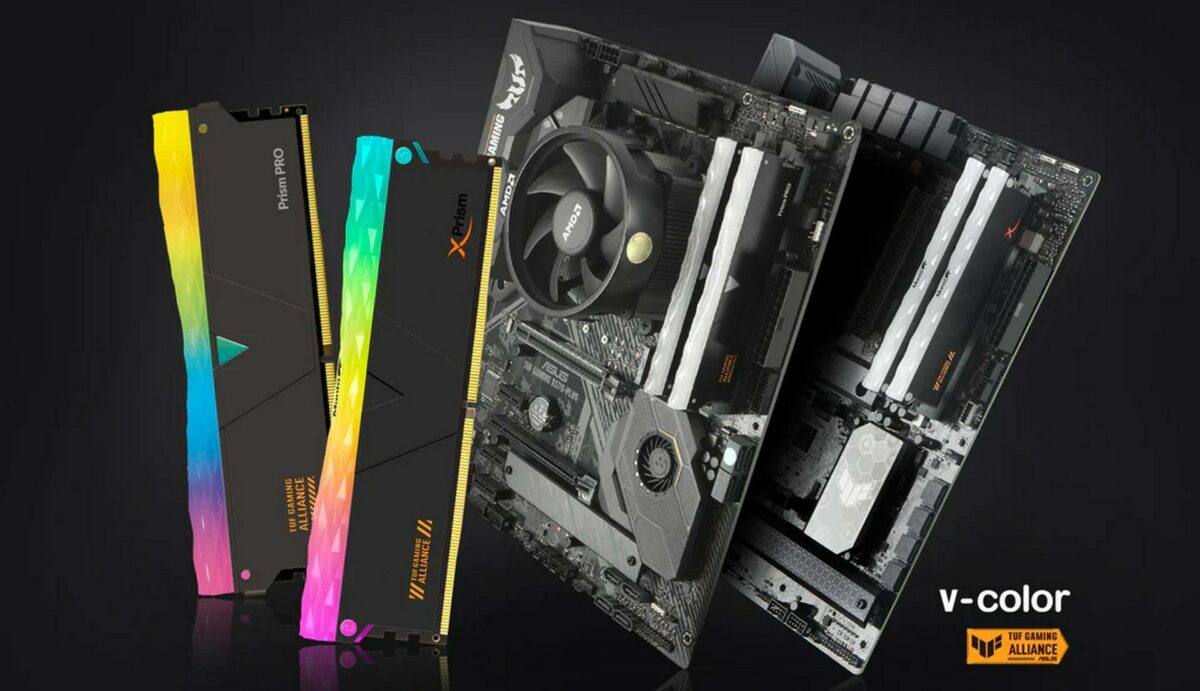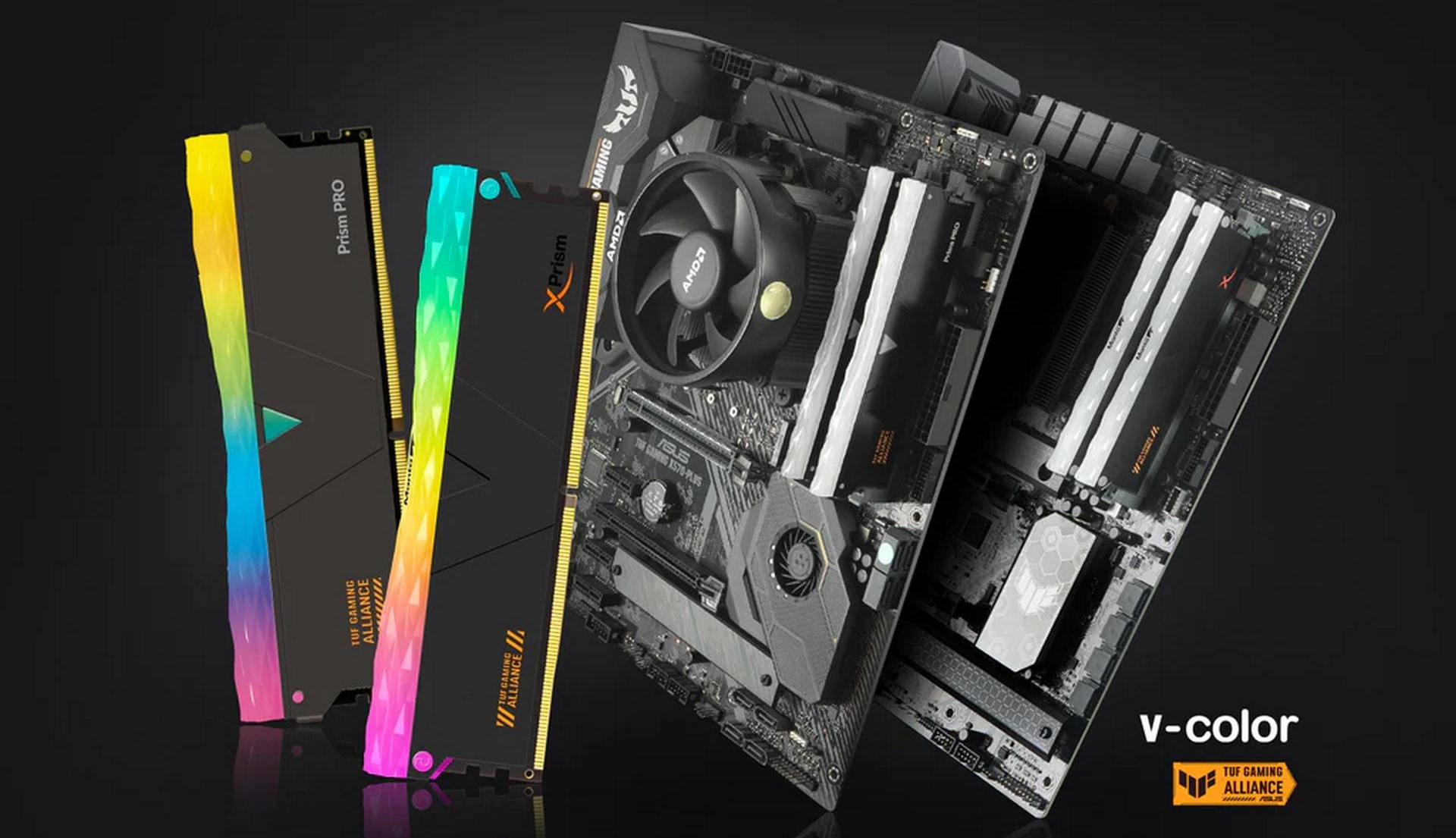 SK Hynix chips feature in all the modules. The DDR5 range is compatible with Intel XMP, whereas the DDR4 ones cover both Intel and AMD platforms. That said, AM5 motherboards using DDR5 RAM can still use XMP profiles to some extent. Better yet, you shouldn't see any notable performance difference – assuming your board can support the speed of the chosen RAM.
Lastly, the DDR5 modules operate at 1.2V, 1.3V, and 1.4V respectively, with the whole DDR4 range set to 1.35V.
V-Color said "This collaboration with the ASUS TUF Gaming Alliance ensures that components bearing this badge undergo testing that surpasses the industry's standard norms. This rigorous testing is implemented to ensure superior compatibility, stability, and durability, catering to the specific needs of gamers and PC enthusiasts globally."
The V-Color DDR5 XPrism and DDR4 Prism Pro TUF Gaming Alliance RGB memory will be available by the end of November at the following prices, backed by a lifetime warranty.
| | | | |
| --- | --- | --- | --- |
| Type | Capacity | Speed | Price |
| DDR4 | 16GB (2x8GB) | 3,200MT/s | $79.99 |
| DDR4 | 16GB (2x8GB) | 3,600MT/s | $89.99 |
| DDR4 | 32GB (2x16GB) | 3,200MT/s | $129.99 |
| DDR4 | 32GB (2x16GB) | 3,600MT/s | $139.99 |
| DDR5 | 32GB (2x16GB) | 5,600MT/s | $119.99 |
| DDR5 | 32GB (2x16GB) | 6,200MT/s | $139.99 |
| DDR5 | 32GB (2x16GB) | 6,400MT/s | $149.99 |