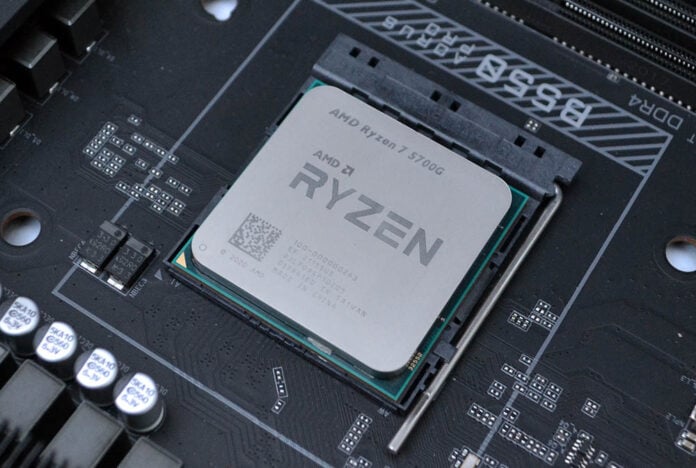 The following article is sponsored by AMD. All testing was undertaken by Club386 and any opinions expressed are our own.
The only sensible way to get your hands on a gaming PC is to invest in a pre-built model from a reputable system builder. This advice seems to be at odds with historical knowledge dictating building one yourself by purchasing the best graphics card separately, but such is the shortage of key products, going full turnkey may be the better option for now.
Yet even this advice is tempered by the fact that system integrators only have a small number of discrete cards at their disposal. For those coming in new to the world of desktop PC technology, another viable method is to start off with a PC housing a competent CPU that also carries best-in-class integrated graphics. The premise being one can begin gaming on such a machine and then upgrade to a discrete card as and when stock and/or finance allows.
In late 2021, it is educational to evaluate the performance of a PC equipped with integrated graphics and then to determine the additional positive framerate impact of installing varying pedigrees of discrete graphics card.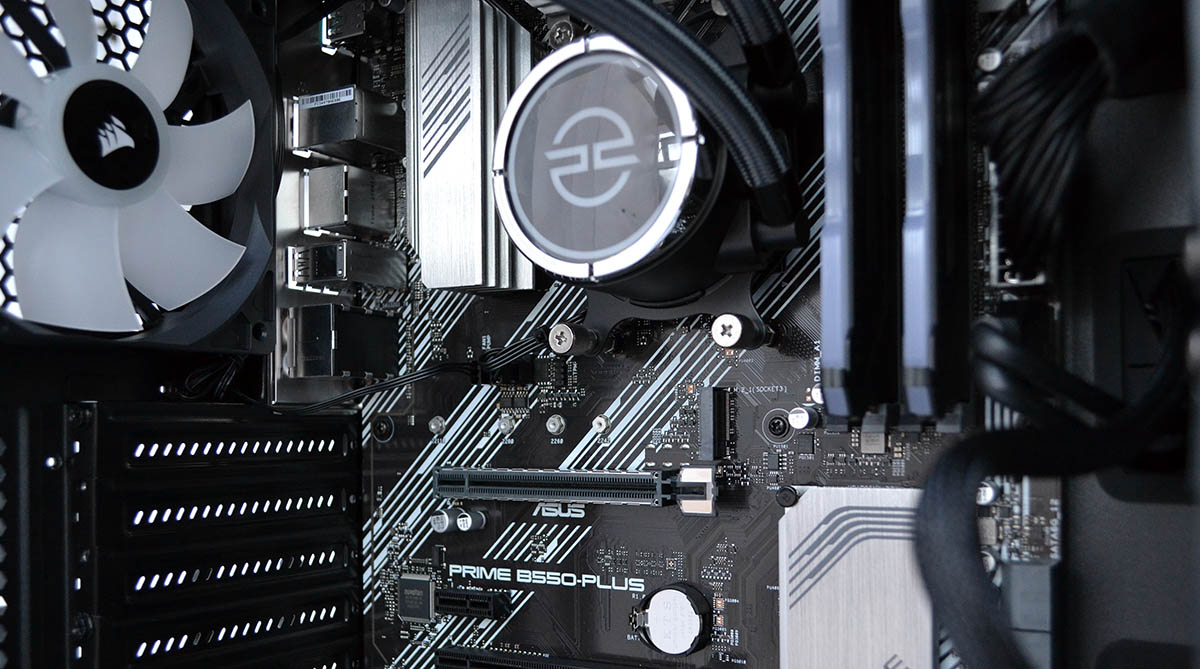 We've taken the opportunity to do exactly that by evaluating a pre-built base unit comprising an AMD Ryzen 7 5700G processor, Asus Prime B550-PLUS motherboard, 16GB of Crucial Vengeance Pro DDR4-3600 memory, a 512GB NVMe SSD, and 750W Corsair PSU.
Two aspects are different in this PC than most. The first is provision for the Ryzen 7 5700G. The G suffix denotes the presence of integrated graphics, which in this case offer 512 Radeon RX Vega cores operating at up to 2,000MHz. AMD sensibly leans on its Radeon GPU division for the task of amalgamating graphics to Ryzen CPU technology.
A chip that can do it all?
Though one of few Ryzen chips to feature an IGP, the CPU portion remains potent. Ryzen 7 5700G utilises the latest Zen 3 CPU architecture and places eight cores and 16 processing threads into this chip more accurately defined as an Accelerated Processing Unit (APU).
In other words, Ryzen 7 5700G is more than powerful enough for processing-heavy workloads such as rendering, and one can consider the baked-in graphics a bonus.
By having the best IGP-equipped chip from the Ryzen stable right now, the base unit is shipped without a discrete graphics card, which brings us on to the second aspect of why this PC is unusual. The underlying Asus motherboard offers both DisplayPort and HDMI outputs, meaning the system works just fine without a dedicated GPU – perfect for today's times of constraint.
Going back to the start of this discussion, we posed ourselves the question of how well AMD's best-ever APU is able to handle everyday tasks and popular games.
Answering the CPU-side of the question is simple enough. We use industry-standard benchmarks to tease out performance potential.
| | Performance |
| --- | --- |
| Cinebench R23 single-core score | 1,480 |
| Cinebench R23 multi-core score | 13,338 |
| PCMark 10 score | 6,445 |
| Geekbench 5 multi-core score | 10,170 |
Having benchmarked 100s of chips over the preceding 20 years, the figures put out by the AMD Ryzen 7 5700G are premium in every regard. We typically like to see Cinebench R23 scores in excess of 1,000 and 10,000 for single- and multi-core performance, respectively, and Ryzen 7 5700G surpasses these arbitrary barriers with ease. Put simply, it's a productivity powerhouse.
The real question is how well the RX Vega IGP is able to handle popular and triple-A games. Let's answer.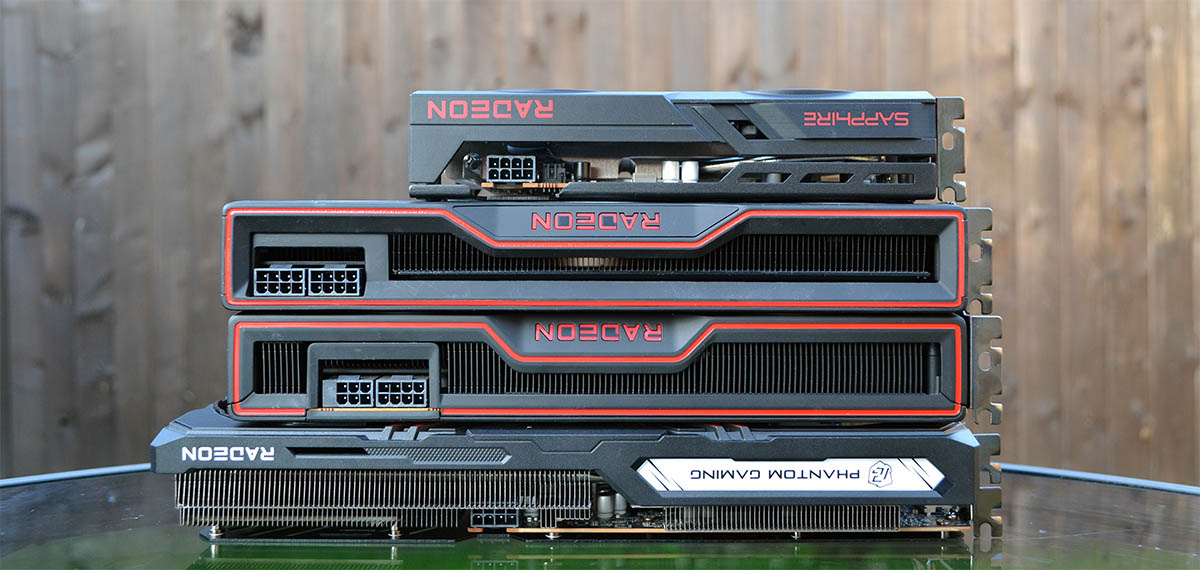 IGP vs. Discrete Performance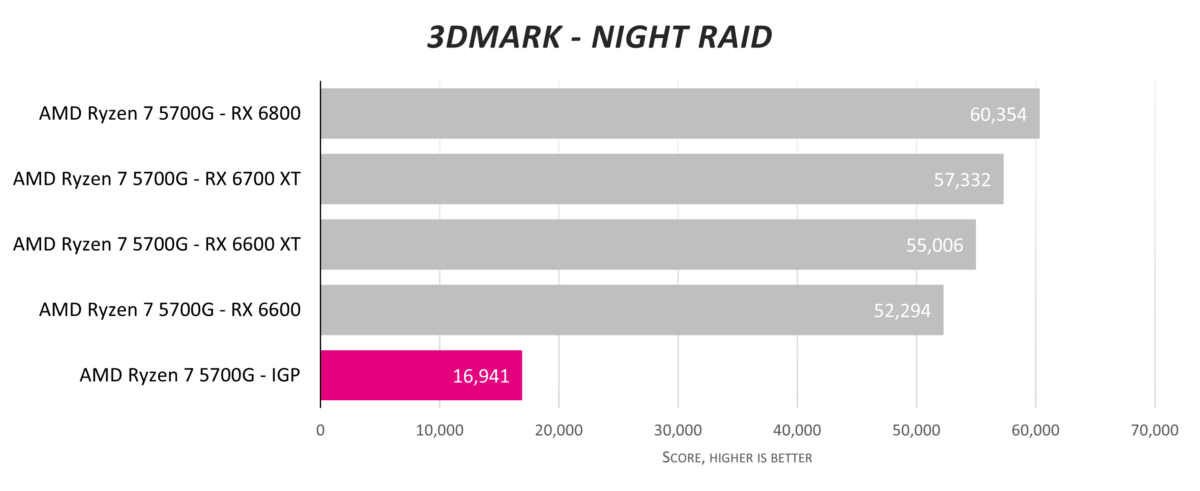 In addition to testing the IGP alone, we have also installed Radeon RX 6600, Radeon RX 6600 XT, Radeon RX 6700 XT, and Radeon RX 6800 discrete GPUs.
A simple graphics benchmark like 3DMark Night Raid unearths interesting findings. It is generally accepted that a score approaching 20,000 marks is indicative of a PC able to smoothly play some of the world's most popular games. These tend to be less graphics intensive than the latest titles, but it is their relative simplicity that works well in drawing millions of gamers in.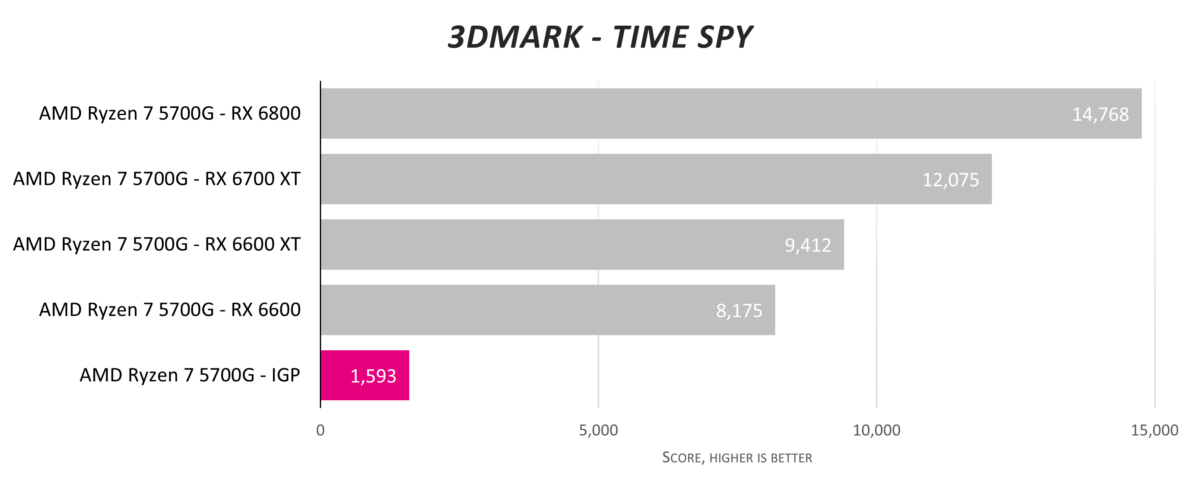 On to the more challenging 3DMark Time Spy test. The performance differences shown here correlate better with the latest triple-A games.
Adding in a decent discrete GPU always makes more sense, and performance scales nicely up the Radeon RX 6×00 ladder.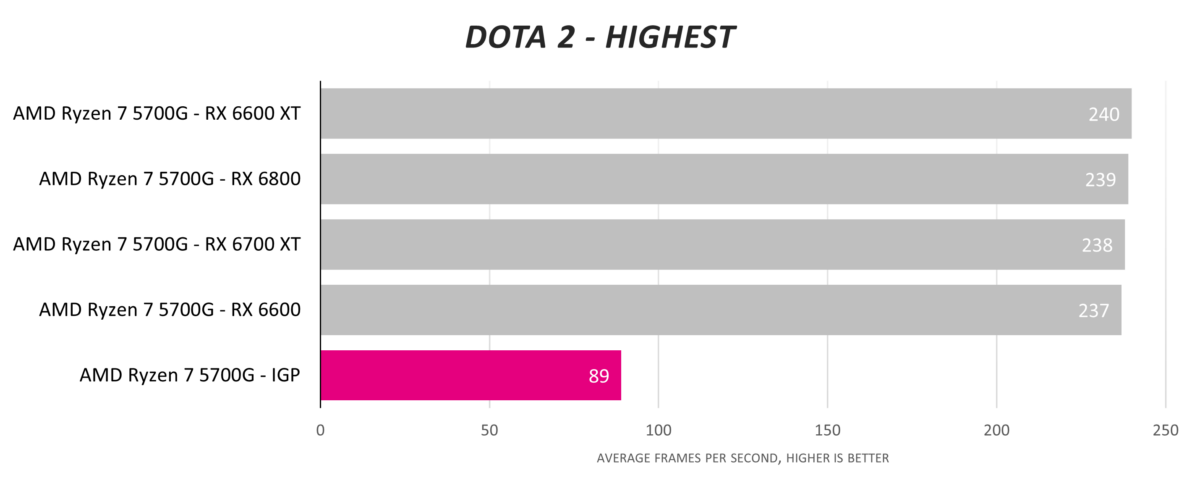 Remember we spoke about having the ability to play some of the world's most popular PC games? Over 500,000 gamers are playing DOTA 2 right now on Steam's servers. This wildly popular game isn't the most graphically intensive, which is a point proved by the Ryzen 7 5700G baked-in graphics. Set to the highest in-game quality at a 1080p resolution, the numbers produced are very decent.
Play heaps of DOTA 2 at 1080p? There is arguably no need for a discrete card unless you are of the competitive gamer ilk, and even then, discrete cards butt up against the 240fps inherent framerate cap.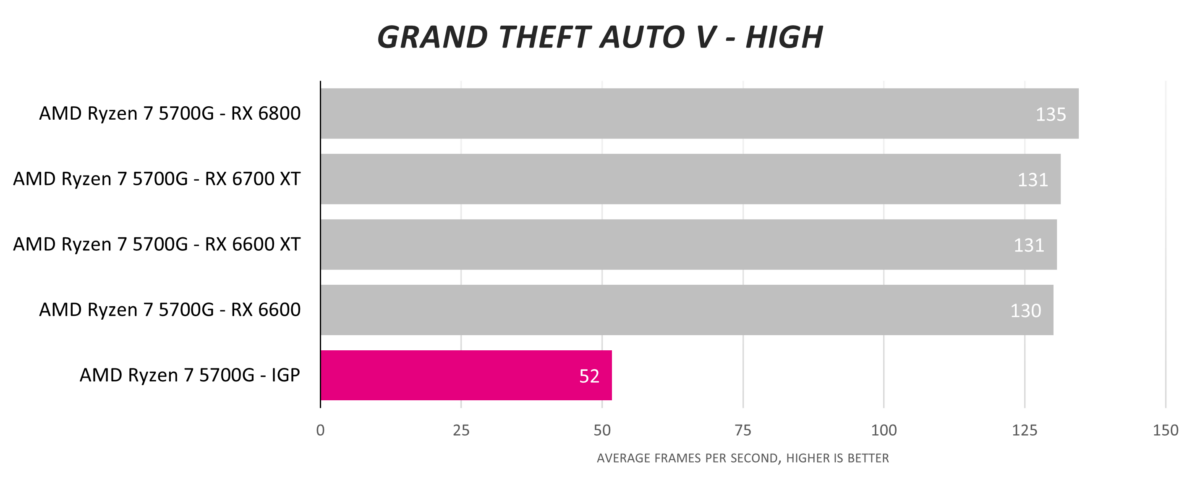 Another immensely popular game, with good reason, is Grand Theft Auto V. Over 100,000 players are busy causing havoc in Los Santos. Set to a built-in high preset, the IGP is again able to return satisfactory framerates at a 1080p resolution.
Cranking up the graphics horsepower more than doubles the fps, of course, and anyone playing with a discrete card is likely to inch up the quality settings or resolution some more.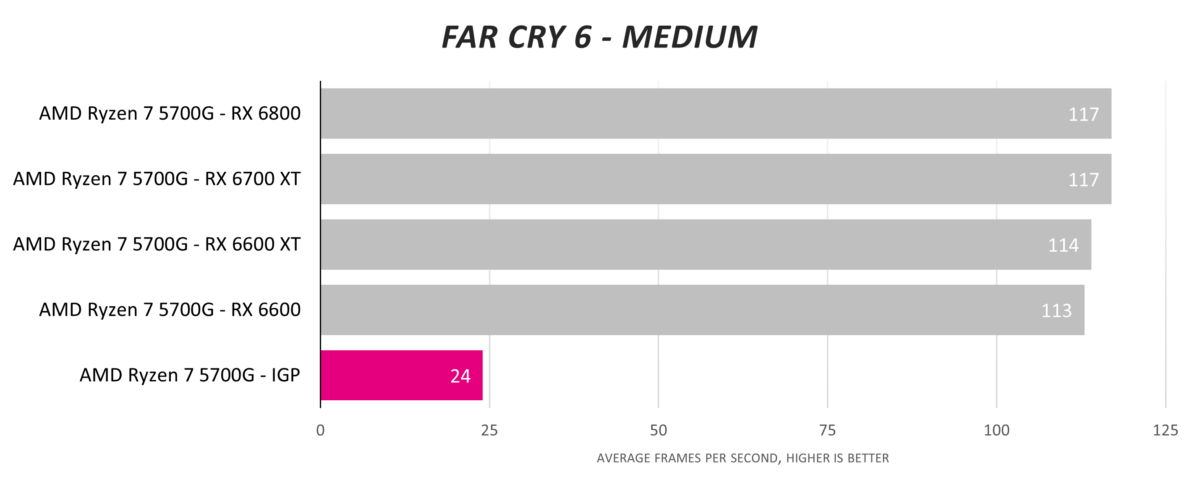 Certain newer games start to exact a larger toll on an IGP. The 'Medium' preset in Far Cry 6 returns an average of just 24fps… and it certainly pays to use a dedicated video card. Increasing the load by installing 'Ultra' settings reduces the IGP's performance to a non-playable 11fps, whilst the Radeon RX 6700 XT is still able to churn out a commanding 90fps average. There is always a good reason to upgrade.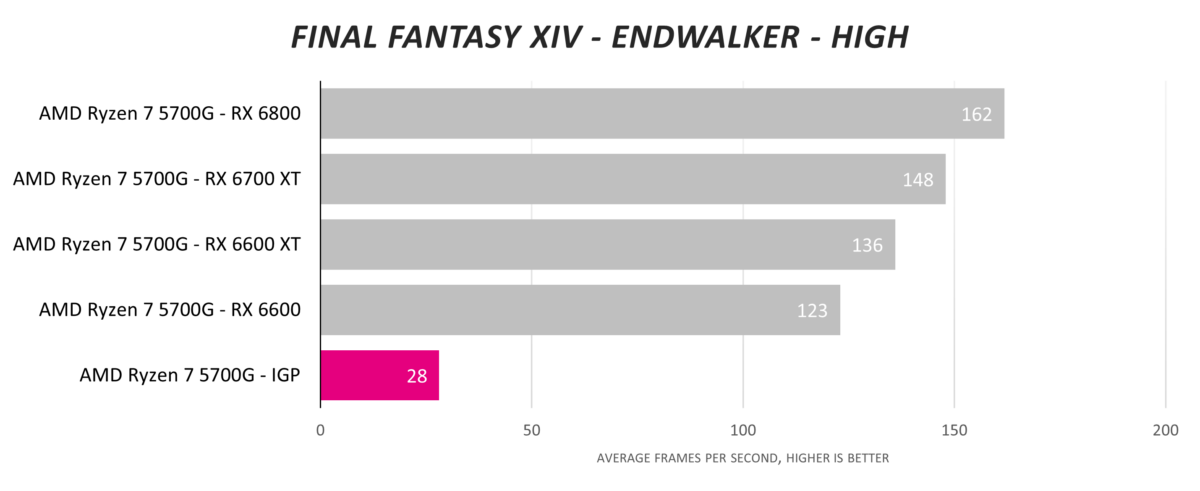 Last not least, the Final Fantasy Endwalker benchmark also shows a need to use a discrete card if gaming at our chosen settings of 'Desktop High.'
Final thoughts
A continued shortage of discrete graphics cards hampers the gaming ambitions of many this winter. The medium-term picture looks marginally rosier but it's difficult to imagine a time when all cards are selling for their recommended pricing.
System integrators have worked with manufacturers to allocate supply for pre-built machines, and we see a modest amount of stock in the channel. Thinking about the problem laterally, one acceptable solution is to purchase a high-performance CPU imbued with best-in-class integrated graphics, and then upgrade to discrete graphics cards as and when they become available.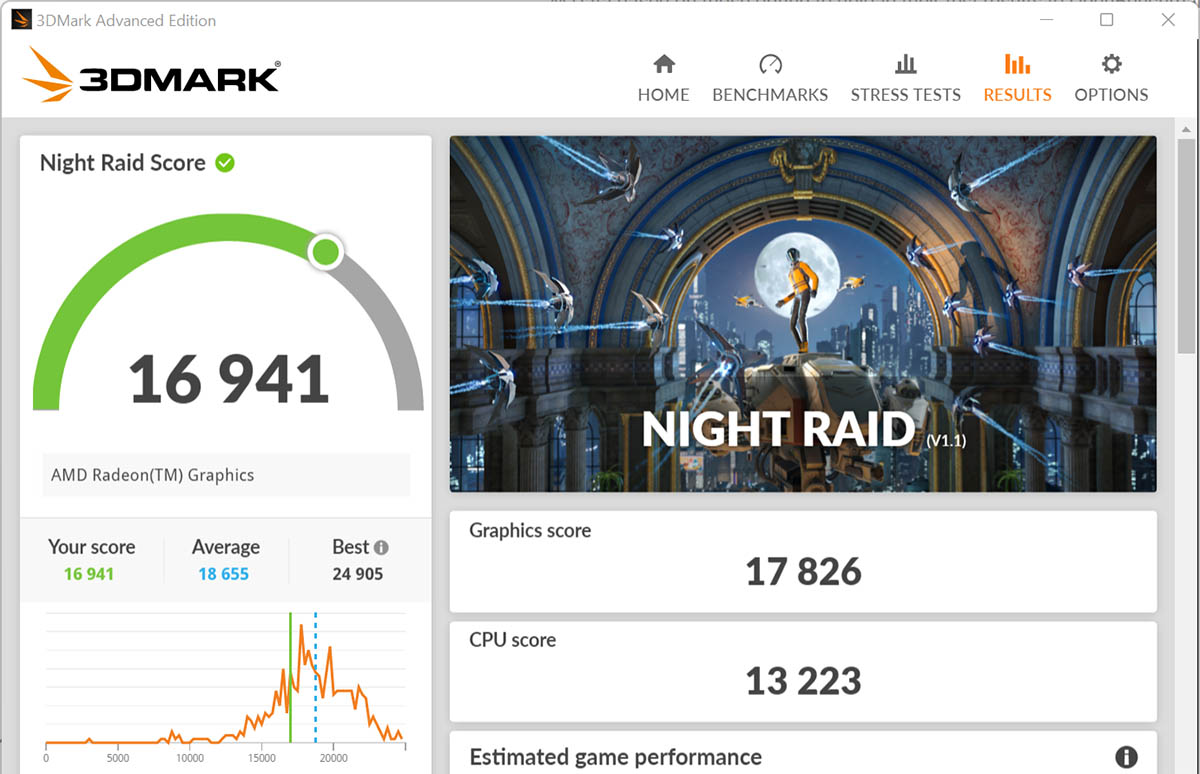 Wrapped inside an energy-efficient 65W package, AMD's Ryzen 7 5700G is one such chip. Armed with serious CPU capability courtesy of its eight cores and 16 threads based on the latest Zen 3 architecture, general system performance is excellent. The baked-in graphics, meanwhile, harness proven Radeon heritage and, according to our numbers, provide more than acceptable framerates in some of the most popular PC games being played today.
For example, Grand Theft Auto V and DOTA 2 run very smoothly at a FHD resolution even with quality levels set to high. Being even handed, a discrete card is needed for what are termed triple-A games, where enhanced visuals exact too great a toll on the capabilities of the integrated graphics. In such a case, even a mid-range discrete card is able to increase the framerate by a factor of five, taking the game from being juddery to buttery smooth.
The emergence of increasingly powerful IGPs in 2022, coupled with ongoing shortages of discrete cards, could make onboard graphics an even more attractive proposition. Interesting times ahead, and good reason perhaps to ensure your next high-end motherboard includes display outputs by default.