Nvidia GeForce Now will soon cost more in Europe and Canada, pointing towards "increased operational costs in those areas." Fortunately, fans of the service or those wanting to try it can get a stay of execution for six months. Simply subscribe before November 1, and your membership will lock into the current price until May 2024. Just make sure your subscription doesn't lapse during this time.
Once you've used up your grandfathered six months, you'll see the same ten to 20 per cent increase as others. This is roughly one to two Euros per month, but it all adds up. Currently, Team Green's FAQ says this affects those paying in CAD, GBP, EUR, SEK, NOK, DKK, CZK, and PLN specifically. We could still see price increases elsewhere in the world, however.
Shifts in prices affect every way to pay, meaning gift cards will also cost more once November hits. Nvidia will honour any bought before the date, though, so it might be worth stocking up. It also affects all subscription tiers, whether you're using Priority for 1080/60 gaming or Ultimate for 4K/120. You'll still get a discount paying for six months upfront, but even that will increase slightly.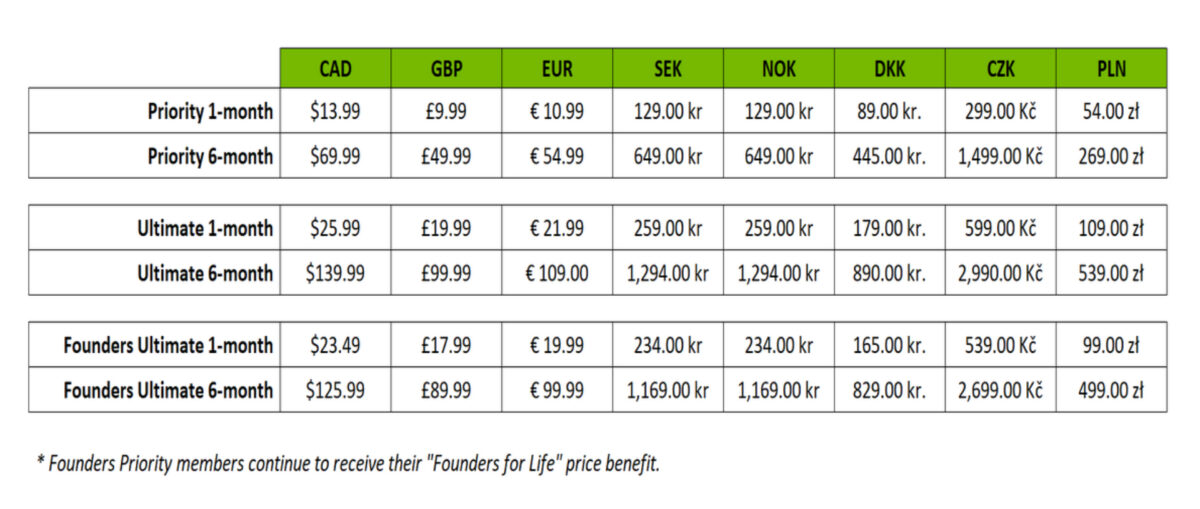 Thankfully, the Founders for Life benefit is still around. Anyone whose subscription has been active since March 2021 will pay the original membership fee with no increases.
Even with the price increase, Nvidia GeForce Now is one of our favourite cloud gaming services. You could originally subscribe to Ultimate for three-and-a-half years before you reached the retail cost of the RTX 3080 you played with. The new price debatably still packs more value. It'll take three-and-a-half to five years before you reach the cost of the new RTX 4080, depending on where you live. Naturally, this is pinned on the obscene costs of the Ada Lovelace series, but it's still a lot for your money.
For what it's worth, I've played the entirety of Baldur's Gate 3 using Nvidia GeForce Now. The downsides are waiting longer for a game to release on launch day and sessions timing out if you're AFK too long. Aside from that, it's a flawless experience with no downloads and all settings cranked to max. Just make sure your broadband is up to the task first.