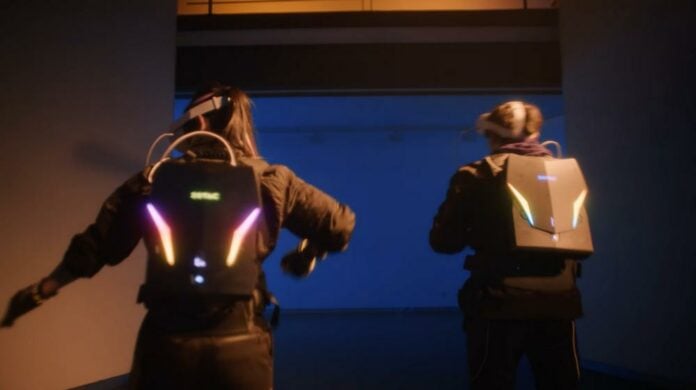 Zotac's VR Go 4.0 backpack has entered the pre-order phase and tempts VR users with its Nvidia RTX GPU and hot-swappable batteries.
Measuring 280mm x 87.1mm x 347.5mm and weighing 4.5kg, VR Go 4.0 is a sort of laptop stitched to a backpack, allowing it to be worn comfortably while playing VR games. The idea is to have unlimited freedom of movement by putting the gaming machine on your back and powering using batteries.
In this regard, Zotac claims 50 minutes of untethered fun, possible thanks to two hot-swappable 6,000mAh batteries plus a recharging dock, enabling quick-and-easy replacement without needing to shut the system down. Just note that additional batteries are sold separately, meaning unlimited playtime comes with extra costs.

Inside we find an 8C /16T Intel Core i7 11800H processor, 8GB of DDR4 SODIMM memory, 512GB of M.2 SSD storage, and Nvidia's RTX A2000 16GB GDDR6 GPU. Interestingly, a prior version of the VR Go 4.0 included an RTX A4500. Thankfully, this limited storage and memory can be upgraded by swapping the M.2 SSD for a larger model or by installing another 2.5in drive.
Additionally, since the VR Go 4.0 doesn't come with its own VR / AR / MR gear, users will have to get their own, further inflating the already hefty £3,700 price tag. That said, I wonder how this would work with VR headsets that rely on tracking stations, like Valve's Index – probably just fine for Index as it doesn't require a PC connection.

Finally, the VR Go 4.0 can even become a work or media PC after a VR session thanks to its reasonable connectivity, including two DisplayPort 1.4, one HDMI 2.1, one USB 3.1 Type-C, four USB 3.1, and two USB 3.0, not to forget Wi-Fi 6 and Bluetooth 5.2.
Comfort-wise, Zotac talks about an even weight distribution, foam padding in key strategic areas, and an extended-length back support. There is even the brand's Spectra 2.0 RGB lighting for those into it, though most time, they won't be visible to the user.
All in all, a nice piece of kit, if only the hardware was a bit more modern and powerful to handle upcoming VR games with glorious purpose.