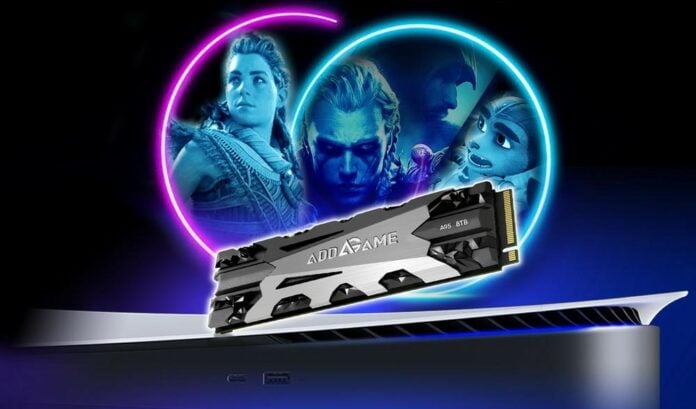 Addlink has launched its first 8TB PCIe 4.0 M.2 SSD for PS5 users, bringing unprecedented capacity to games consoles ready to handle massive AAA titles.
Part of the AddGame product family, the A95 is a PCIe 4.0 M.2 SSD measuring 80mm (L) x 22mm (W) x 9.1mm (H), cooled by an aluminium heatsink said to enhance heat dissipation by over 30 per cent. While 8TB may sound like overkill, games aren't getting any smaller; titles like Call of Duty: Black Ops Cold War (148GB) and NBA 2K23 (153GB) already eat up plenty of space.
Equipped with a Phison E18 NVMe 1.4 controller plus 3D TLC NAND flash alongside DDR4 cache, the A95 offers up to 8TB of storage capacity at sequential read and write speeds of up to 7,000MB/s and 6,000MB/s, respectively. In other words, above what Sony recommends for its consoles, and enough to take full advantage of the PS5's fast loadings.
Note that in order for this SSD to be detected, you will need to update your PS5's firmware to 23.02-08.00.00.44 or later.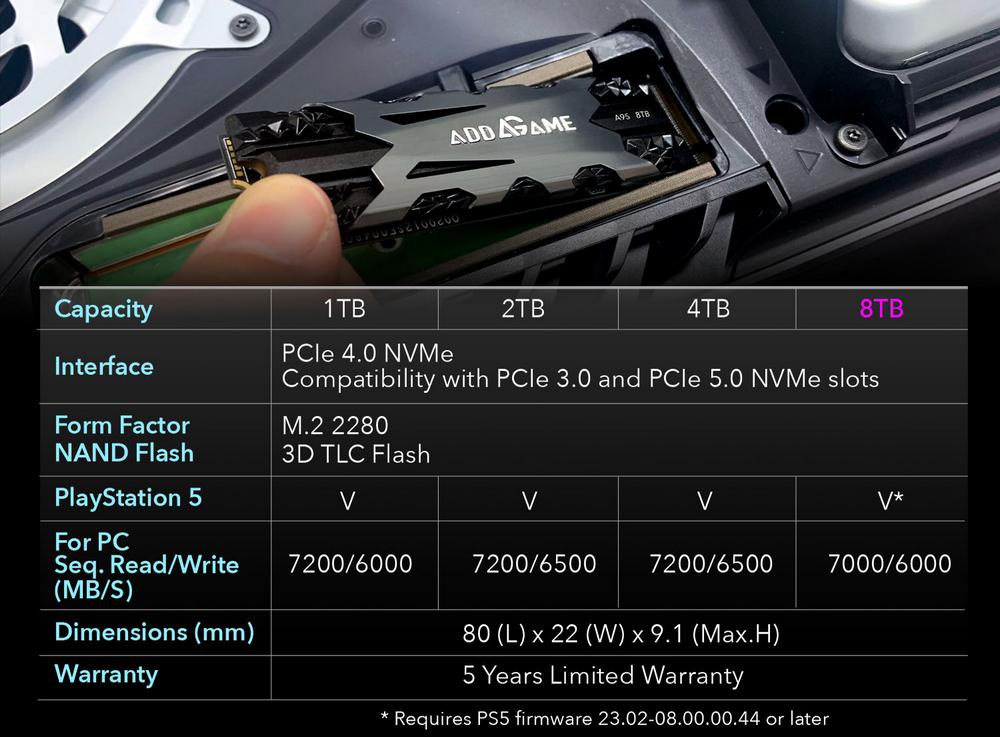 Addlink's specifications reveal 900K/1,000K random read/write speeds alongside 6,000TBW endurance, so you can write day and night without worrying about wear. For reference, this leaves even Samsung's excellent 990 Pro in the dust – even when taking capacity into account.
For those who can't afford or simply don't need this much space, Addlink also offers 4TB, 2TB, and 1TB variants of the A95, all of which offer similar speeds that comfortably surpass PS5's recommended specs.
What's the catch? Pricing, inevitably. Addlink's 8TB A95 PCIe 4.0 SSD can be found on Amazon US at a hefty $850, backed by a five-year warranty. That's a huge premium over readily available 2.5in solutions, but expect prices to come down quickly as other 8TB M.2 solutions begin to emerge.