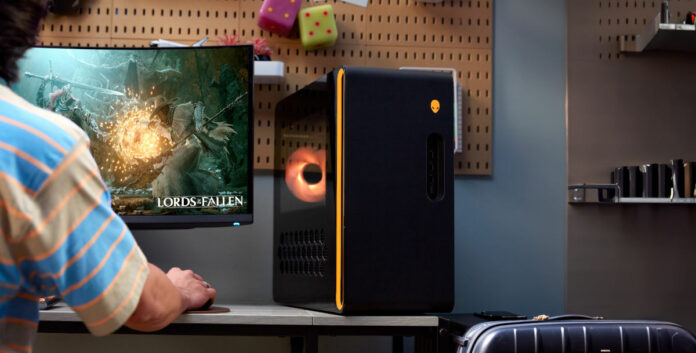 Alienware has finally joined the 21st century with a new and improved redesign to its Aurora Series pre-built systems. About time.
While the company's wide range of gaming laptops, high-end monitors and accompanying peripherals have seen some bold-yet-sleek and stylish changes in recent years, desktop solutions, on the other hand, have been stuck in limbo, offering very little change from the original Aurora R9 design that debuted in 2019, save for few cut outs for windowed glass and much-needed ventilation for the latest power-heavy components. That is until now, as the Alien Aurora R16 completely abandons the bulky pill-shaped design and is a rather sleek makeover featuring a more conventional form factor imbued with subtle Alienware flair. I admittedly quite like the new look.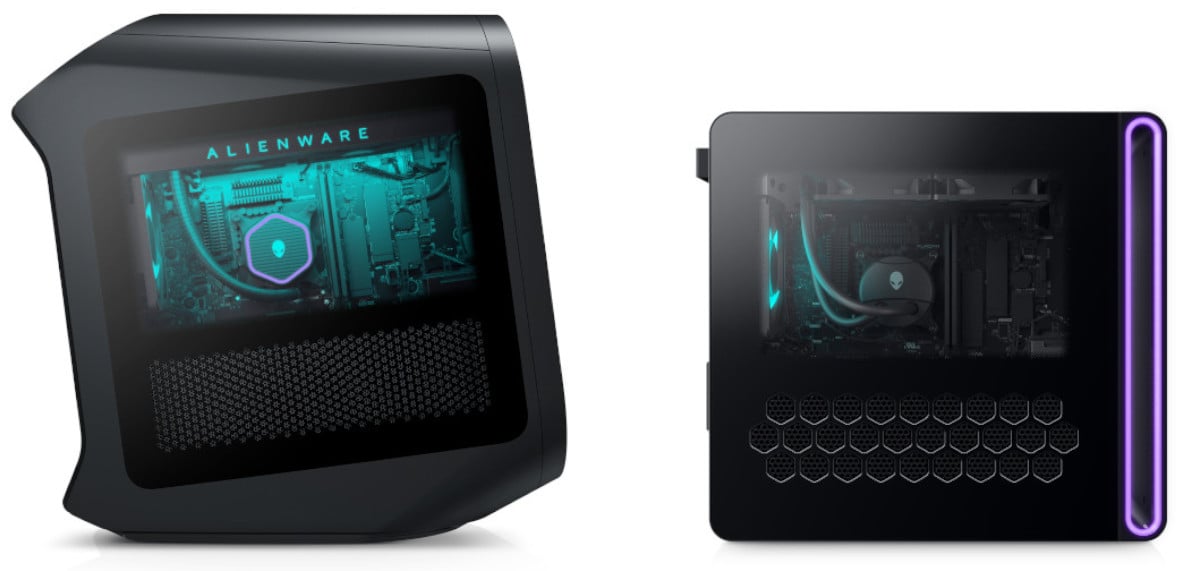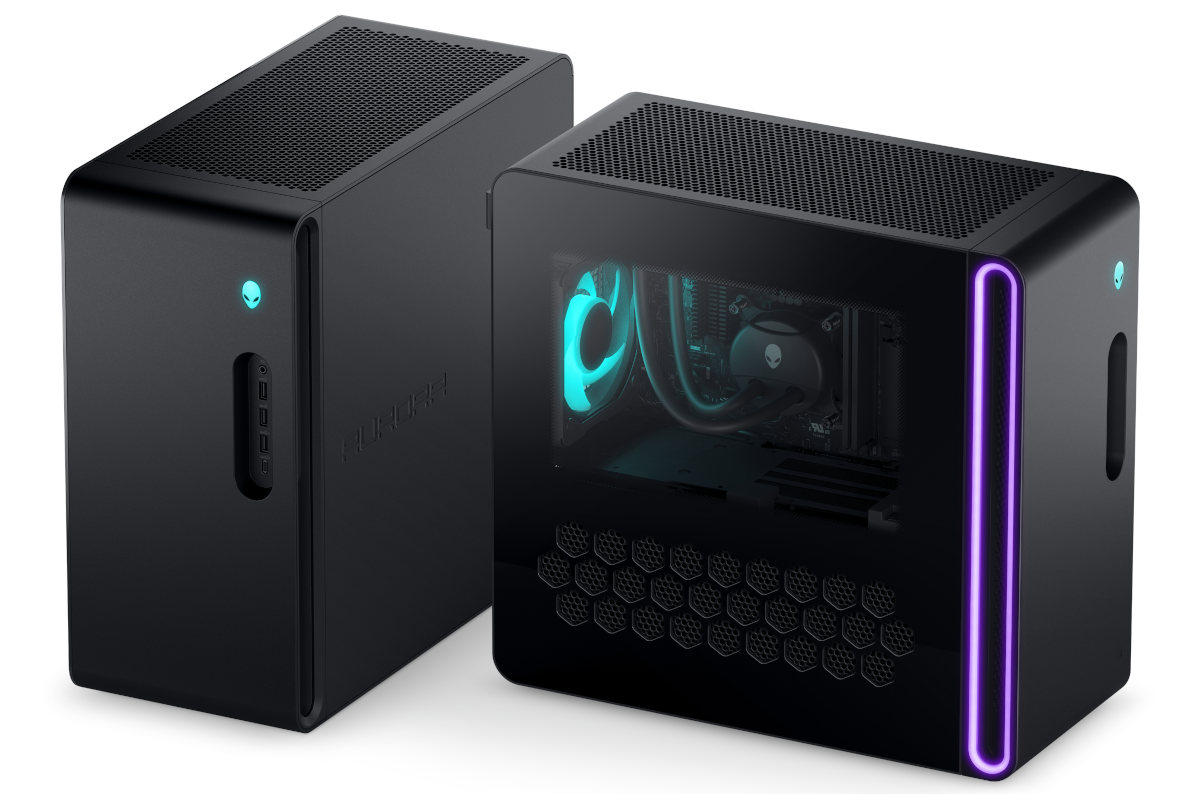 At first glance, notice the chassis is no longer a bulky mess, but now boasts a significantly smaller rectangular design with smooth and refined edges. The signature oval lighting loop is now relegated to the side of the chassis and traces the perimeter of the primary vent, which draws fresh air via a 120mm fan inside that directs airflow to the installed graphics card, much like the Aurora R15. I'm a bit suspicious of how well that translates to cooling, though Alienware says it provides a larger air intake than the previous generation, allowing for more efficient airflow. Fair enough.
Rounding off, the top panel, thankfully, has ventilated holes and mounting for a 240mm AIO cooling solution, as well as an exhaust fan in the rear, while the bottom of the case houses the power supply and HDD / SSD cages. Meanwhile, the accompanying side panel is offered in half glass, half ventilation format, or fully enclosed with hexagonal cut outs. The choice is yours.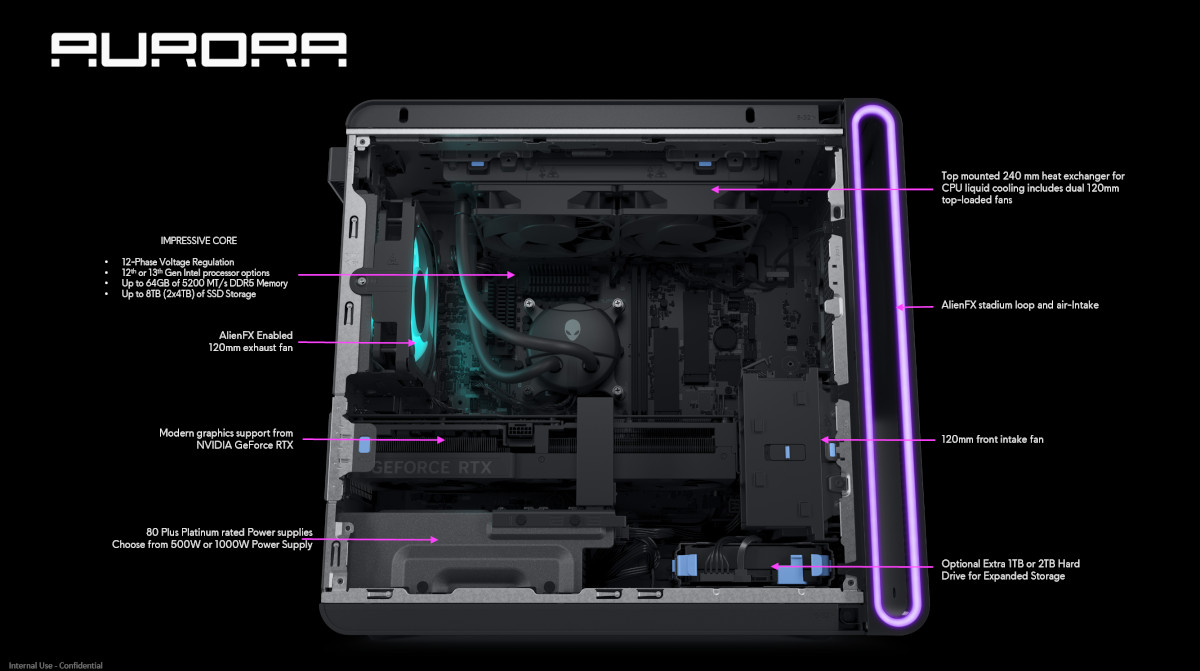 All in all, Alienware says the Aurora R16 features a 40 per cent decrease in total volume when compared with the predecessor, while internal volume remains unchanged at 25.2l. Additionally, the optimised airflow is touted to provide 20 per cent quieter performance on average, while offering up to 10 per cent lower CPU and six per cent lower GPU temperatures. Impressive.
Moving onto hardware, the all-blacked-out motherboard is still a custom version designed specifically for use with the Aurora R16. It features a 12-phase VRM design with support for the latest 12th or 13th Gen Intel processors and can be kitted with up to 64GB of 5,200MHz DDR5 memory, with up to 8TB of SSD storage and Wi-Fi 6 or 6E wireless connectivity, as well as 2.5GbE for wired connections.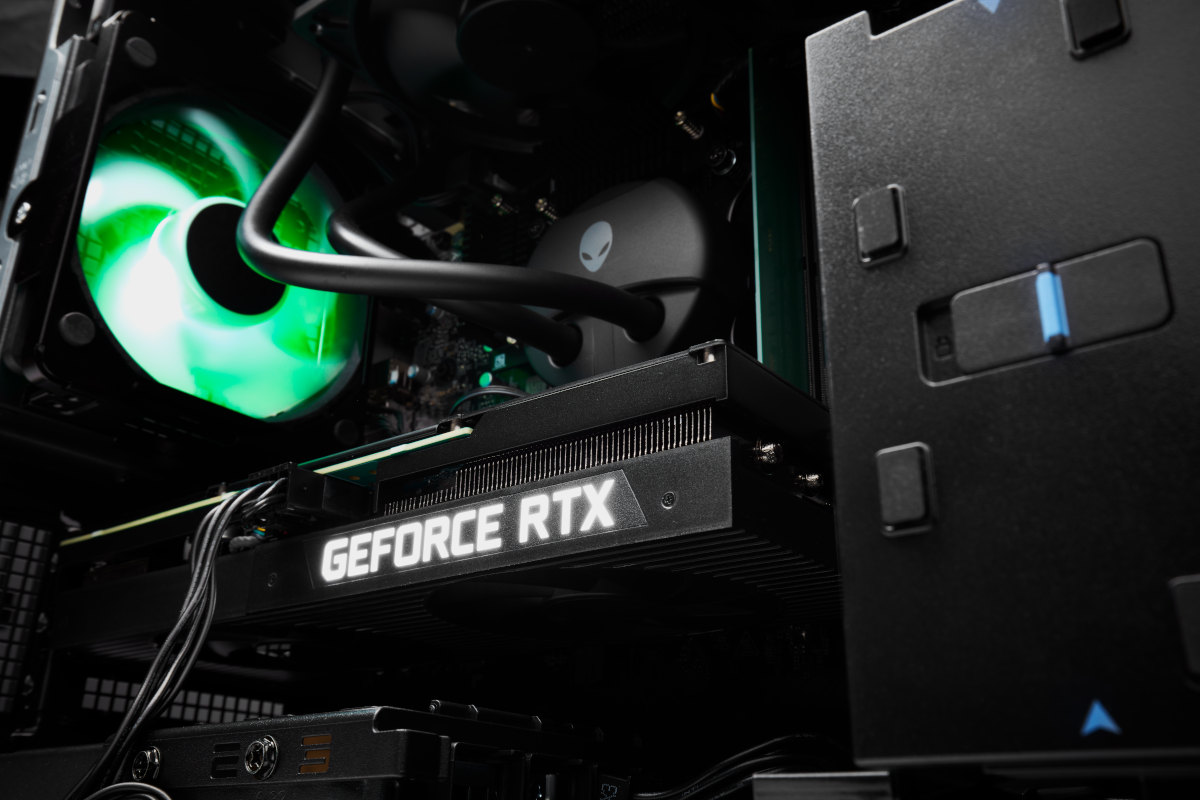 Aurora R16 launches today with a base configuration featuring an Intel 13th Gen Core i7-13700F, GeForce RTX 4070 GPU, 16GB of DDR5-5200 memory, 1TB SSD, 1,000W Platinum-rated PSU, and 240mm AIO Liquid cooling solution, all for $1,749, with additional configurations arriving later this year. If you're interested, be sure to check out the full breakdown via Alienware's Twitch stream at 16:00.