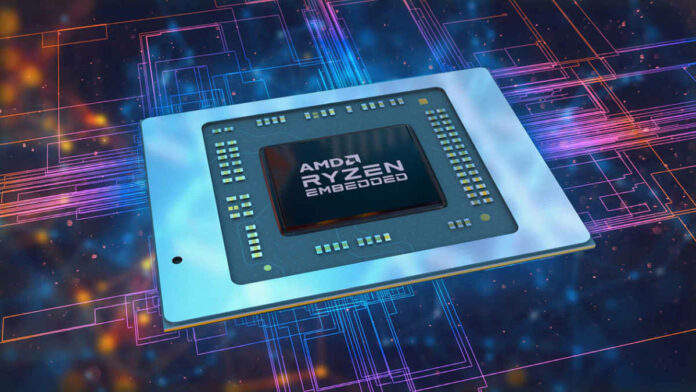 Even though AMD Ryzen 7000 CPUs are on the horizon, the company still plans on keeping its successful Zen 3 architecture alive by way of new Pro and Embedded series chips.
Helping extend Zen 3's shelf life, Embedded variants were spotted among the catalogue of industrial PC solutions provider Advantech, while popular leaker HXL found a Lenovo listing mentioning three SKUs of Ryzen 5000 Pro desktop chips intended for the ThinkStation P358 Tower platform expected to launch soon.
The AMD Ryzen Embedded family started life as the V1000 series in 2018, based on an earlier 14nm Zen architecture and featuring integrated Vega graphics solutions. It's successor, Ryzen Embedded V2000, came along two years later featuring an improved Zen+ platform and its most recent follow-up, the Embedded R2000 series, was launched in June.
Designed for applications such as thin clients, IoT's, industry robotic solutions and in some cases mini-PC, these SoCs are often limited in performance for increased efficiency while maintaining a sleek and small form factor. Ryzen 5000 variants bring the power of AMD's current Zen 3 architecture to a wider audience. Despite some being reduced in cores and in other cases lower-clocked, they still wield mighty performance that isn't too dissimilar to desktop siblings.

The line-up consists of the Ryzen 9 5950E, Ryzen 5900E, Ryzen 7 5800E and Ryzen 5 5600E. Starting with the 5950E, the CPU loses four cores compared to its 5950X desktop counterpart, settling on a 12-core, 24-thread configuration. It features a 64MB L3 Cache, and though early leaks list maximum speed as 3.4GHz, we imagine that to be a base clock with peak frequency yet to be determined. Note that slimming down the core count doesn't reduce a 105W TDP.
Second among the stack, Ryzen 9 5900E loses two cores compared to its consumer-based Ryzen 9 5900X sibling, and the processor now consists of 10 cores and 20 threads, maintaining its 3.7GHz base clock. Rounding off the Embedded processors, the Ryzen 7 5800E and Ryzen 5 5600E remain largely untouched in terms of overall core and thread counts. The Ryzen 7 5800E features eight cores and 16 threads akin to Ryzen 7 5800X, while the Ryzen 5600E keeps to the Ryzen 5 5600X playbook with six cores and 12 threads. 5800E loses 100MHz off its base clock frequency, while also shedding 5W off its TDP compared to the 105W TDP of its Ryzen 7 5800X desktop counterpart.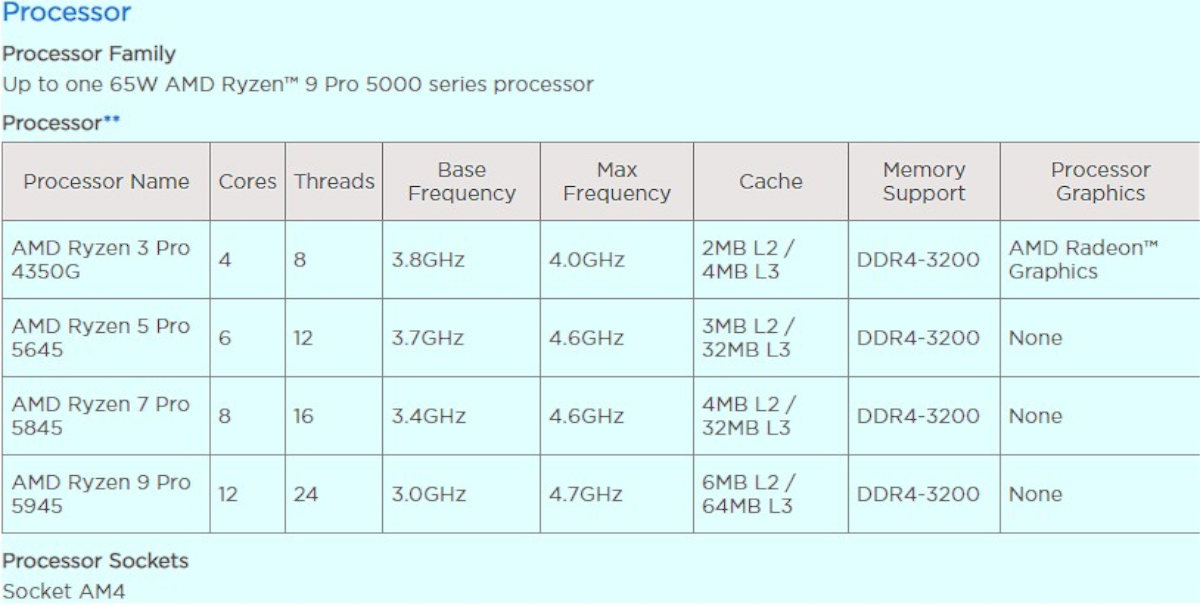 Moving on to the Pro variants, these typically feature enhanced security features designed for workstations and accompanying business enterprise sectors. Essentially, this boils down to largely the same performance except for added processor-level security and in some instances, mildly reduced clock speeds to increase efficiency and long-term reliability.
Kicking off the first suite of desktop Ryzen 5000 Pro CPUs, the Pro 5645 features six cores and 12 threads with a base core clock of 3.7GHz, and a max boost clock of 4.6GHz, these seem to be inline with its Ryzen 5 5600X desktop counterpart.
Continuing on, the Ryzen 7 Pro 5845 variant features eight cores and 16 threads, although it is considerably downclocked in terms of base core and max boost frequencies, when compared to the consumer Ryzen 7 5800X. It features 400MHz less speed at a 3.6GHz base clock, with 100MHz shaved off the top, featuring a max boost clock of 4.6Ghz.
Finally, the AMD Ryzen 9 Pro 5945 has 12 cores with 24 threads, featuring a base clock of 3.0GHz and a max boost clock of 4.7GHz. These base and boost frequencies also differentiate compared to its consumer-based sibling, as the 5900X features a much higher base clock of 3.7GHz and a 4.8GHz max boost clock for comparison.
Pricing and availability of these SKUs have yet to be announced, though we can expect them to release within the coming months, most likely exclusive to business enterprises and system integrators in the first instance. Whether they will coincide with the AMD Ryzen 7000 launch remains to be seen.