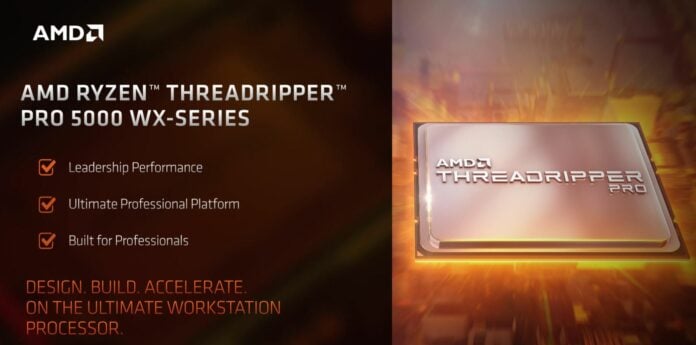 Today sees AMD finally bring Zen 3 CPU prowess to five Ryzen Threadripper Pro WX-Series chips accommodating between 12 and 64 cores.
Ryzen Threadripper CPUs have been around since August 2017, and AMD further split the range into high-end desktop (HEDT) and workstation-specific Pro chips in 2020. Though both current series are headlined by 64-core, 128-thread processors – 3990X and 3995WX, respectively – key differences remain.
WX is designed solely for OEM usage, so Lenovo, Dell, HP, et al, and is based on a more feature-rich sWRX8 platform using double the memory bandwidth and expansion opportunities, meaning eight-channel RAM alongside 128 PCIe 4.0 lanes.
Unlike desktop Ryzen, which transitioned to the latest Zen 3 architecture in November 2020, Threadripper has made do with older Zen 2. Part of the delay likely rests with a lack of Zen 3 wafers from foundry partner TSMC, with AMD using available capacity for high-margin server Epyc and high-volume desktop Ryzen. This has been no major problem thus far as Threadripper quadruples the core count from the best desktop Ryzen, marking effective segmentation between the two families irrespective of base architecture.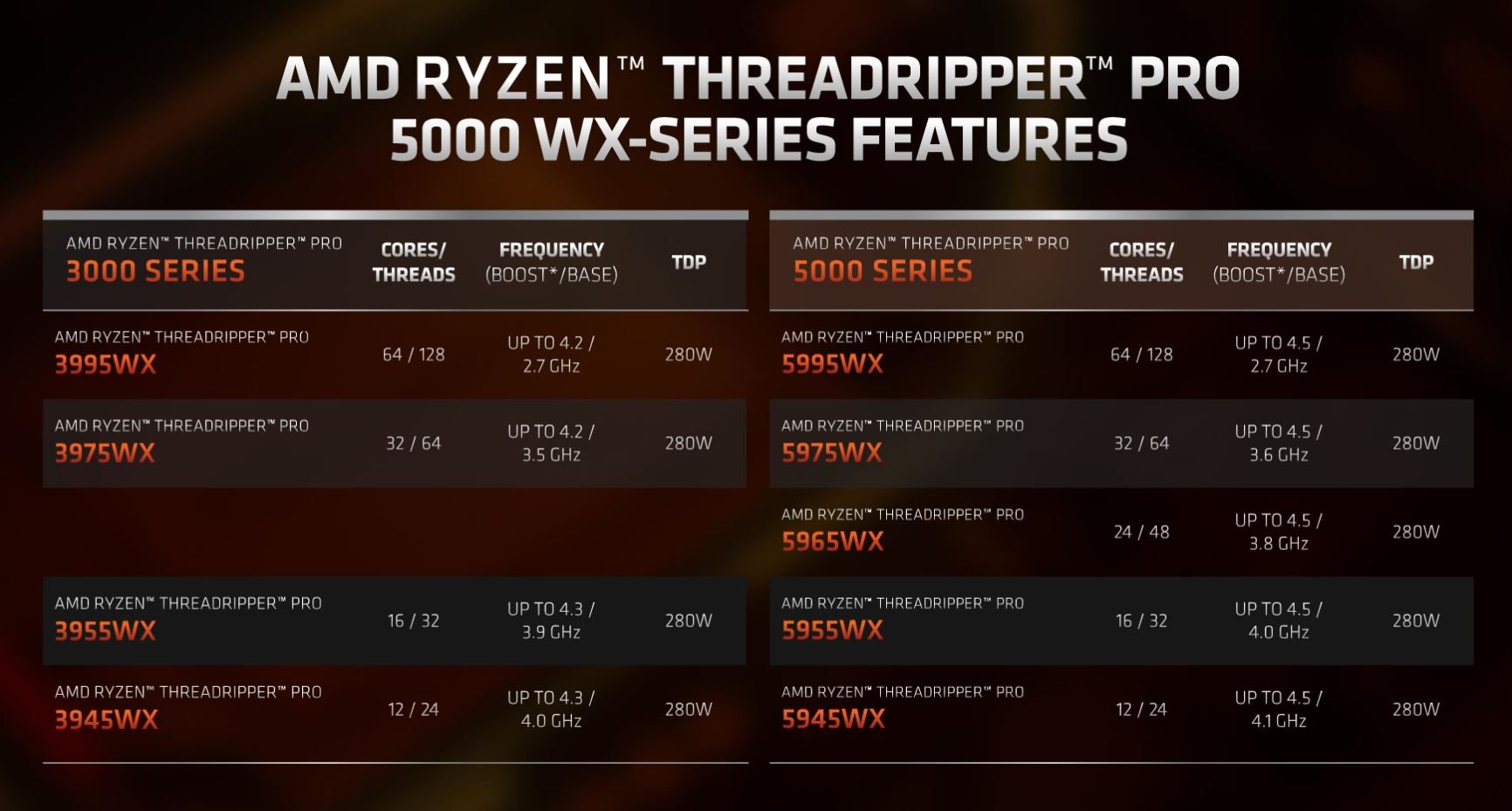 24-core Threadripper makes a comeback
The first notable addition is emergence of a 24-core, 48-thread chip. Missing from regular Threadripper 3000-Series and last present on 2000-Series, the new stack is less lop-sided.
All Pro 5000 WX-Series can only be used in single-processor systems. The entire pack operates at up to 4.5GHz and shares a 280W TDP. Based on the same sWRX8 socket as immediate predecessors, they constitute a drop-in upgrade for OEMs, minimising qualification hassle between generations.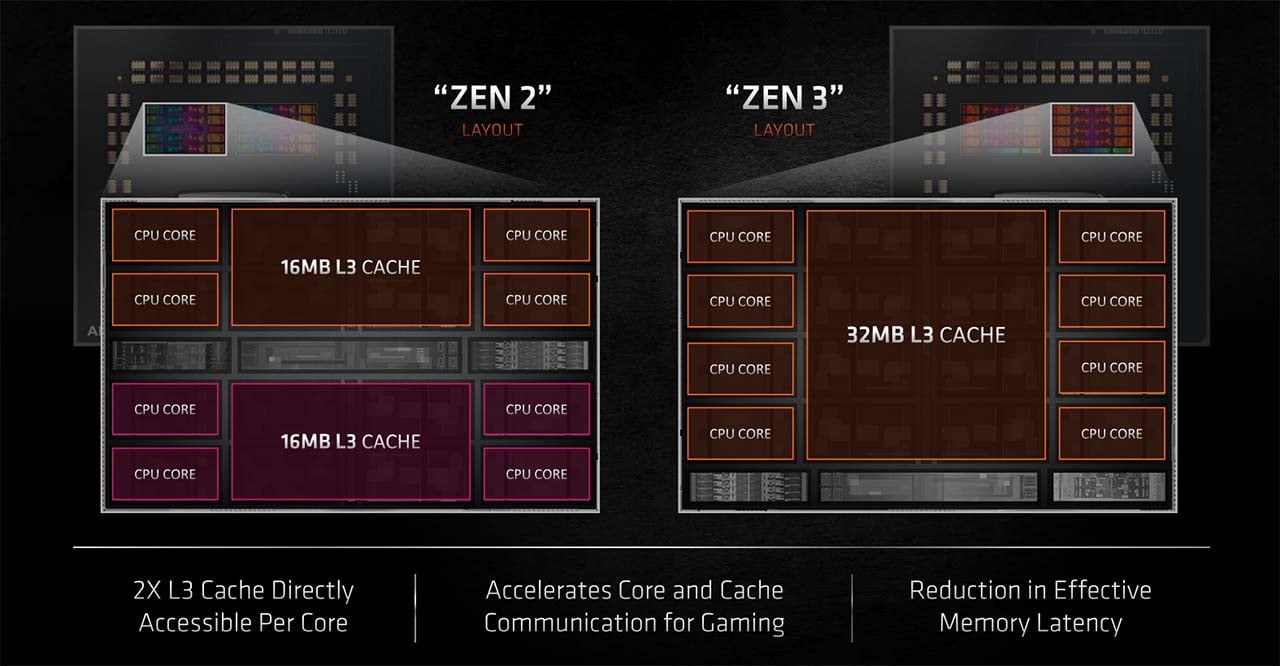 A modest increase in boost frequency and use of IPC-enhanced Zen 3 are the main drivers of generational performance uplifts. AMD naturally leverages the change in caching structure between Zen 2 and Zen 3, resulting in half the core clusters equipped with double the L3 cache.
All told, there is no change in total L3. For example, 3995WX uses 16 four-core clusters that each access 16MB, for 256MB in total, whereas 5995WX has the same 256MB composed of eight clusters housing, you guessed it, eight cores each. The benefit of Zen 3's approach is that a single core can access twice the amount of L3, and not having to traverse to the adjacent CCX, as in Zen 2, potentially reduces latency.
AMD makes no direct mention of inter-generational Ryzen Threadripper Pro performance with good reason. Knowing maximum core-and-thread count remains the same, top-bin 5995WX is likely to be only 10-25 per cent faster than 3995WX, depending upon how sensitive the application is to IPC and latency.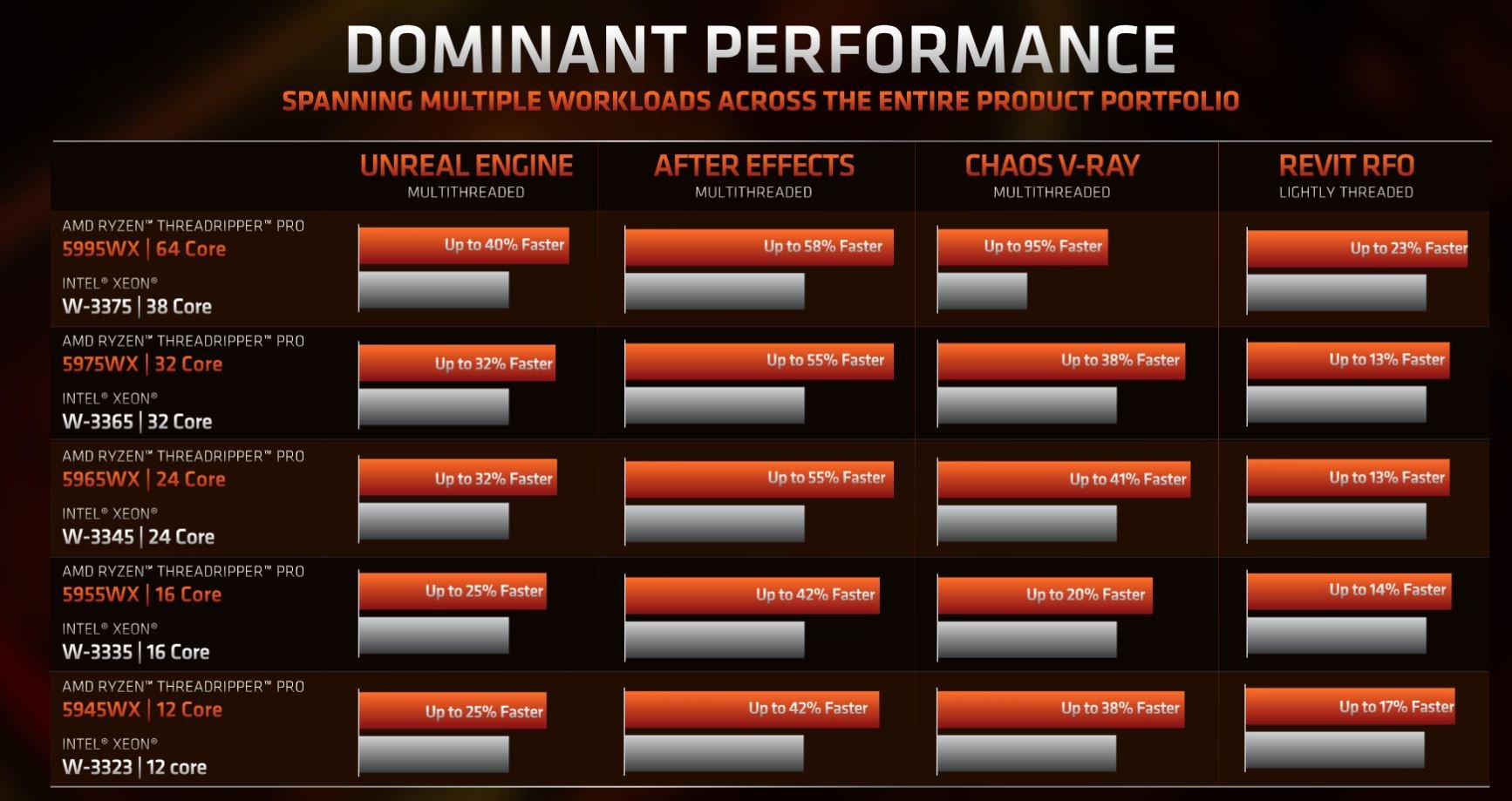 Intel-beating performance at every level, says AMD
Instead, AMD chooses to unload Threadripper Pro 5000 WX-Series' considerable payload on what it believes to be competing Intel workstation-optimised processors.
Threadripper Pro 5000 WX-Series is shown to have commanding performance leads against core-comparable Intel Xeon W-3000 Series processors across multiple workloads, according to AMD's internal testing. Comparing champ to champ – 5995WX vs. W-3375 – highlights largest differences because AMD has substantially more cores and threads to play with. Looking at performance against a lower-core Xeon based on older Ice Lake architecture was always going to be an easy win, mind; Intel is busy readying next-generation Sapphire Rapids Xeons this quarter, so the grey and orange bars ought to become closer.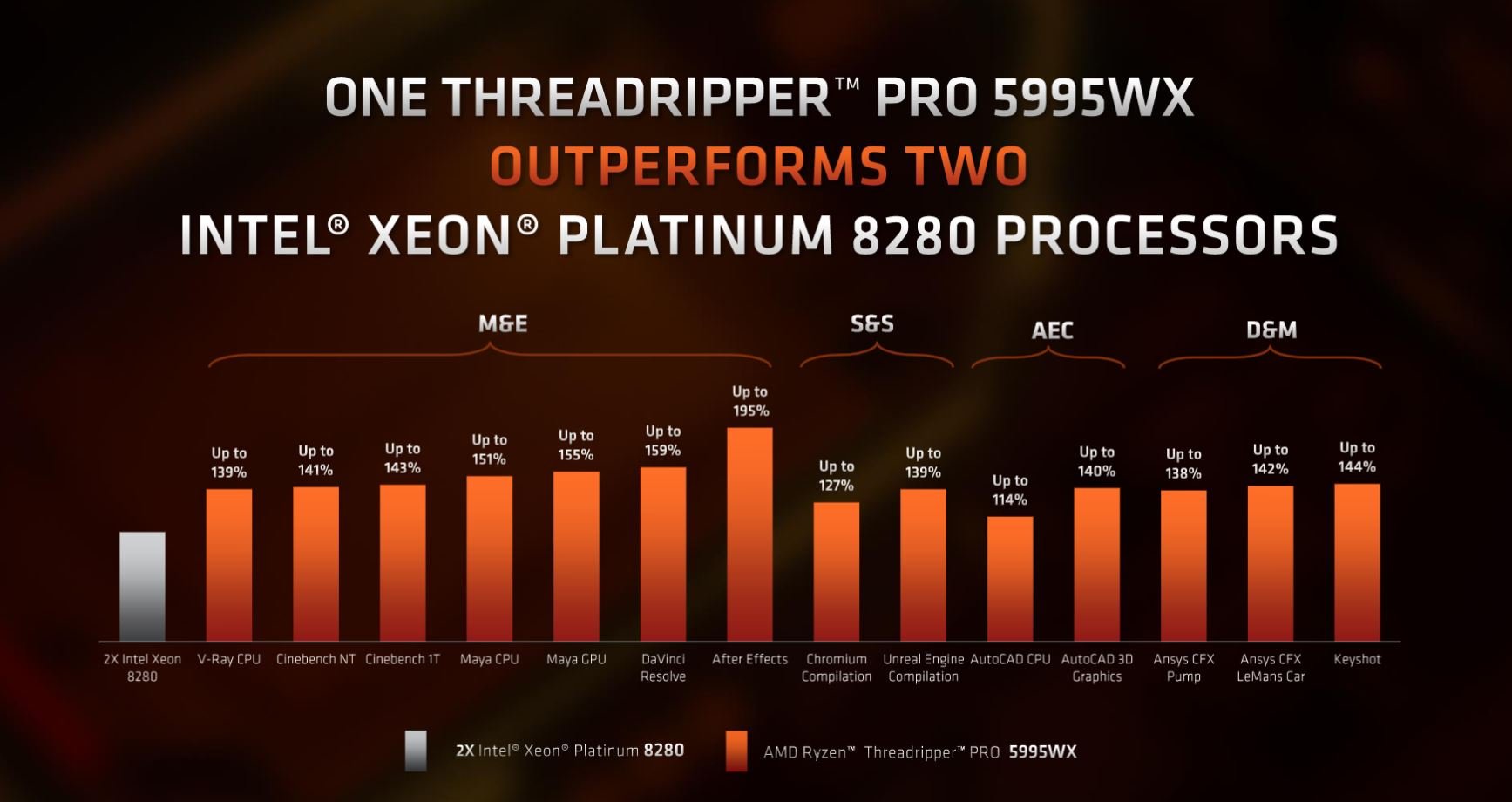 Nevertheless, AMD is bullish enough to throw a single Threadripper Pro 5995WX against a dual-Xeon 8280 Platinum rig. That's a strange comparison as the Xeon is a full-on server processor from the last Cascade Lake generation, rather than a workstation powerhouse. Housing only 28 cores and 56 threads per processor, you can see why AMD chose to go up against it, though, for kicks, we'd like to see how well 5995WX does against two Xeon 8380 Platinum chips.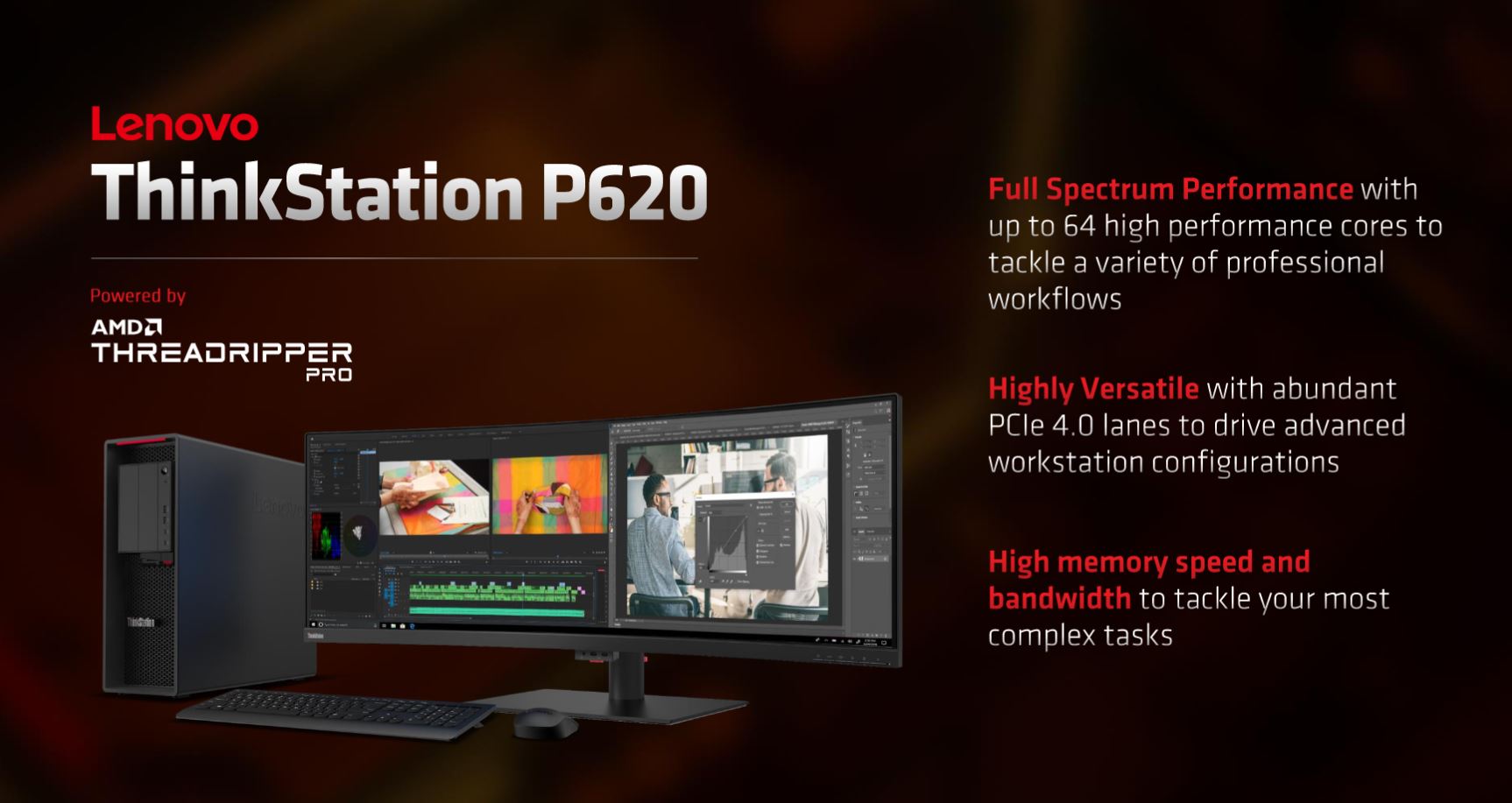 As before, Lenovo is the launch partner for Threadripper Pro WX-Series. The company's ThinkStation P620 has been an AMD standard bearer for a while. We'd imagine changing over to this new series requires only the new chip and a BIOS update.
Overall, AMD aligns Threadripper Pro with desktop Ryzen in terms of model branding and architecture. Expanding upon the previous generation through higher IPC and frequency, together with reduced internal latency, though keeping maximum core-and-thread counts the same, expect Pro 5000 WX-Series to further extend AMD's performance lead in single-socket workstations built by industry heavyweights.