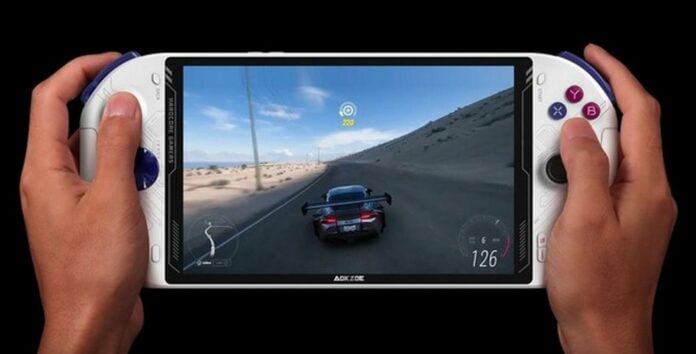 Aokzoe has launched a Kickstarter campaign for its A1 gaming handheld starting at $899 and featuring AMD's Ryzen 7 6800U CPU alongside up to 32GB of LPDDR5 memory.
Being the first product made by the newly established company, the A1 is trying to make a nest in the handheld market capitalising on Valve's struggles to satisfy massive demand. Coupled with a lack of powerful portable gaming alternatives, Aokzoe hopes to become a key player in what is a rapidly growing market.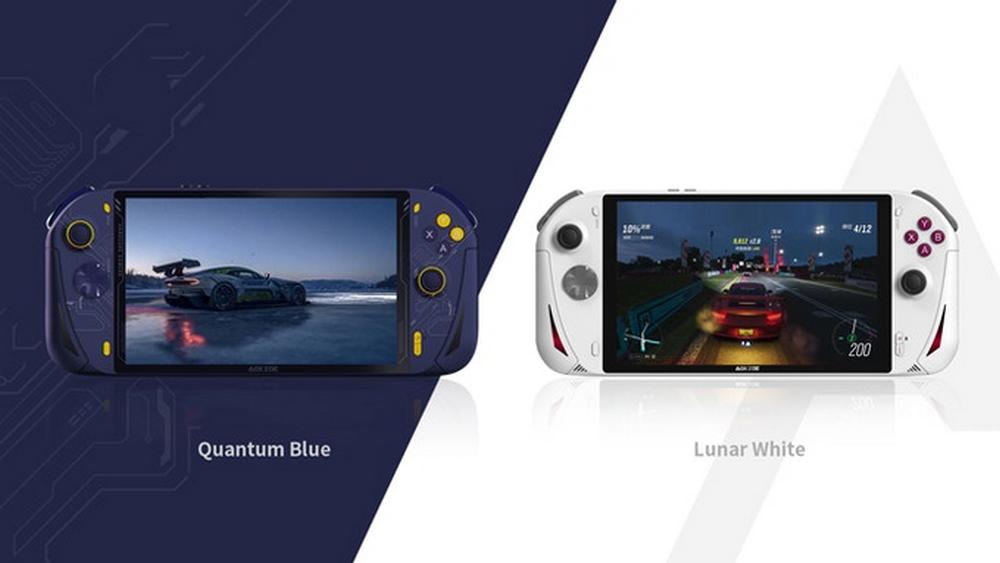 Running Windows 11 by default, this machine promises good performance even in AAA games, provided you play at the native resolution while not pushing settings too far. Steam OS is also on the menu, offering that extra flexibility while avoiding Windows OS overheads.
Unlike GPD's Win Max 2, Aokzoe opted for a more reasonable 283PPI 8in IPS screen running at a 1920×1200 resolution, however, the brand didn't specify at what refresh rate ­– probably 60Hz. Should onboard graphics struggle in the most visually taxing scenes, AMD Radeon Super Resolution will be at hand to further improve gaming performance.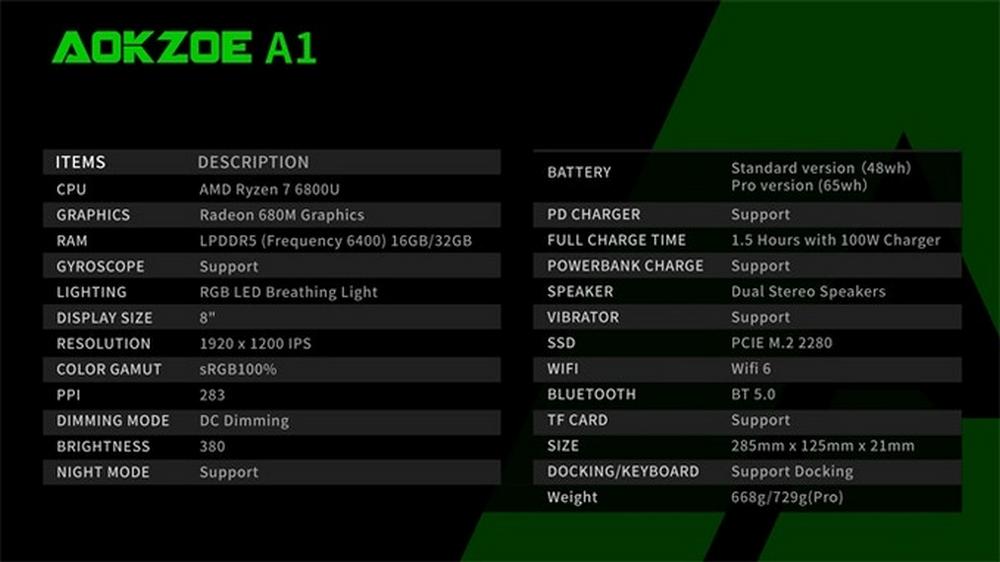 The A1 will be available in Quantum Blue and Lunar White colours and the underlying eight-core, 16-thread Ryzen CPU can hit speeds of up to 4.7GHz and carries a Radeon 680M iGPU with 12CUs scaling up to 2.4GHz. Thus, performance should be stronger than Deck's four Zen 2 cores and eight RDNA 2 CUs. Unfortunately, this is reflected in its higher opening price.
For memory, you get either 16GB or 32GB of LPDDR5-6400, and for storage, you have 512GB, 1TB or 2TB of M.2 2280 SSD capacity – potentially user upgradeable. An SD card slot is also present for extra space with a maximum speed of 600MB/s.
Size will be very close to that of Valve's Steam Deck at 285mm x 125mm x 21mm, while weight is kept at 668g or 729g (on the Pro model) for a comfortable gaming experience.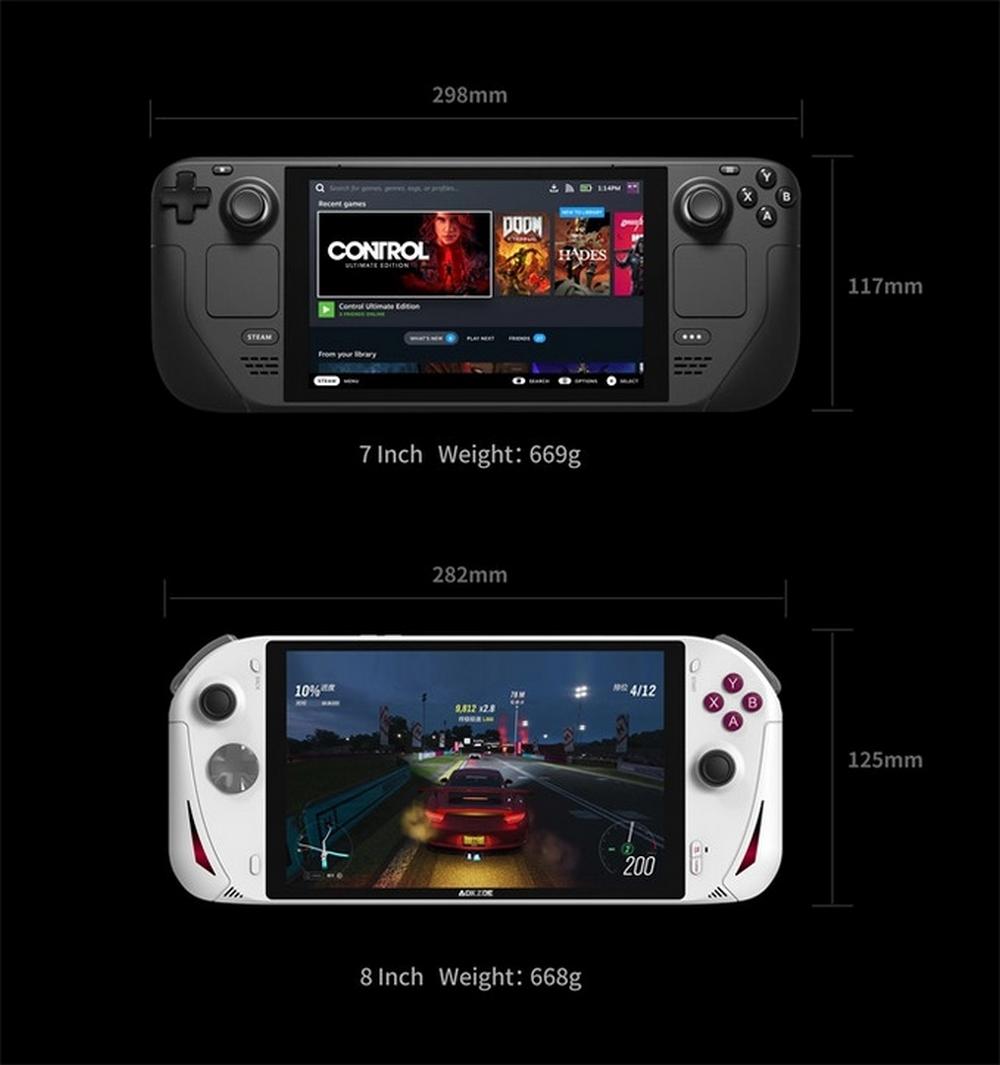 Thanks in part to Valve's Steam OS game library and AMD's powerful hardware, portable gaming machines are now genuinely a viable alternative to PCs or consoles. If not for AAA games, then at the very least for old-school retro gaming emulation.
So why not just get a Steam Deck you may ask? Actually getting your hands on a Steam Deck is easier said than done – you could be queuing a while – and when you factor lower on-paper performance, there are potential reasons to consider the A1.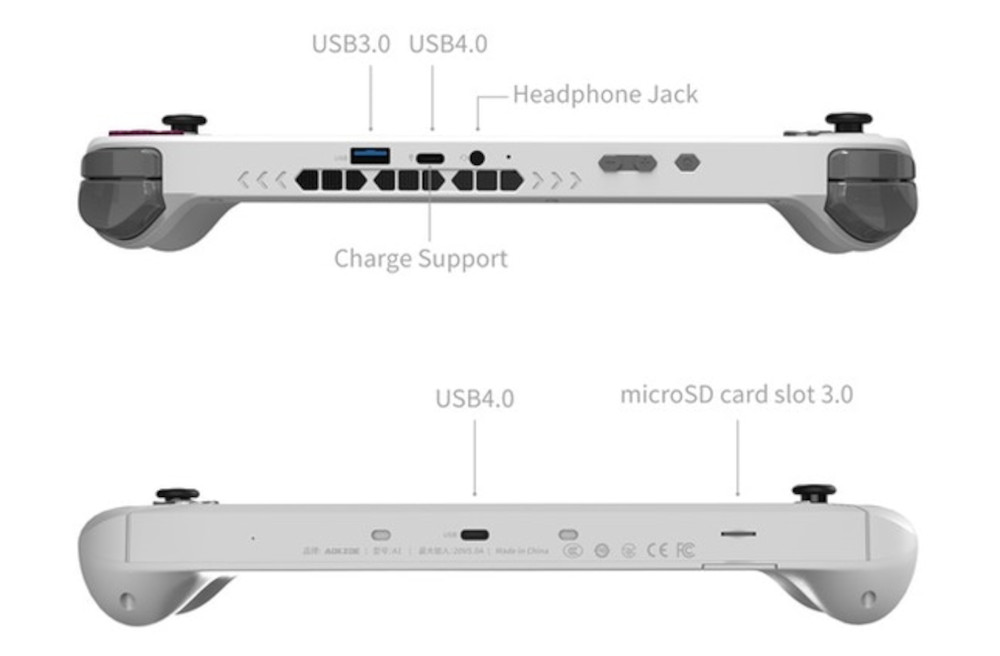 Getting into battery life, the standard A1 includes a 48Wh capacity giving you about 3 hours of playtime or 6 to 8 hours of 1080P video playback, whereas the Pro version has a 65Wh battery offering 5 hours of playtime and 7 to 9 hours of 1080P video. Using fast charging, the battery can fully recharge in 90 minutes.
IO-wise, there is one USB 3.0, two next-gen USB 4.0, a headphone jack, plus Wi-Fi 6 and Bluetooth 5.0. There is also a three-axis gyroscope, a rumble motor, four boutons, two sticks, a D-pad, plus two triggers and two buttons on the back for controls. Sound comes through a set of front-facing stereo speakers simulating a 3D effect. Finally, two RGB zones on the left and right sides support three modes and 20 lighting effects.
Releasing September 2022. The Aokzoe A1 is available in four configurations:
16GB RAM and 512GB SSD for $899 (kickstarter) or $1,099 (retail).
16GB RAM and 1TB SSD for $999 (kickstarter) or $1,199 (retail).
16GB RAM and 2TB SSD for $1,150 (kickstarter) or $1,350 (retail).
32GB RAM and 2TB SSD for $1,299 (kickstarter) or $1,499 (retail).