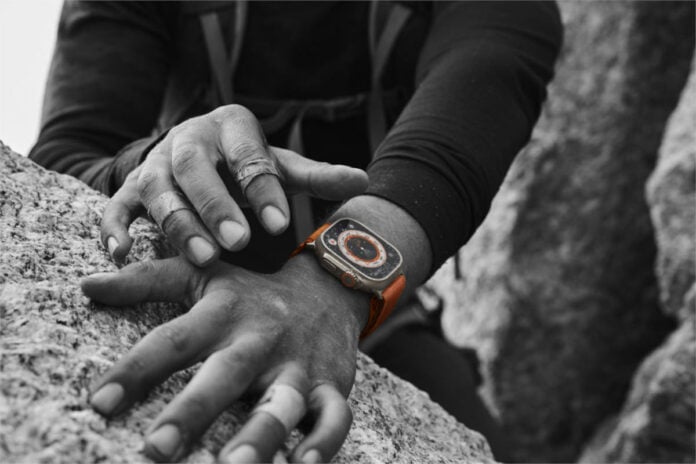 The Apple Watch Ultra is the iPhone maker's latest and most expensive watch to date. Unveiled at the company's 'Far Out' event, taking a function-over-form approach to a design featuring an all-new rugged chassis aimed at endurance athletes and adventurers.
Design cues stand in stark contrast when compared to sleeker Series 8 siblings. Quite evident at the outset, Ultra features a larger 49mm case, 'chonkier' chassis and bezels… and not without good reason either; internals pack a considerably larger punch including a range of enthusiast-level tech not just limited to sensors and antennae, and more tactile physical controls. Let's dig deeper, shall we?

Aimed at Adventurers
Kicking off, under the flat sapphire crystal you will find Apple's signature always-on Retina display with a maximum peak brightness of 2,000 nits, which is two times brighter than any previous and current Apple Watch series. Take that, sunshine.
Display features include a new night mode engaged via the also new digital crown, which turns the interface red and reduces blue light emissions to ease eye strain. The new 'Wayfinder' watch face can also be customised for mountain, ocean or trail expeditions, each with its own distinct user interface.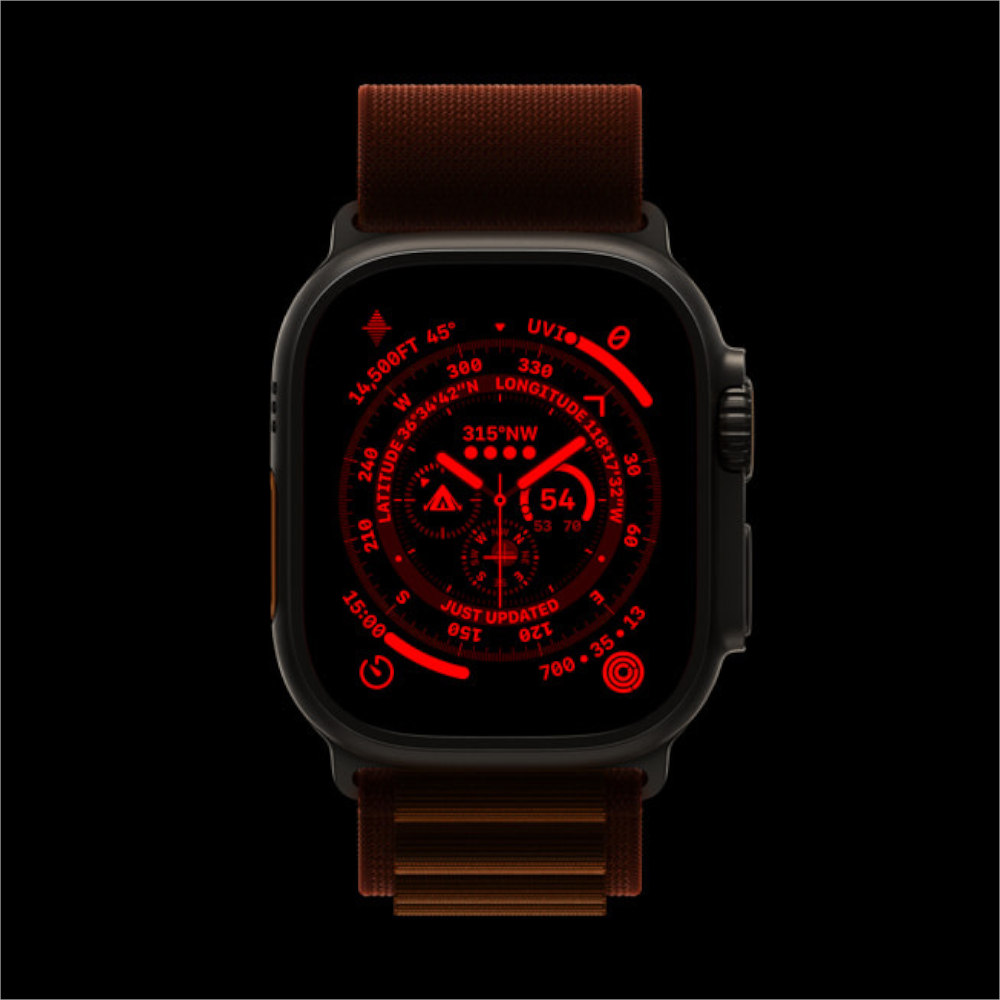 Interesting to note, despite the larger 49mm titanium case, the display is just a tad larger at 1,164mm² versus 1,143mm² when compared to the regular Series 8.
As for the chassis, it is made entirely out of titanium which Apples touts as the ultimate balance between weight and durability, and the accompanying digital crown has a larger diameter with courser grooves alongside a side button; they both jut ever so slightly away from the main body which gives the Ultra its divisive look. Apple says it was designed this way to be used comfortably while wearing gloves.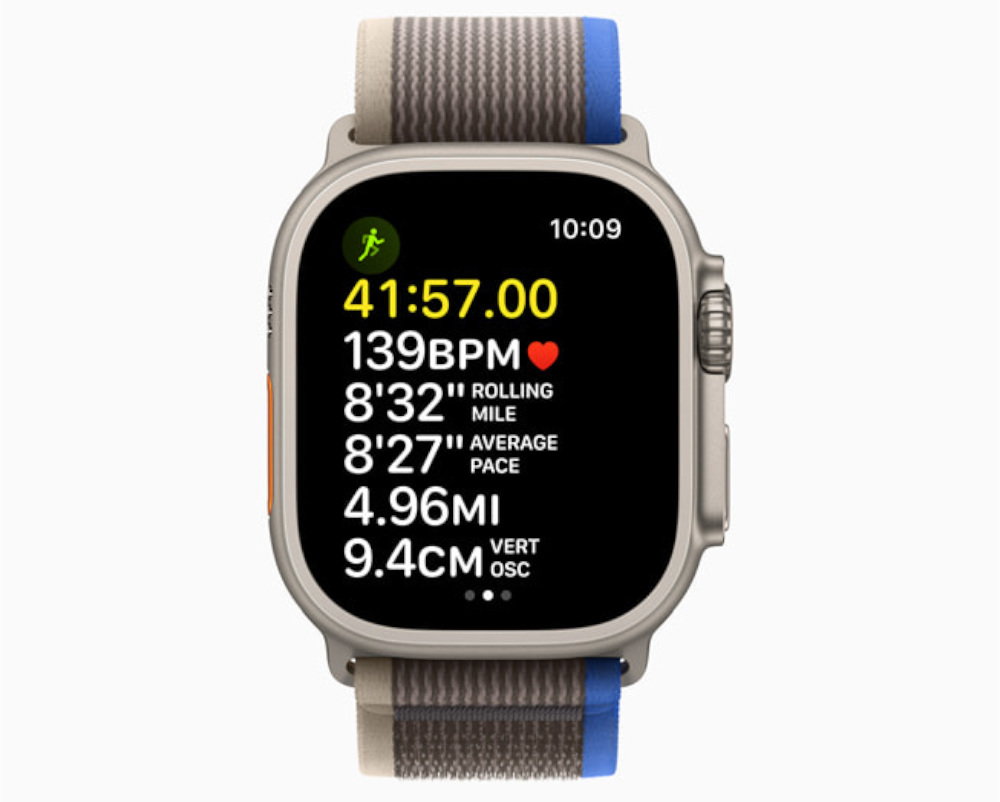 Chock-full of Features
Powered by watchOS 9, you can expect a new-and-improved UI with a list of features. Users can now monitor up to six metrics at the same time, which is ideal for triathlons or multisport workouts. For example, running metrics alone track everything from stride length, ground contact time, vertical oscillation, and running power. Whew! The usual suspects include integrated heart-rate monitoring, ECG and blood oxygen apps, along with additional health, safety, and navigation features that come standard with the Ultra, much the same as the regular Series 8.
For audio, internals include a three-microphone array, with an all-new adaptive algorithm for optimum voice clarity in the windiest outdoor conditions, and dual speakers for improved audio volume, voice calls and hands-free Siri assistance.
Moving swiftly on, the Watch Ultra features an extra customisable action button in "international orange" that can serve a range of functions including, but not limited to, one-push track for race segment workouts, a backtrack function for when you're disorientated and want to find your way back onto a familiar trail, ability to drop a compass waypoint, or start up a dive computer, to name but a few. A long press also lets out a ear-retching 86-decibel siren that, Apple says, mimics the universally recognisable SOS pattern and can be heard from 180 metres away.

Topping off the extensive list of integrated sensors and tech, Apple touts its new dual-frequency GPS antennas as best in class, and integrates both L1 and the latest frequency, L5, plus new positioning algorithms. The company promises accurate, up-to-date location tracking, precise distance calculation and route maps, and a depth sensor capable of measuring underwater down to 40 metres, ideal for recreational divers.
Additional standout features include a new depth app that automatically launches when the watch is submerged, turning the Ultra into a capable dive computer. The screen will conveniently display time, current depth, water temperature, duration under water and max depth. Neat.
So, who is this watch for? Based on the extensive amount of tech crammed into Watch Ultra, it seems rather obvious that Apple aims to compete against the like of Garmin's Forerunner 955 and 255 GPS smartwatches, though be warned the price is a whopping $799/£849 at retail.

Apple Watch Ultra also comes complete with three new bands – Trail Loop, Alpine Loop, and Ocean Band – with pre-orders available soon and an official release beginning Friday, September 23.