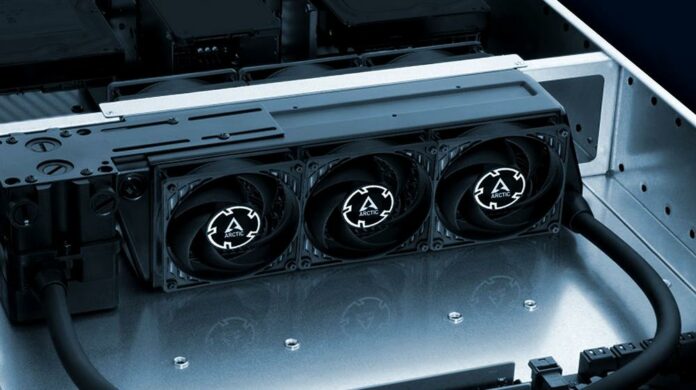 Arctic has announced the P8 Max with improved efficiency alongside a zero RPM mode targeting operations that require high static pressure.
Hot on the heels of P12 Max, today we have another fan upgraded to Max status. P8 Max is an 80mm-wide, 25mm-thick blower weighing 84g and carrying a speed range of between 500 and 5000rpm. Top speed represents a 66 per cent improvement over the regular, 3,000rpm P8, and the souped-up model can also be throttled down to zero rpm if needed, when receiving under five per cent PWM signal.
Geared for continuous operation, the P8 Max uses ball bearings – manufactured by Japanese brand NMB – instead of sleeve bearings due to their higher durability, though this comes at the cost of a slightly higher noise level of 0.6Sone.
Thanks to its improved speed and design, the P8 Max series is able to deliver 5.3mmH2O static pressure and 40cfm of airflow, while consuming 0.19A at 12V which translates to 2.28W. But that's not all, at a speed of 3,000rpm, consumption drops to only 0.06A, or 0.669W. In comparison, similar models such as the P8 require more than double at equivalent speeds. Maybe I should swap to these to further reduce my upgraded PC's power consumption.
Available only in black, with no RGB lighting, daisy chaining, or infinity-mirror bling, Arctic advertises the P8 Max as particularly effective for heatsinks, radiators, and 2U server racks – anything that needs high static pressure. In other words, a good old-fashioned fan built to do its job first and foremost.
The P8 Max is available now priced at $8.99 USD / €12.99 EUR and comes backed by a six-year warranty as standard.