Jump to: BIOS | Performance | Overclocking | Conclusion
Building a new PC this winter became rather more interesting when the Intel 12th Gen Core CPUs launched. Requiring Z690 motherboards based on the all-new LGA 1700 socket, enthusiast DIY builders have more choice than ever before.
That choice goes further than you may imagine. 12th Gen Core chips feature a hybrid memory controller able to work with DDR4 or DDR5, so manufacturers will release motherboards with support for one or the other memory standard.
ASRock naturally provides models compatible with both. Boards featuring established DDR4 are advisable for the budget-conscious user as memory is widely available and costs half as much as DDR5 for the same capacity. There's a loss in absolute bandwidth, of course, yet for many that is, literally, a price worth paying.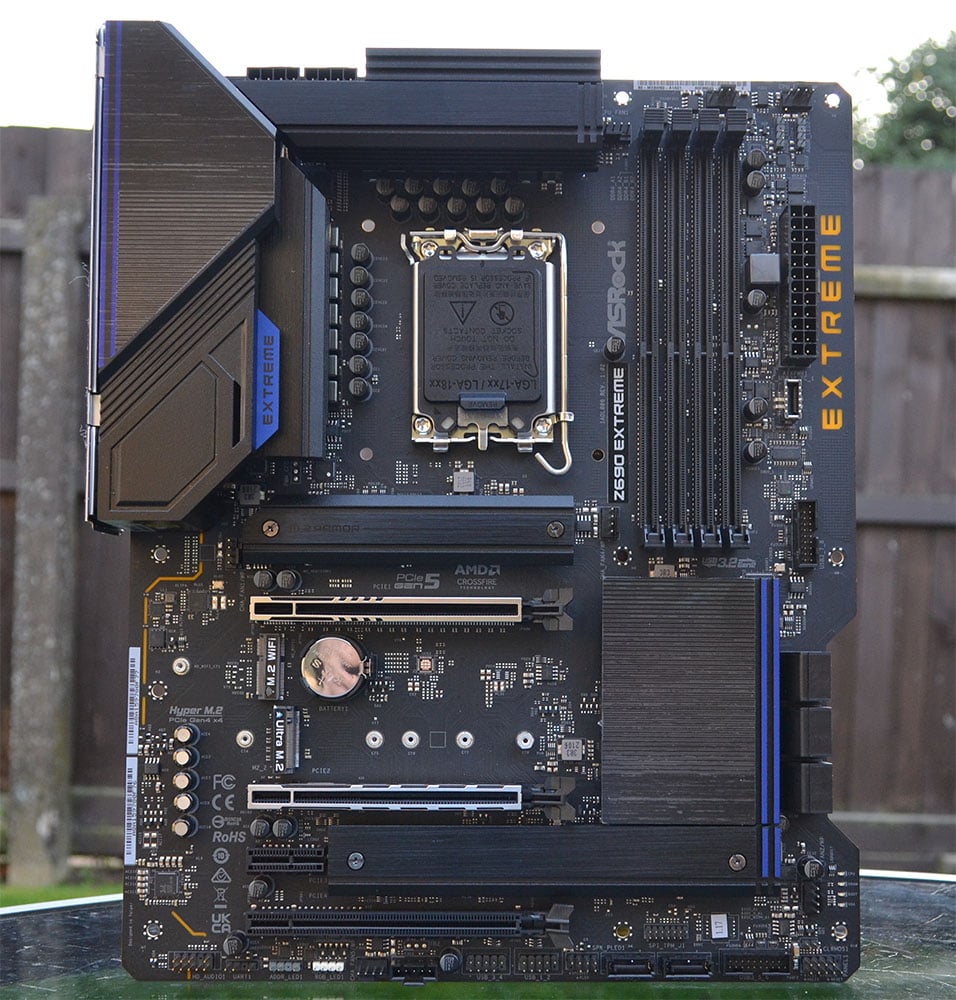 Costing around £250, the ASRock Z690 Extreme is put forward as a sensible option for users wanting DDR4 compatibility. Rather than move forwards on a descriptive tack, listing features, the best method of evaluation is to call out where this motherboard does well, or not so well, relative to the price point.
Starting with the good, there's plenty of surface area for the two finned heatsinks surrounding the power delivery. ASRock also places a heatpipe between the two, helping evacuating heat produced.
The Extreme also does a fine job in securing the heatsinks, via thermal tape, to the VRMs; there's no give when pushing and prodding them around.
USB-C 20Gbps is nice to see, and ASRock cuts into the ATX PCB by the rotated SATA ports to provide space for a GPU bracket, ostensibly to keep longer cards from sagging.
RGB is also tastefully done. Present by the integrated I/O shroud, on top of the Z690 passively-cooled chipset, and illuminating the Extreme branding via seven LEDs on the reverse side and a further three by the SATA, the overall effect is subtle.
There are no buttons on the board, which is a shame, but four debug LEDs enable basic troubleshooting. There's a separate board known as Z690 Extreme WiFi 6E offering, as you may guess, baked-in WiFi. Pricing of that model is unknown.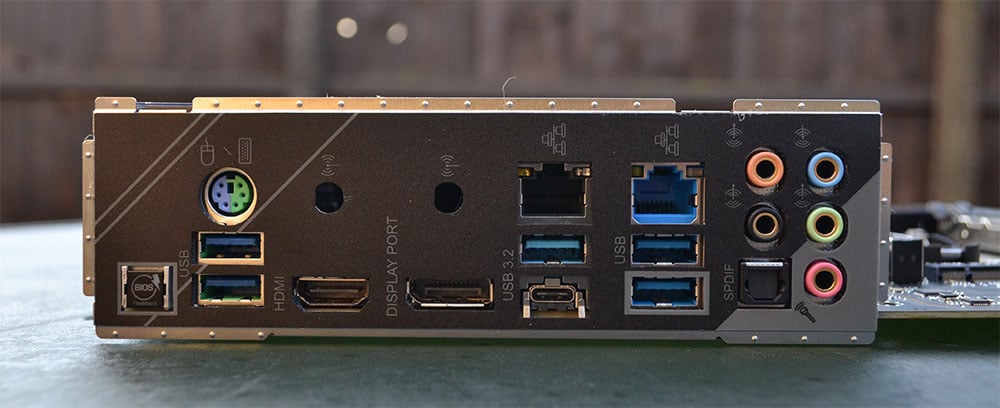 Speaking of I/O, it's good to see ASRock use both HDMI and DisplayPort outputs for those who don't want to invest in a discrete video card. And having dual LAN – 2.5G Realtek and 1G Intel – is always a good thing.
There are places where the Extreme could do better, however. ASRock provides two PCIe 4.0 x4 slots for fast storage and both run with heatsinks. Compared to rivals, the heatsinks feel basic, but we'll examine their performance later.
It's also worth knowing there are three storage-based M.2 here – the remainder is PCIe 3.0 x4 – other £250 boards tend to have four. ASRock, instead, goes much bigger on SATA by offering a full complement of eight ports. We'd happily sacrifice four of these for another M.2.
Having only six USB on the rear feels stingy, especially when direct rivals such as the Asus Z690 Prime has eight, including a 20Gbps that's missing on this Extreme's I/O.
Overall, on first inspection, ASRock still does more things right than wrong.
BIOS
Testing Setup
Comparison Motherboards

Motherboard

ASRock Z690 Extreme

Asus Z690 ROG Maximus Hero

CPU

Intel Core i9-12900K

BIOS

1.17

0702

Memory

G.Skill Trident Z DDR4-3200

Crucial DDR5-4800

Memory Config

2x16GB

Memory Timings

14-14-14-34

40-40-40-76

Memory Speed

3,200MHz

4,800MHz

Disk Drive

Corsair MP600 Pro XT NVMe 1TB

Power Supply

be quiet Dark Power Pro 11 (1,000W)

Graphics Card

Nvidia GeForce RTX 3080 Founders Edition (496.13)

CPU Cooler

Asus Ryujin II 360 AIO

Operating System

Microsoft Windows 11 (64-bit)
Performance


Running DDR4 at 3,200MT/s vs. DDR5 at 4,800MT/s – representing the base speeds for both memory types – means there's a clear bandwidth win for new-fangled D5. However, using our preferred 14-14-14-34 set of G.Skill DDR4, shows the rather large benefits of access latency for established memory.
Don't be fooled by the sky-high figures for DDR5; overall memory performance is more than mere bandwidth.



You may conclude that slower performance on the ASRock board is down to the use of DDR4 instead of DDR5 on the dearer Asus. That's not actually the case, as drilling down shows the review Z690 Extreme operating at slightly slower single- and multi-core speeds compared to the Asus, and that's the defining factor.







The CL14 access latency for the ASRock board shows that DDR4 is a long way from being dead even on this innovative platform. Yes, we are using a premium G.Skill kit with uncommonly tight timings, but it's something enthusiasts have grown to appreciate.
You are likely to save at least £100 by opting for this DDR4 motherboard and memory compared to a similar board and the same-capacity DDR5, with little in the way of performance loss.

Show your support for impartial Club386 reviews
Club386 takes great pride in providing in-depth, high-quality reviews built on honest analysis and sage buying advice. As an independent publication, free from shareholder or commercial influence, we are committed to maintaining the standards our readers expect.
To help support our work, please consider making a donation via our Patreon channel.
Having lower memory access latency may not play that well with synthetic tests, but to our surprise, DDR4-3200 is more than a match for DDR5-4800 in real-world gaming.
Other than provision for DDR4, the ASRock Z690 Extreme carries support for the latest technologies, including super-fast PCIe 4.0 x4 for storage that's able to hit around 7GB/s for sequential transfers.
Overclocking
| | ASRock Z690 Extreme | Asus ROG Maximus |
| --- | --- | --- |
| Maximum CPU speed at 1.4V | 5,100MHz | 5,100MHz |
| Maximum Memory Speed at 1.4/1.2V | 3600MT/s DDR4 | 5600MT/s DDR5 |
| Cinebench R23 multi-core | 27,912 score | 28,297 score |
| Far Cry 6 – FHD | 149/114 fps | 148/112 fps |
Using preset parameters, we see both boards overclock the chip to an all-performance-core 5.1GHz. The ASRock Z690 Extreme is not primed as an ultra-enthusiast board yet the VRM and power delivery is capable of dealing with at least twice the power we run in an overclocked state. Gone are the days of cheaper boards using vastly inferior power regulation.
Maximum memory speeds are predicated by the modules used, and as expected, DDR5 scales higher on the Asus. The real indication rests with CPU- and graphics-intensive tests, where both boards perform similarly.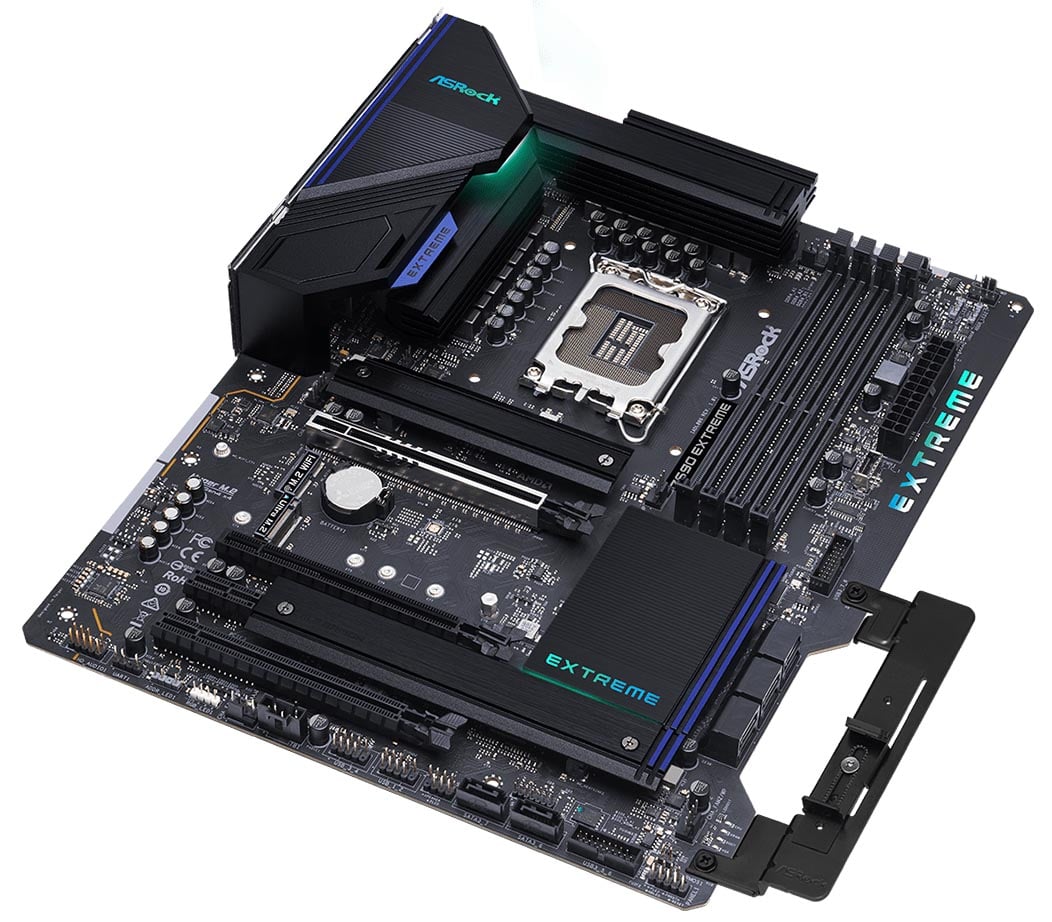 Conclusion
ASRock shows it is not necessary to jump on the Z690 DDR5 memory bandwagon immediately. Equipping the Extreme board with low-latency DDR4 memory ensures performance is practically identical to DDR5-4800. From a practical point of view, any savings from a cheaper motherboard and memory can be repurposed elsewhere.
Rather more practically, DDR5 stock is very thin on the ground, causing pricing to spike to such an extent that the value argument is heavily skewed in Z690 DDR4's favour.
Decent power delivery, restrained RGB, dual LAN, and a useful GPU holder count in the Extreme's favour at the £250 price point. Yet there are concerns to be aware of. Compared to rivals, the board is lacking a fourth M.2 slot, the audio last-gen, and there ought to be the latest 20Gbps USB on the rear.

Verdict: The ASRock Z690 Extreme offers a reasonable mix of features backed by strong performance from low-latency DDR4. One to consider at the £250 price point, a few improvements will take it from good to excellent.
Pros
Thoroughly decent power delivery
Dual LAN
GPU holder
Attractive price
Cons
Lacking fourth M.2 slot
Ought to have 20Gbps USB
Club386 may earn an affiliate commission when you purchase products through links on our site. This helps keep our content free for all. Rest assured, our buying advice will forever remain impartial and unbiased.