Jump to: Specification | Performance | Conclusion
The launch of a new range of CPUs is an opportune time to release additional motherboard models touting the latest features. Not wanting to miss a trick, ASRock is using the pretext of Intel's 14th Gen Core, reviewed right over here, to reinvigorate Z790. Also considered a refresh of sorts, boards are receiving upgrades to cooling, I/O, and most notably wireless connectivity. ASRock puts its best foot forward with the all-new Nova WiFi.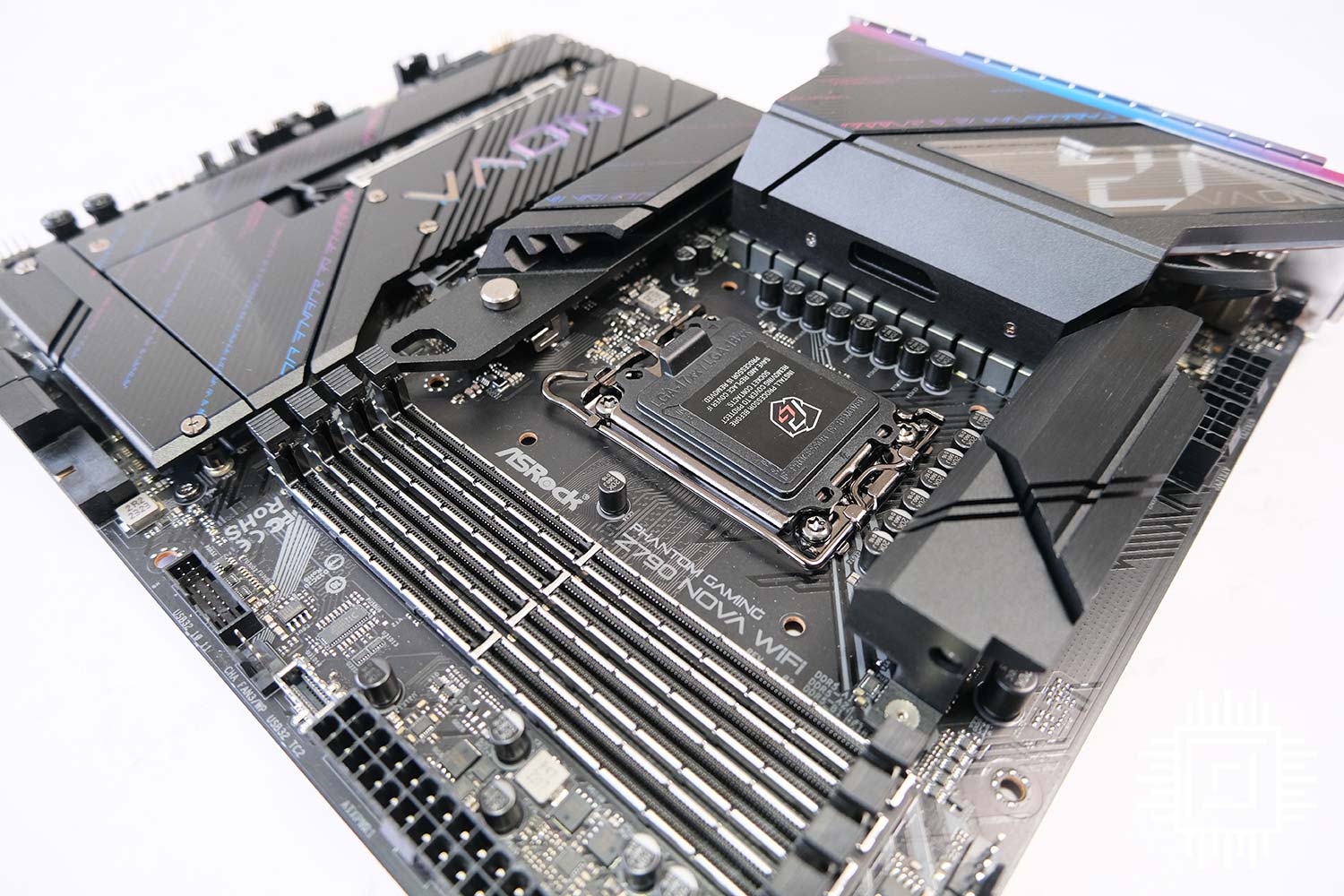 I got to say, the design aesthetic is right up my street. It's as if ASRock has taken a good look at Club386 and decided, yup, those magenta and cyan colours work rather well, and who am I to argue. The colouring effect is subtle in real life, but if the light catches the board just right, you're treated to LOTR-like symbolism across the various heatsinks. Mordor awaits.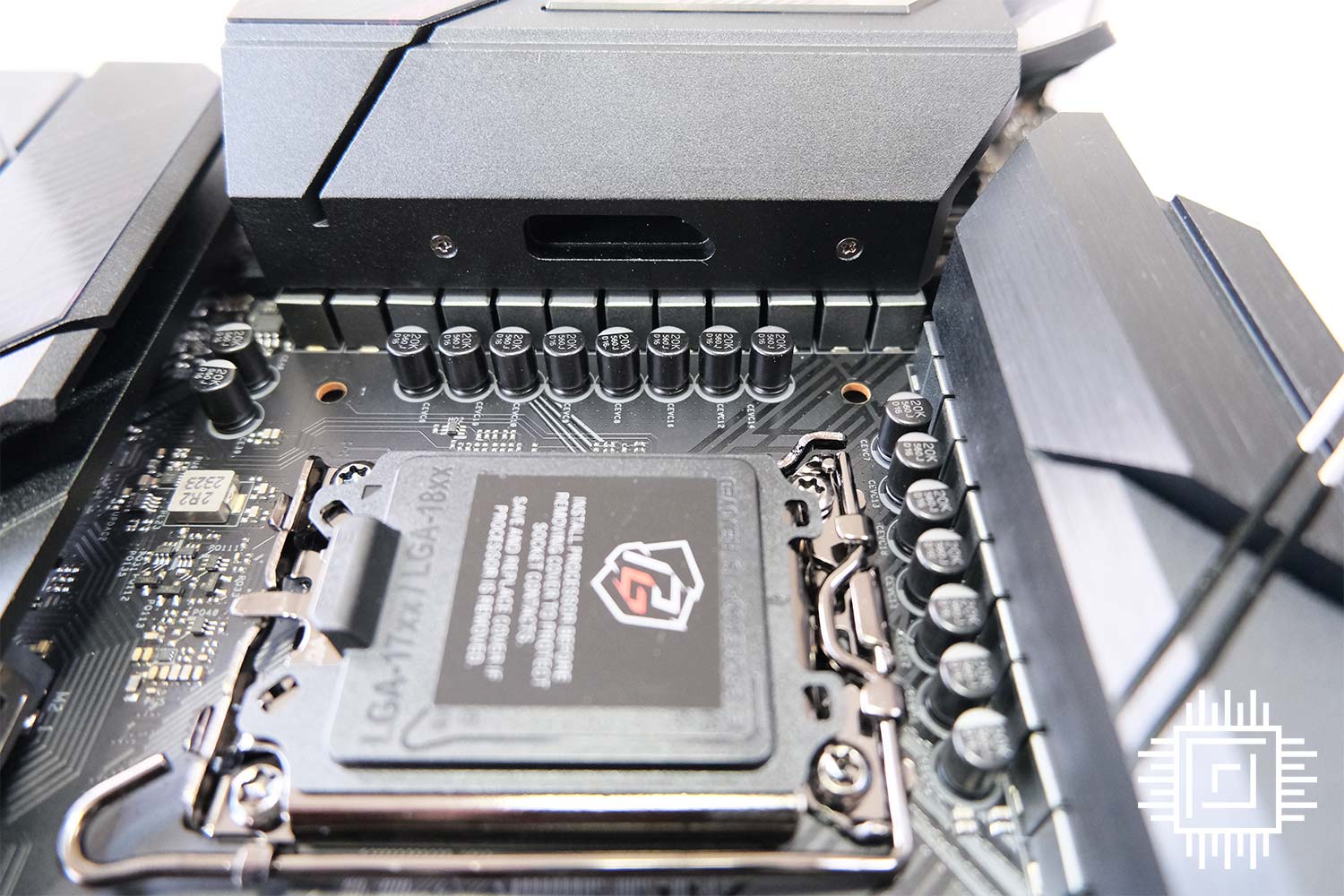 Underneath the considerable CPU-surrounding heatsink rests a 20+1+1-phase power supply which, let's be honest, is overkill for even a Core i9-14900K run in unrestricted Banshee Mode. On first glance, the cooling looks similar to the Z790 LiveMixer, yet the devil is in the closer examination. Nova's is far more substantial insofar the two heatsinks are connected via a heatpipe that wends its way to a large aluminium block residing underneath a cover. In short, cooling is top notch and ready to roll with the electrical punches dealt by any Core CPU.
The integrated I/O shield is home to one of the board's two RGB sections. Here, the backlighting shines bright behind the rotated Phantom Gaming logo. It's a nice touch, though you can go dark by fiddling a few options in firmware or via ASRock's PolySync OS software. Make sure to tuck away the small cable that connects an internal fan to the motherboard header, and you can just see it peeking out on our sample.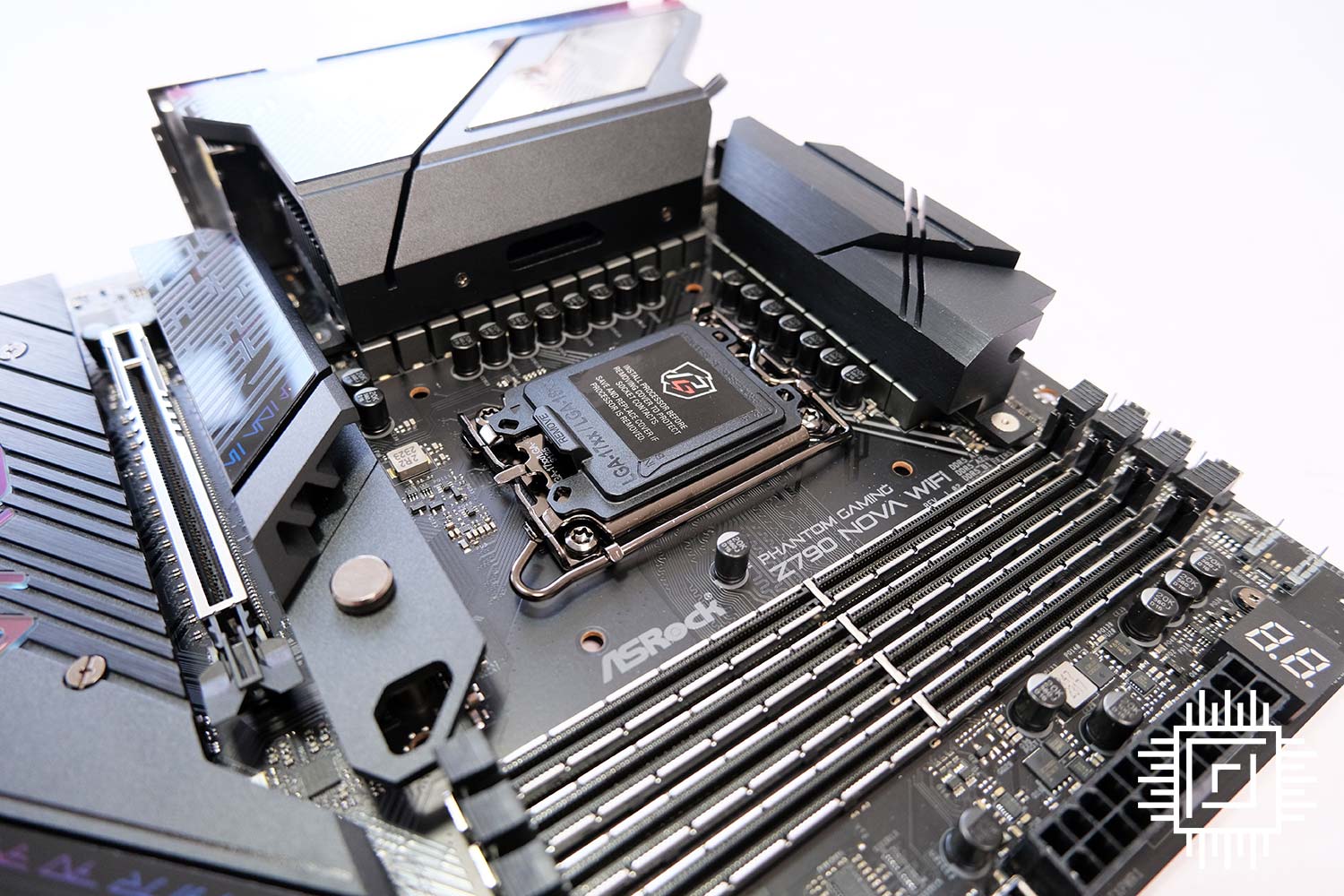 M.2 accessibility is improving between generations. This time around, Nova features a push-to-release heatsink for the primary slot. Disengaging is as simple as pushing down and to the left… and out pops the cover. It's just as easy to reattach, so top marks to ASRock for making installation wonderfully simple. Do appreciate that if removing or installing the graphics card, it's best to disengage this primary M.2 cover, because otherwise getting to the PCIe release latch is nigh-on impossible.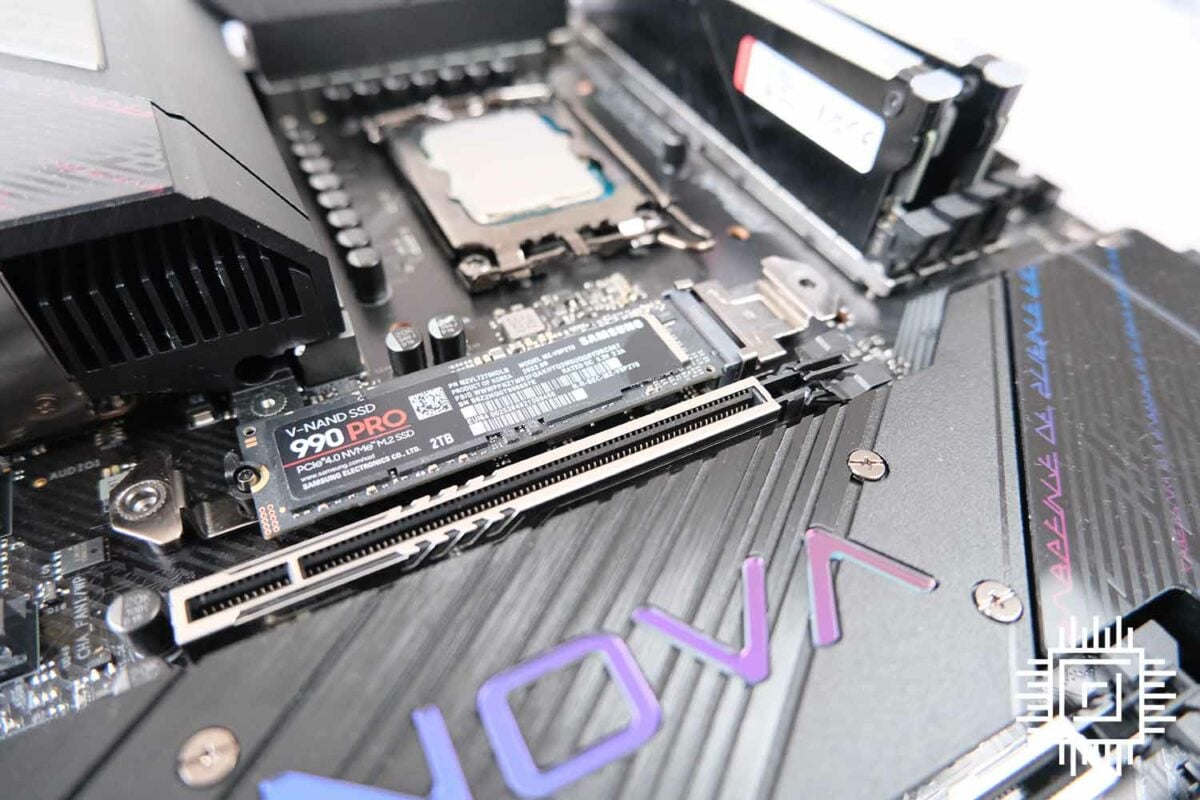 The standard ATX-sized Z790 Nova WiFi is undeniably strong for storage, too. A further five – yes, five – PCIe 4.0 M.2 slots are dotted around the bottom of the board, all hidden below heatsinks. Understand that only the primary PCIe 5.0 x4 and 4.0 x4 directly below it attaches to the CPU. Appreciating a lack of lanes on Z690/Z790, using a PCIe 5.0 M.2 x4 drive drops the primary PCIe 5.0 x16 graphics card's slot to x8. Nature of the beast.
All others M.2s run through the Z790 chipset and have to deal with possible lane congestion should you populate them. As a primer, Z790 connects to the CPU via a PCIe 4.0 x8 link, so with copious amounts of USB and Ethernet ports also using the chip as their conduit, it can rightfully be argued ASRock stuffs far more functionality than Intel's platform can handle at any time.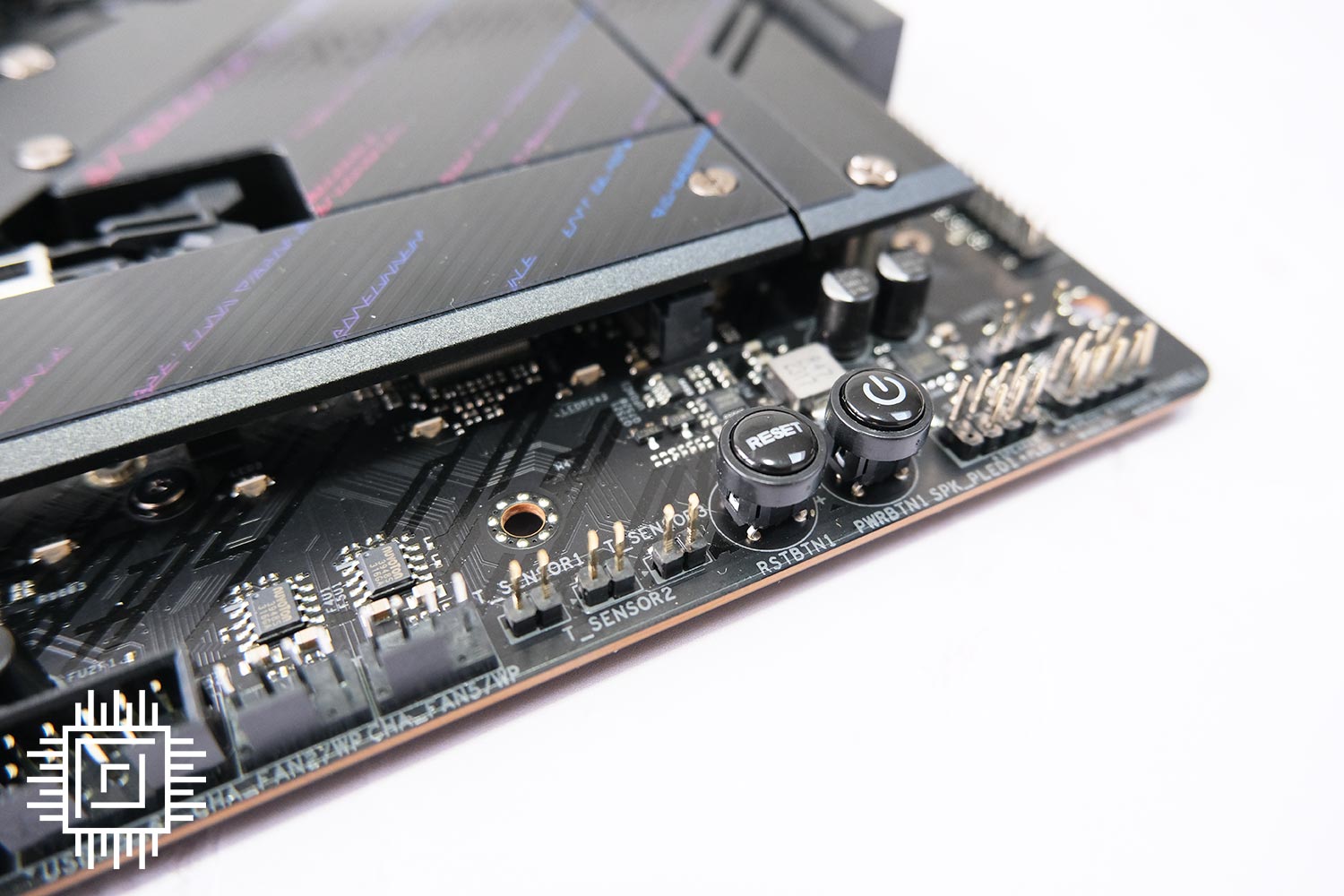 A key benefit to having a heatsink-clad motherboard is design consistency from top to bottom, and ASRock goes the extra mile by having an ATX-wide metal heatsink on the rear. Appreciating multi-GPU setups are now largely consigned to the dustbin of history, Nova deliberately doesn't leave a large-enough gap between the topmost PCIe 5.0 x16 and second PCIe 4.0 x16 should you have a massive card like an RTX 4090 in situ. No great shakes as who runs two of them, right?
We originally saw this board at Computex and noted, much to our delight, ASRock had outfitted it with a Realtek 5G Ethernet controller. It's evidently been given the chop before retail as a Killer E3100G 2.5G has taken up the duties instead. That's a shame, really, as Nova deserves excellent networking. Better news is reserved for wireless, of course, as this is the first Z790 board we have come across touting the latest revision 7 moniker.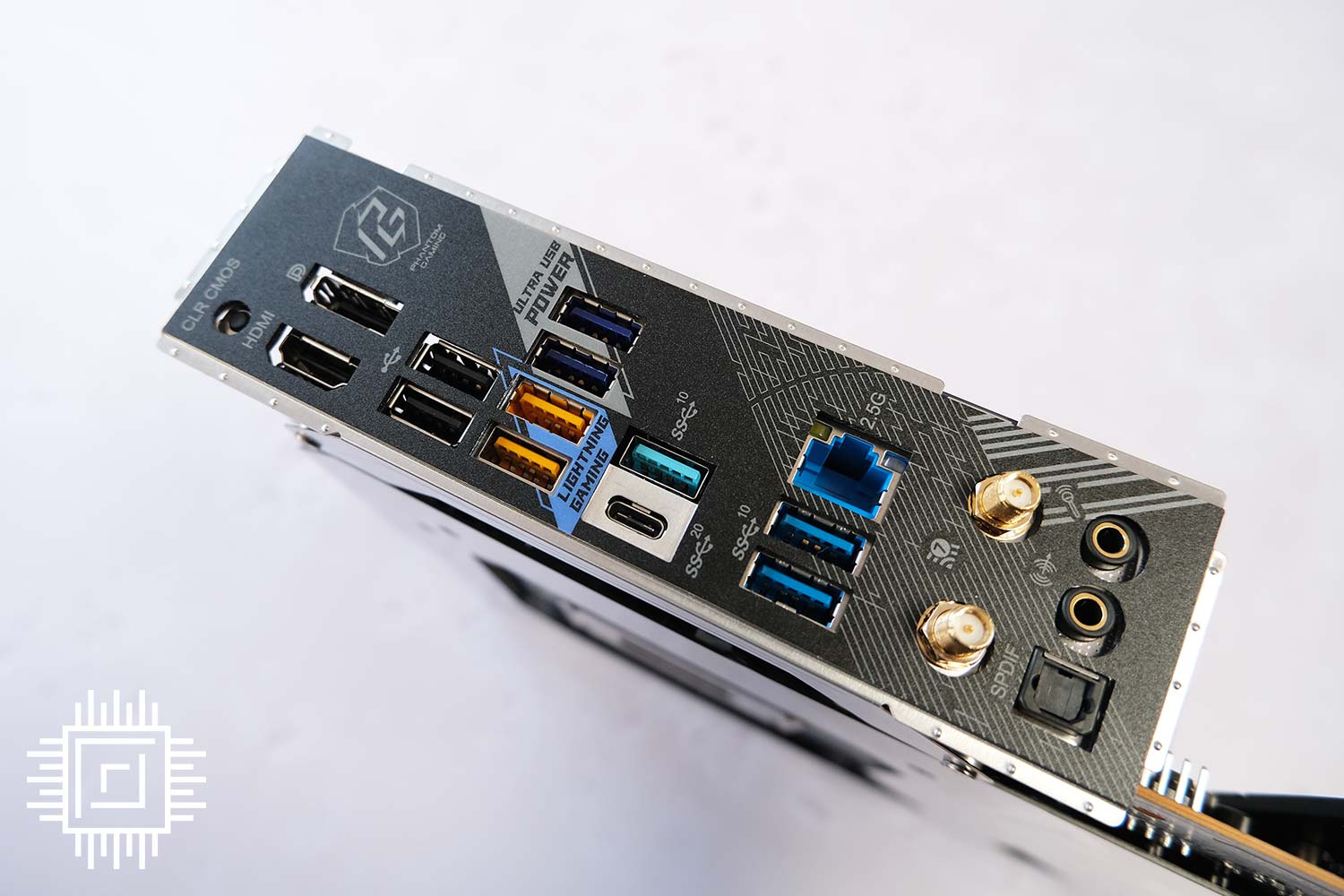 Also hiding underneath the I/O shield, ASRock uses a brand-new Intel BE200 M.2 2230 chip capable of speeds up to 5Gbps in optimal conditions. Getting to this stratospheric throughput requires investing in a WiFi 7 router – manufacturers are rushing to get out preliminary spec hardware as soon as practical – and it's a case upending your entire networking infrastructure for the next evolution of speed. Nevertheless, it's good to know the board will scale with your wireless networking aspirations.
Specification
Model
ASRock Z790 Nova WiFi
ASRock Z790 Taichi
Price
£400
£500
CPU power delivery
20-phase 100A
24-phase 105A
Native M.2
6 (1 PCIe 5.0, 5 PCIe 4.0)
5 (1 PCIe 5.0, 4 PCIe 4.0)
SATA
4
8
USB 20Gbps
2 (I/O, board)
1 (board)
Total rear USB
10
12
LAN
1 2.5G
1 2.5G
Physical PCIe
1 x16 PCIe 5.0
1 x16 PCIe 4.0
1 x1 PCIe 3.0
2 x16 PCIe 5.0
1 x16 PCIe 4.0
Audio
ALC 4082
ALC 4082 / ESS9218 DAC
RGB
Yes, two sections
Yes, three sections
USB 4
No
Yes, two ports
Thunderbolt 4
No
Yes, same ports as above
Wi-Fi
Intel Wi-Fi 7 BE200
Killer Wi-Fi 6E 802.11ax
Fan headers
8, including VRM fan
8
Video output
HDMI
DisplayPort
HDMI
Form factor
ATX
eATX
Pitting Z790 Nova against best-of-breed Z790 Taichi shows the small cuts made to achieve a better street price. In particular, Nova misses out on USB 4 / Thunderbolt 4, while audio isn't quite so sharp. In return, however, you get more native M.2 and faster WiFi. A fair exchange, I would say.
Firmware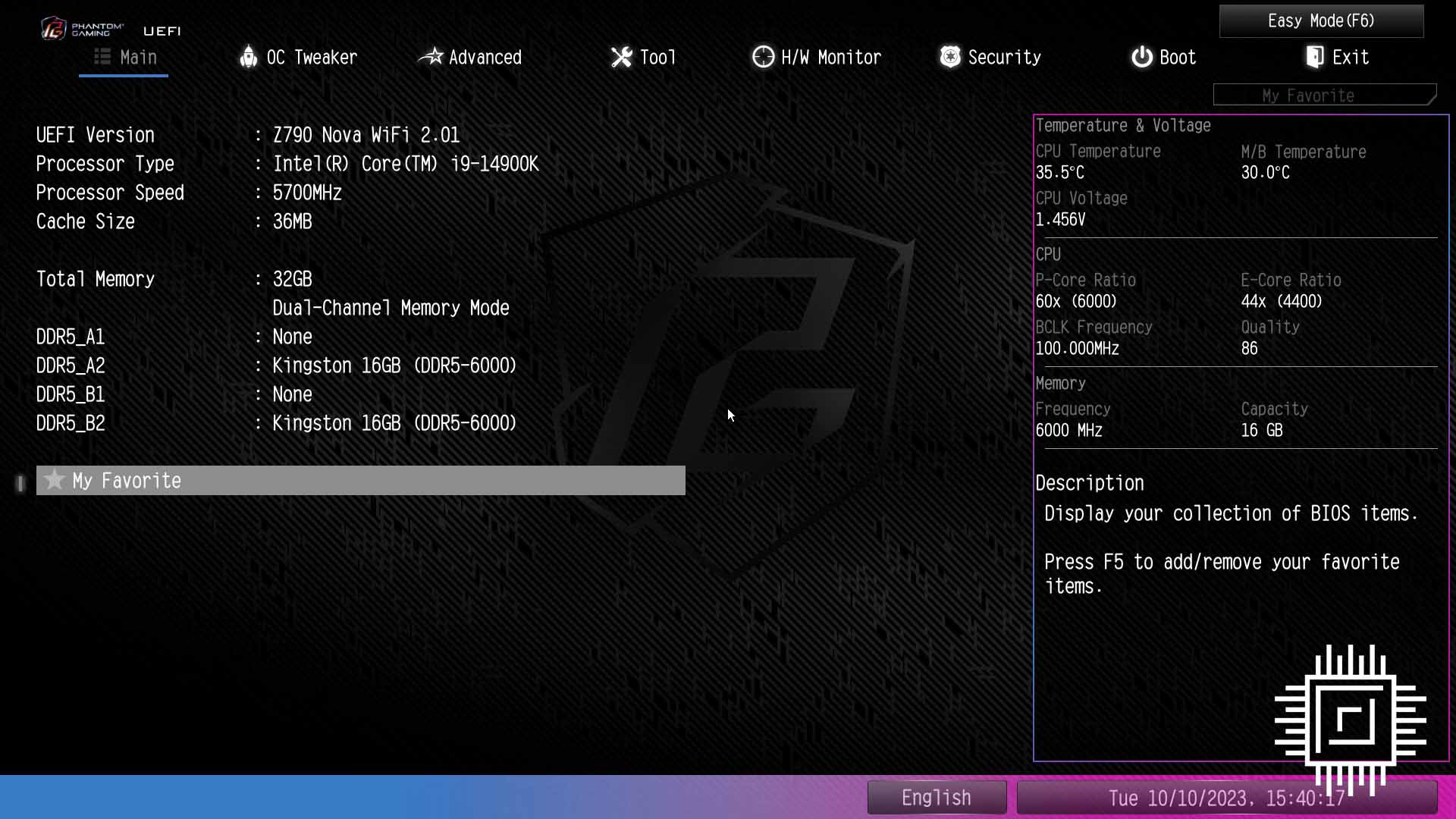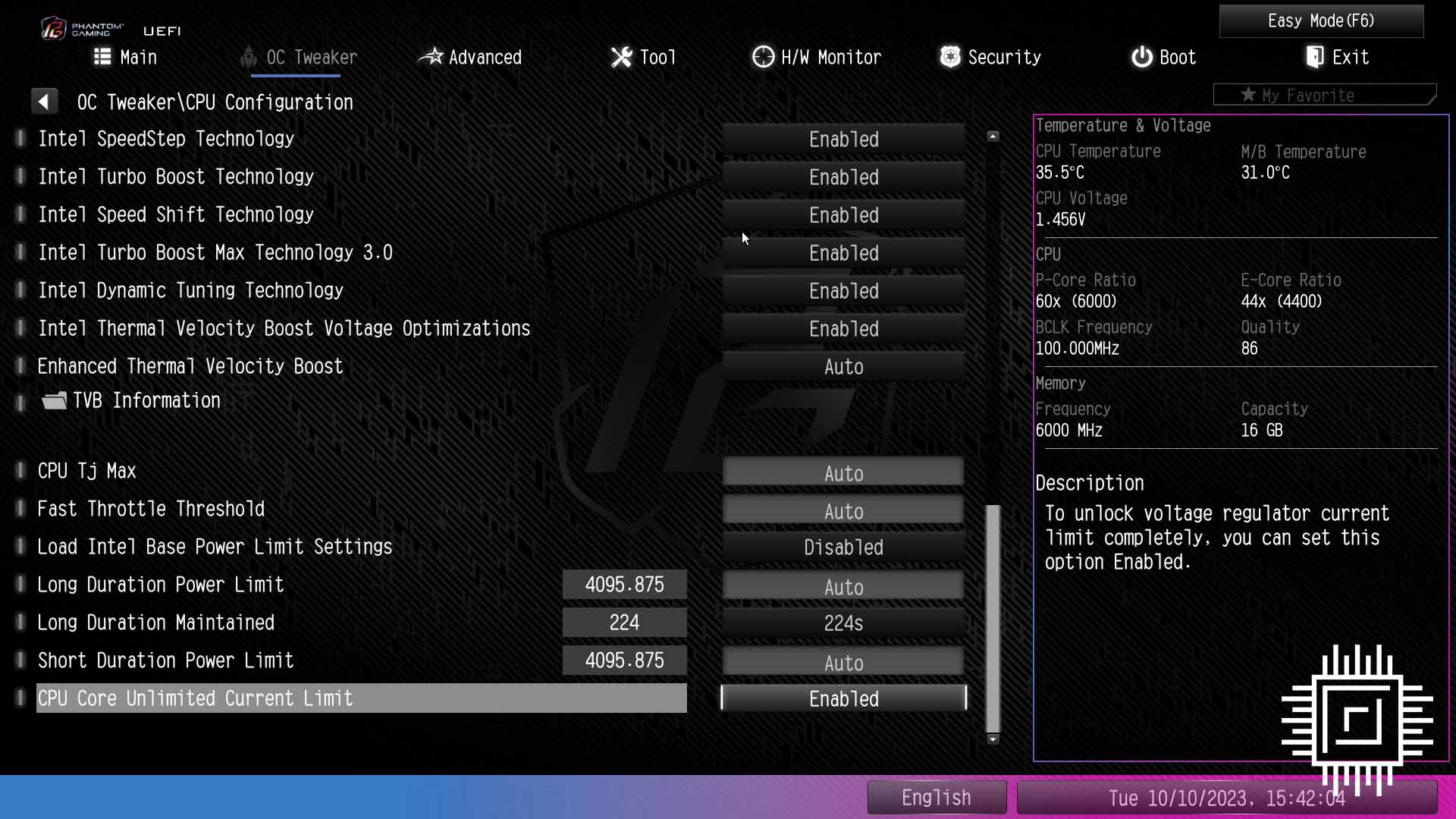 ASRock has no difficulty in running our Core i9-14900K chip at what we describe as unlimited power, where all shackles are removed, leaving the processor opportunity for scaling to 330W and beyond.

Show your support for impartial Club386 reviews
Club386 takes great pride in providing in-depth, high-quality reviews built on honest analysis and sage buying advice. As an independent publication, free from shareholder or commercial influence, we are committed to maintaining the standards our readers expect.
To help support our work, please consider making a donation via our Patreon channel.
Performance
Benchmarking the Z790 Nova WiFi against another competitive Z790 board is useful in evaluating whether there are manifest differences when using a high wattage Core i9-14900K, GeForce RTX 4090 (536.99 drivers) tied to DDR5-6000 CL32 memory. This is arguably one of the finest desktop combinations money can buy.
| Benchmark | ASRock Z790 Nova WiFi | Asus ROG Maximus Hero Z790 |
| --- | --- | --- |
| AIDA Read (MB/s) | 91,669 | 91,402 |
| AIDA Latency (ns, lower is better) | 67.6 | 68 |
| Cinebench 2024 1T (score) | 134 | 136 |
| Cinebench 2024 MT (score) | 2,219 | 2,222 |
| y-cruncher (time, lower is better) | 58.102 | 57.996 |
| 7-zip (MIPS score) | 200,081 | 199,725 |
| PCMark 10 (score) | 10,204 | 10,270 |
| 3DMark TS (score) | 33,157 | 33,102 |
| PCIe 5.0 SSD (MB/s) | 12,408 / 11,885 | 12,450 / 11,878 |
| Endwalker FHD (FPS) | 293 / 101 | 292/ 99 |
| Far Cry 6 FHD (FPS) | 152 / 129 | 150 / 122 |
| AC Valhalla (FPS) | 228 / 91 | 230 / 94 |
| TC: Rainbow 6 (FPS) | 475 / 360 | 478 / 366 |
| VRM temperature (°C) | 69 | 72 |
| Power idle / gaming (watts) | 61 / 465 | 64 / 474 |
Configured in exactly the same way, the ASRock Z790 Nova WiFi wins about half the benchmarks, trailing by a small margin in others. Bear in mind these scores are about as good as it gets from a regular PC, and we challenge you to beat our Cinebench 2024 score, which is the first time the benchmark has been used at the Club.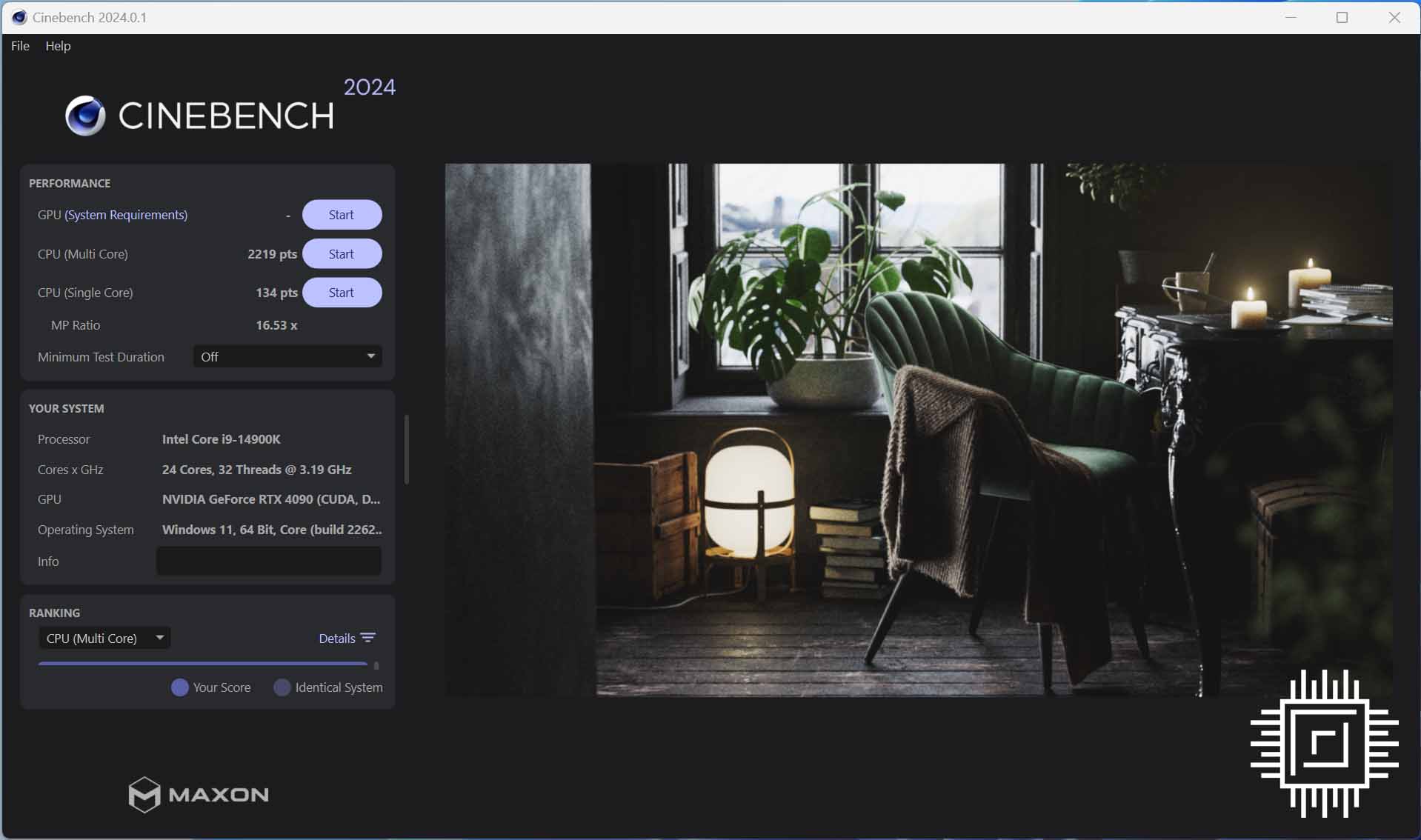 Conclusion
ASRock appreciates there isn't a heap of innovation with the latest launch from Intel. This is why the all-new Nova focuses on value outside of pure CPU performance by adopting a new aesthetic and going big on M.2 and WiFi 7 support.
It's a handsome bit of kit, too, with the subtle lighting and discrete markings on the full-coverage heatsinks working well. ASRock's innovation provides easy-access M.2, beefy heatsinks, and a solid assortment of I/O.
Our usual advice is to pair a motherboard with a CPU costing a similar amount. Following this line of thought, Z790 Nova WiFi makes an ideal partner for a Core i7-14700K or, at a push, Core i9-14900K.
Putting it all together, anyone who has not yet invested in a premium Intel LGA1700 platform, but feels the need to do so now, is pointed to the ASRock Z790 Nova WiFi 7 as a great starting place.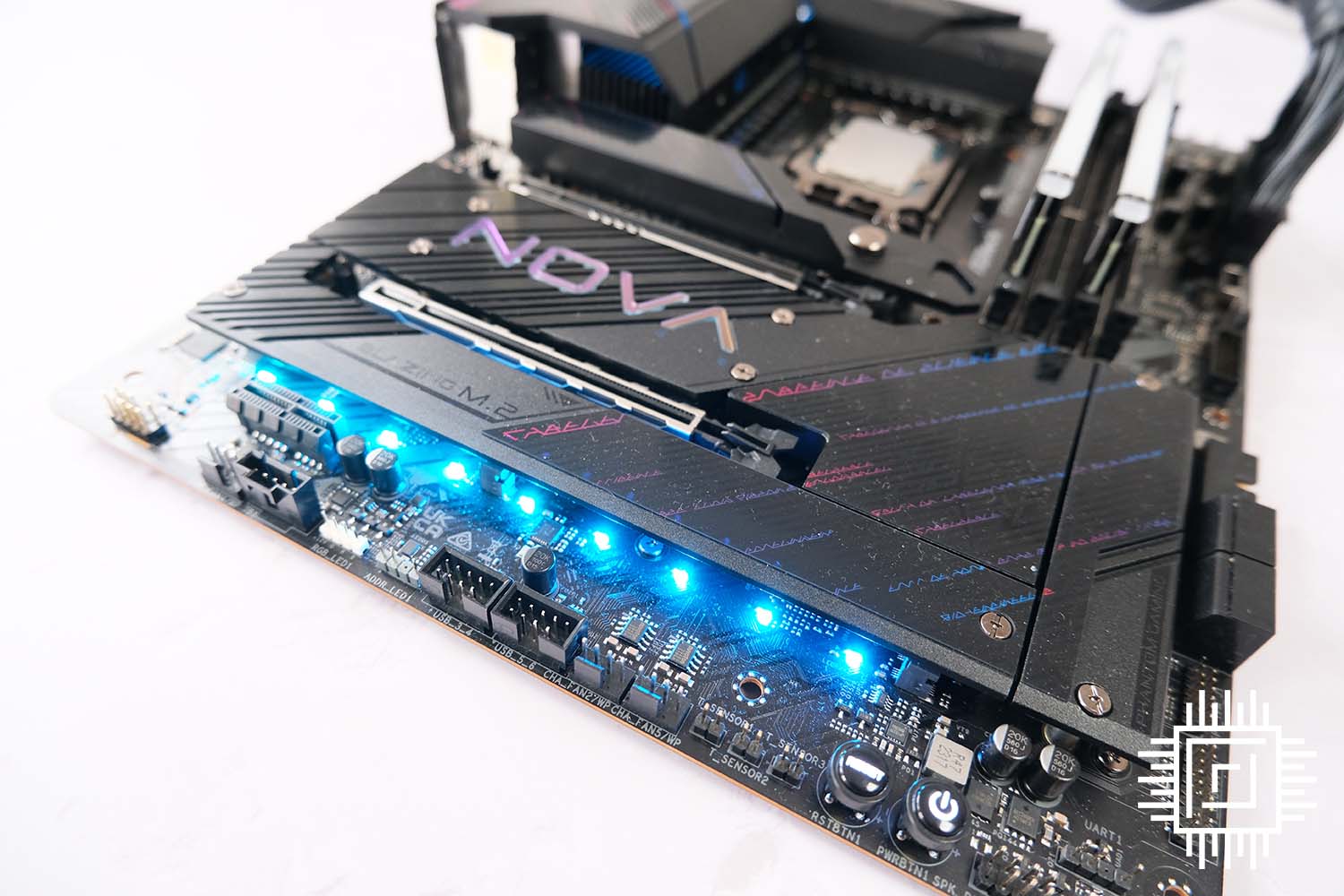 ASRock Z790 Nova WiFi
Verdict: Easily able to handle a rampaging Intel Core i9, the well-balanced feature set and attractive design stand out.
---
---
Club386 may earn an affiliate commission when you purchase products through links on our site. This helps keep our content free for all.
Rest assured, our buying advice will forever remain impartial and unbiased.