Jump to: Performance | Overclocking | Conclusion
Febrile price cutting is hurting margins in the PC memory world. Run on leading AMD and Intel consumer platforms, DDR5 RAM is barely more expensive than DDR4, meaning manufacturers need to innovate for their products to stand out. Looking to do exactly that is Kingston with Fury Renegade White. The range proudly sits at the top of Kingston's consumer stack, lording it over Beast by dint of higher supported frequencies and voltages.
Available with either an RGB light bar or without, underlying specs are identical, encompassing speeds from 6,000MT/s to 7,200MT/s, kit capacities of up to 64GB, and low latencies primed for that last morsel of performance. We have the 32GB (2x16GB) 6,400MT/s CL32 kit in for perusal. If you like product model numbers – and let's face it, we're all geeks here – this here RAM is officially known as KF564C32RWK2-32.
Understanding Fury Renegade caters for fast speeds, there is inherent Intel XMP certification, but alas no equivalent AMD EXPO setting – Ryzen users are directed to the Beast line for plug-and-play compatibility.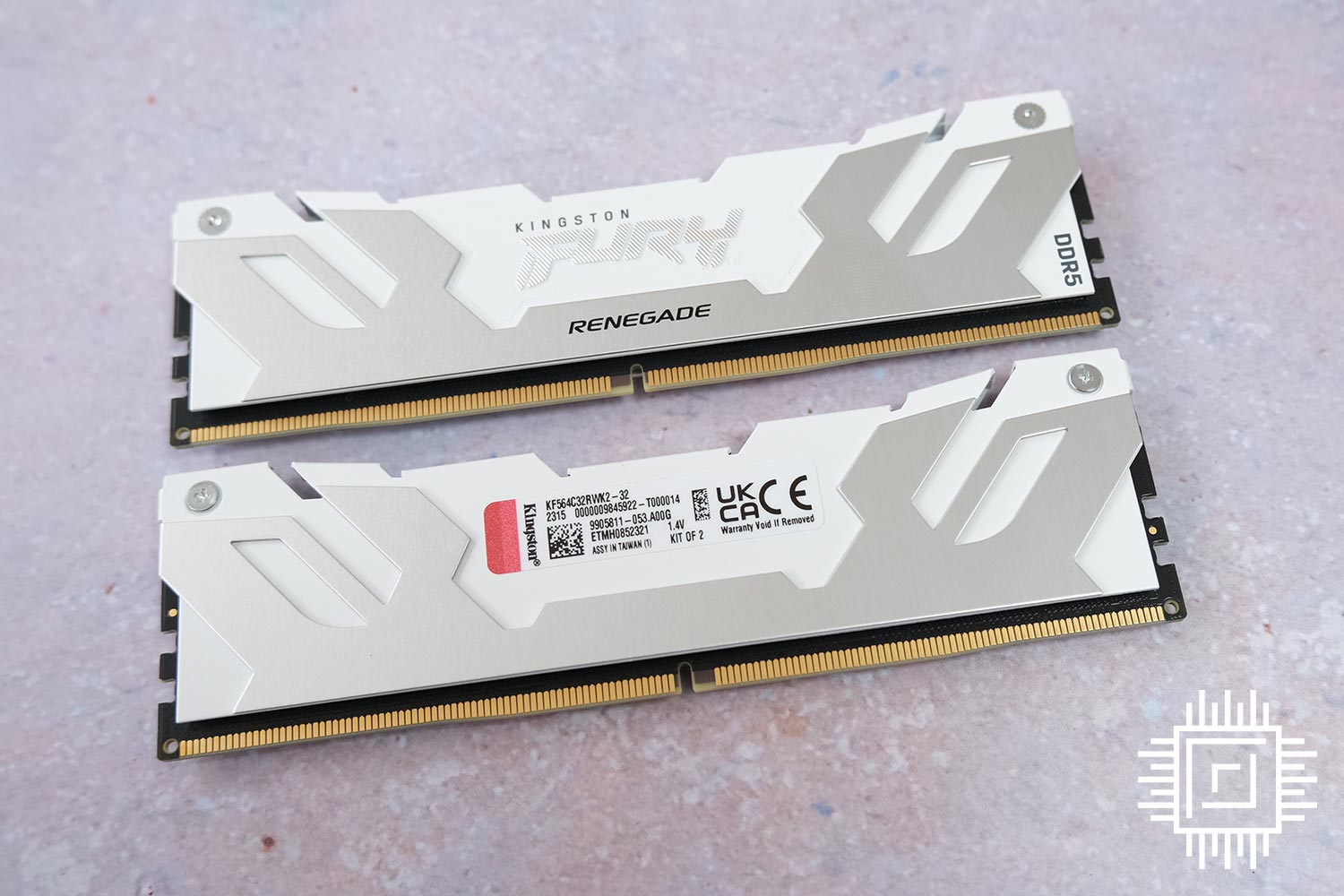 Not having to situate a light bar reduces height to 39.2mm, representing middle of the road for DDR5 DRAM that usually ships in heights between 31mm to 48mm. We envisage no clearance issues with most modern air coolers. As you can see in the pictures, and despite the branding, presentation is not all-white; the silver frame and writing – which, by the way, looks even better in person – juxtaposes well with the heatspreaders. I like the exposed, angular design that's aggressive by nature.
It's all a bit of a pick and mix as far as options are concerned. Choosing the base 6,000MT/s CL32 speed brings 32GB (2x16GB) and 64GB (2x32GB) kits into play. 6,400MT/s CL32 1.4V, 6,800MT/s CL32 1.4V, and 7,200MT/s CL38 1.45V all offer a maximum dual-channel 32GB.
Drilling down into specs of the test 6,400MT/s pack, exact latencies are 32-39-39, which we consider to be above average for this speed.
Some may prefer an all-white design, but I'm actually a fan of black PCB and contrasting heatspreader because it adds visual context and makes the 'spreader pop that bit more. My one criticism is the prominent DDR5 lettering on the bottom-right side that unduly disrupts the otherwise clean design flow.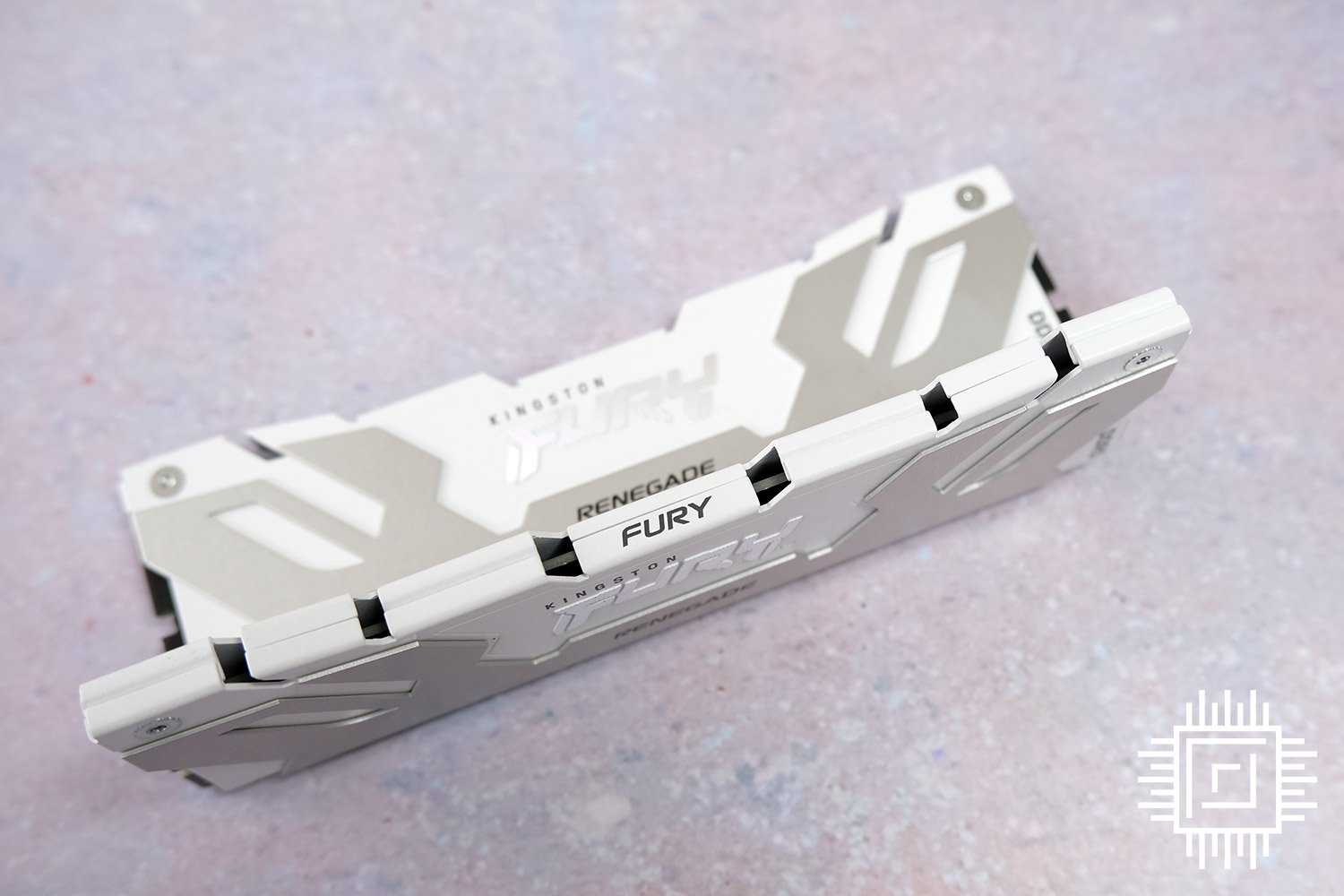 The kit is equipped with three XMP profiles, and you must select Profile #1 to avail the headline speeds and feeds. Hit save in the motherboard's BIOS and you're golden – there are no RGB software utilities to worry about. Loading Kingston's own CTRL app, for example, simply returns a message of 'no DIMMs found.'
Pricing of around £150 reflects the Renegade White's aspirations of being a premium, enthusiast-class bit of kit. Those not feeling as flush are directed towards the £110 Fury Beast 6,000MT/s CL36 set instead. Not as fast on either frequency or latency, Beast is more at home on Core i5 / i7 rigs. Renegade, on the other hand, is the preferred partner in crime for Core i9 shenanigans.
Benchmarks are duly run on an Intel Core i9-13900K CPU, MSI MEG Z790 Ace motherboard, and a GeForce RTX 3080 Founders Edition graphics card equipped with the latest drivers.

Show your support for impartial Club386 reviews
Club386 takes great pride in providing in-depth, high-quality reviews built on honest analysis and sage buying advice. As an independent publication, free from shareholder or commercial influence, we are committed to maintaining the standards our readers expect.
To help support our work, please consider making a donation via our Patreon channel.
Performance
Benchmark
G.Skill Trident Z5 RGB
@ 5600MT/s CL34
Kingston Fury Renegade @ 6400 MT/s CL32
G.Skill Trident Z5 RGB
@ 6800MT/s CL34
AIDA Read (MB/s)
88,423
99,651
103,290
AIDA Write (MB/s)
78,111
86,304
90,694
AIDA Copy (MB/s)
80,070
89,659
94,118
AIDA Latency (ns)
76.2
69.9
68.1
Geekbench MT (score)
25,139
26,204
26,398
Cinebench MT (score)
38,224
38,502
38,371
7-zip (MIPS)
198,398
205,170
207,427
Blender (score)
577.235
587.198
588.673
y-cruncher (time)
136.071
127.959
126.816
PCMark 10 (score)
9,512
9,648
9,634
3DMark TS (score)
17,923
18,032
18,049
Endwalker FHD (FPS)
241.0
244.1
245.6
Far Cry 6 FHD (FPS)
129
131
130
Forza Horizon 5 (FPS)
130
129
131
AC Valhalla (FPS)
136
141
140
TC: Rainbow 6 (FPS)
273
275
275
Putting numbers into context, we've benchmarked against a G.Skill Trident Z5 RGB kit running at either Intel-mandated 5,600MT/s or at its native 6,800MT/s CL34 speeds.
It's heartening to see how much memory helps in certain scenarios. Take a look at the 5,600-6,400 improvement in Geekbench MT, y-cruncher, and even Assassin's Creed Valhalla, which are considered to be memory-bound applications benefiting from higher frequencies and low latencies.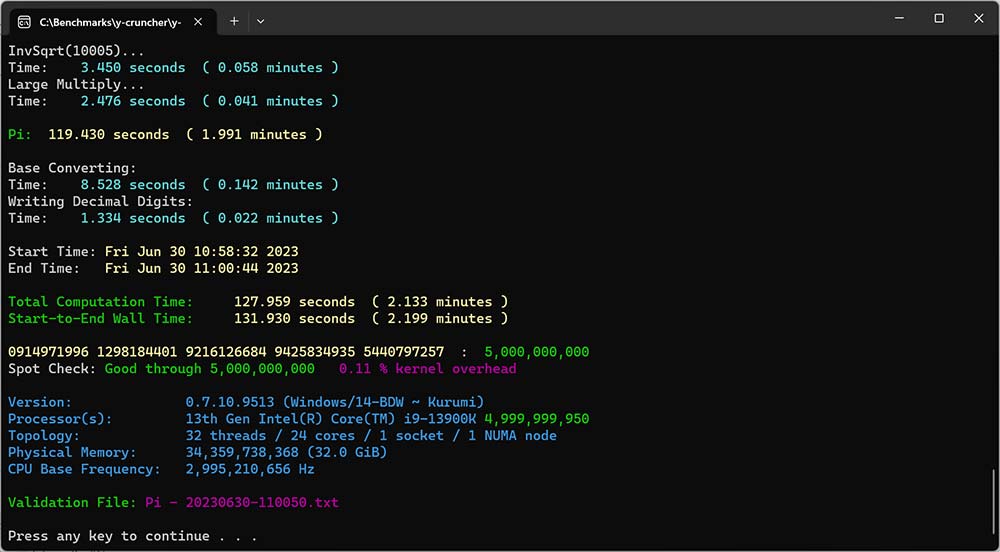 Swapping out the GeForce RTX 3080 for an RTX 4090 really brings shine to the powerful platform. The default 3DMark Time Spy score rockets up from 18,032 to 34,605 marks, while Assassin's Creed Valhalla FHD jumps from an impressive 141fps to a staggering 225fps. Fast memory helps eke out the final drop of performance.
In other words, the more powerful the CPU and GPU, the more necessary it is to feed them with high-speed, low-latency DDR5 memory, and this is precisely where kits like the Kingston Fury Renegade come into their own.
Overclocking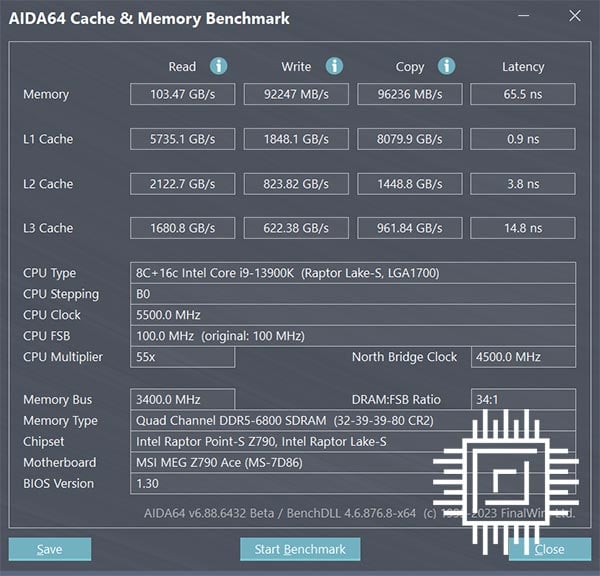 The kit faces no problem in getting to the next step up without touching the 1.4V operating juice, meaning it matches the specifications of the 6,800MT/s kit that's priced £30 higher. 7,200MT/s CL32 is a step too far, resulting in instability.
Conclusion
Now is a great time to build a new PC. Serious competition in every segment leaves the enthusiast in charge, and whether you opt for Intel or AMD as the preferred platform, DDR5 memory is the only sensible way to go. A good kit needs to run at over 6,000MT/s, be equipped with low latencies, offer good value for money, and look great in your build. Kingston Fury Renegade White ticks all those boxes.
Consider this 32GB kit if your build centres around a premium processor, motherboard and GPU combo. DDR5-6400 CL32 achieves a fine sweet spot between performance and value, extracting enough over generic 5,600MT/s RAM to incentivise purchase.
Cool as you like, the Kingston Fury Renegade White DDR5-6400 CL32 kit is another fine example of how to do memory right, and it's certainly worth featuring on a shortlist if you're busy contemplating an ice-white build.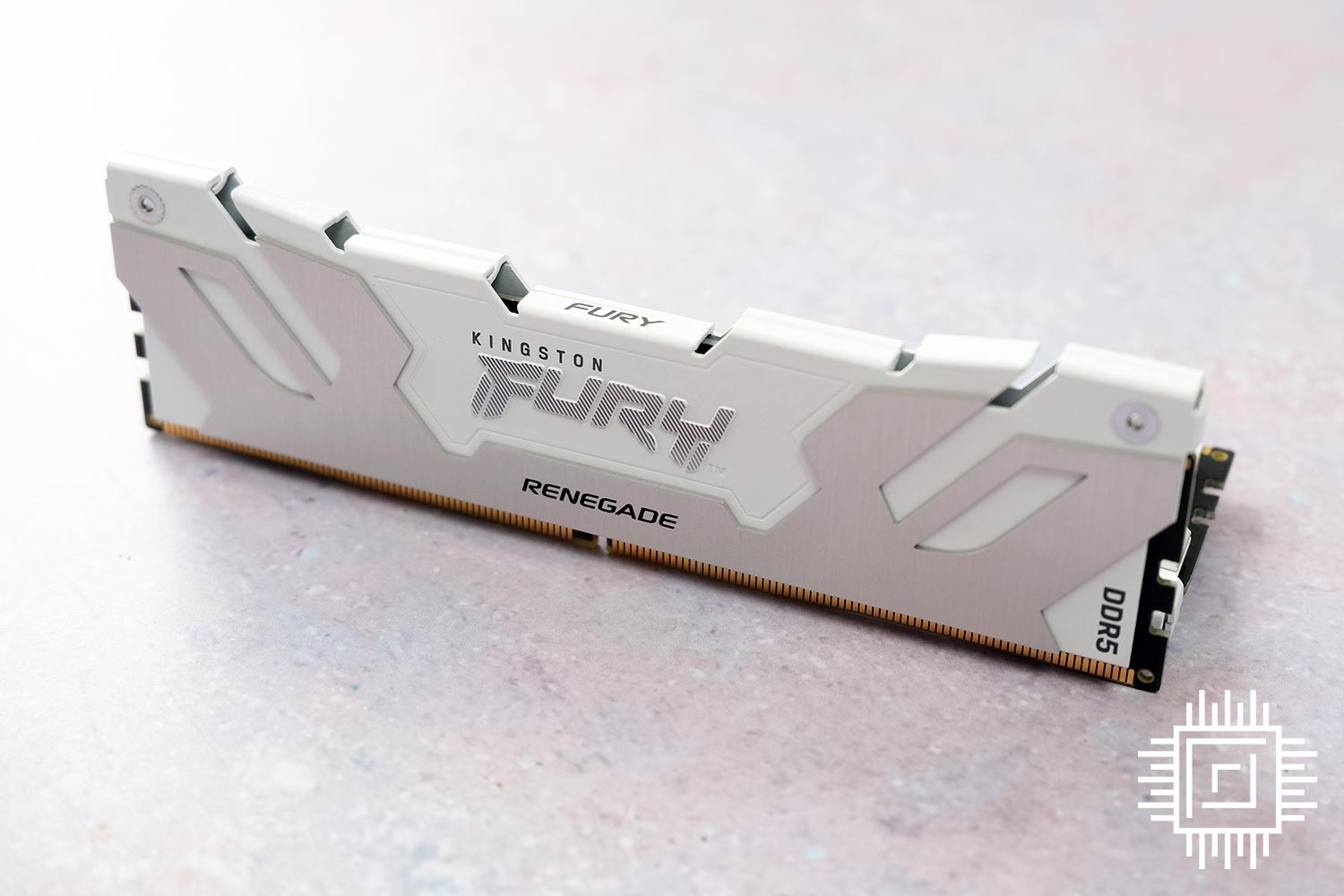 Kingston Fury Renegade White DDR5-6400 CL32
Verdict: got a white PC build in mind? Do yourself a favour and take a closer look at this kit.
---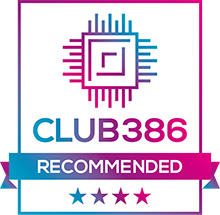 Pros
Good design
Low latencies
Top-notch performance
Restrained form factor
---
Club386 may earn an affiliate commission when you purchase products through links on our site. This helps keep our content free for all.
Rest assured, our buying advice will forever remain impartial and unbiased.