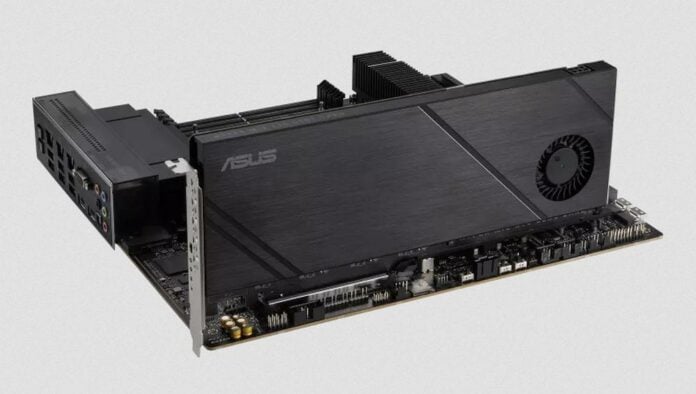 Asus has announced the Hyper M.2 x16 Gen5 SSD adapter card offering a high-speed, high-capacity storage option reaching 64GB/s.
Similar to ASRock's Blazing Quad M.2 add-in card, the Asus Hyper M.2 allows you to install four M.2 SSDs on a single PCIe x16 board. This gives you the choice to have four extra drives as separate spaces or as a combined volume boasting large storage capacity or high speed when using RAID.
Asus advertises up to a 64GB/s throughput, though this is mainly a theoretical limit for PCIe 5.0 x16 slots. In reality, the maximum will be a bit lower due to any transfer or RAID overheads. Not to forget that Gen 5 M.2 SSDs have yet to saturate their interfaces. But since PCIe Gen 5 SSDs are already fast enough, you might prefer going with a JBOD instead to avoid losing storage capacity.
Using currently available PCIe 5.0 drives, you will be limited to about 50GB/s as these drives tend to offer a little above 12GB/s read speeds. This is assuming full utilisation plus no RAID overhead. In other words, this is a powerful card with room to improve as faster SSDs get released.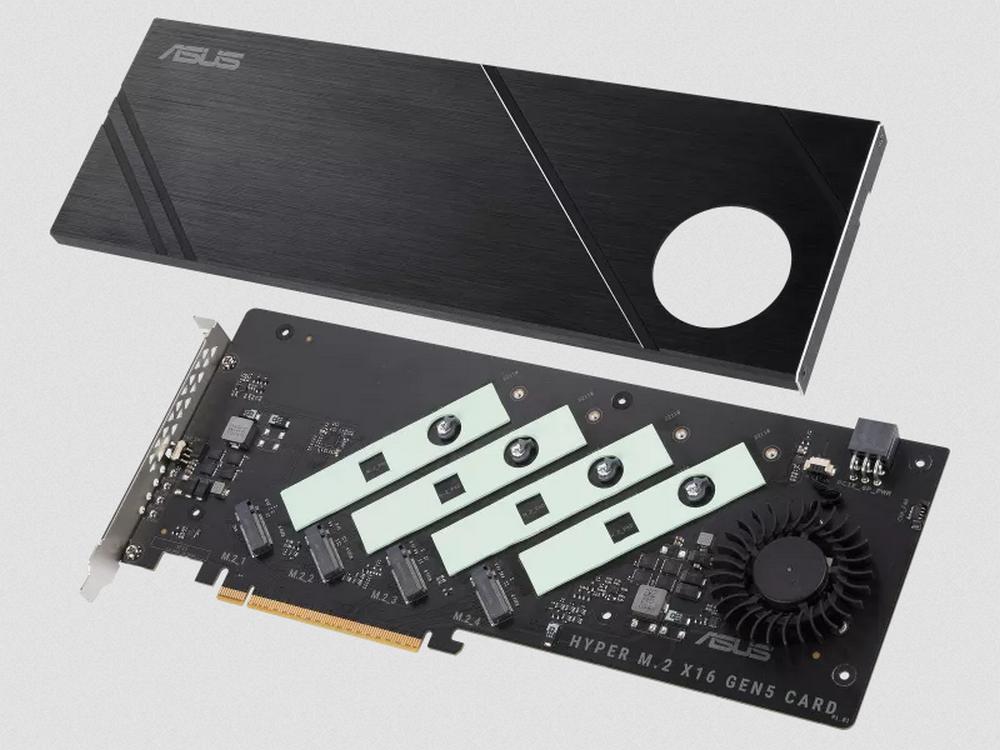 To ensure proper performance, Asus uses a server-grade, low-loss PCB design to maintain high signal integrity. This PCB has four M.2 slots supporting 2242 / 2260 / 2280 / 22110 format drives. Fortunately, it's a doddle to piece together with the brand's Q-Latch locking mechanism for easy installation.
Remember that to use this card, your motherboard needs PCIe bifurcation support, though most boards include this feature nowadays. This option allows the motherboard to treat the PCIe x16 slot as four x4 slots – one dedicated to each SSD. You'll also need one with a secondary PCIe x16 slot unless you don't plan on using a dedicated graphics card.
The Hyper M.2 carries a two-phase solution to power each drive, outputting up to 14W each via a single 6-pin connector.
Since Gen 5 SSDs usually run hot, the Hyper M.2 packs a small fan and dual thermal pads to keep drives cool. You can connect the fan directly to the motherboard for more granular control, which might be quieter than the default. If your SSDs don't require cooling, you may turn it off via the button found on the IO shield.
The Asus Hyper M.2 x16 Gen5 card should be available in a week or two at $79.99, which is a fair price considering PCIe 5.0 SSDs cost.