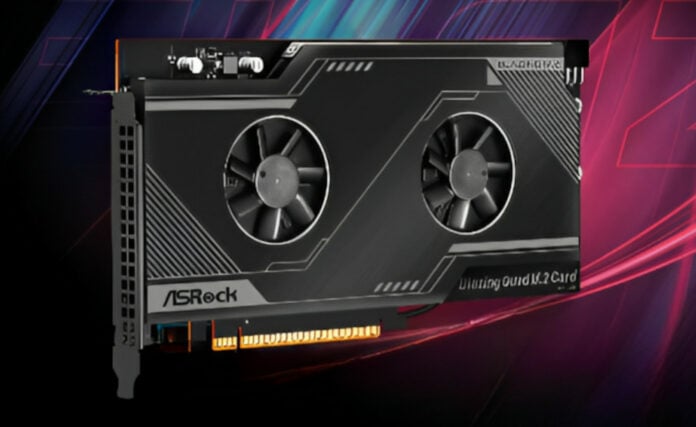 ASRock has announced the Blazing Quad M.2 add-in card featuring four PCIe 5.0 x4 M.2 slots and onboard cooling for upcoming super-fast SSDs.
Looking beyond the epic name, the single-slot board measures 244mm x 126mm and supports up to four (M key) M.2 2242, 2260, 2280, 2580, 22110, or 25110 format SSDs using a PCIe 5.0 x16 host interface. This means a doubling of maximum throughput compared to similar PCIe 4.0 adapters. Among others, ASRock indicates compatibility with its X670E Taichi, X670E Steel Legend, B650E PG Riptide WiFi, and W790 WS.
The card has a single six-pin power connector and an aluminium heatsink coupled to two variable-speed fans in order to cool any hot-running drives, with the fans powered by the motherboard via a single four-pin PWM header. There are also four built-in status LEDs visible through the rear bracket indicating read and write.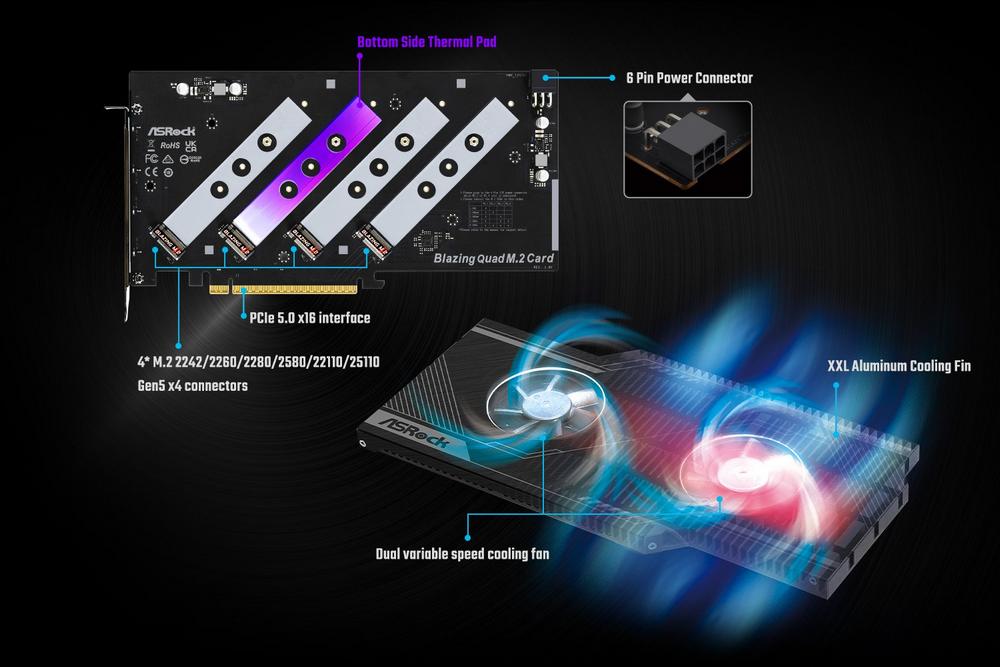 If you think PCIe 4.0 M.2 SSDs are already fast enough for most users, how about not one but four PCIe 5.0 M.2 SSDs in RAID 0, theoretically unleashing up to 64GB/s transfer speeds on a consumer-level board.
The obvious caveat is a lack of additional PCIe 5.0 x16 slots on the latest Intel and AMD platforms, since only the main PCIe – often used for graphics cards – carries 16 Gen 5 lanes. The second slot shares eight lanes with the primary, so GPUs end up running on x8 mode if two slots are populated. Moving to a professional platform like Intel's recently announced W790 should alleviate any limitations thanks to 112 PCIe Gen 5 lanes which could run up to seven of these cards. Handy to know.
Keep in mind that to be able to see more than one drive inside Windows, PCIe Bifurcation should be enabled in BIOS. For example, on Asus's motherboards, this setting can be found in the 'Advanced' menu, under 'Onboard Devices Configuration.' Here we can select the desired PCIe slot and switch it from 'Auto' to 'PCIe RAID Mode'. Now all drives should be visible in Windows Disk Manager. From here it is possible to create multiple volumes or combine all using RAID for higher speeds.
Having seen multiple brands introduce dedicated heatsinks for hot-running PCIe Gen 5 drives, ASRock's Blazing Quad add-in board adds further intrigue with more M.2 slots and active cooling in one easy-to-install package. All we need now is an inkling of pricing, and of course the arrival of next-gen drives from the likes of Corsair, CFD, and Gigabyte.