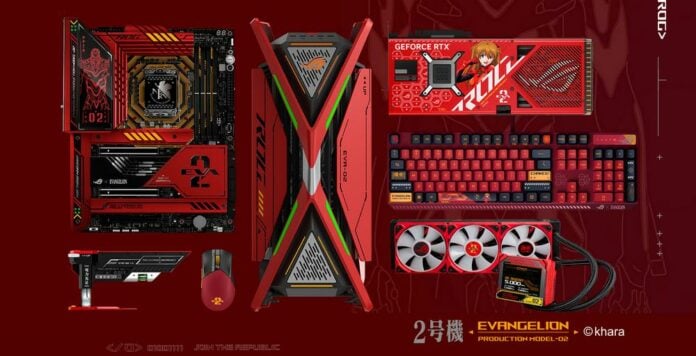 Asus has announced another batch of ROG Evangelion hardware, this time boasting Asuka's Unit-02 red colours on a motherboard, graphics card, liquid cooler, and more.
ROG Maximus Z790 Hero EVA-02 Edition
Based on the ROG Maximus Z790 Hero, this motherboard includes all the features available on the original while adopting the EVA-02 theme. This means an Intel Z790 chipset ready for 12th and 13th Gen Core processors – and most probably 14th Gen Refresh – a 20+1 90A teamed power solution, four DIMM slots supporting up to 192GB of DDR5-7800, two PCIe 5.0 x16 slots (x8 when both are populated), and PCIe 5.0 M.2 storage. There sadly doesn't appear to be an equivalent based on AMD's AM5 platform, at least not yet.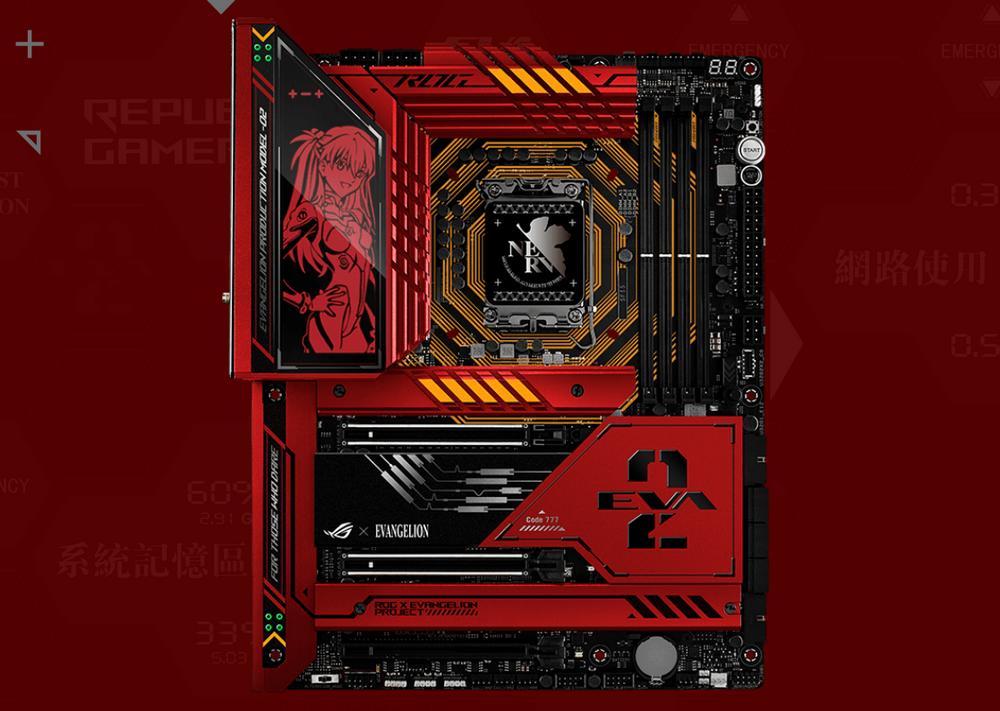 ROG Strix GeForce RTX 4090 OC EVA-02 Edition
Rocking a triple-fan triple-slot cooler, the Strix RTX 4090 EVA-02 is, you guessed it, a rebranded Strix RTX 4090 with Unit-02 colours. In other words, Nvidia's AD102 GPU with 16,384 CUDA cores plus 24GB of GDDR6X memory on a 384-bit bus, also known as the best gaming GPU money can buy. This one is nice looking too, albeit less detailed than the aforementioned motherboard.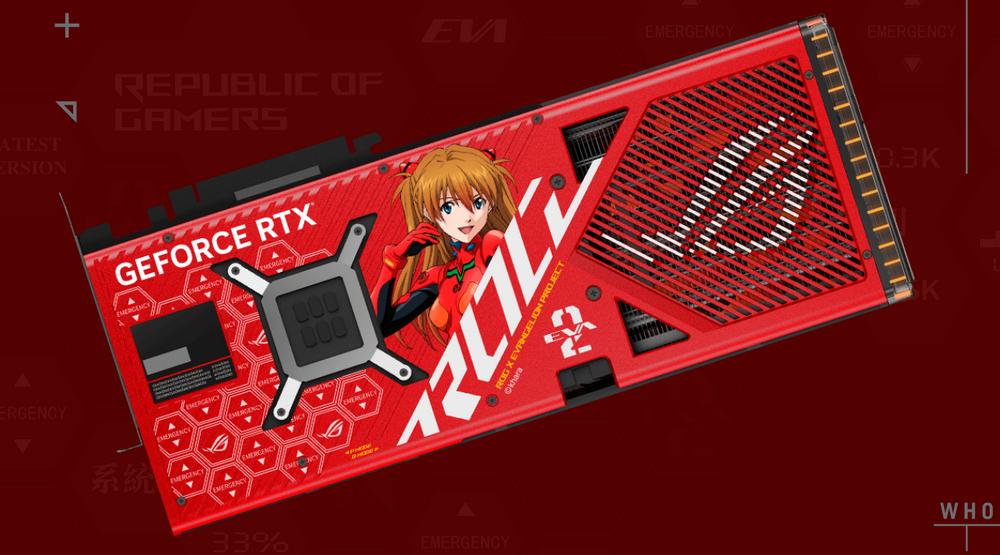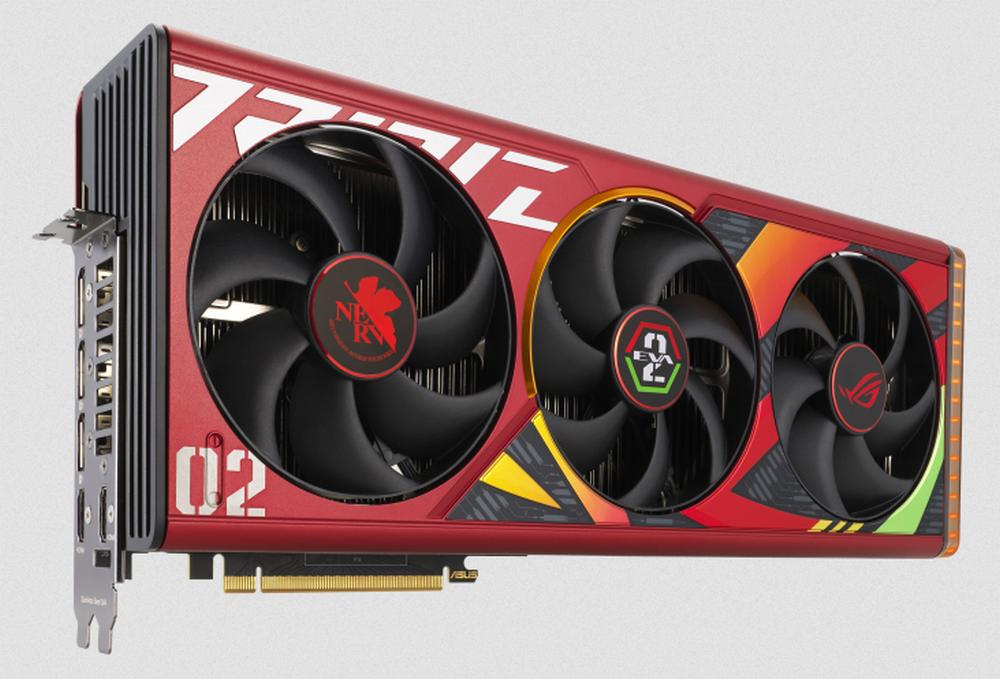 ROG Herculx EVA-02 Edition
To stop that beast of a GPU from destroying the PCIe slot, Asus is also offering an anti-sag device supporting heights from 72mm to 128mm, while featuring a spirit level and ARGB illumination compatible with Aura Sync. I've liked the Evangelion designs ever since last year's first-gen unveil, but it's that spirit level that I'm really digging.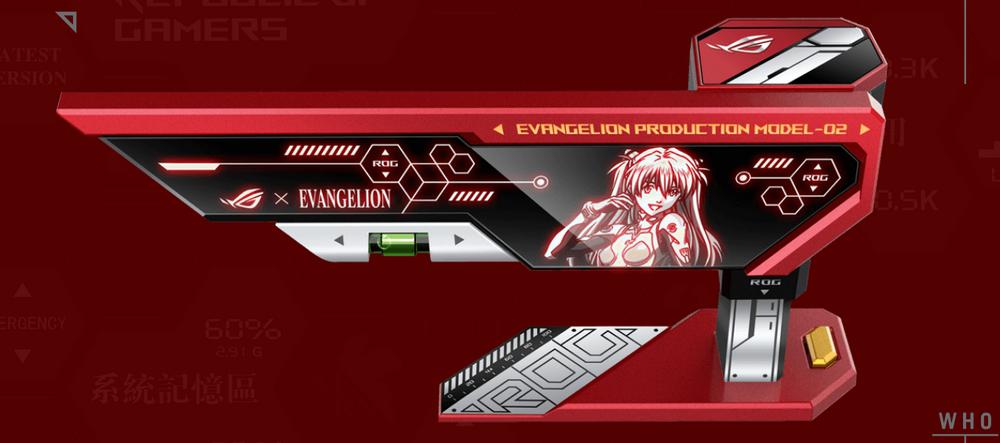 ROG Ryujin III 360 ARGB EVA-02 Edition
For cooling Asus went with its latest AIO iteration of the Ryujin series, now housing a 3.5in LCD screen for hardware monitoring or picture displaying, alongside three ROG magnetic daisy-chainable fans painted red, obviously. Backed by a six-year warranty, the Ryujin III EVA-02 uses Asetek's 8th gen pump, and supports Intel's LGA 1700, 1200, 115x, plus AMD's AM5 and AM4 sockets.
ROG Ryujin III 360 ARGB EVA-02 Edition measures 399.5mm x 120mm x 30mm and includes 400mm long tubes connecting to 89mm x 91mm x 101mm pump/water block, so make sure clearance is adequate before jumping on this one.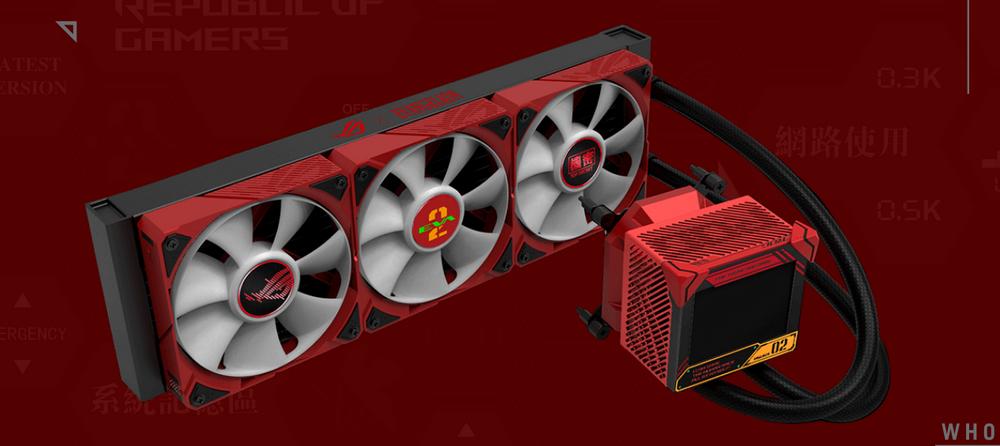 ROG Thor 1000W Platinum II EVA Edition
When it came to powering the hardware listed above, Asus choose its Thor 1000W Platinum II EVA Edition PSU, also found among the previous EVA-01 Edition product list. This PSU measures 190mm x 150mm x 86mm and carries one 24-pin, two CPU 4+4-pin, eight PCIe 6+2-pin, twelve SATA and half-a-dozen Molex.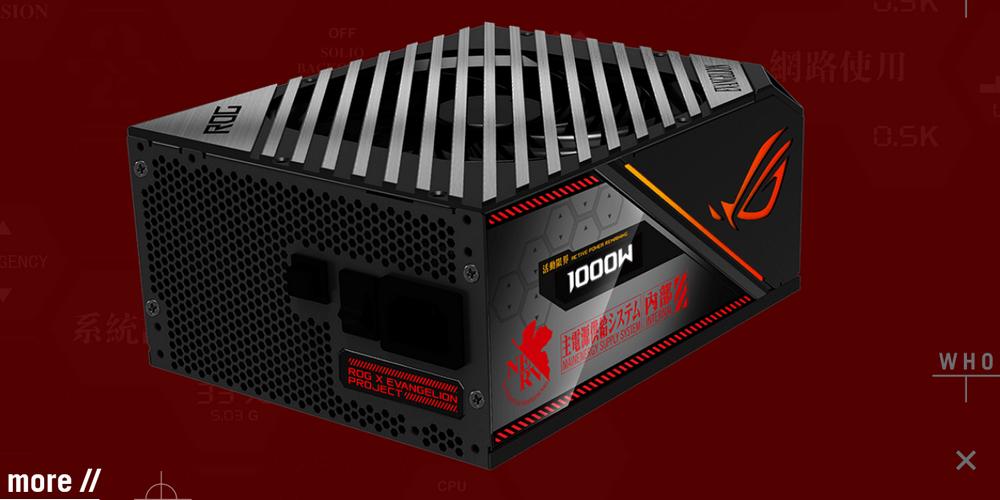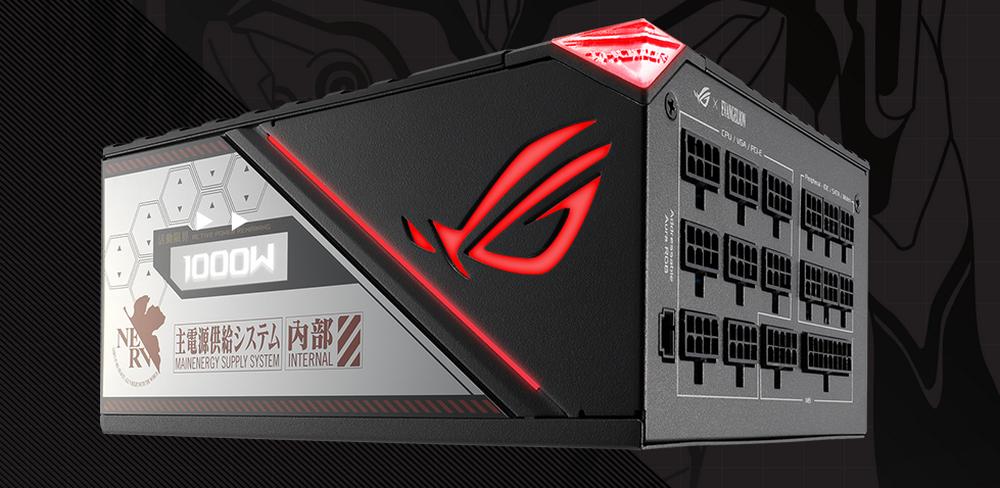 ROG Hyperion EVA-02 Edition
To house these components Asus opted for its ROG Hyperion chassis measuring 268mm x 639mm x 659mm. Inside we find room for up to an E-ATX motherboard (12in x 10.9in), nine expansion slots – or three vertical – seven drive bays, plus room for a 420mm radiator and 140mm fans. Not to forget a frontal I/O made of four USB 3.2 Gen 1, one USB 3.2 Gen 2 Type-C, and one 3.5mm headphones/mic combo jack.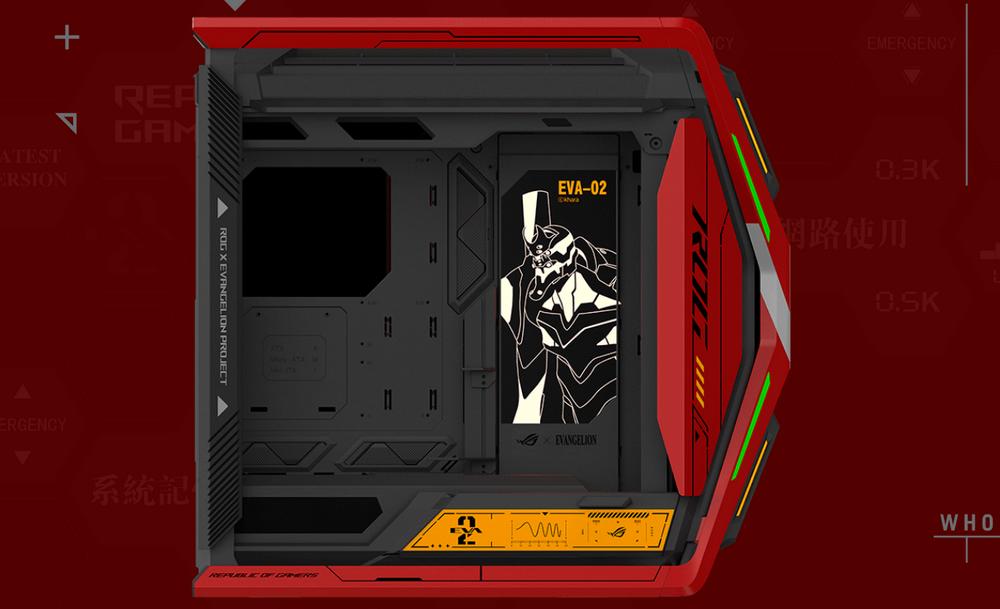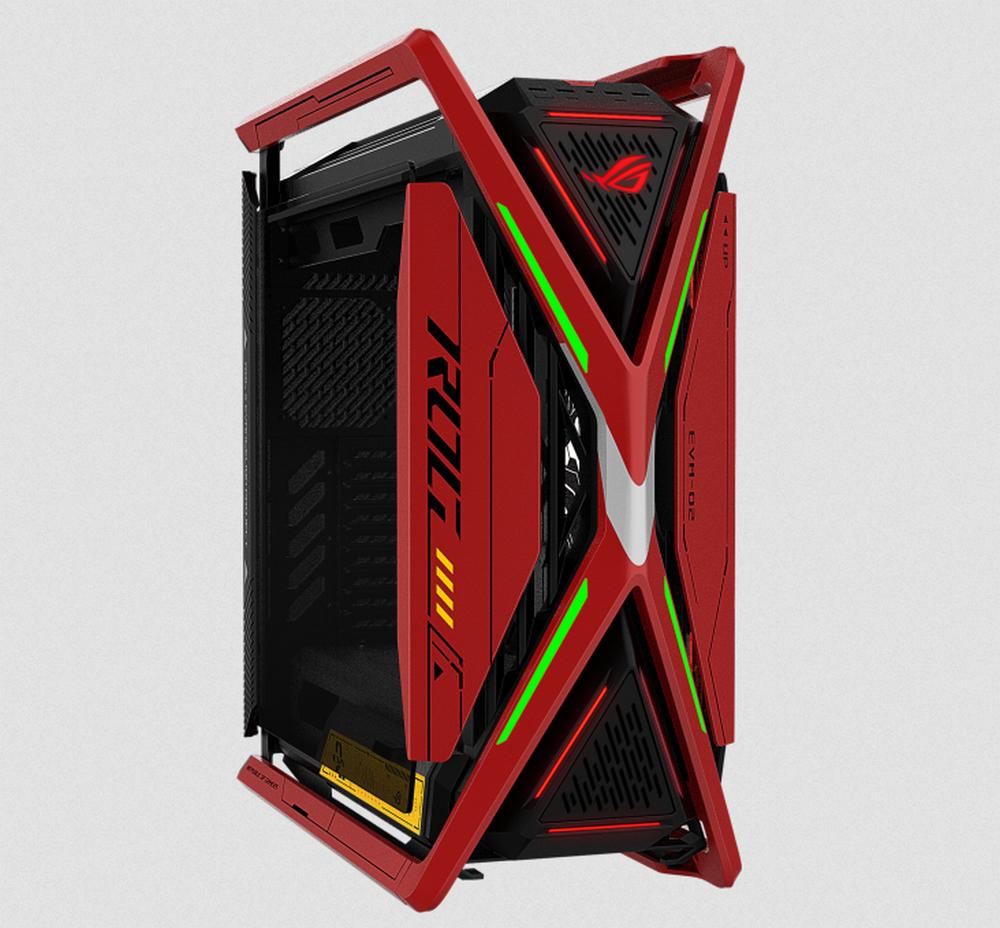 ROG Strix Scope RX EVA-02 Edition
Once more Asus is keeping its winning horses from the last EVA series, with a full-size mechanical keyboard, available with ROG RX Red or Blue optical mechanical switches, and reporting keystrokes at 1,000Hz. Favour the red of Unit-02 over the purple of Unit-01? Decisions, decisions.

ROG Keycap Set For RX Switches EVA-02 Edition
Those already owning a basic Strix Scope RX keyboard yet would like to have a similar design scheme, can get this keycap set.

ROG Gladius III Wireless AimPoint EVA-02 Edition
Next, we have the 79g right-handed Gladius III mouse powered by an ROG AimPoint sensor rated for 650IPS maximum speed and 36,000DPI resolution while reporting at 1,000Hz via USB 2.0, 2.4GHz wireless, or Bluetooth 5.2. Using 2.4GHz wireless mode the battery is said to last up to 119 hours, with Bluetooth reaching 143 hours.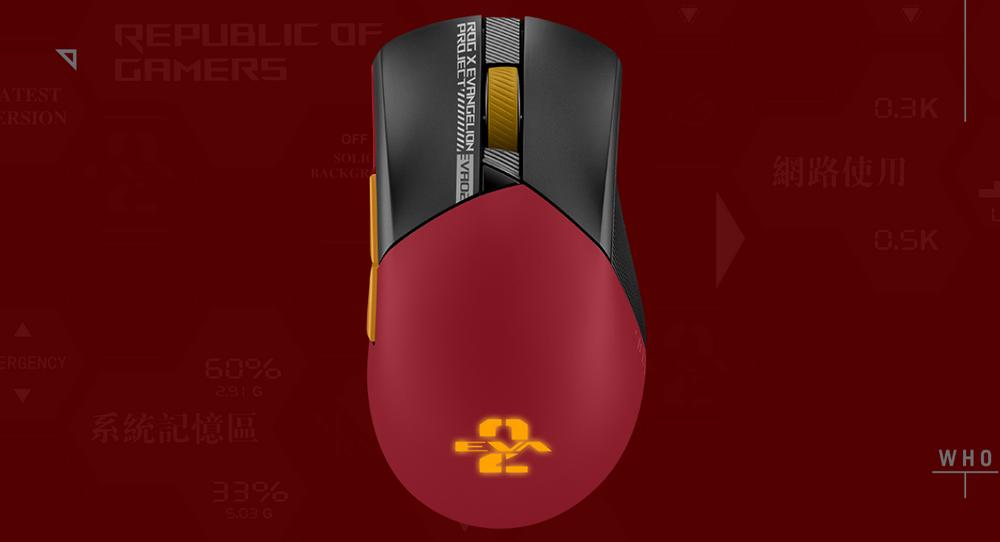 ROG Harpe Ace Mouse Grip Tape EVA-02 Edition
Again, those preferring the 54g lightweight ROG Harpe Ace mouse can also join Asuka's team with these anti-slip mouse grip stockers/tape with EVA-02 colours.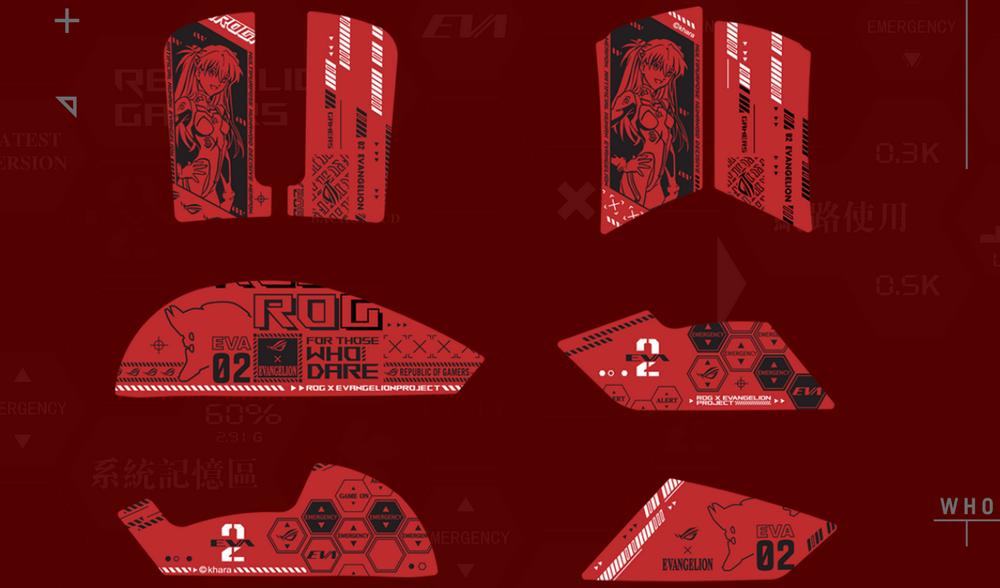 ROG Scabbard II EVA Edition
Lastly, leaving no stone left unturned, to complete the series we have a 900mm x 400mm x 3mm Eva Edition mouse mat featuring a water, oil, and dust-repellent surface.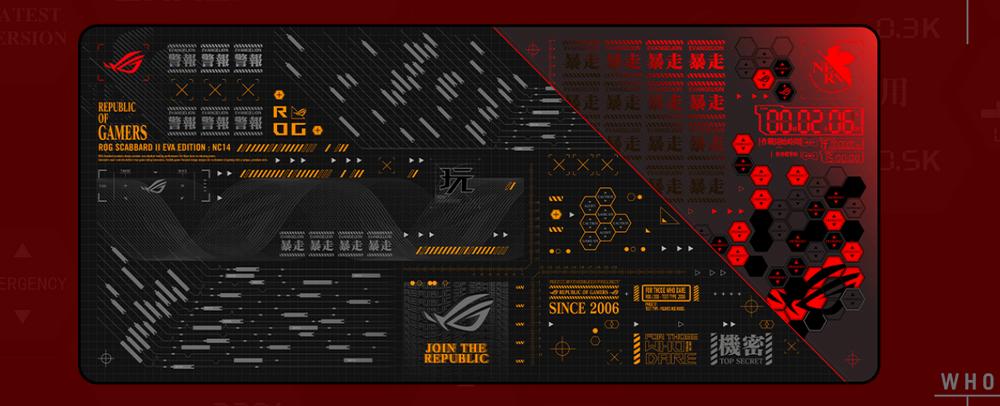 Red and black never fails when it comes to PC components, yet I happen to be partial to the Unit-03 colour scheme. Surely that's only a matter of time.