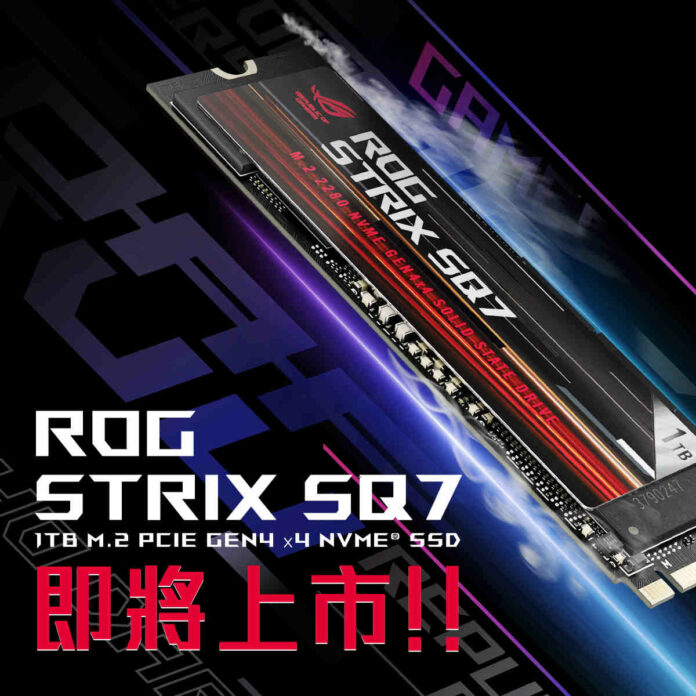 Asus recently posted a teaser image on its Taiwan social media page, suggesting the company will soon make its debut in the internal SSD market. It appears the ROG Strix SQ7 will initially feature 1TB of storage and PCIe Gen 4 speeds.
Based on the image provided, it looks like the SSD will come in a standard M.2 2280 form factor. A sleek design, the SSD appears to feature a cooling strip complete with the Rog Strix signature flare. Though no heatsink is apparent in the marketing image, we wouldn't be surprised if Asus also has a heatsink-equipped version in the works.
We're a tad surprised to see Asus releasing PCIe Gen 4 SSD for its first internal ROG Strix drive, as forward-looking PCIe 5.0 may have generated more buzz.
Still, PCIe Gen 4 is plenty fast and Asus will be going up against some tried-and-tested competitors including MSI's Spatium and Corsair's MP600 Pro LPX. They are capable of up to 7,100MB/s sequential read speeds and are built on the readily available Phison E18 controller.

If Asus can double down and ensure its first SSD is both PS5 compatible and competitively priced, the ROG Strix SQ7 could be a welcome addition to a burgeoning market. No pricing or availability has been announced as yet, though it would be fair to assume Asus will reveal more about the SSD – among other things – at its 'Boundless' event scheduled for this May 17.