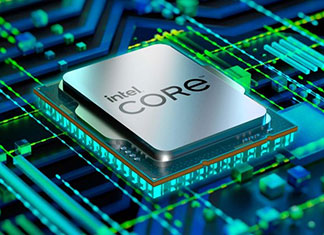 And Intel's ADL-S launch already appears to be impacting AMD Ryzen retail prices.
A Canadian tech retailer appears to have spilled some prices for the next crop of Intel Alder Lake-S processors. Spotted by Twitter hardware leaker Momomo_us and VideoCardz, the listings include a number of what will likely be popular SKUs like the Intel Core i7-12700F, Core i5-12400/F, and Core i3-12100F.

Above you can see the pricing in Canadian dollars, but we have tabulated it below with today's currency conversions for USD and GBP.
| | | | |
| --- | --- | --- | --- |
| Intel CPU | CAD$ | USD$ | GBP£ |
| Core i7-12700F | 455 | 365 | 271 |
| Core i5-12400 | 287 | 230 | 171 |
| Core i5-12400F | 249 | 200 | 148 |
| Core i3-12100F | 148 | 119 | 88 |
It is interesting to see some probable prices for the more mainstream Alder Lake-S releases, scheduled for early in 2022. However, you might be wondering about what kinds of specs you can expect from the above quartet. With the Core i7-12700F, of course we have a good idea as the i7-12700K is an official product already, but we have no such reference point for the i5-12400/F or i3-12100F.
For now we have to rely on informed speculation for the expected January filling out of desktop Alder Lake SKUs, and for this one can check out 3DCenter's current and speculated table, reproduced below. We've highlighted the parts which we have Canadian pricing indicators for (except the i3-12100F), so you can quickly check expected core configs/clocks.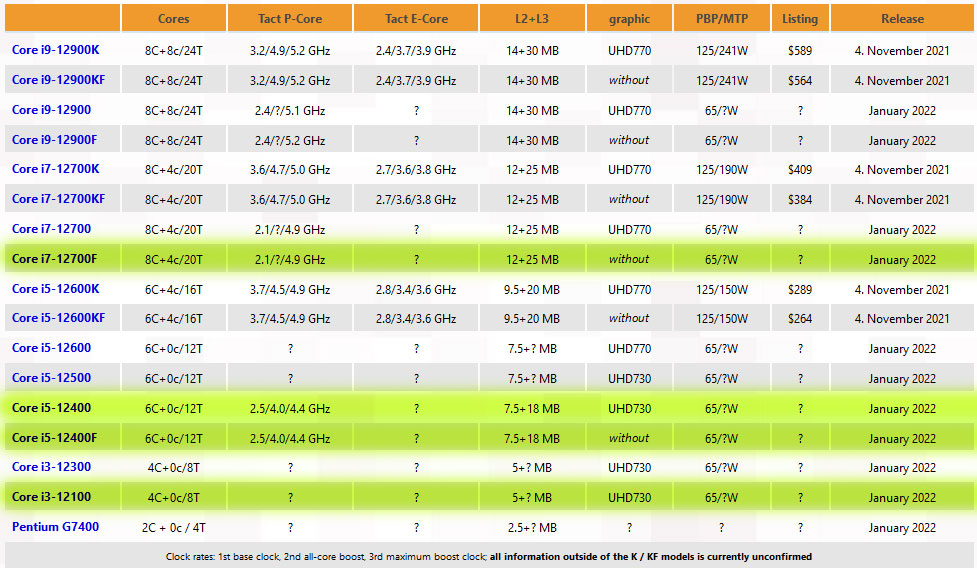 If the above specs are correct, as it looks like, of the new quartet of SKUs priced, only the Core i7-12700F comes with any efficiency cores. The others rely solely on the Golden Cove cores which feature established hyperthreading technology, which shouldn't throw up so many problems with the likes of PC games DRM, process scheduling, and so on.
AMD reacts with price cuts?
In a closely-related news nugget, AMD processors appear to be subject to price cuts at retailers, as the first ADL-S parts start to circulate. Many news outlets have reported on US retailer MicroCenter slashing the AMD Ryzen 7 5800X CPU to US$299 (in store pickup only). That is a $150 cut off this attractive, modern 7nm 105W 8C/16T processor. Moreover, you can get an additional $20 off when you buy a motherboard at the same time – we hope this price cutting spreads…