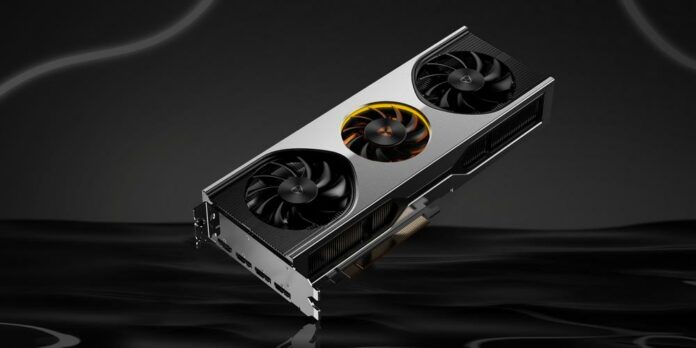 YouTube channel BullLabs has tested Moore Threads' MTT S80 graphics card in ten games, highlighting subpar performance.
The MTT S80 is based on an MUSA architecture featuring 4,096 FP32-cores manufactured on a 12nm process. The card carries 16GB of GDDR6 VRAM from Samsung and is compatible with PCIe Gen 5 x16 interface. Yes, you heard it right, this is a PCIe 5.0 graphics card, though this GPU is unlikely to leverage such bandwidth potential.
Officially, the card only supports CPUs newer than Intel's 10th Gen and AMD's Ryzen 3000 stables. The same goes for motherboards, where at the time of reviewing the manufacturer recommends only a dozen of models from which we note, Asus's TUF Gaming B660M, MSI's MAG B550M Mortar, and ASRock's B560M Steel Legend.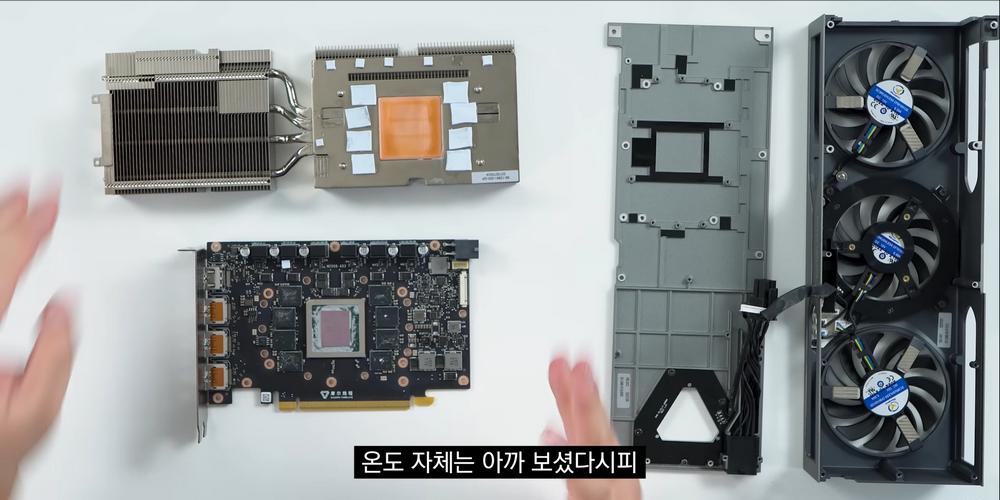 The card receives power via a single cable, however, the said connector isn't your typical 8-pin we all know about, making it incompatible with the pin layout of current ATX PSUs. Instead, like the 12VHPWR header found on RTX 4070 TI, MTT S80's uses an included adapter cable to transform it into two 'normal' 8-pin. Why go through all this hassle rather than simply putting two compatible connectors is unknown. Not to mention the aesthetic degradation, since these cables use the standard yellow and black colours.
Performance
Those hoping for a surprise challenger to the likes of AMD and Nvidia are in for disappointment. The S80 managed 38FPS on StarCraft II, 35FPS on Skyrim, and 108FPS on League of Legends at a full-HD 1080p resolution. Assassin's Creed Brotherhood was unplayable at 10 FPS, compared to 86, 77, 260, and 101 FPS respectively using a GT 1030. The Chinese card doesn't leave empty handed however, beating its smaller rival on Counter-Strike: Global Offensive, Lost Ark and Tree of Savior, showing that there is potential that may need more driver optimisations to master.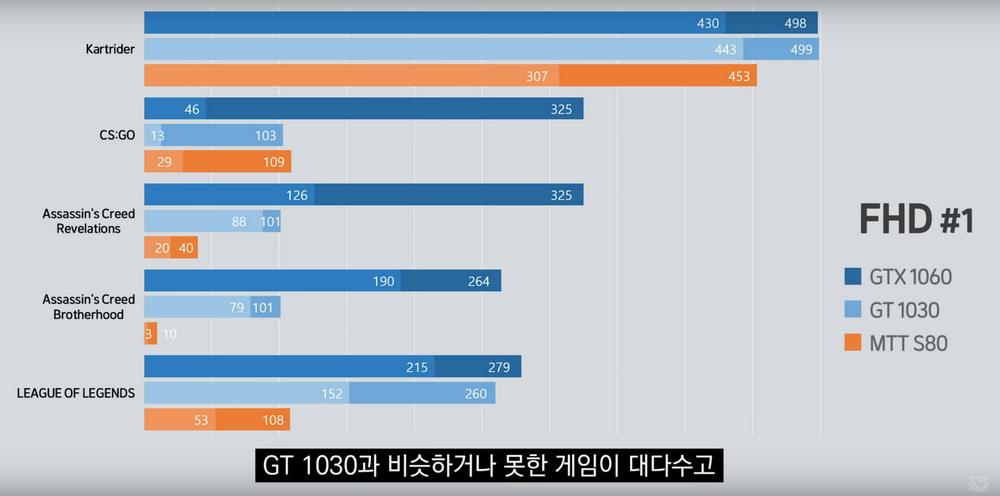 Sadly, the poor benchmark numbers aren't the only stumbling block. To reach these scores, the S80 consumed on average 252W compared to the GTX 1060's 120W, and GT 1030's 30W, be it while remaining at 44°C thanks to its large triple-fan cooler.
As a reminder, the tiny GT 1030 is an entry-level card housing 384 CUDA cores and 2GB of GDDR5, available for around £100, against ¥2,999 (£360) for the S80. And the GT 1030 is a card many gamers won't even consider purchasing since much more powerful options can be found at that price on the second-hand market.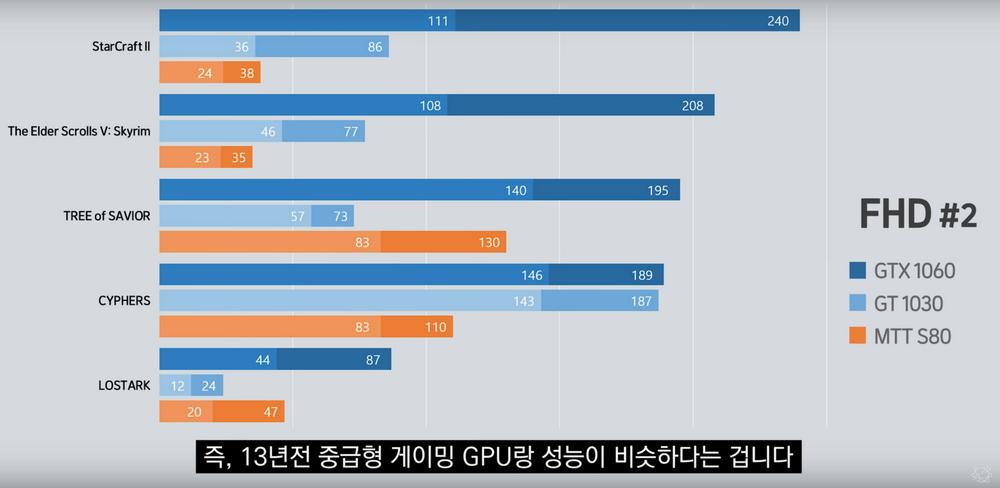 While these are clearly poor results, we shouldn't forget that this is the first commercially available Moore Threads GPU. If Intel's Arc cards are anything to go by, the MTT S80 or its subsequent generations may get better through future optimisations. If it succeeds, Moore Threads will become the fourth competitor on the GPU market, to the benefit of gamers, hopefully.