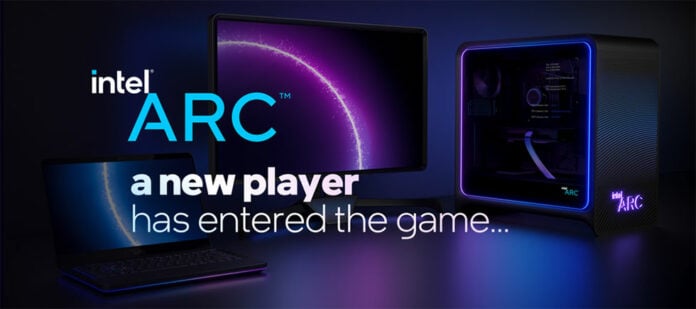 With rumours circulating of yet another delay, Intel has officially confirmed that eagerly anticipated Arc desktop graphics cards won't be arriving at stores in the immediate future.
Having recently pencilled its launch for Q2, the chip giant has now confirmed that desktop Arc will debut in the form of entry-level Arc A-Series products made available exclusively to Chinese system integrators and OEMs. Though such a release is still scheduled for this quarter, a global roll-out has been pushed back possibly as late as September.
In a brief blog post, Lisa Pearce, Intel's Visual Compute Group VP, confirmed "Intel Arc A5 and A7 desktop cards will start worldwide with OEMs and system integrators later this summer, followed by component sales in worldwide channels."
"This staggered approach gives us confidence at each step that we can effectively serve our customer base," adds Pearce.
Speculation has suggested that further software optimisations may be behind the delay, and such news will only accentuate concerns regarding Arc's competitiveness.
In addition to desktop delays, laptops outfitted with Intel Arc mobile products are also proving conspicuous in their absence. Though such products ought to be out in the wild, Intel cites "software readiness delays" as a primary reason for Arc 3 designs struggling to become available. Laptops featuring Arc 5 and Arc 7 graphics are expected in the coming months, and Intel states "we are working with our partners to help them get these products into market ASAP."
Confirmation of product delays comes just days after Intel failed to deliver a promised April driver for Arc GPUs. The proposed update, intended to bring a software toggle for benchmark performance optimisations of up to 15 per cent, has been pushed back to an unknown date.
"During our evaluation of this feature, we decided to go a step further and implement a system to allow users to control collections of our driver-based optimizations, including memory management options, constant folding, and others. We will collect related toggles into groups to allow end user customization," says Pearce.
"This has required additional development time, but we believe this will be the best solution for our Intel Arc graphics customers, and we'll circle back in the next few weeks on when we expect to post the first driver with this capability."
Becoming the third major player in a hugely competitive arena was never going to be easy, and Intel Arc certainly looks set for a bumpy road to retail.