Jump to: Specs | Cooling | Performance | Conclusion
A sign of a good product is how well it stands the test of time. Corsair's One compact gaming PC first debuted almost five years ago, yet to this day there are few better examples of a high-end small-form-factor PC.
Delivering top-notch performance while maintaining composure is the name of the game, and Corsair has managed to successfully refresh the same form factor with whatever new components the industry has to offer. Over 20 variants of the One now exist in the firm's portfolio, but question marks were raised when Intel launched its flagship Alder Lake processors – can the same Corsair chassis cope with a chip whose Maximum Turbo Power extends to 241W?
The refreshed Corsair One i300 suggests so, albeit with a few minor concessions.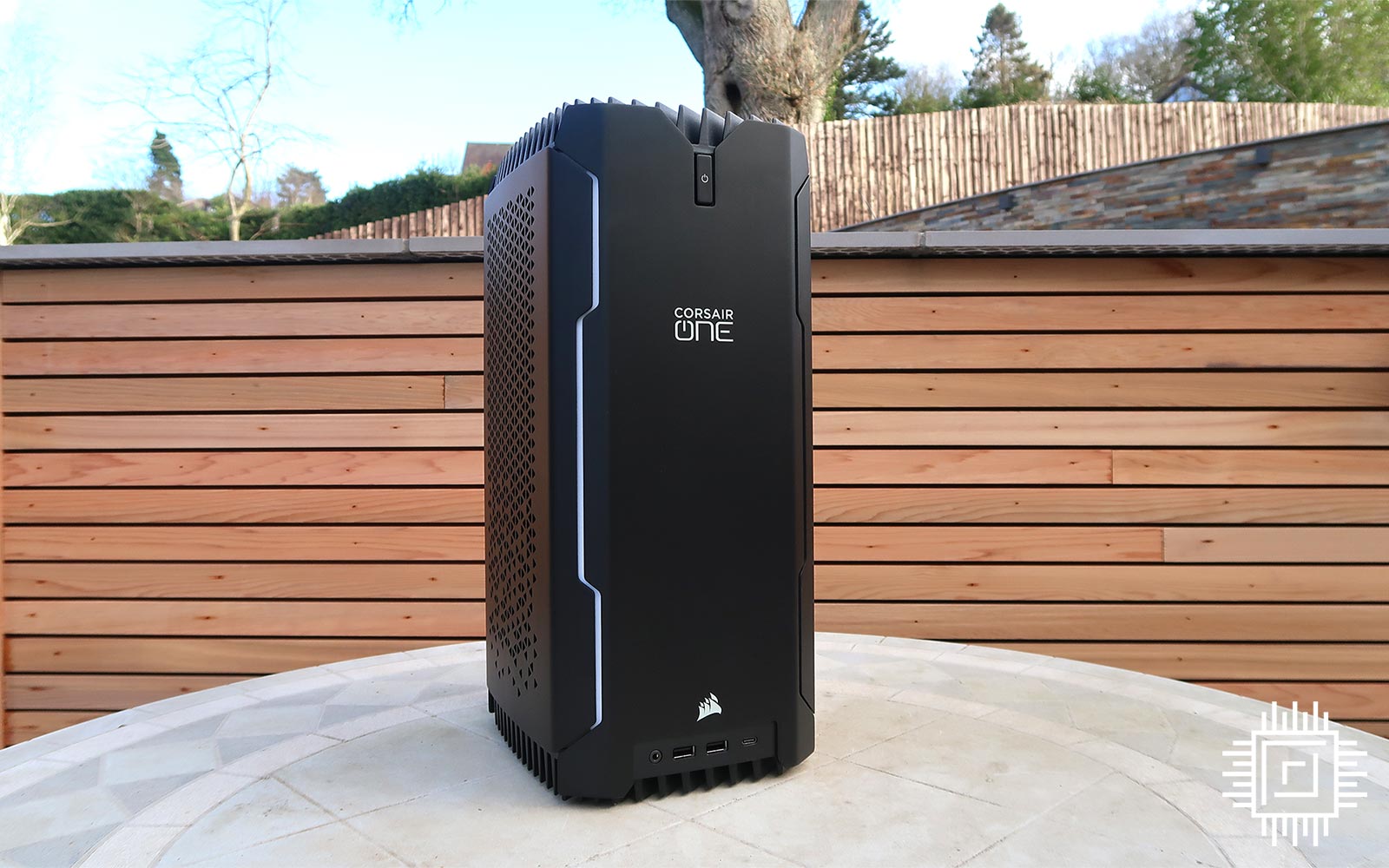 Price and Specifications
Let's start by getting the £4,400 elephant out of the room. Corsair One has always attracted a premium, and the latest iteration is no exception. To be fair, One i300 pricing starts at just £3,500 for a model outfitted with a Core i9-12900K processor, GeForce RTX 3080 graphics, 2TB of M.2 storage and 32GB of DDR5 memory.
The base specification should prove more than sufficient for most users' needs, but folk eyeing this level of hardware are inclined to go the extra yard. Our top-end review model bumps graphics to GeForce RTX 3080 Ti and increases memory to a full 64GB for the sake of an extra £900.
It's a case of leaving no stone unturned and the accompanying specification sheet reads as such. Corsair's motherboard of choice is a mini-ITX MSI MEG Z690I Unify, the 2TB M.2 SSD is a Samsung PM9A1 PCIe 4.0 drive capable of sequential read speeds of up to 7,000MB/s, and providing all the juice is a Platinum-rated 750W supply from the firm's own SF Series stable.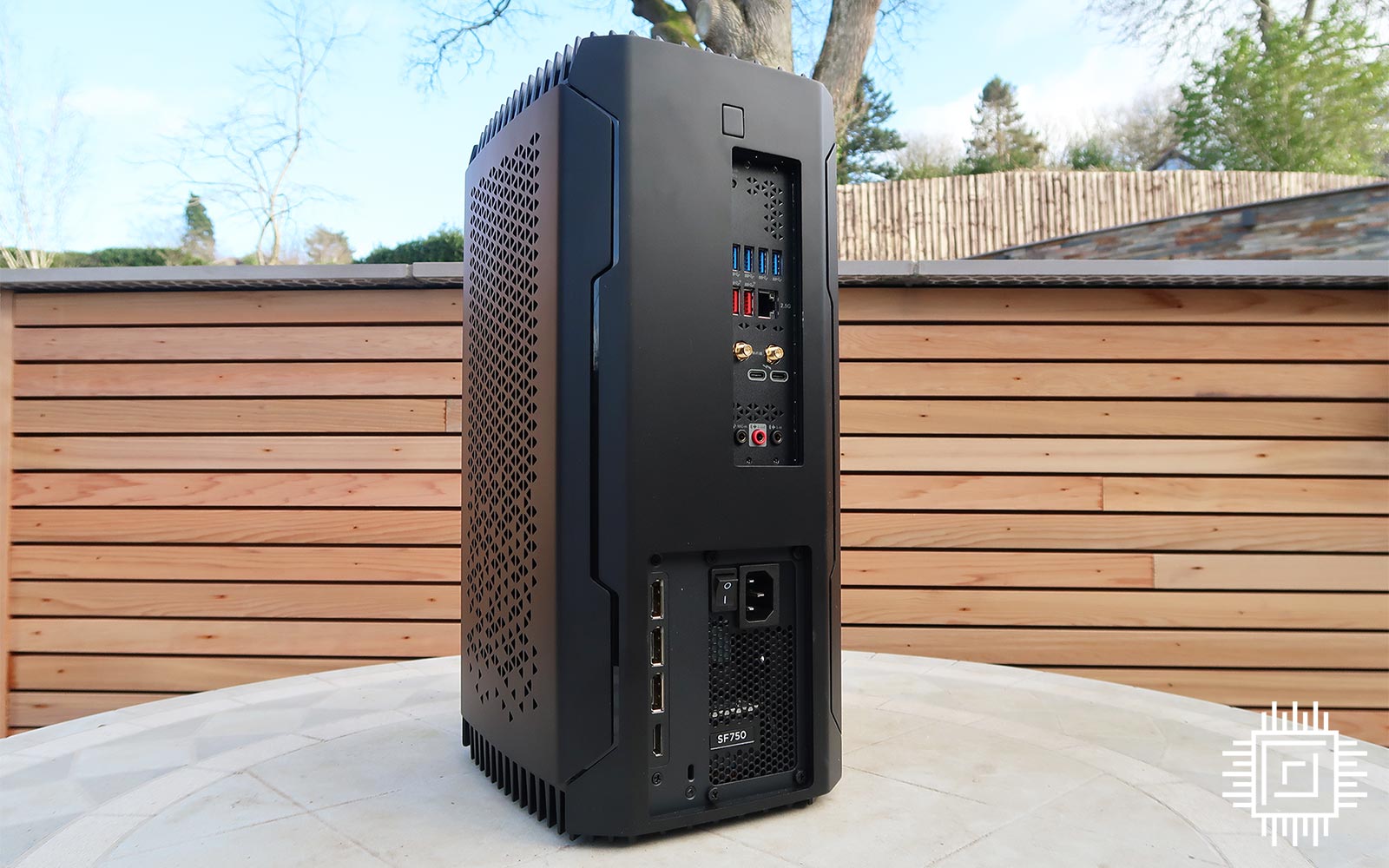 Four connectors line the front of Corsair's 200mm x 173mm x 380mm chassis – combination audio jack, dual USB 3.1 Gen 1 Type-A and a USB 3.2 Gen 2 Type-C – while the motherboard offers ample room for expansion around back. Here you'll find a further six USB 3.2 Type-A (2x Gen 2, 4x Gen 1), alongside 2.5G Ethernet, a pair of Thunderbolt 4 Type-C, 7.1 audio jacks and antennae for the onboard Intel AX211 Wi-Fi 6E adaptor. Lastly, Nvidia's GPU presents the standard selection of outputs – three DisplayPort 1.4a and a single HDMI 2.1.
Seeing such lavish hardware crammed into a 12-litre frame never ceases to impress, and the solid quality of Corsair's build is reflected in a hefty 7.2kg weight. One i300 feels very well put together and exudes quality, yet while the system still looks small and trendy, we're going to counter that viewpoint by suggesting Corsair's longstanding design is starting to tire. There's nothing wrong with it per se, but the One chassis has barely changed in some 60 months, and we're of the opinion a design refresh is long overdue.
Cooling and Upgrades
A few visual tweaks wouldn't go amiss, yet there's no questioning the fact that Corsair One succeeds in delivering an optimal balance of cooling and performance. The trick is a pair of liquid-cooling radiators behind the patterned mesh side panels; on the one end a 120mm x 170mm for the CPU, and on the other a 120mm x 240mm attached to the GPU. Add a 140mm magnetic-levitation fan at the top and you have a convection-cooled design that works wonders.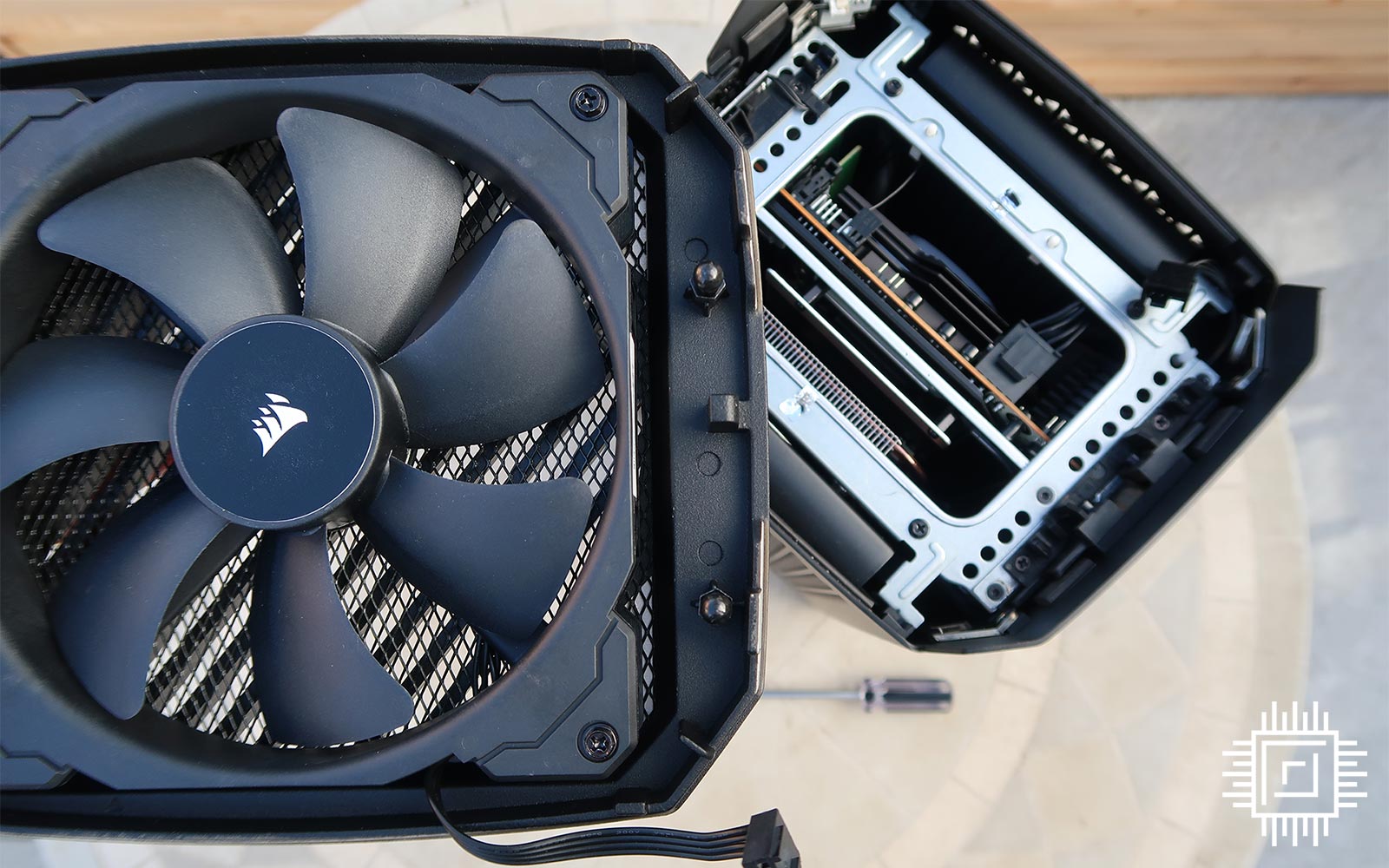 We're amazed the top exhaust hasn't been upgraded to include RGB – Corsair isn't typically shy in adding extra illumination – and serviceability remains decent, if you don't mind working in tight spaces. The top fan assembly comes away at the press of a button – remember to detach the cable – and each side panel is unfastened via a pair of screws.
Step-by-step instructions on how to upgrade certain components are provided, albeit with the proviso that Corsair's standard two-year warranty will be void should you fail to follow the instructions or use invalidated parts. At the time of writing, the list of supported upgrades is limited to the Corsair One 32GB DRAM Upgrade Kit and any Corsair 2.5in SATA SSD.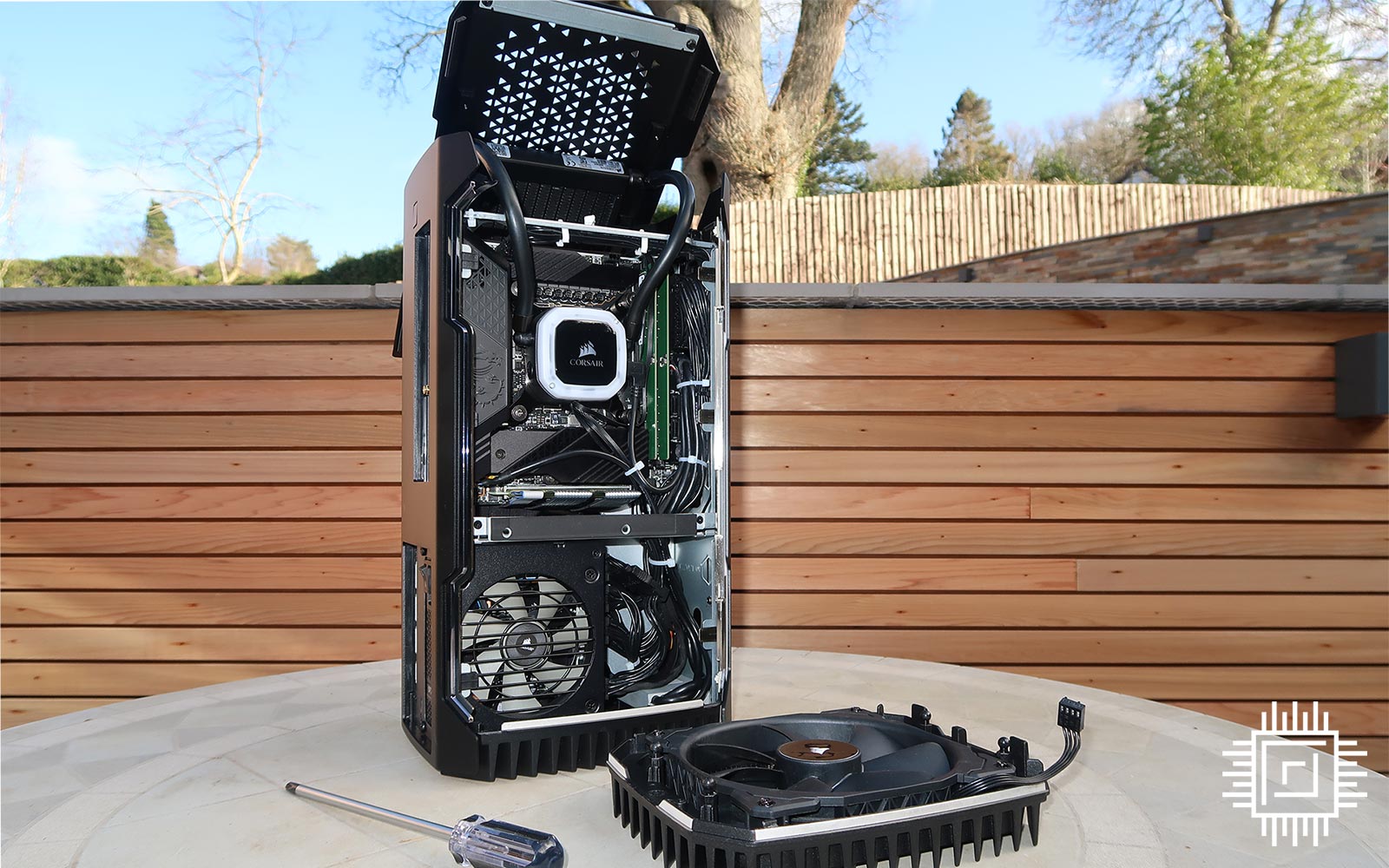 Not a whole lot to go on, but experienced users may feel comfortable in changing other parts. The two DDR5 DIMM slots are easily accessible, and the empty 2.5 sled sat between PSU and motherboard has pre-routed SATA cabling, making it easy to attach an extra storage device if need be. Things are a little trickier on the M.2 front. MSI's board has two slots sandwiched on its front side (one of which is in use) and the third is on the back, requiring users to go through the fiddly process of removing the entire board.
About that 241W Intel Core i9-12900K processor. We wondered how Corsair would go about it, and the answer is simple; the chip doesn't run at full pelt. A quick trip into BIOS reveals that maximum long-term power duration (PL1) is eased to 180W, while short-term power duration (PL2) sits at 200W. Seeing a minor downtick in a chassis of this size is no surprise. If anything, we might have expected Corsair to rein it in even more; this is a chip we know works very well at just 125W.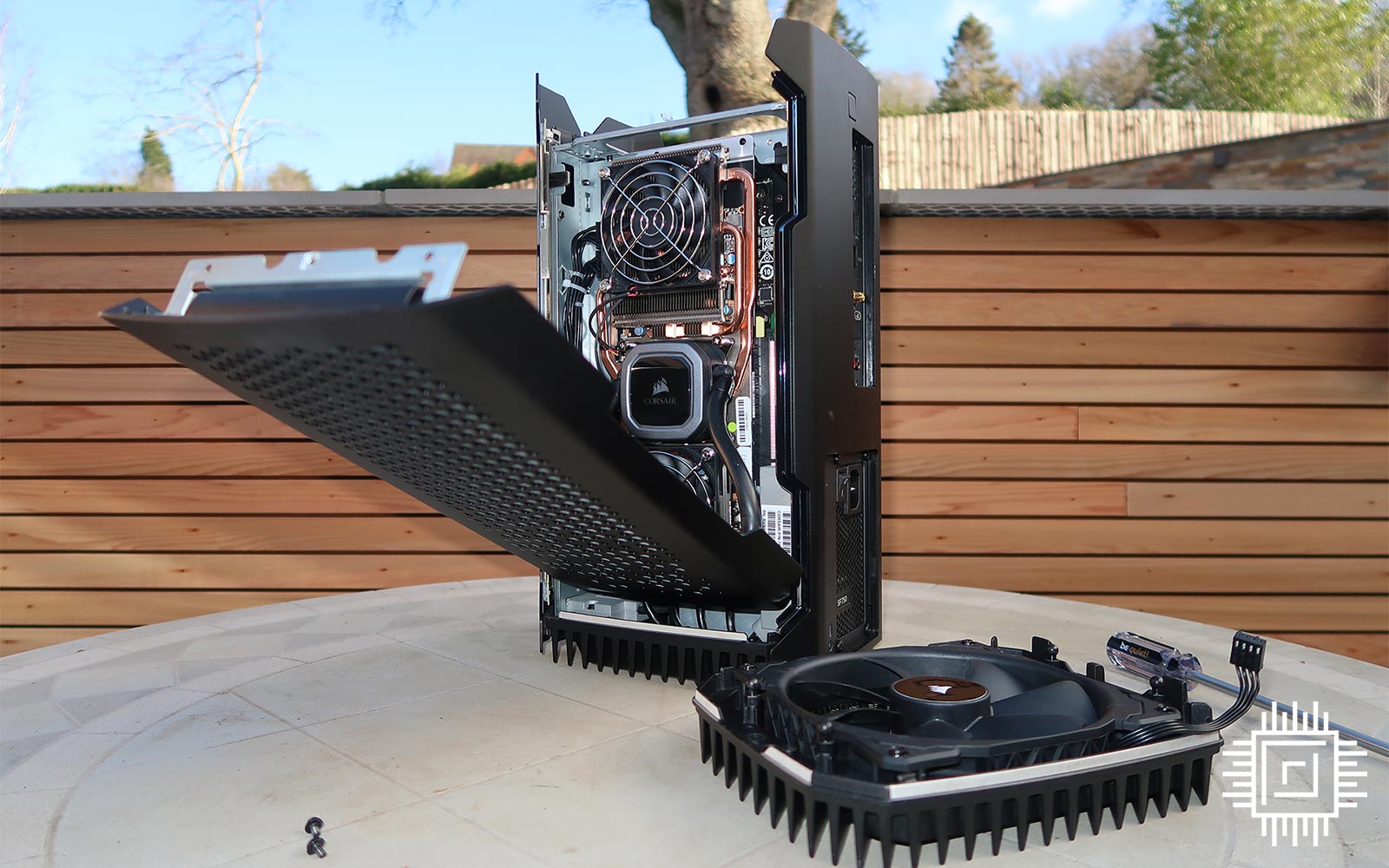 Extra care has been afforded to the GeForce RTX 3080 Ti on the opposite side. Nvidia's enthusiast card benefits not only from a custom 240mm radiator but also a pair of dedicated fans, providing airflow to the memory- and VRM-encompassing heatsinks.
Make no mistake, this is a serious amount of firepower, as you would expect at the £4,400 price point. Few PCs offer this level of oomph in a package that lives effortlessly atop a desk, and Corsair's tidy implementation extends to software. Outside of the firm's own iCue and Diagnostics utilities, Windows 11 is mercifully free of bloatware.
Performance


There was never really any doubt, was there? Corsair's decision to run the Core i9 chip in a more conservative configuration does little to dampen actual benchmark scores. Performance from the 16-core, 24-thread Intel chip is very much in line with our expectations of a full-size tower, but do expect a small downturn during prolonged load. Repeating the Cinebench multi-core test for 10 minutes resulted in a final score of 24,897 as the long-term 180W limit kicks in.


Micron supplies the two 32GB sticks of DDR5-4800 memory, and bandwidth is plentiful. Latency, on the other hand, continues to be DDR5's Achilles' heel.


M.2 SSDs are the perfect illustration of how enthusiast components needn't be big. The 2TB Samsung drive offers good capacity and ultra-fast performance in a tiny form factor befitting a system of this size.


It might have been reasonable to expect a small-form-factor PC to fall short of much larger systems in certain tests. That hasn't happened yet; Corsair's One i300 doesn't just hold its own, this little beastie typically tops the charts.

Show your support for impartial Club386 reviews
Club386 takes great pride in providing in-depth, high-quality reviews built on honest analysis and sage buying advice. As an independent publication, free from shareholder or commercial influence, we are committed to maintaining the standards our readers expect.
To help support our work, please consider making a donation via our Patreon channel.



The same is true in our default Final Fantasy gaming tests across all three common resolutions. Newer drivers no doubt help, yet there's no denying this is a well-tuned, finely integrated gaming powerhouse.
| | FPS @ 1080p | FPS @ 1440p | FPS @ 2160p |
| --- | --- | --- | --- |
| Assassin's Creed Valhalla (Ultra High Quality) | 112 | 94 | 62 |
| Dirt 5 (Ultra High Quality, Raytraced Shadows On) | 151 | 119 | 78 |
| Far Cry 6 (Ultra Quality, HD Textures and DXR On) | 120 | 107 | 68 |
| Gears Tactics (Ultra Quality) | 190 | 134 | 75 |
Testing a quartet of modern titles reveals an inevitable truth; One i300 is overkill at full-HD, very handy for QHD action at high framerates, and perfectly well suited to smooth 4K60 UHD gameplay.

Despite Corsair tightening the belt on CPU power limits, the Core i9-12900K clearly runs hot. Our logs reveal that a few of the chip's eight Performance cores would often hit 100°C, and even the typically cool Efficient cores climbed to 88°C under full load.
A little toasty for our liking, and for the sake of curiosity, we went into BIOS and applied a hard limit of 125W for the hot-running CPU. With the revised settings in place, One i300 all-core temperature averaged a much more comfortable 76°C – a welcome 17 per cent reduction – while Cinebench returned a healthy multi-core score of 21,632.


There's a decision to be made with regards to power limit, but even in Corsair's default state, it's good to see that noise levels are kept down to comfortable levels. One i300's top fan switches off at low load, making the system practically silent a lot of the time, and keeping load noise level below mid-tower competitors is a remarkable feat.
Conclusion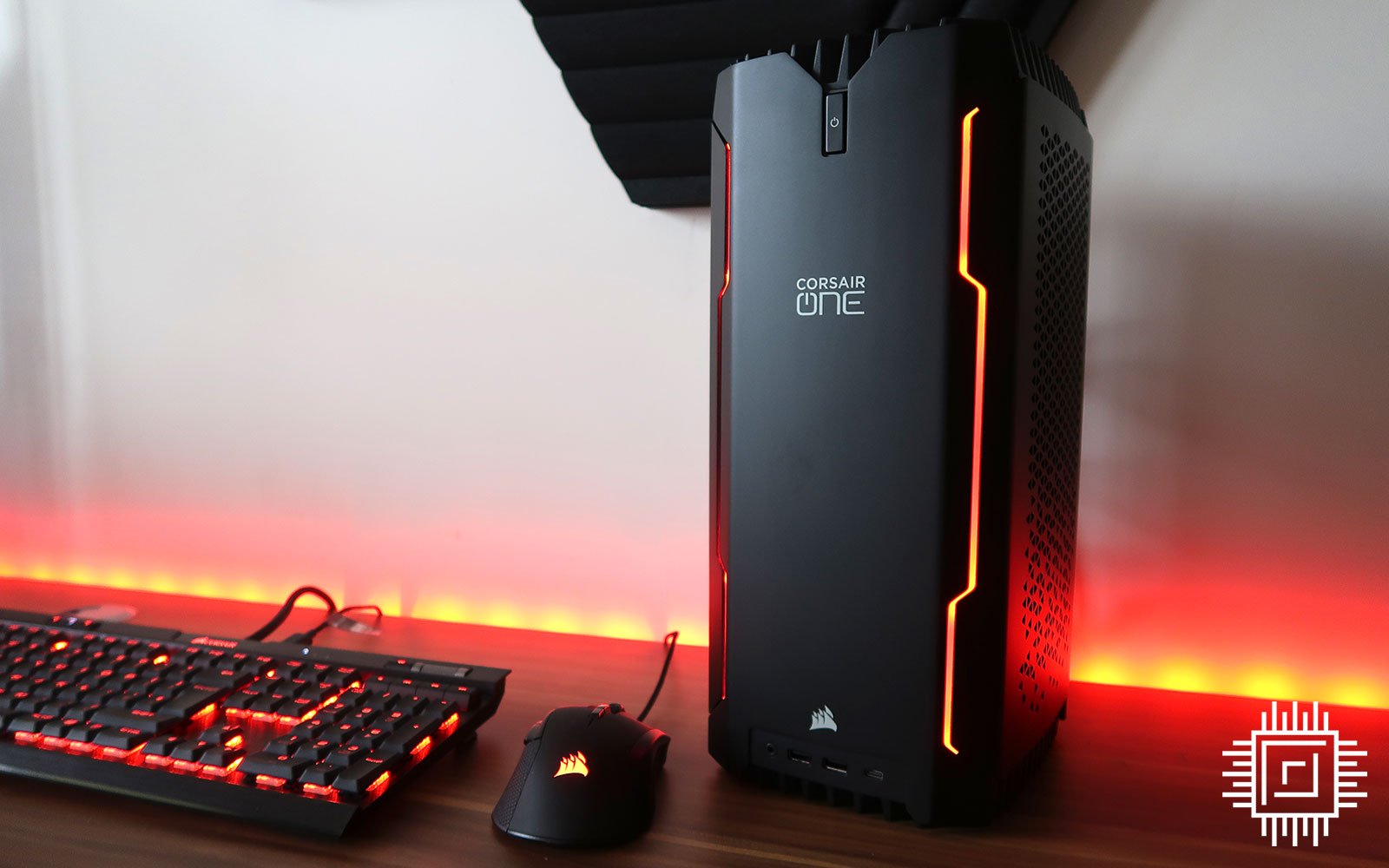 When it comes to small-form-factor PCs, Corsair One continues to lead by example. The same compact chassis has successfully housed multiple generations of Intel Core and AMD Ryzen processors, and the latest iteration continues a winning formula by placing 12th Gen Alder Lake beneath the hood.
Concessions have been made – CPU power is reduced from a maximum 241W to 180W – yet the end result is nonetheless impressive. There's enough performance on tap to leave systems twice the size trailing in One i300's wake, and whether you're creating by day or gaming by night, the combination of Core i9-12900K and GeForce RTX 3080 Ti is about as good as it gets.
We'd like to see Corsair implement a visual refresh next time around, and Intel's Core i9 chip does run hot in the default configuration, but there's very little else to grumble about. With a 2TB SSD, 64GB of memory and both 2.5GbE and Wi-Fi 6E connectivity, the One i300 ticks more boxes than a system of this size could ever be expected to.

Verdict: Feeling the urge to splurge? Corsair's One i300 is a standout choice for deep-pocketed enthusiasts seeking flagship specs in a compact desktop form factor.
Pros
Supreme SFF performance
Geared for high-quality 4K gaming
USB-C, 2.5GbE and Wi-Fi 6E
Excellent space-saving design
Keeps refreshingly quiet
Cons
Huge price tag
CPU runs hot
Club386 may earn an affiliate commission when you purchase products through links on our site. This helps keep our content free for all. Rest assured, our buying advice will forever remain impartial and unbiased.