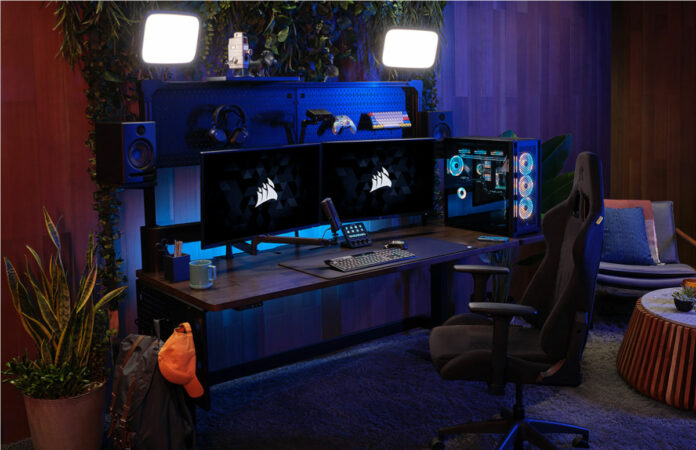 Corsair has found yet another way to monetise our gaming desires, and it's simply breath-taking. The peripheral-maker announced its first foray into gaming furniture territory with the Platform:6, a modular gaming desk unveiled at Gamescom 2023.
Expandability, customisability, and versatility appear to be the three core design elements of this unique workspace. There's motorized height-adjustability for those who prefer to sit or stand, and optional add-on platforms that cater to a variety of needs, be it gaming, business or content creation. This desk has it all.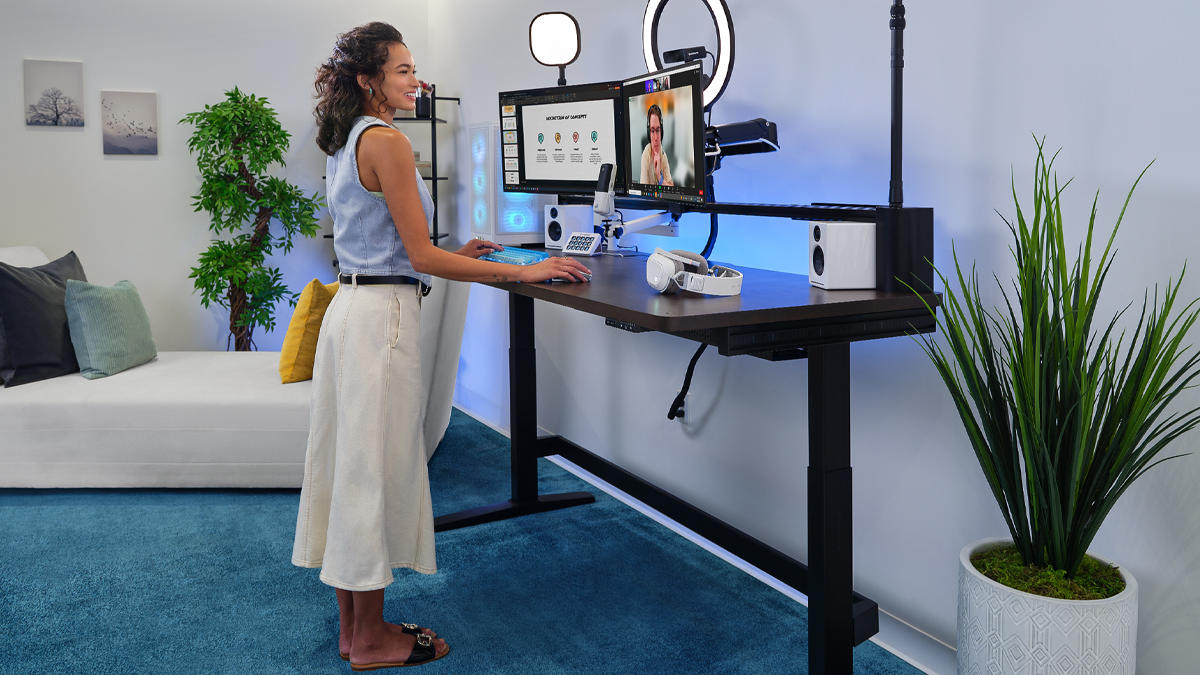 At base configuration, the Platform:6 desk offers six feet of available surface area, in either dark walnut-stained rubberwood, or sleek matte-black laminate. Two monitor arms are provided out of the box, as well as an additional oversized Corsair RapidRoute wire management tray, with a simple-yet-elegant cutout in the desk to help keep all your cables clutter-free and out of sight. Nice.
The star of the show, and the component that will do most of the heavy lifting, is the smartly designed, slat-styled modular rail system that uses a universal standard aluminium T-channel cross, with side rails and top-mounted rails offering compatibility with a wide variety of aftermarket attachments and accessories.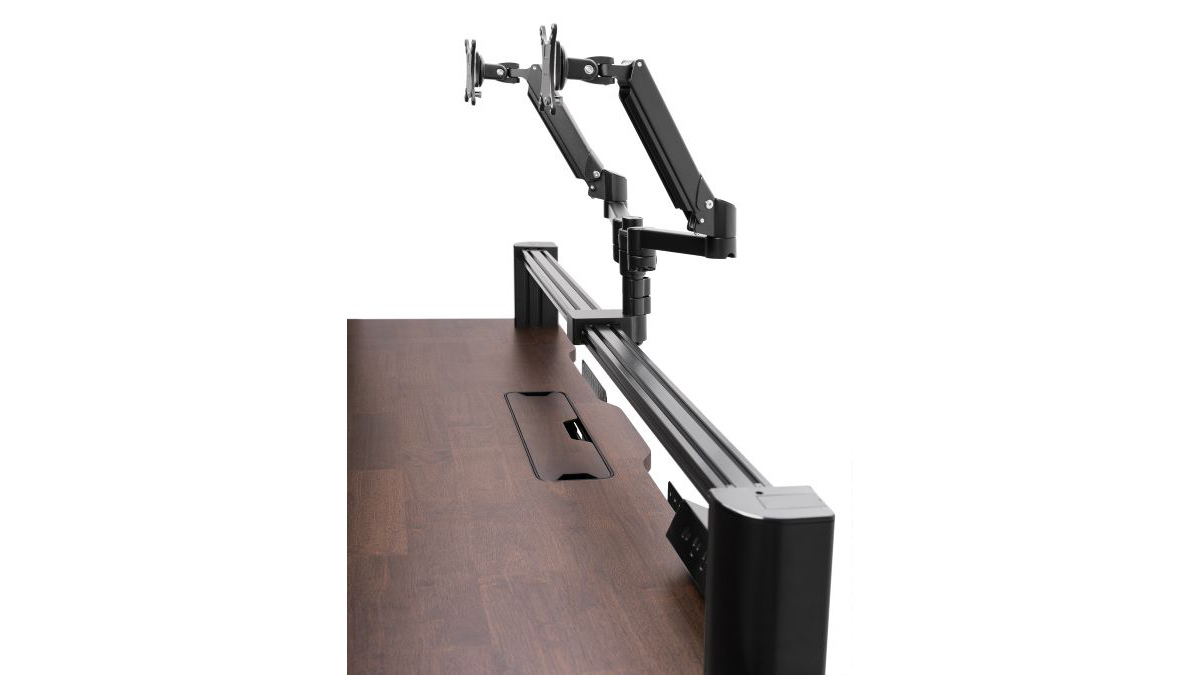 Of course, Corsair offers a wide variety of its own custom Elgato-made components, and there is a new adapter for its wide range of multi-mounts and flex arms ensuring compatibility with key lights, cameras, or microphones. Another unique feature is the purpose-built Multi Frame pegboard with additional mounting locations for your gear and accessories or even shelves and premium speaker mounts.
If that's not enough, the surface area can be expanded even further with the help of cute little 70cm x 30cm optional platforms or a side pegboard for even more space, ideal for a mid-tower PC, headphone hangers, or extra streaming gear. Throw them all together, and you've got yourself a true battle station.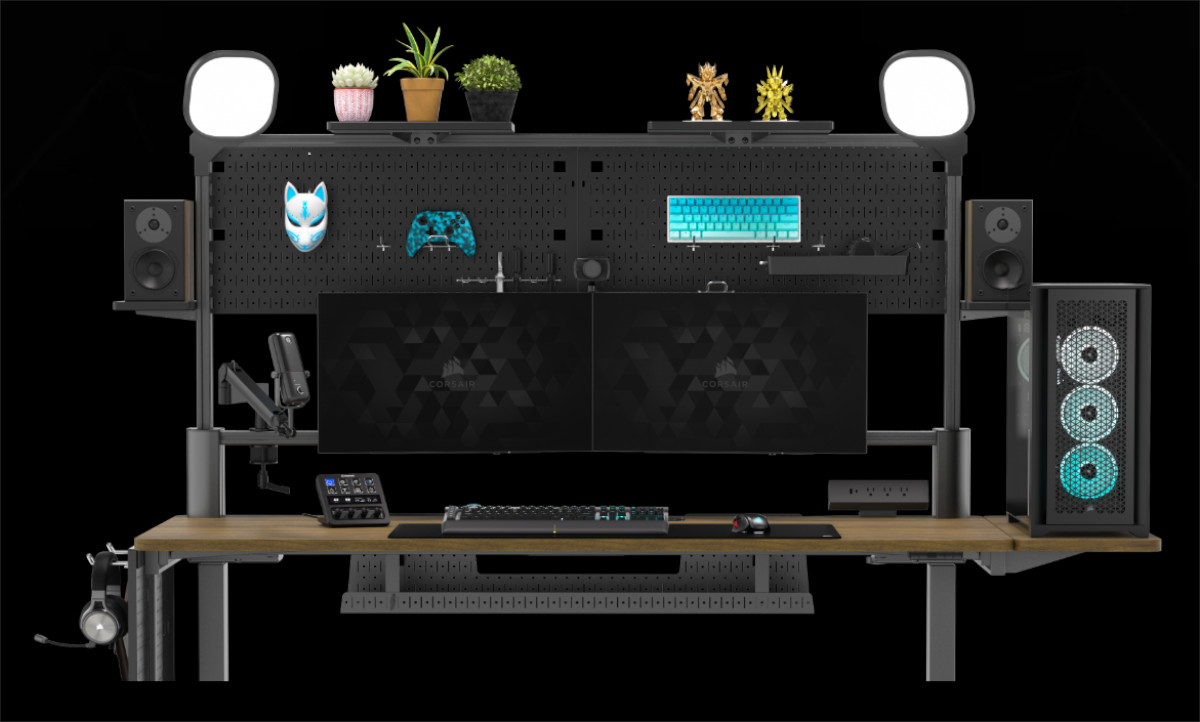 No pricing or availability just yet, but Corsair says the Platform:6 will launch later this year. Surely, it's going to cost an arm and a leg, and that's not forgetting to mention the mountains of optional add-ons. Still it's an enticing prospect, and an easy alternative if you were planning to make your own.