Jump to: Specs | Performance | Conclusion
One of the first solid-state drives (SSD) promoting a PCIe 4.0 x4 interface, Samsung's 980 Pro has been a permanent fixture for enthusiasts looking for super-fast storage.
Offering up to 7GB/s read and 5GB/s write, all-out speed is now eclipsed by leading competitor models. Nevertheless, Samsung marries wholesome specifications with attractive street prices, meaning 980 Pro continues to be relevant. Available in 250GB, 500GB, 1TB and 2TB capacities, pricing escalates from £55 through to £240.
Specifications
| Samsung 980 Pro | 250GB | 500GB | 1TB | 2TB |
| --- | --- | --- | --- | --- |
| Controller | Samsung Elpis | Samsung Elpis | Samsung Elpis | Samsung Elpis |
| NAND | Samsung TLC | Samsung TLC | Samsung TLC | Samsung TLC |
| DRAM | 512MB | 512MB | 1GB | 2GB |
| Interface | PCIe 4.0 x4 | PCIe 4.0 x4 | PCIe 4.0 x4 | PCIe 4.0 x4 |
| Sequential Read Speed (MB/s) | 6,400 | 6,900 | 7,000 | 7,250 |
| Sequential Write Speed (MB/s) | 2,700 | 5,000 | 5,000 | 5,100 |
| Random Read IOPS (K) | 500 | 800 | 1,000 | 1,000 |
| Random Write IOPS (K) | 600 | 1,000 | 1,000 | 1,000 |
| Form Factor | M.2 | M.2 | M.2 | M.2 |
| Endurance (TBW) | 150 | 300 | 600 | 1,200 |
| Hardware encryption | Yes | Yes | Yes | Yes |
| MSRP | £55 | £90 | £125 | £240 |
It's unusual for the largest-capacity drive to offer best relative value. The review 2TB model does just that, coming in at around 12p per gigabyte. Heatsink-clad models are also available for 1TB and 2TB drives, which add around a tenner to the cost, and are worthwhile if your motherboard doesn't feature its own M.2 cooling.
Samsung keeps matters in-house as far as the controller, NAND, and onboard DRAM are concerned. Makes sense, too, given Samsung's design and fabrication facilities. In particular, 980 Pro is home to a custom 8nm Elpis controller and 100-plus-layer TLC V-NAND. 2GB of LPDDR4-1866 is used for buffering duties, and the entire SSD ensemble consists of merely four chips.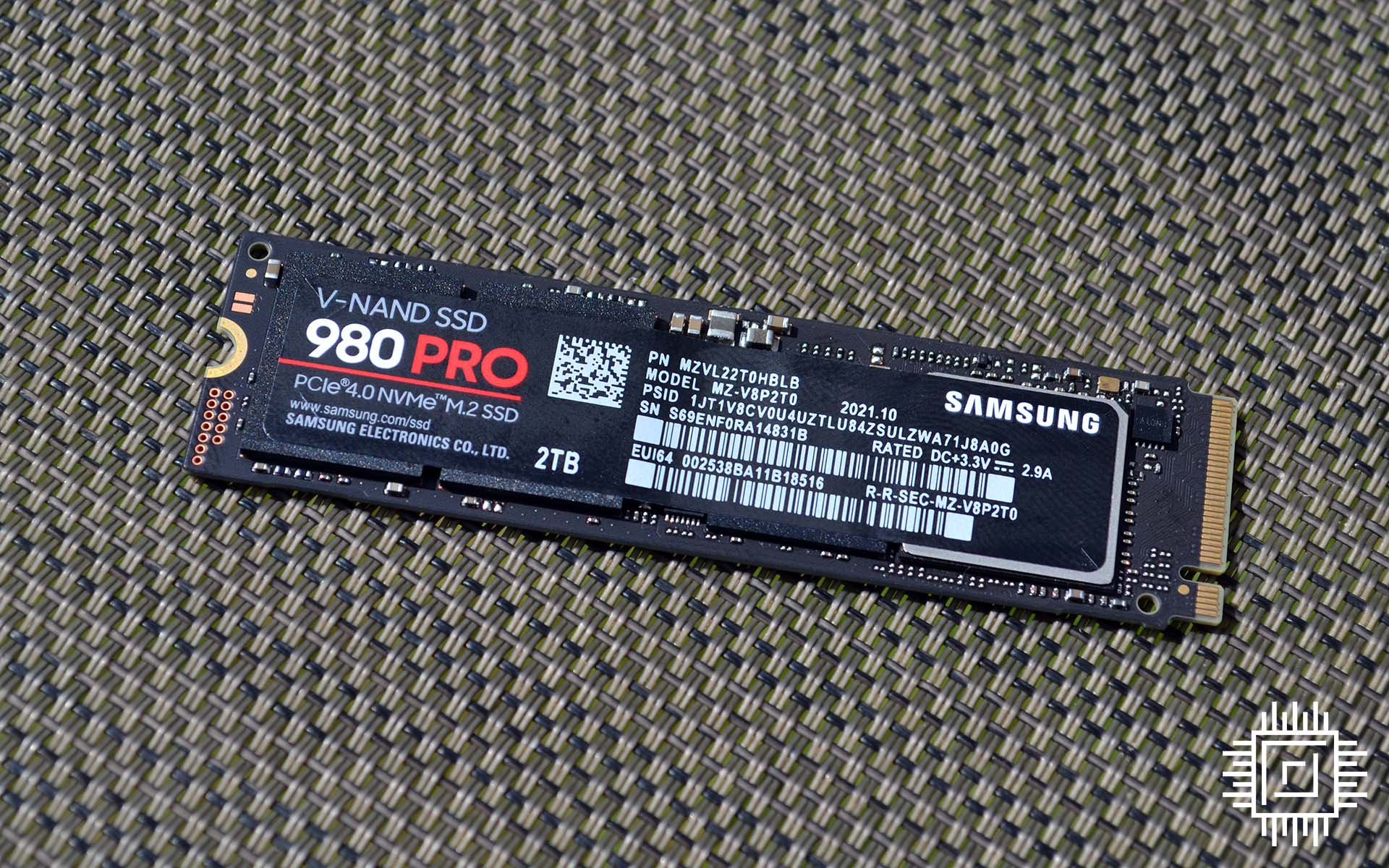 Density is the name of the game as the 2TB capacity emanates from two NAND chips located on the left-hand side. In detail, 980 Pro 2TB features 32 512Gbit dies interfacing with an eight-channel controller. Samsung says the multi-core Elpis controller uses a nickel coating to promote heat transfer away from the chip. All that said, it's a shame Samsung hasn't managed to pull a 4TB option out of the bag.
Key performance figures are eminently reasonable across the range, rising in concert with capacity. The 2TB offers best-in-class specs, and 7,250MB/s read, 5,100MB/s write and a million random read/write IOPS still stands up well to more recent drives from myriad competition. Enough alacrity for Samsung 980 Pro to be certified for use in a PlayStation 5.
980 Pro scores better than the competition by having baked-in hardware security support in the form of 256-bit AES encryption. Not so good is endurance, where the 2TB model is backed by 1,200TBW, equating to 'only' 600 complete drive writes. Compare this to 2,550TBW for a same-capacity Seagate FireCuda 530 and 1,600TBW from a Kingston KC3000.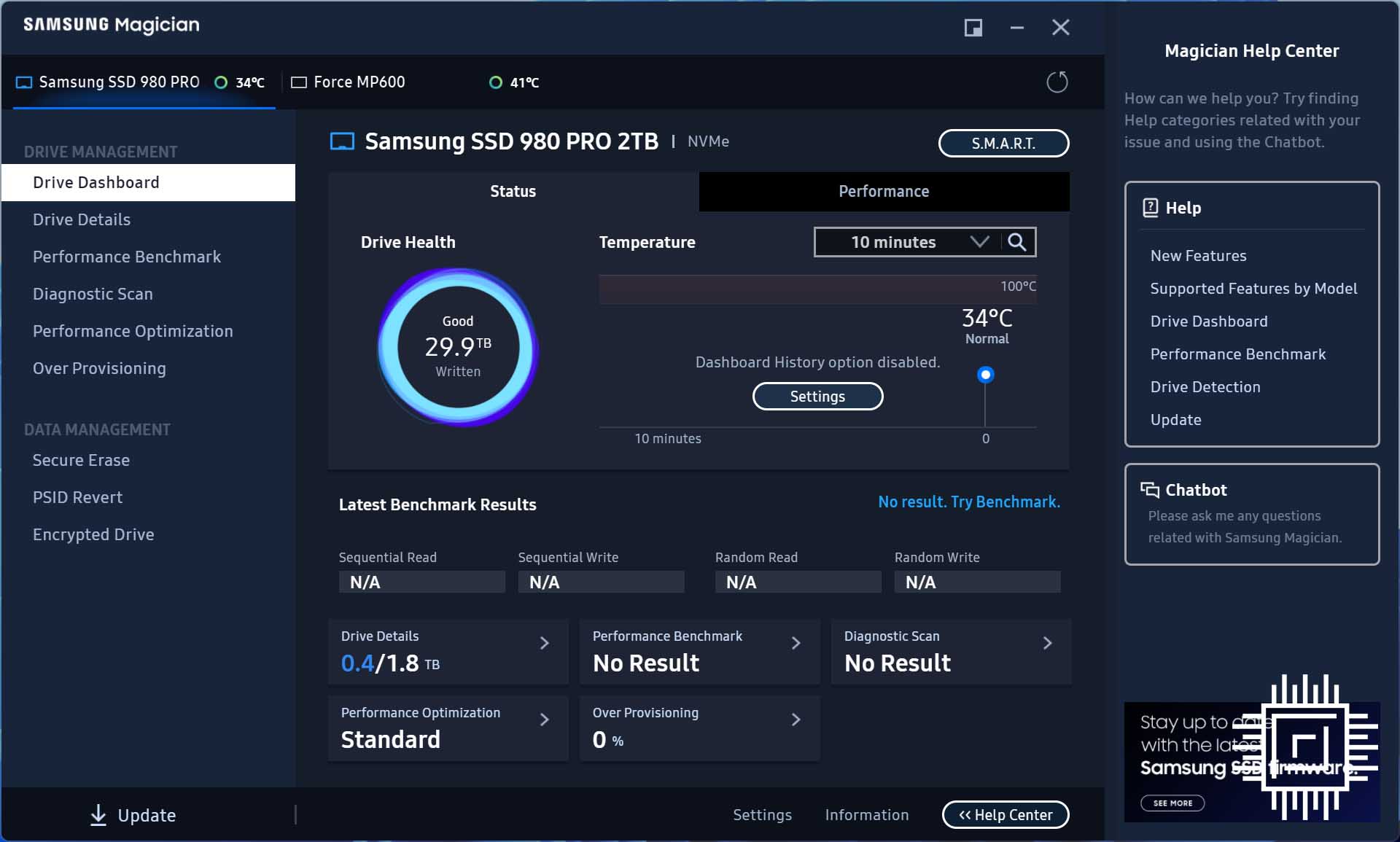 From our perspective Samsung's Magician software is the most intuitive from the leading SSD providers. In keeping with recent competition, Samsung configures part of the NAND capacity from regular TLC to faster SLC for caching and hot-data purposes. Known by the marketing term 'Intelligent TurboWrite 2.0,' 980 Pro increases this buffer size from 42GB on previous-generation 970 Evo to 160GB here.
Rounding out the package backed by a five-year warranty, Samsung includes disk-cloning software to make migration easy.
Test Methodology
Club386 Benchmarking System
CPU: AMD Ryzen 9 5950X
Motherboard: Asus ROG X570 Crosshair VIII Formula (3904 BIOS)
Memory: 32GB (2x16GB) G.Skill Trident Z Neo DDR4-3200 at 14-14-14-2T
SSD: Corsair MP600 2TB
CPU Cooler: Corsair Hydro Series H150i Pro RGB
Chassis: Fractal Design Define 7 Clear Tempered Glass
PSU: be quiet! Straight Power 11 Platinum 1,000W
OS: Microsoft Windows 11 Pro
Comparison SSDs
| Drive | Interface | Form Factor | Capacity | Firmware |
| --- | --- | --- | --- | --- |
| Samsung 980 Pro | PCIe 4.0 x4 | M.2 | 2TB | 5B2QGXA7 |
| Seagate FireCuda 530 | PCIe 4.0 x4 | M.2 | 2TB | SU6SM001 |
| Kingston KC3000 | PCIe 4.0 x4 | M.2 | 2TB | EIFK31.6 |
| Corsair MP600 Pro XT | PCIe 4.0 x4 | M.2 | 1TB | EIFM31.2 |
| WD Black SN770 | PCIe 4.0 x4 | M.2 | 1TB | 731030WD |
| WD Blue SN570 | PCIe 3.0 x4 | M.2 | 1TB | 234090WD |
| Crucial MX300 | SATA | 2.5in | 1TB | M0CR070 |
Software:
CrystalDiskMark 8.0.4 x64
Final Fantasy Endwalker loading time
3DMark SSD Storage
SPECworkstation 3.1
Iometer 1.1.0
PCMark 10 Storage
CrystalDiskMark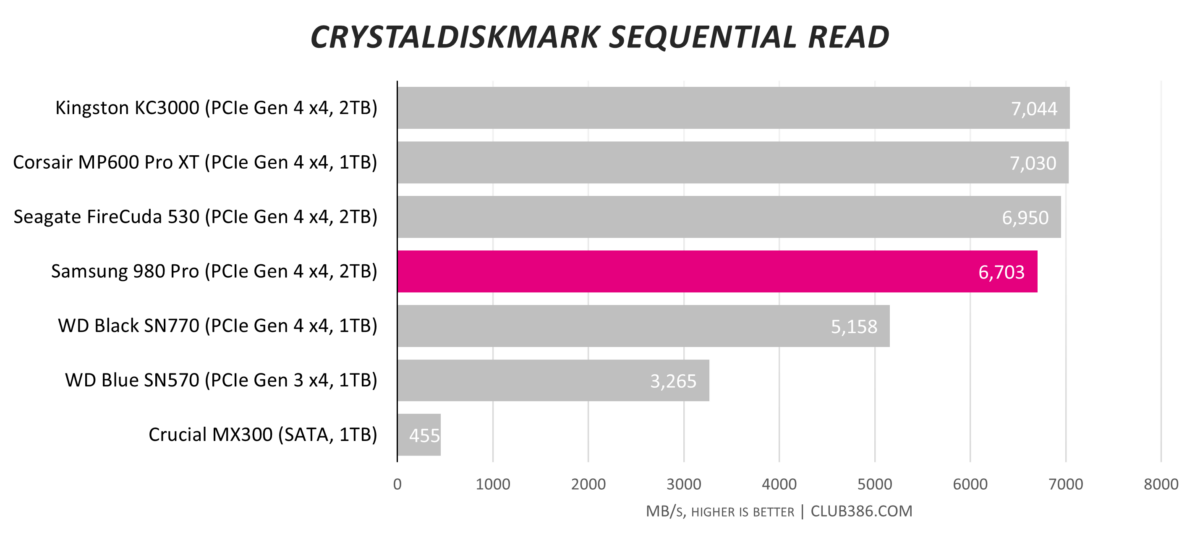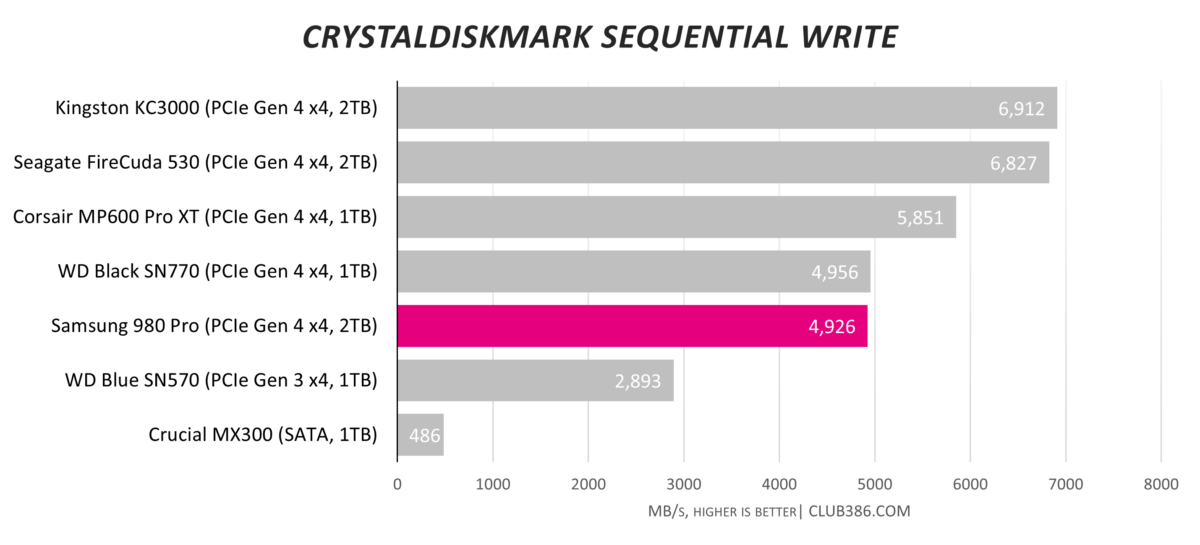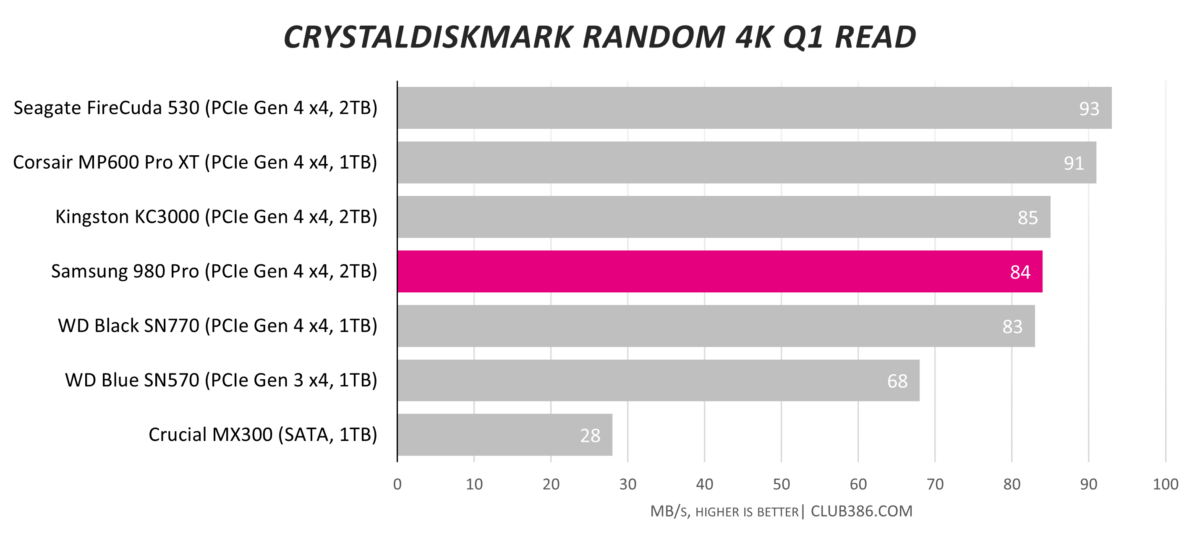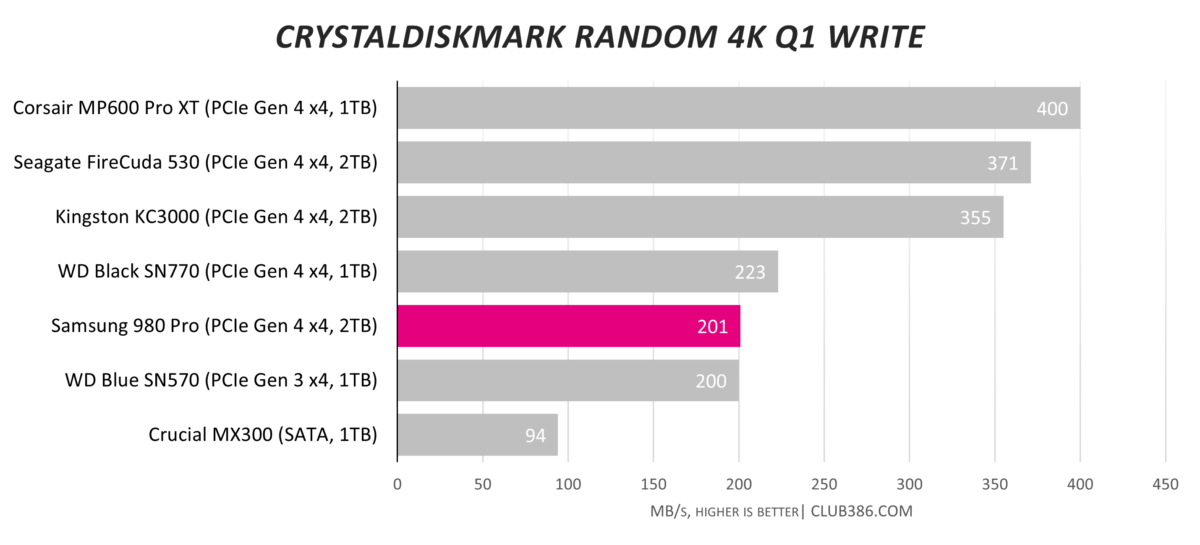 Venerable 980 Pro holds up well against a bevy of more recent drives. No longer considered an absolute cutting-edge SSD, performance remains robust for everyday sequential transfers.
Testing the claims of Intelligent TurboWrite 2.0, we copied a 250GB folder – thereby saturating the SLC cache limit – and recorded a write speed of 1,624MB/s at the 200GB mark, comparing favourably against most other drives, which drop to sub-1,000MB/s after their respective SLC caches are filled.

Show your support for impartial Club386 reviews
Club386 takes great pride in providing in-depth, high-quality reviews built on honest analysis and sage buying advice. As an independent publication, free from shareholder or commercial influence, we are committed to maintaining the standards our readers expect.
To help support our work, please consider making a donation via our Patreon channel.
Gaming Storage Tests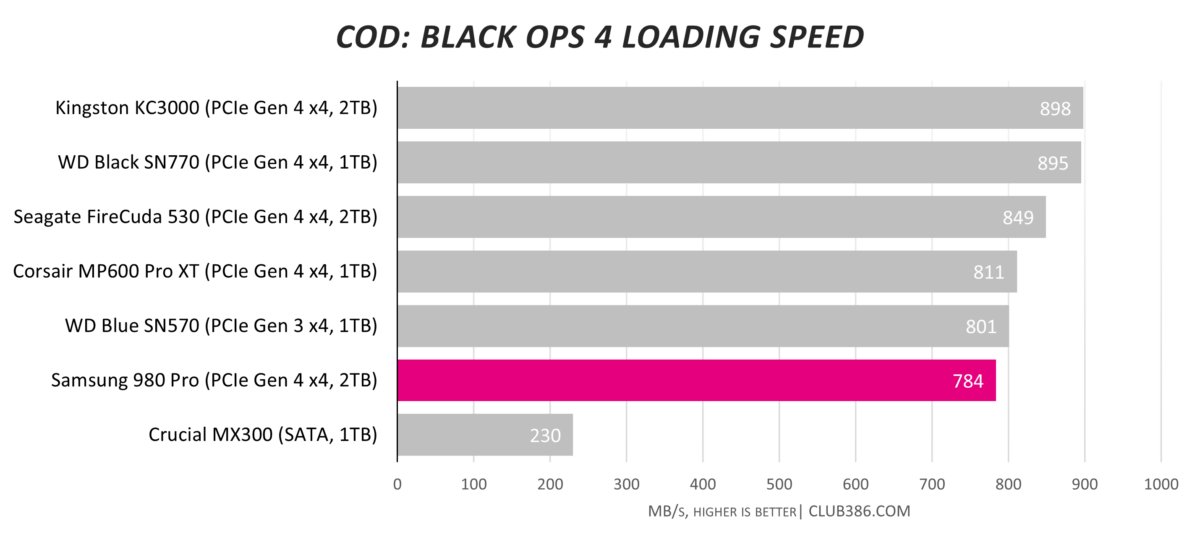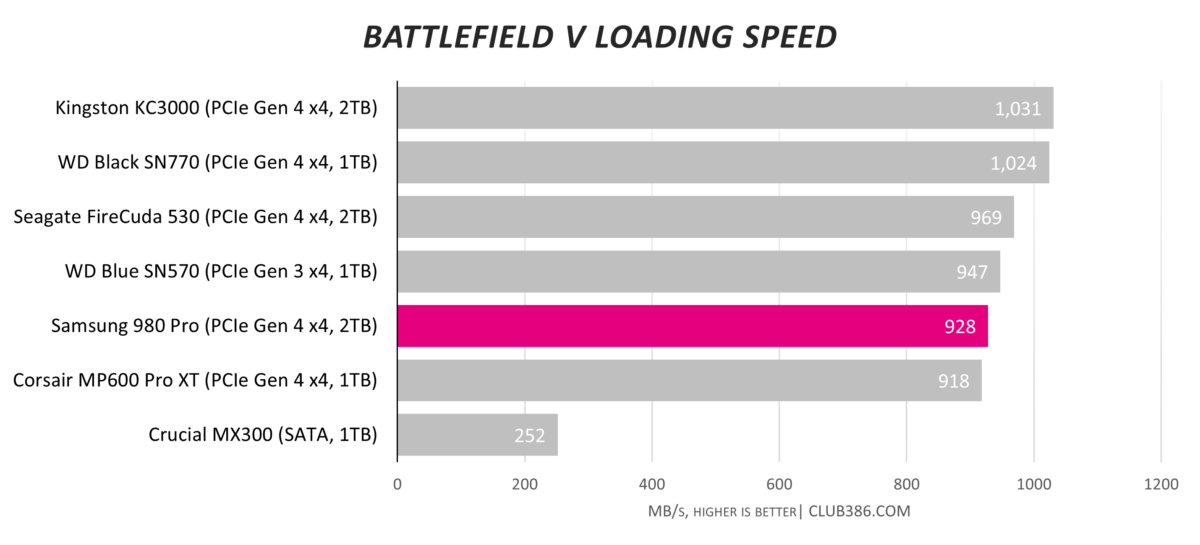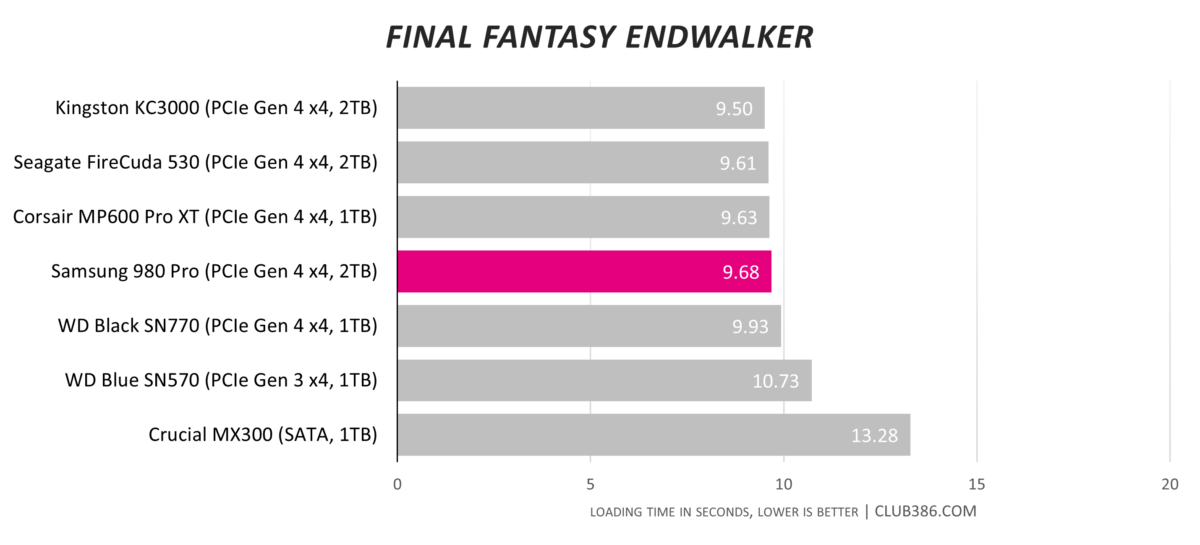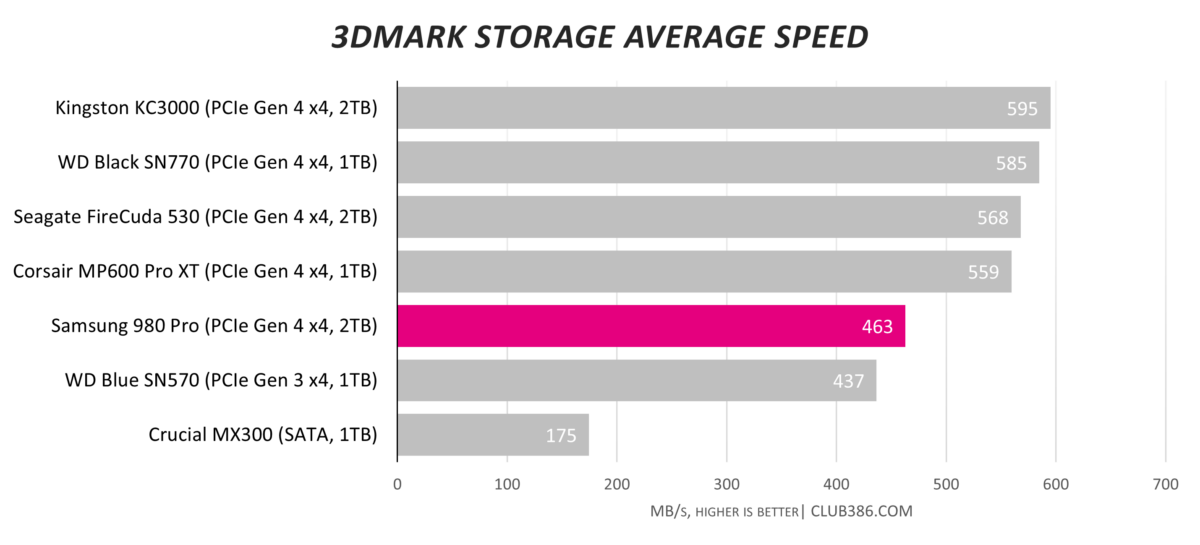 The same thoughts are echoed in game-loading tests. There are faster drives for this purpose, but none of them offer the 980 Pro's current value.
SPECworkstation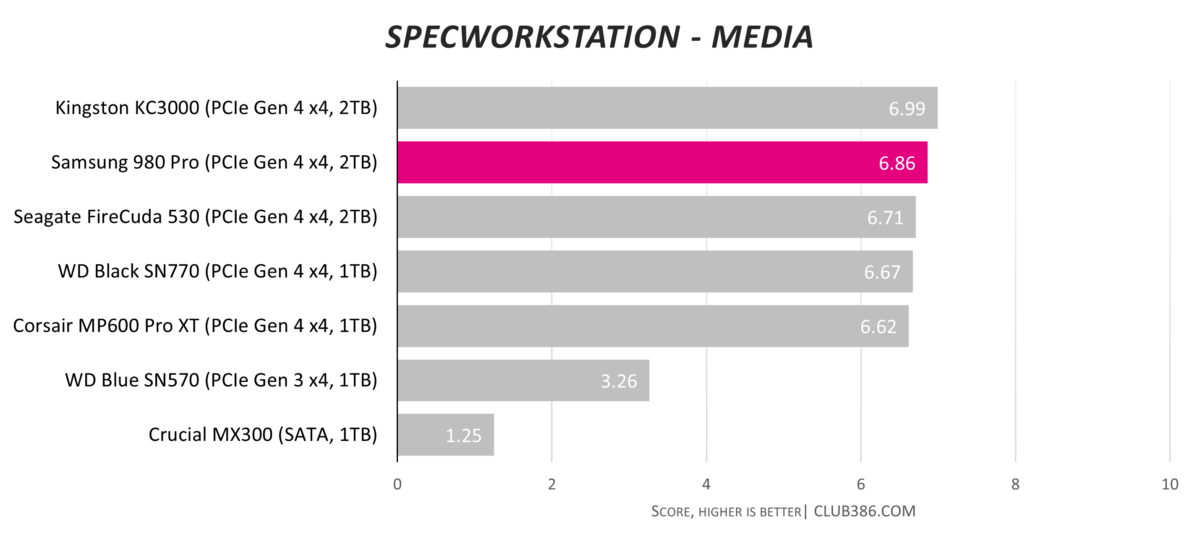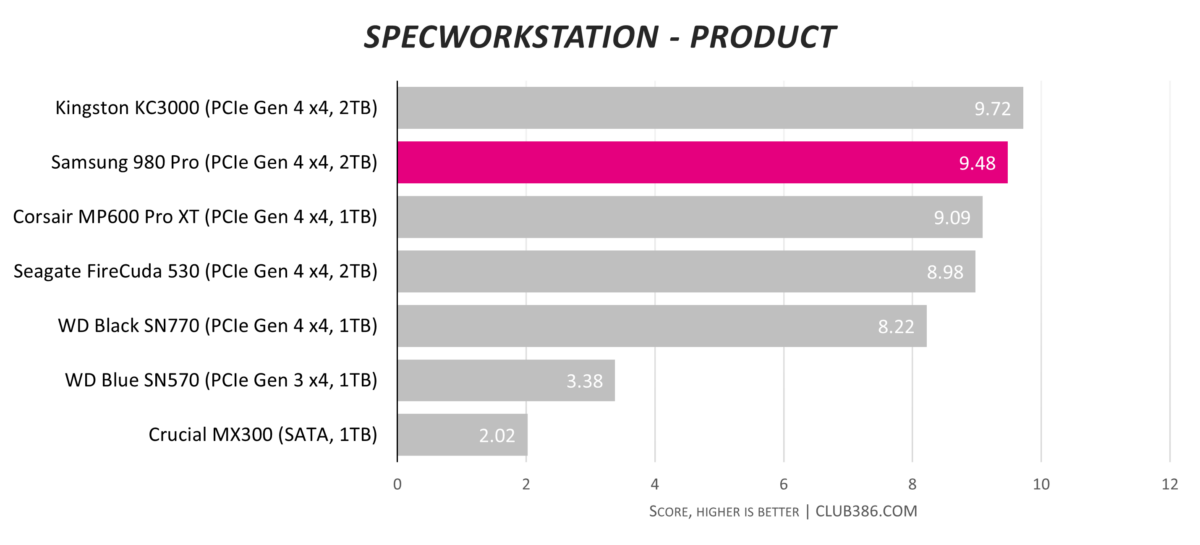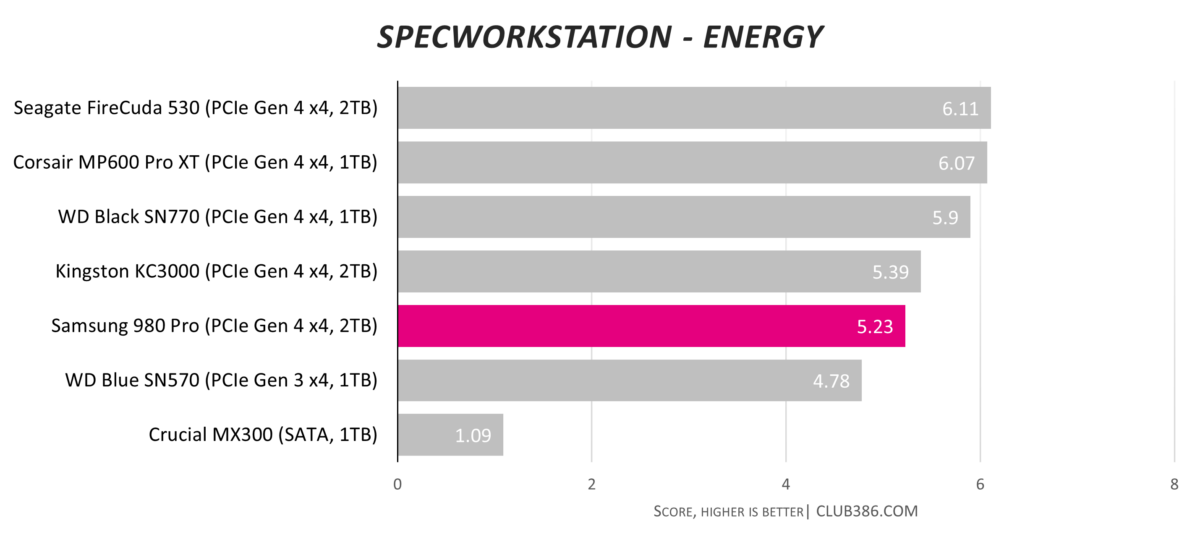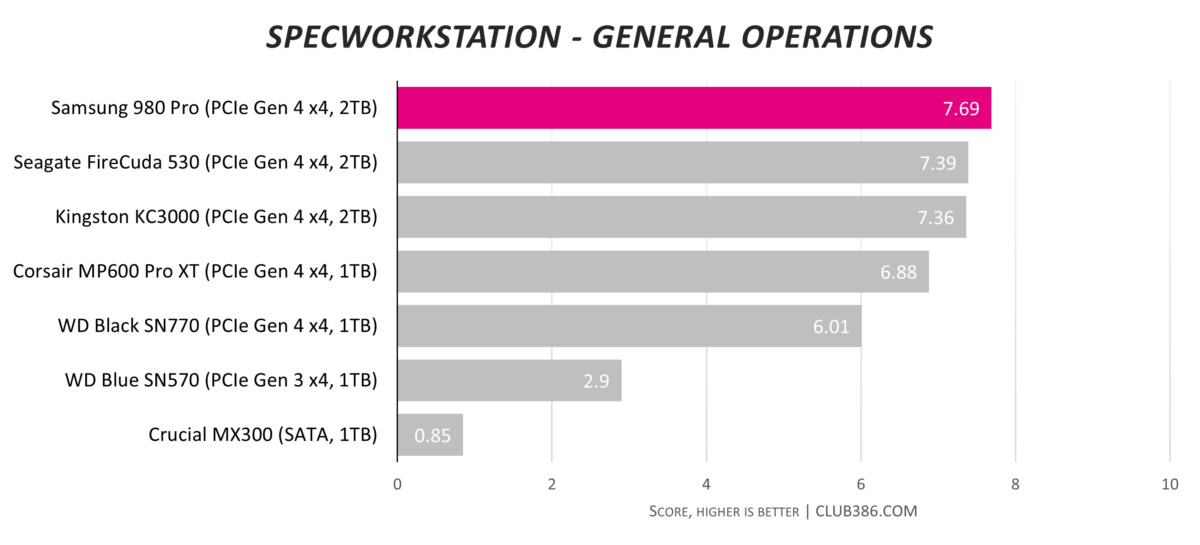 Storage benchmarks become more difficult as we move down the page. Evaluated in a workstation context, Samsung 980 Pro puts in a better-than-expected showing. The takeaway is performance improves as more parallelism is brought to the fore.
Iometer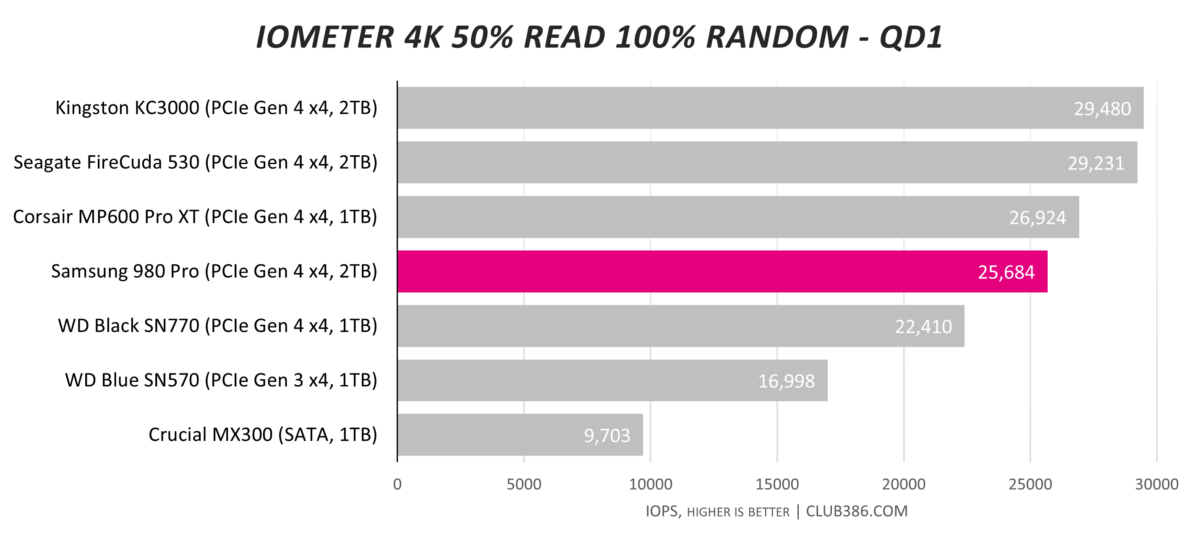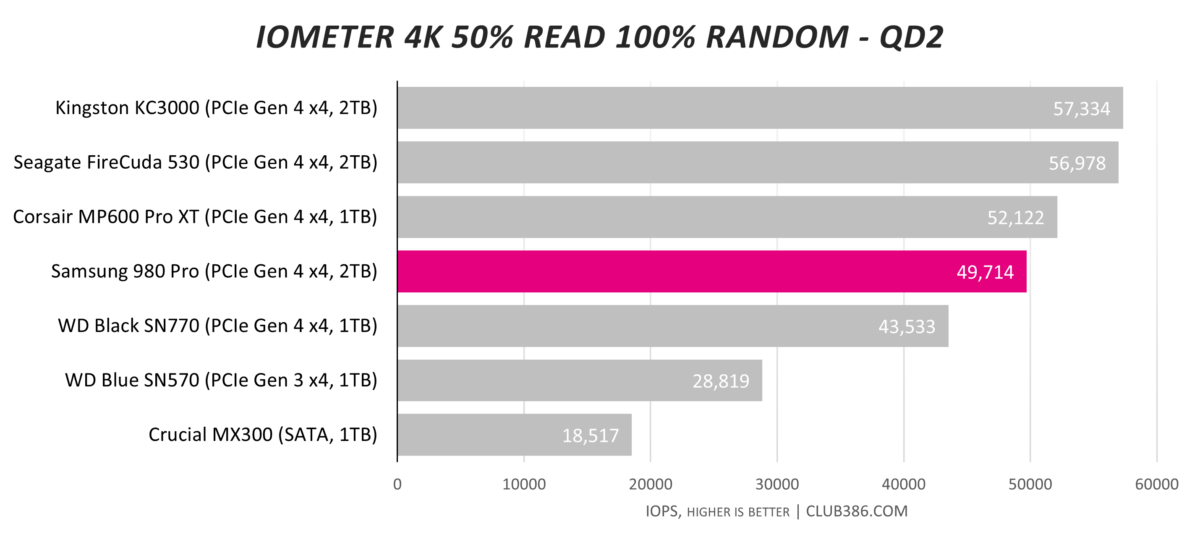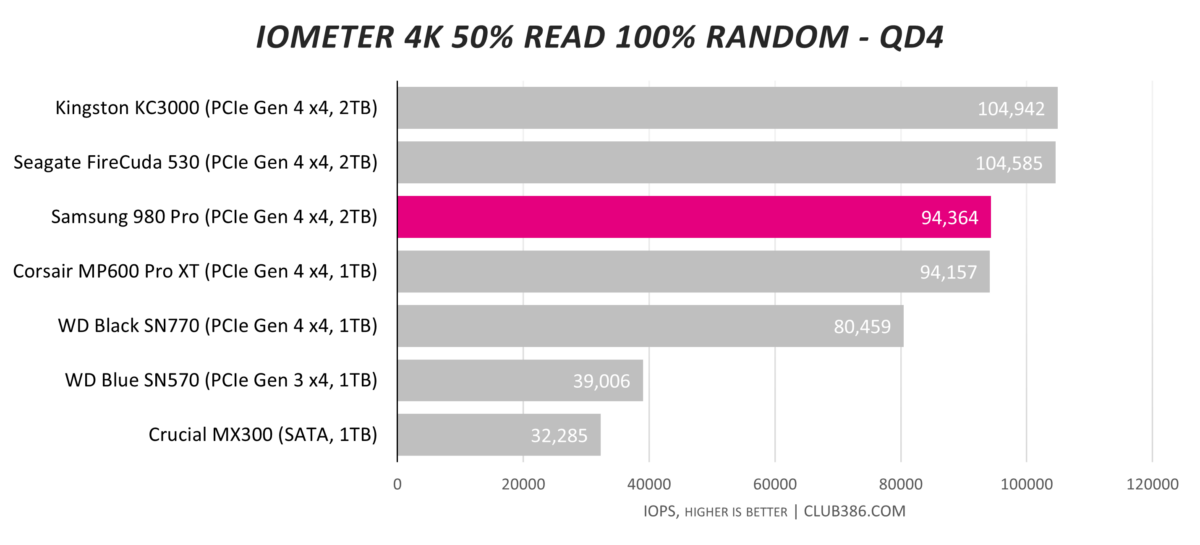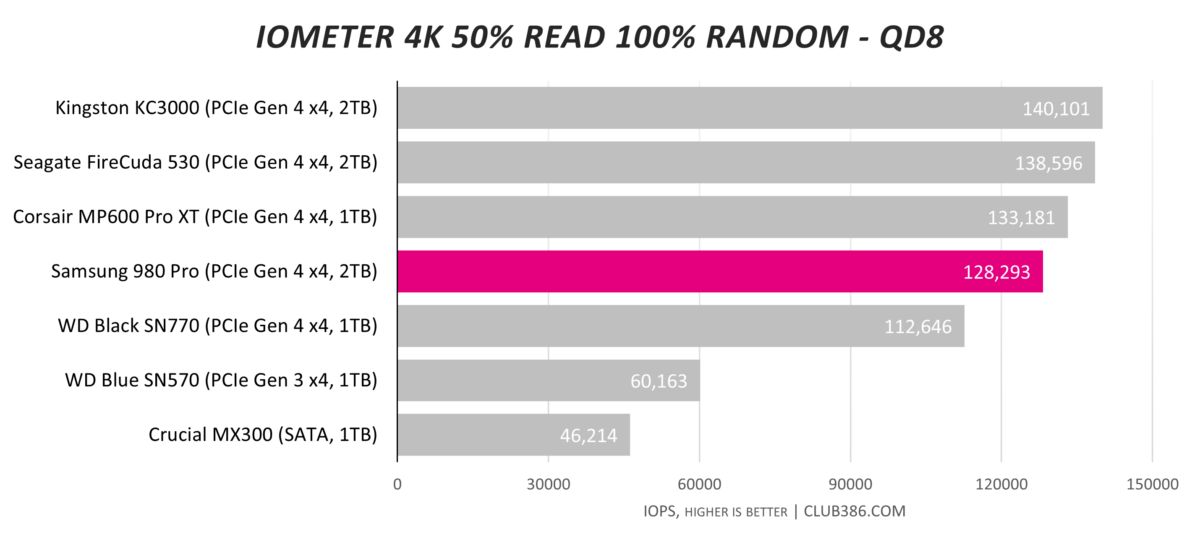 Iometer is a fantastic tool to evaluate storage. Configurable in thousands of ways, we choose to run the 4K aligned test with 50 per cent reads, 50 per cent writes, and 100 per cent random accesses. Think of it as zeroing-in on the controller and NAND's qualities, and better combinations ought to score higher.
Pretty impressive for an 18-month-old drive, wouldn't you say?
PCMark Storage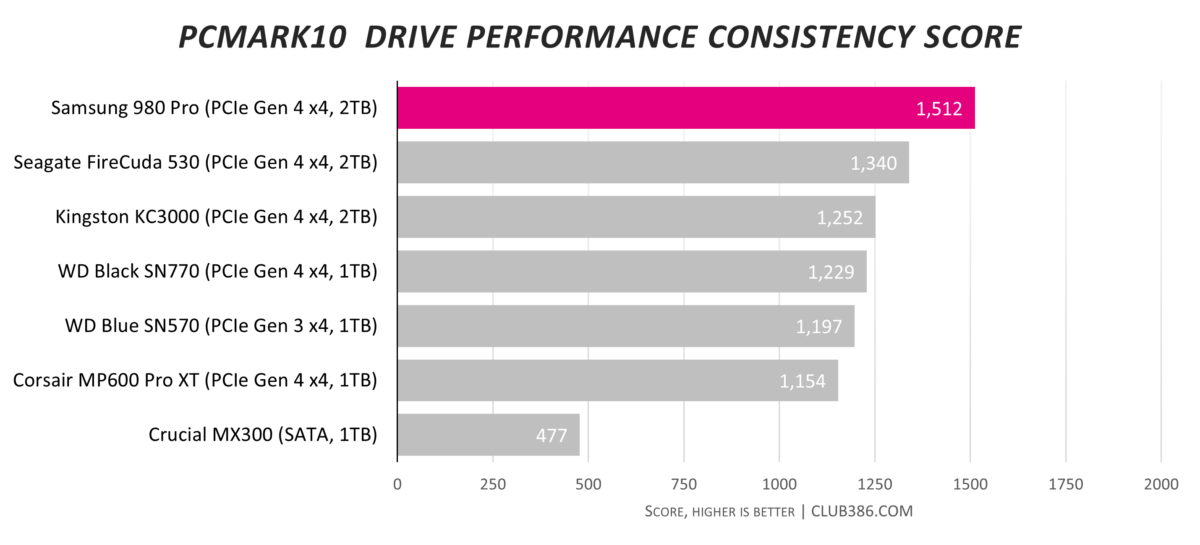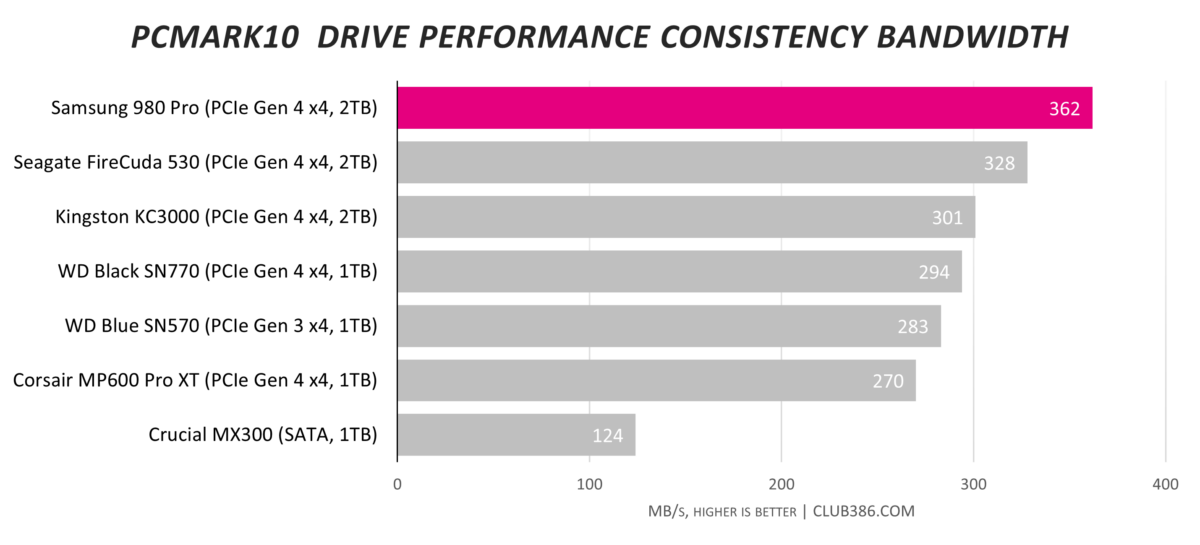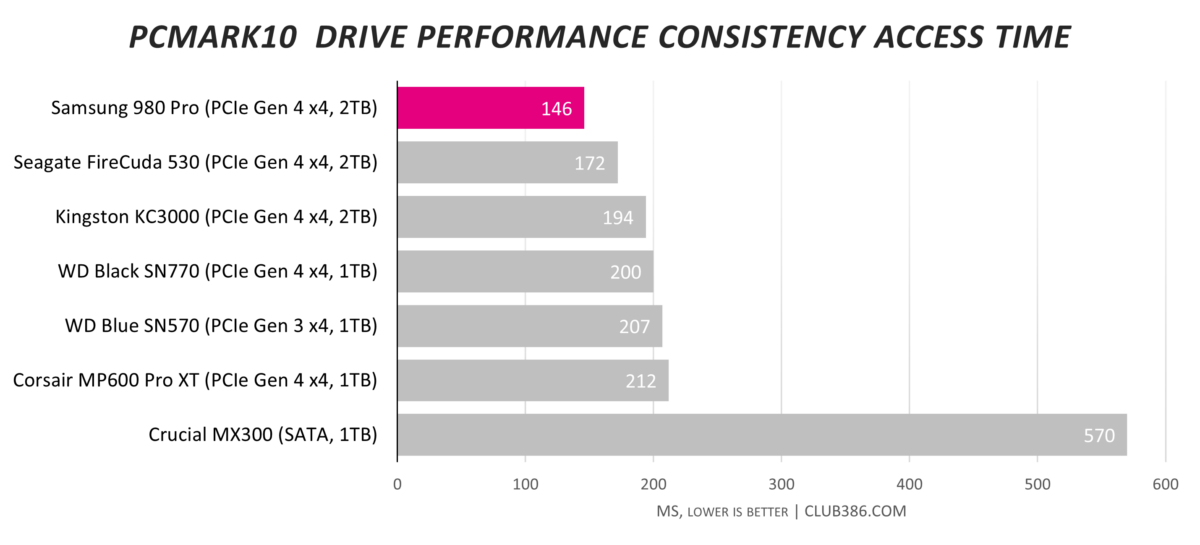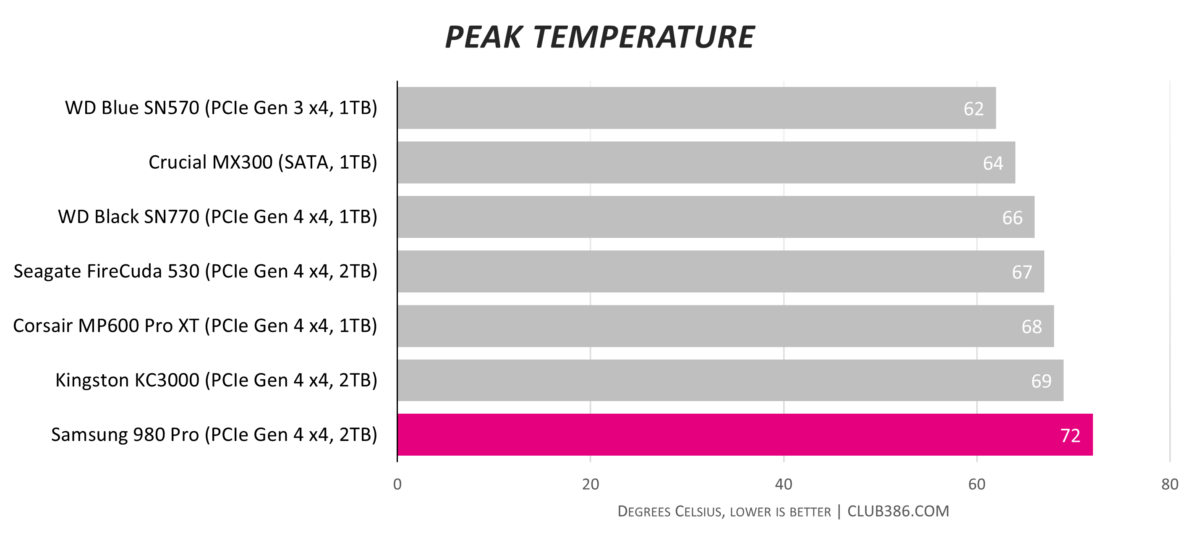 The toughest test is 12-hour-long PCMark 10 drive performance consistency. It writes 23TB plus up to three times the drive capacity. The test includes a degradation phase, a steady state phase, and a recovery phase. In-depth reporting shows how the performance of the drive varies under these conditions.
Samsung's in-house heritage shines through. Topping the three steady-state charts after hours of preconditioning load, 980 Pro will retain more of its out-the-box performance than competitors. Most consumers won't subject their SSDs to this kind of extended abuse, of course, though prospective buyers can rest easy in the knowledge that 980 Pro will continue to perform at decent levels.
Conclusion
The Samsung 980 Pro M.2 NVMe SSD remains an enviable choice as performance storage for high-quality PCs. Though now not as fast out of the box as some recent models, equipped with latest-generation Phison controllers, 980 Pro scores better when subjected to extreme loads.
Endurance could be improved of course, but Samsung's main thrust relies on value. Widely available for £240, or about £50 less than the Seagate Barracuda and Kingston KC3000, we recommend it to users on tighter budgets. A well-balanced drive on most fronts.
Samsung 980 Pro M.2 NVMe 2TB SSD
Verdict: Majoring on relative value now, Samsung's 980 Pro is still a formidable choice.
---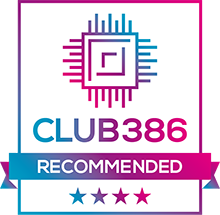 Pros
Good value
Consistent performance
Intuitive software
Hardware encryption
Cons
Not the fastest
No 4TB option
---
Club386 may earn an affiliate commission when you purchase products through links on our site. This helps keep our content free for all.
Rest assured, our buying advice will forever remain impartial and unbiased.