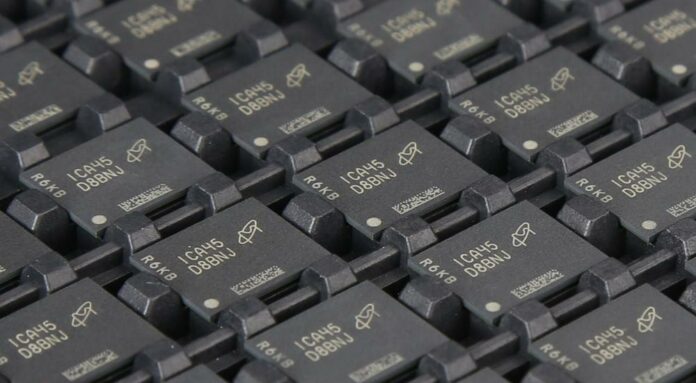 Crucial parent company Micron is readying 24GB and 48GB DDR5 CL46 memory modules running at 5,600MT/s speeds and supporting both Intel XMP and AMD EXPO.
The new modules bring odd memory capacities to Crucial's consumer market, allowing for 48GB and 96GB dual-channel configurations. Per single DIMM, the DDR5-5600 family will be offered in 8GB, 16GB, 24GB, 32GB and 48GB capacities, running at CL46 latency with 1.1v.
These modules will be compatible with both Intel's 13th Gen Raptor Lake CPUs (Core i9-13900K) and AMD's 7000 Zen 4 (Ryzen 9 7950X) courtesy of Intel XMP 3.0 and AMD EXPO memory profiles for optimum performance with one click. Gamers who favour higher speeds may not see the immediate attraction, yet for professionals and creative types, the new capacities are welcome options.
| Module Capacity and Speed | U-DIMM | SO-DIMM |
| --- | --- | --- |
| 8GB DDR5-5600 CL46 | CT8G56C46U5 | CT8G56C46S5 |
| 16GB DDR5-5600 CL46 | CT16G56C46U5 | CT16G56C46S5 |
| 24GB DDR5-5600 CL46 | CT24G56C46U5 | CT24G56C46S5 |
| 32GB DDR5-5600 CL46 | CT32G56C46U5 | CT32G56C46S5 |
| 48GB DDR5-5600 CL46 | CT48G56C46U5 | CT48G56C46S5 |
Available in a choice of U-DIMM or SO-DIMM form factors, the new modules will bring a wider array of configuration options to both laptop and desktop, and are thought to be constructed using Micron's new 24Gb ICs.
Pricing and availability are yet to be confirmed, but more choice is no bad thing, and if the price is right, 2x24GB could be a welcome upgrade from common 2x16GB. A 96GB setup, meanwhile, holds clear merit to creators wanting high capacity in an optimal dual-channel arrangement, but whether or not any consumer boards will support a full 4x48GB remains to be seen.