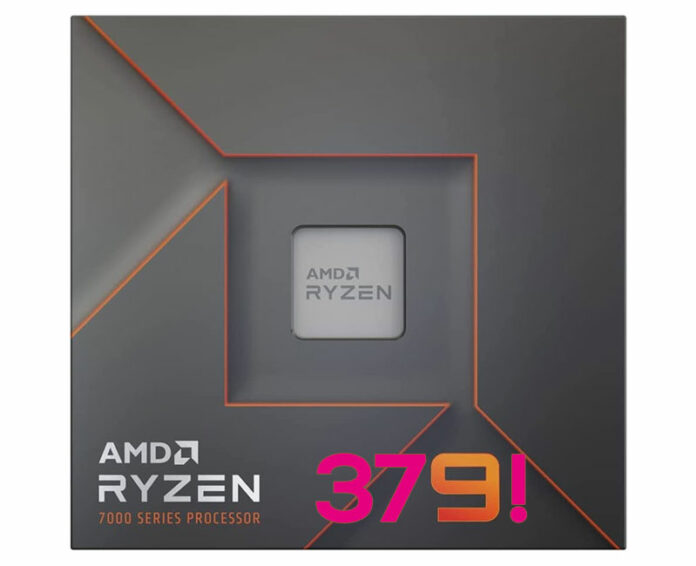 AMD Ryzen 9 7900X
---
"AMD Ryzen 9 7900X is a powerful gaming and streaming desktop processor that comes with 12 CPU cores, 24 threads and a boost clock speed of 5.6GHz."
We earn a commission if you make a purchase, at no additional cost to you.
What a strange world we live in. Seems just the other day PC component prices were exasperating, yet here we are, mid-2023, facing genuine bargains amid otherwise rampant inflation. Take, for example, the Ryzen 9 7900X, which despite being one of AMD's finest consumer CPUs has had to undergo hefty price cuts in the current climate.
How much are we talking? Cast your memory back to September of last year and you may recall Ryzen 9 7900X launched at £579. Fast forward to today and that very CPU is available for £379 in the UK and $396 in the US! A price cut of £200 is never to be scoffed at, and that 35 per cent saving opens room in the budget for upgrades elsewhere.
To recap, Ryzen 9 7900X is a 5nm Zen 4 processor cramming 12 cores, 24 threads and a top speed of 5.6GHz into a 170W power envelope. It is the most potent 12C24T consumer CPU AMD has ever released, yet stern competition from the likes of Core i7-13700K has made available honest-to-goodness bargains. Great news for the consumer.
Lofty AM5 platform costs were deemed a stumbling block, yet that hurdle has fallen, too. Latest-gen motherboards can be found for less than £130, and DDR5 memory – a requisite for AM5 – has plummeted in price.
Club386 is always on the lookout for PC component bargains. Follow on Twitter or Facebook to keep up to date with the latest deals, and subscribe to our free weekly newsletter to be kept abreast of all the latest developments in the world of tech.