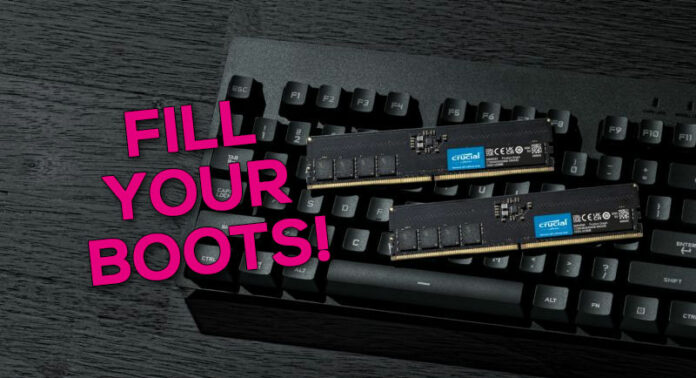 Crucial 16GB DDR5-4800
---
"Crucial DDR5 Desktop Memory can empower your computer to transfer 50% more data than DDR4 at launch, resulting in faster load times, file transfers, downloads, refresh rates and less lag time."
We earn a commission if you make a purchase, at no additional cost to you.
Got yourself an unbelievably cheap M.2 SSD? You might want to grab some DDR5 memory to go with it, as current prices are immensely attractive.
An unmissable deal at the time of writing has to be the Crucial CT16G48C40U5. Granted, the name doesn't exactly roll off the tongue, yet this 16GB stick of DDR5-4800 memory stands out from the crowd having dropped to £34.98. That's almost half price, and the cheapest we've ever seen. Ideal if you're wanting to make the leap to 32GB or 64GB without breaking the bank.
Prefer dual-channel kits with a nice-looking heatsink? No bother, take a gander at the Kingston Fury Beast KF548C38BBK2-32. This 2x16GB pack offers the same DDR5-4800 speeds, tighter CL38 latency, and has landed at an all-time-low of £76.83!
Welcome price cuts indeed, and a shift that puts to bed the theory platform costs are a stumbling block to latest-generation CPU adoption. With motherboards, SSDs and now DDR5 memory all falling to affordable levels, it's a great time to be a PC enthusiast.
Kingston Fury Beast DDR5-4800
---
"Whether you're pushing the limits in your gaming with the most extreme settings, live streaming at 4K+ or pushing large animations and 3D rendering, Kingston FURY Beast DDR5 memory is the level-up needed, while seamlessly bridging style and unleashing performance."
We earn a commission if you make a purchase, at no additional cost to you.