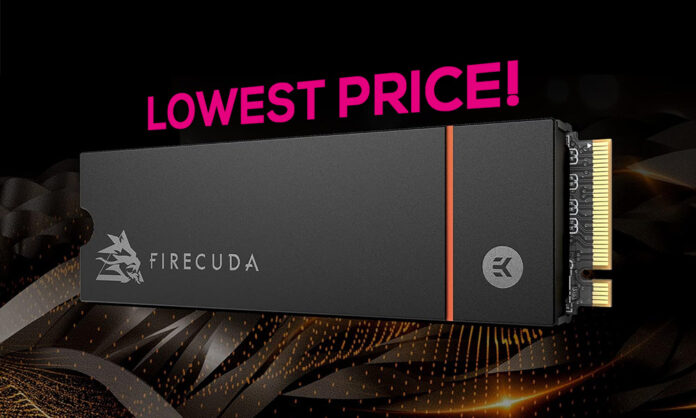 2TB Seagate FireCuda 530
---
"With transfer rates 2x faster than PCIe Gen3 and 12x faster than SATA SSDs, this SSD is built for sustained abuse and accelerated gaming."
We earn a commission if you make a purchase, at no additional cost to you.
There's so little separating the best consumer SSDs that buying decisions are easily swayed by brands you trust. For those who favour Seagate for their storage solutions, it's worth making note of recent price drops.
Of particular interest is the 2TB FireCuda 530, a blistering-fast M.2 drive now available for £95.99 in the UK or $149.99 in the US. That's the lowest price we've seen for a flagship Seagate PCIe 4.0 solution capable of hitting speeds of up to 7,300MB/s.
Club386 reviewed said drive back in 2022 and came away impressed with the performance, excellent endurance and low operating temperature. Do note that the 2TB model fetched £280 back then, highlighting just how dramatically prices have plummeted.
It's also worth pointing out that FireCuda 530 is officially listed as compatible with PS5 consoles, meeting Sony's requirements on performance and dimensions. Seagate does offer heatsink-clad variants for PS5 upgrades with no additional parts, but you will typically pay a small premium.
For those who crave maximum capacity, the range-topping 4TB Seagate FireCuda 530 with heatsink is also reduced to an all-time-low of £238.99. PCIe 4.0 storage doesn't get much better than this, and if you've been waiting to upgrade, the price is now right.
4TB Seagate FireCuda 530
---
"Explosive Speed. Absolute Domination. Delivering pure performance, absolute power and unrivalled endurance."
We earn a commission if you make a purchase, at no additional cost to you.
Club386 is always on the lookout for unmissable tech deals. Follow on Twitter or Facebook to stay up to date with the latest discounts and subscribe to our free weekly newsletter to be kept abreast of all the developments in the world of technology.