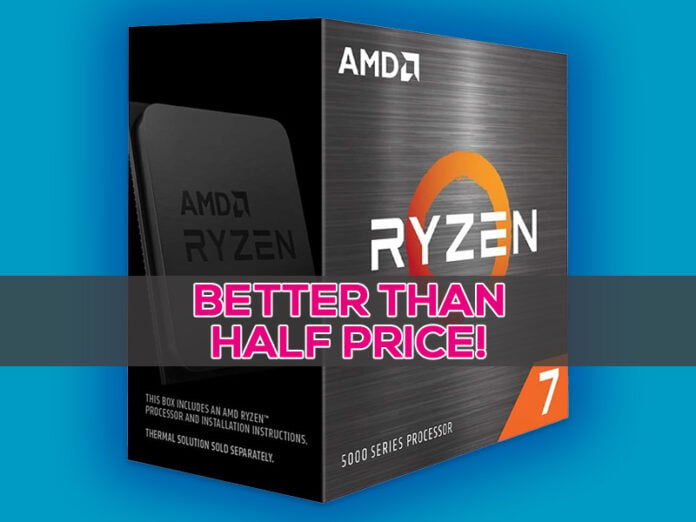 AMD Ryzen 7 5800X
---
"AMD Ryzen 7 5800X elite gaming desktop processors comes with 8 cores optimized for high-FPS gaming rigs."
We earn a commission if you make a purchase, at no additional cost to you.
The dust has barely settled on last week's Ryzen 7 5700X price cut, and another deal has already surfaced! Might be time to reconsider your build plans as the quicker Ryzen 7 5800X has dropped to the lowest price we've ever recorded.
AMD's eight-core, 16-thread CPU is available from Amazon EU at a remarkable cost of £150.99. That's a staggering 64 per cent saving over the original RRP, and the chip is also better than half price in the US, where it currently retails for $209.26.
Despite having tumbled to similar prices, Ryzen 7 5700X and 5800X are unique eight-core propositions. The former is a 65W model erring on the side of efficiency with 3.4GHz base and 4.6GHz boost clocks. 5800X, on the other hand, favours all-out speed with a 105W TDP allowing base and boost clocks to climb to 3.8GHz and 4.7GHz, respectively.
There's an argument to be made for both CPUs now that UK pricing is practically identical, and either would contribute to a high-performance gaming or productivity PC based around the tried-and-trusted AM4 platform. Such a CPU with, say, Radeon RX 7800 XT graphics, 32GB of DDR4 memory and an affordable 4TB SSD would make for a potent 1440p gaming rig that would hold you in good stead for at least another generation or two.
Club386 is always on the lookout for unmissable tech deals. Follow on Twitter or Facebook to stay up to date with the latest discounts, and subscribe to our free weekly newsletter to be kept abreast of all the developments in the world of technology.