Jump to: Phantom Gaming | Performance | Value | Conclusion
AMD's foray into mainstream discrete graphics has opened the door for partners to build new models. Helped on by aggressive pricing, Radeon RX 7800 XT and RX 7700 XT are selling well, according to our sources. Looking to jump on this momentum, ASRock is championing the Radeon RX 7800 XT Phantom Gaming 16GB card. Be rude not to take a closer look.
If you've been living under a rock for the last month, let me remind you of what makes RX 7800 XT one of the best graphics cards starting at $499 / £479. Built using the full Navi 32 die and harnessing the same hybrid design that splits the compute and memories into their respective silicon pools, RX 7800 XT is faster than dearer GeForce RTX 4070 in pure rasterisation. Further sweetening the deal is 16GB of onboard memory, which is 4GB larger than the direct Nvidia counterpart, so you can see why partners are keen to have their Radeon cards out front and centre.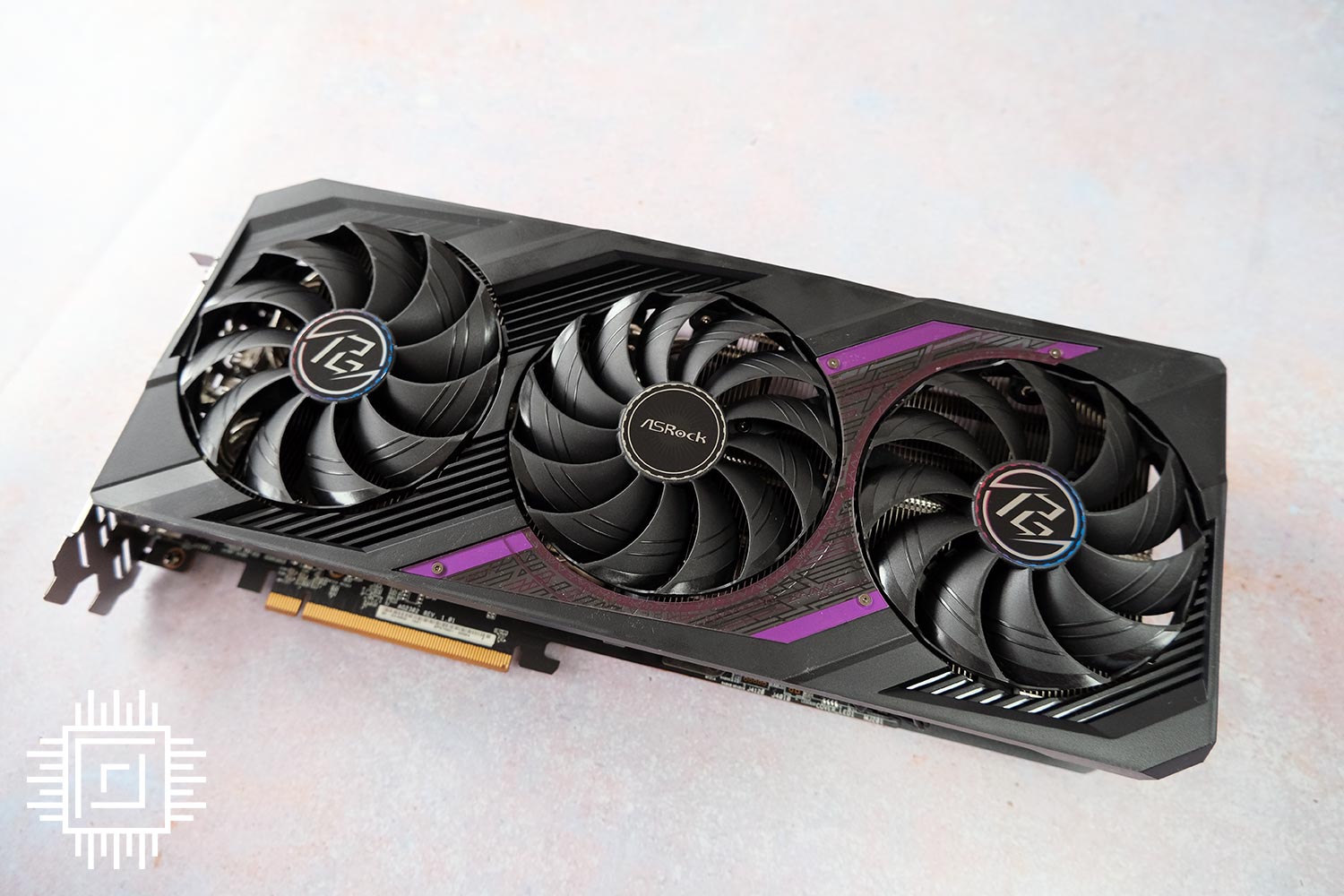 ASRock's mid-range Radeon roster includes Phantom Gaming (pictured), Steel Legend and Challenger models that differ with respect to the quality of card's construction, size, frequencies and features. The chief protagonist is the £530 Phantom Gaming OC, which uses the same heatsink design for both flavours of Navi 32.
The premise is simple enough. Build a high-quality card that beats out the reference design in every way. Appreciating bigger is usually better for premium graphics cards, Phantom Gaming OC comes in at 328mm long, 140mm high and 53mm thick, making it only slightly smaller than the last-generation RX 6800 XT variant.
Ch-ch-changes
Beefy dimensions are predictable for a card of this ilk, and ASRock puts them to good use by installing 11 power phases for the GPU and another couple for memory. There's enough wattage headroom to drive well over 500W through the beast, but good luck in doing so. Nevertheless, ASRock applies a 288W total board power rating out of the box, which is consistent with the Sapphire Nitro+ model we reviewed recently.
Do understand this is a big card and will take three slots in your system, while the 1,305g weight speaks to the heatsink's cooling potential. ASRock employs a five-heatpipe cooling approach that converges within the large central nickel-plated copper base. This hunk of metal is also used to cool VRMs and memory, with Phantom Gaming OC duly providing the necessary thermal pads. Keeping everything locked in place is a metal frame that provides excellent card rigidity and removes the need for a supporting bracket.
Like a few other manufacturers, ASRock has found that spinning the central fan in the opposite direction to the outer duo reduces turbulence and noise by a small degree. RGB illumination is a must for a best-of-breed card; Phantom Gaming OC obliges by having it present at the top and between the centre and right fans. Don't like the effect? No bother, as the entire illumination is disabled via a dedicated LED on / off switch.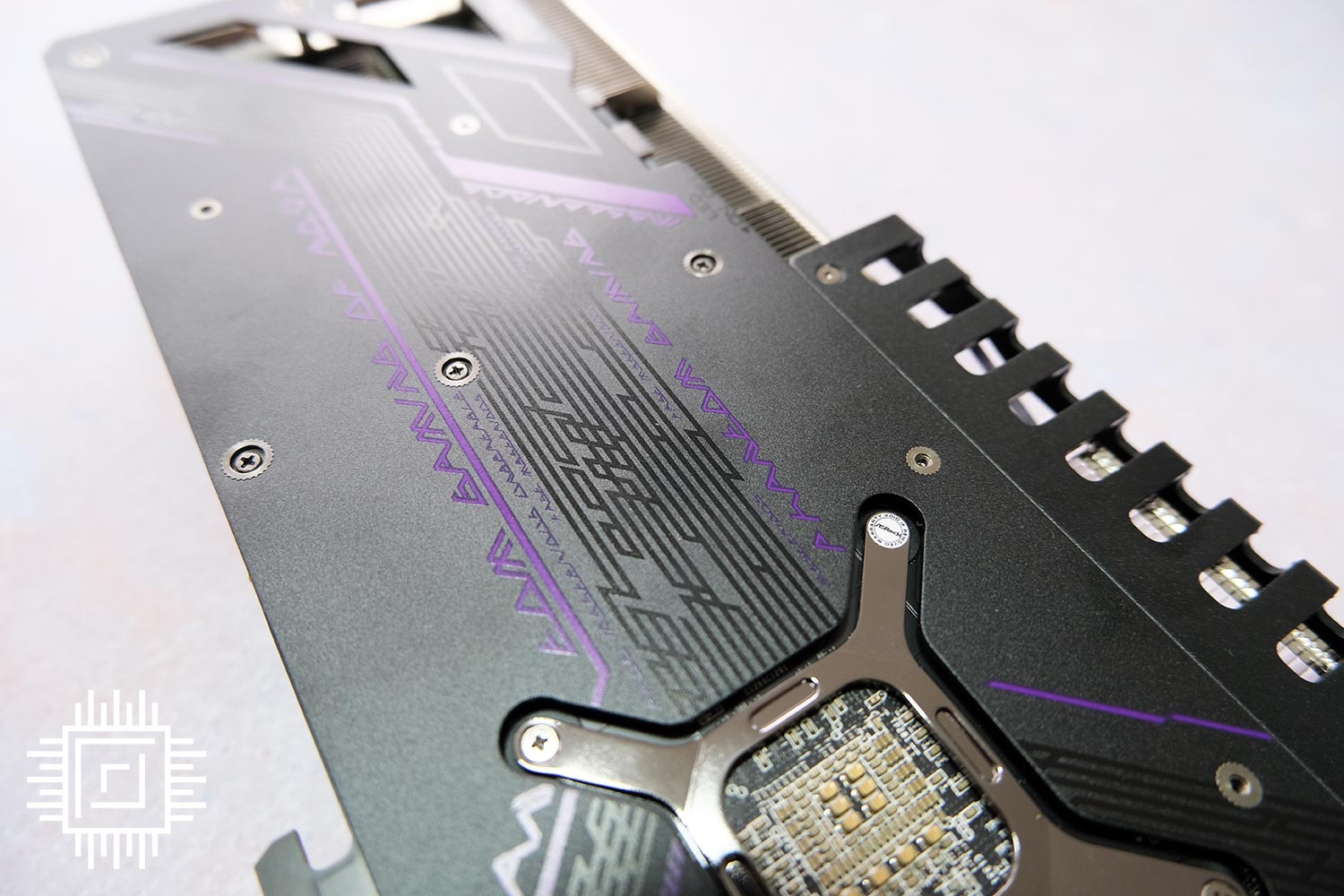 I prefer the design change from the similar offerings from the RX 6800 / XT generation, as those cards featured a garish black / grey / red livery that sticks out like a sore thumb for some systems. RX 7800 XT PG has clearly been designed for improved colour coordination in myriad builds.
The premium checklist goes on. A full-width rear backplate further aids cooling and enhances build, though I'd prefer it if the back of the GPU was also covered, for aesthetic reasons. I'd also prefer the backplate to rise to full card height for a nicer finish. Nevertheless, Phantom Gaming OC remains an eye-catching card, albeit without luxurious options such as a dual BIOS and full-width RGB lighting. Perhaps those are the realm of a possible future Taichi model.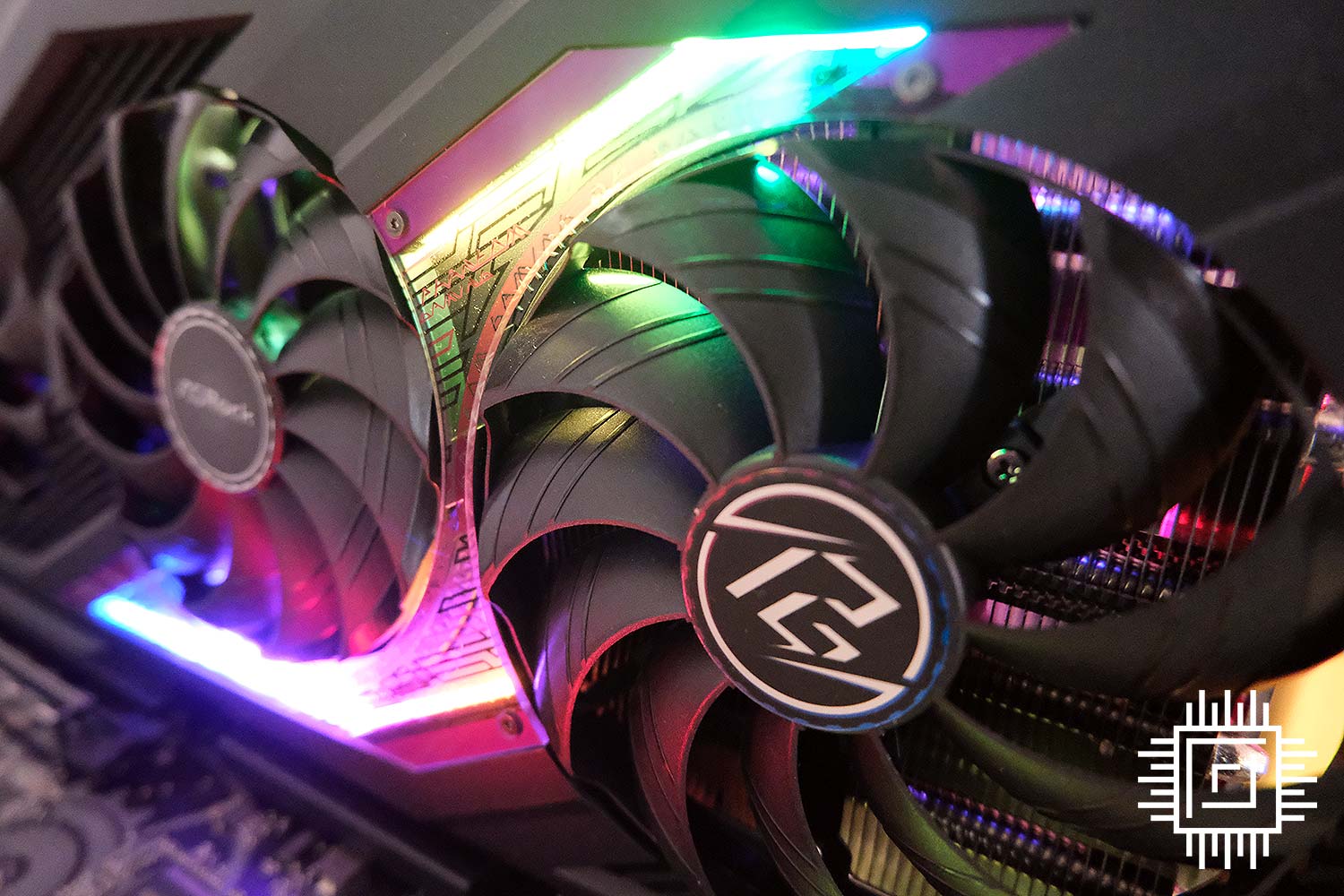 With PCI 5.0 cables off the table for this generation, RX 7800 XT PG OC relies on tried and trusted dual 8-pin. Playing it safe, ASRock recommends an 800W PSU, but we believe you can get away with 700W if running on a stock-clocked build. Phantom Gaming OC is smart enough to leave memory speed well alone at the stock 19.5Gbps. The main engine clock, meanwhile, boosts to a Nitro+-matching 2,565MHz, which is a 135MHz above the figure mandated by the reference design.
I'm always curious why partners choose to have different outputs. ASRock opts for a trio of DisplayPort 2.1 and a single HDMI 2.1 representing, for me at least, the best combination for a premium card. For those who have a penchant for Starfield, AMD bundles in the Premium Edition with this card. Happy gaming.
Performance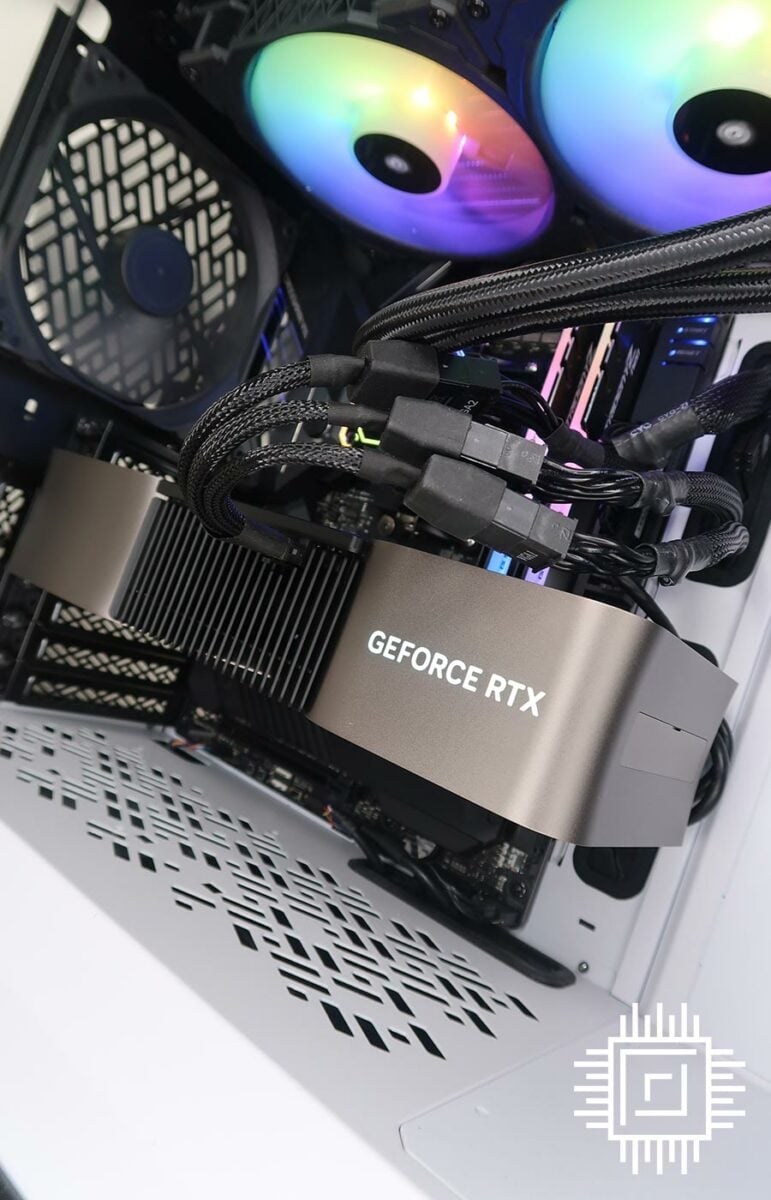 Our trusty test platforms have been working overtime these past few months, and though the PCIe slot is starting to look worse for wear, the twin AM4 rigs haven't skipped a beat. Benchmarks ensue!
Futuremark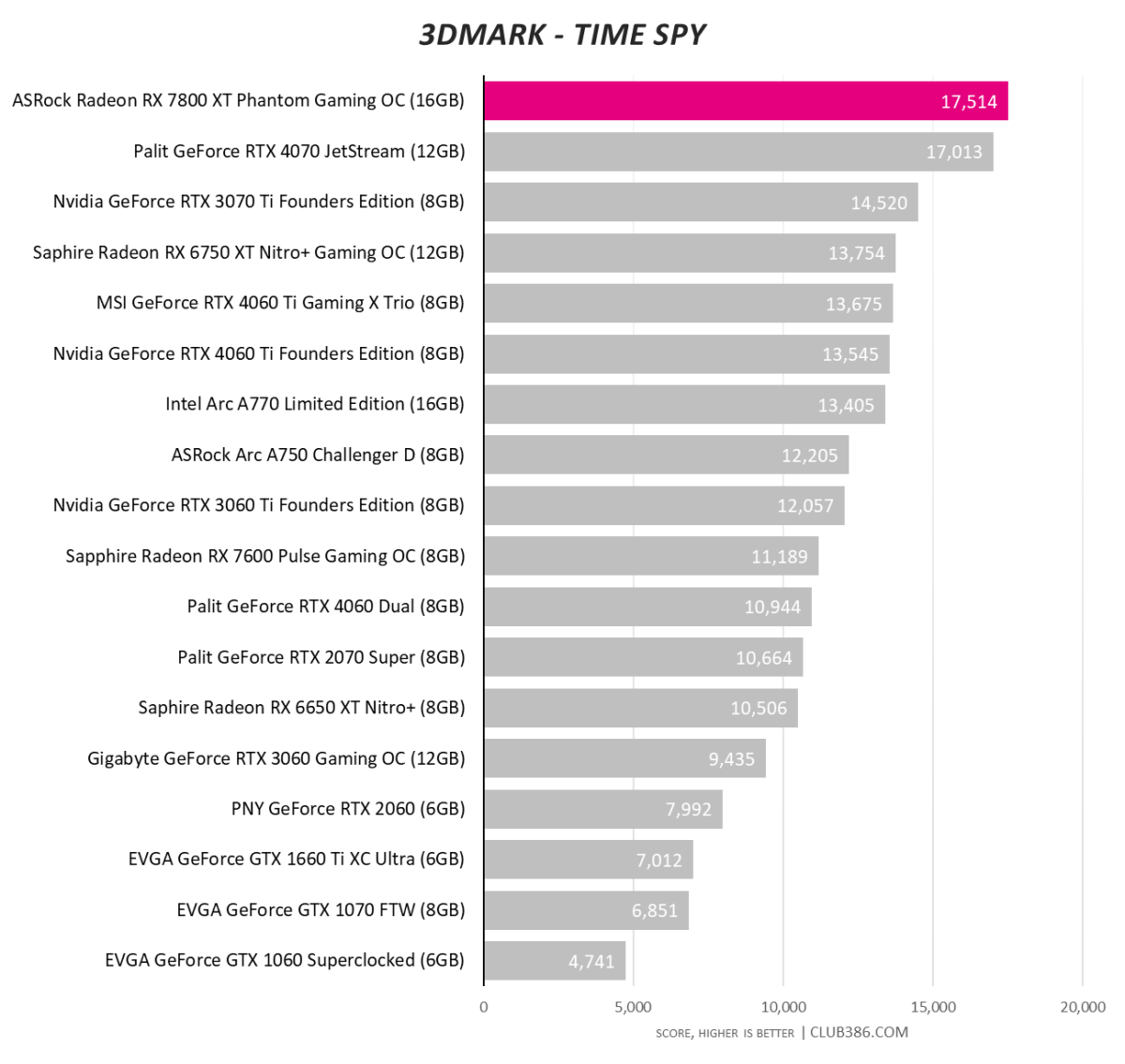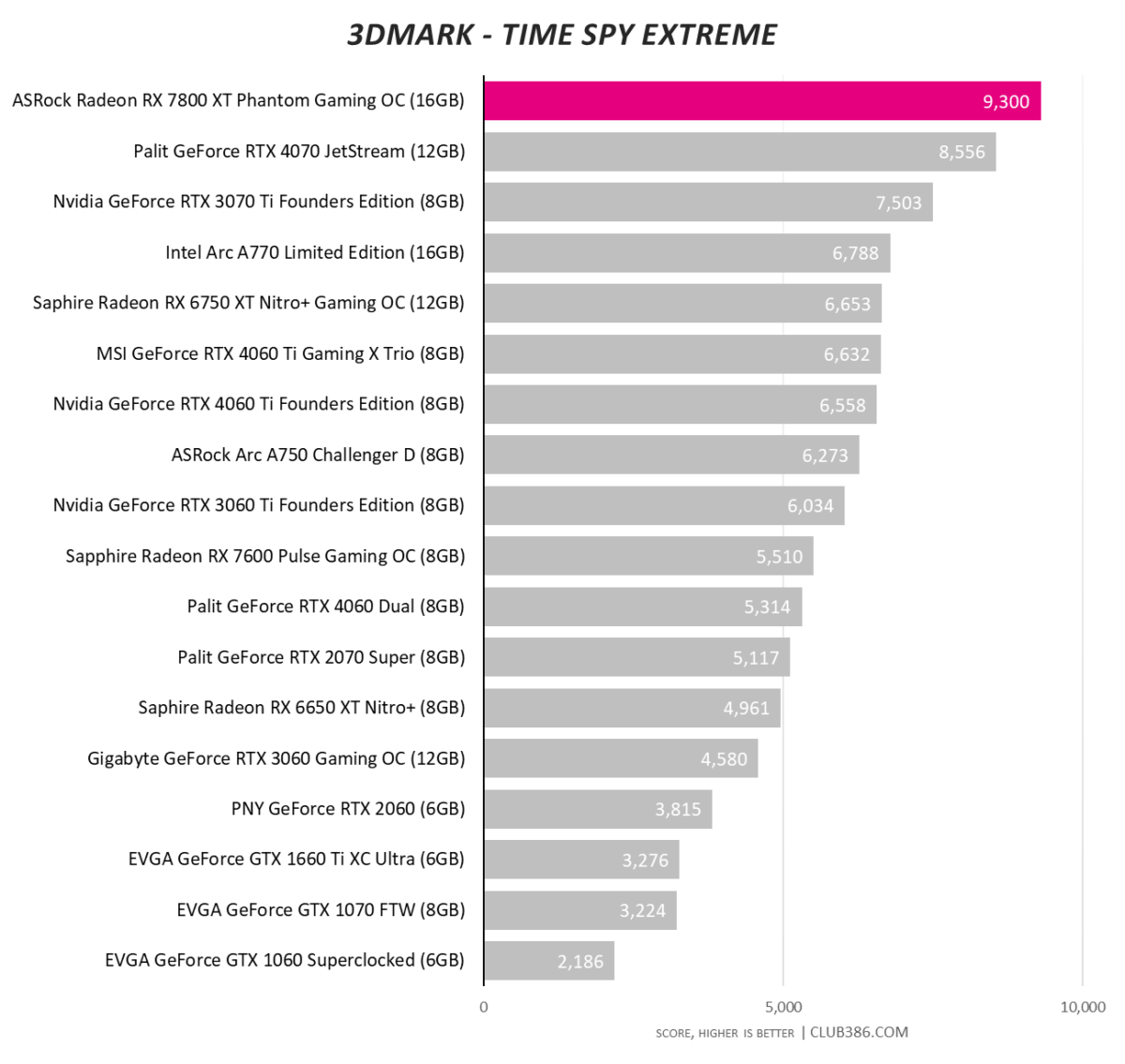 Strong results in the synthetic results bode well for ASRock, and nearing 10k for the Extreme test usually translates to excellent QHD gameplay potential.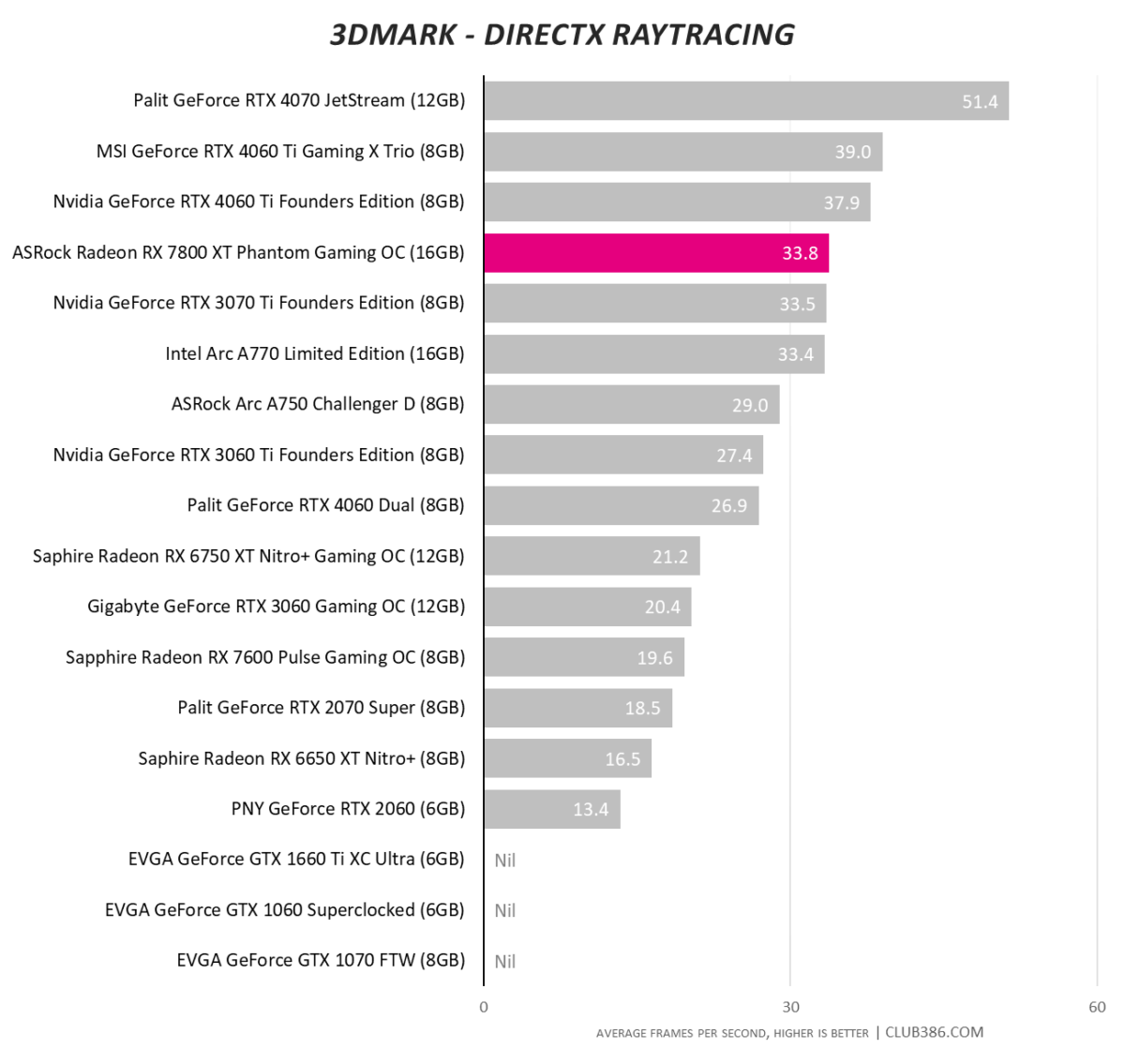 RDNA 3 is still weaker than Nvidia Lovelace in pure ray tracing, but the gap between price-comparable cards isn't as large as it once was.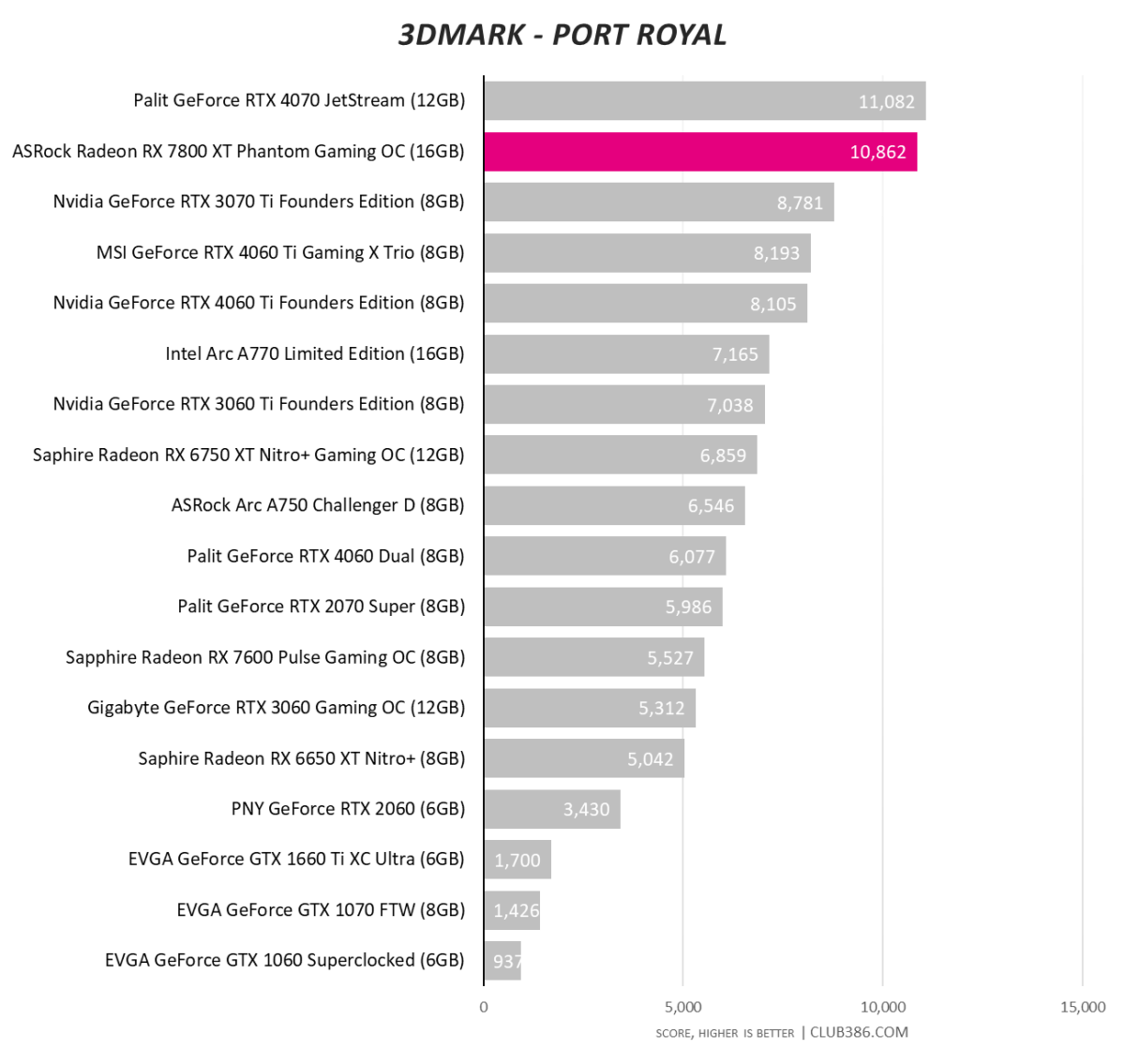 Mixing ray tracing and rasterisation shows ASRock nipping at the heels of the dearer Palit RTX 4070 JetStream.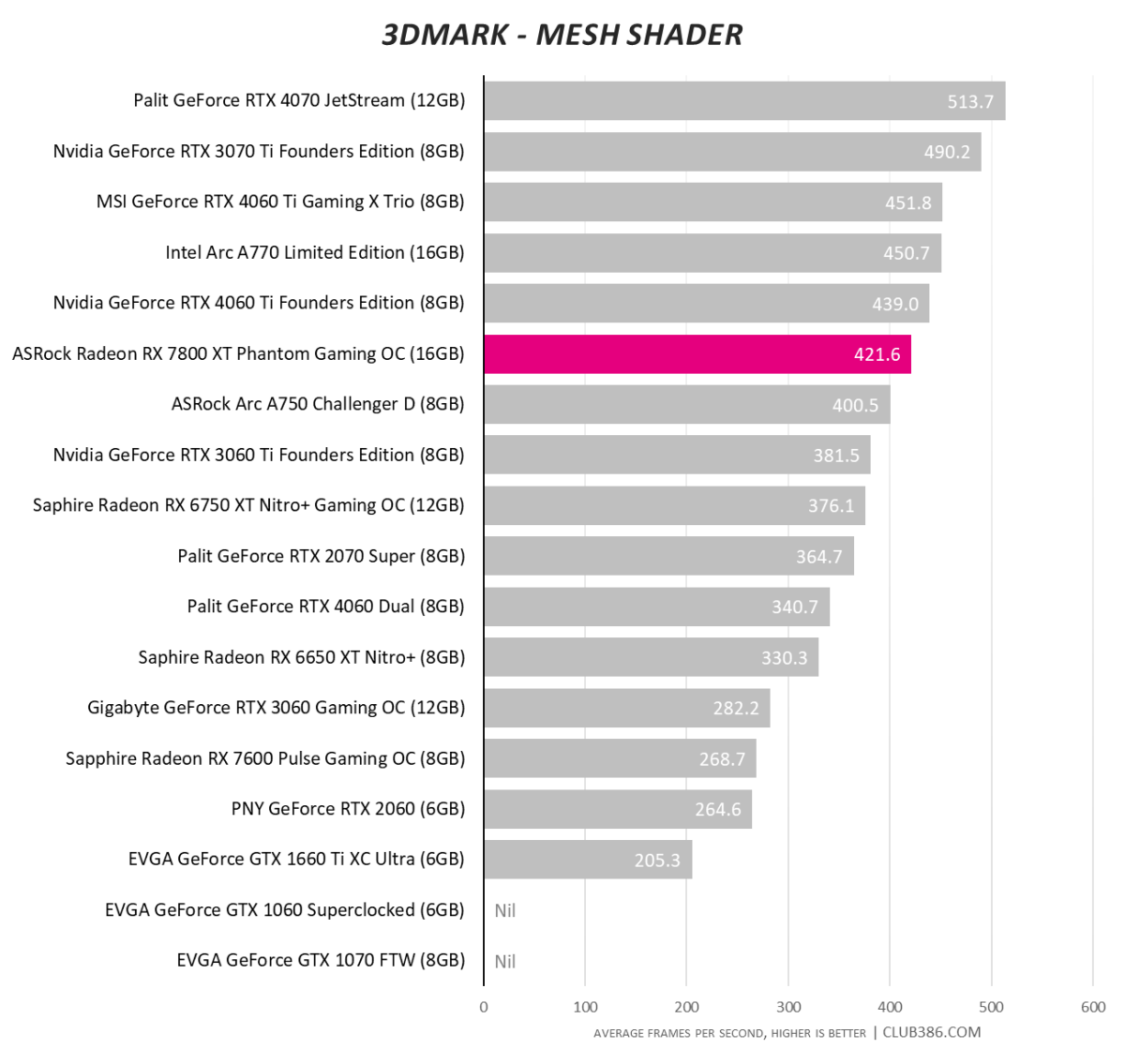 Assassin's Creed Valhalla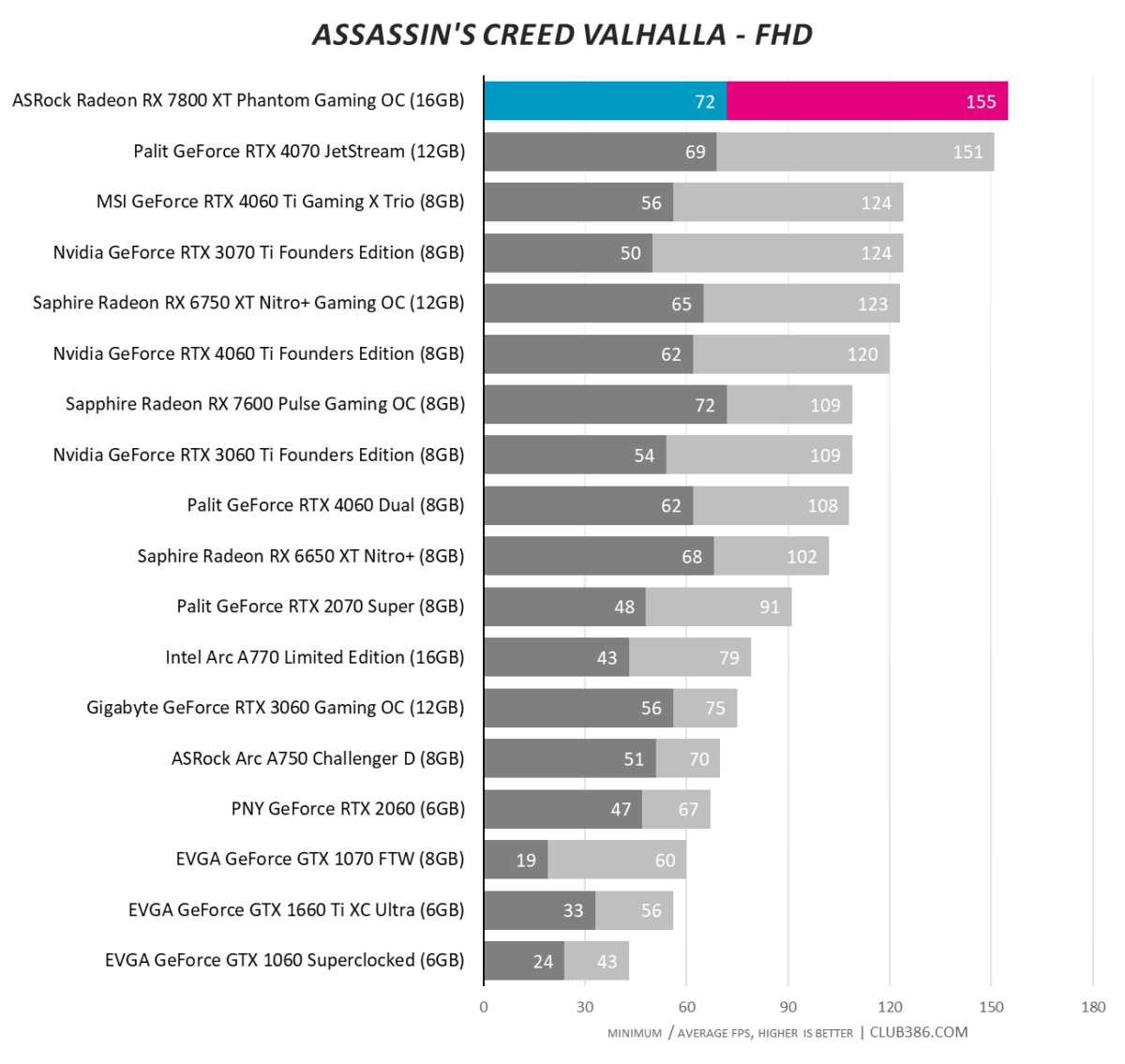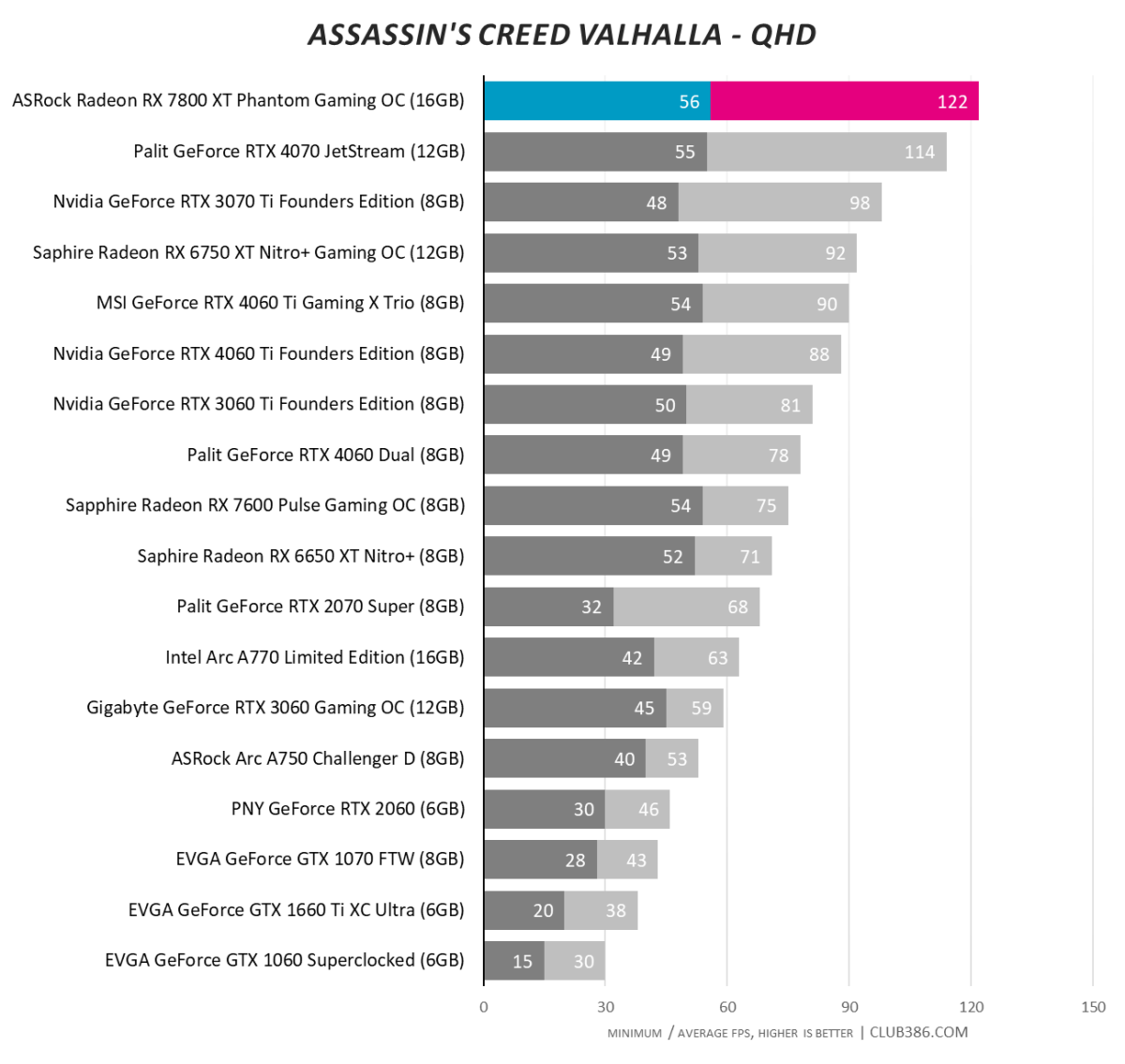 Better performance and a larger framebuffer make the RX 7800 XT the card to beat at around £500.
Cyberpunk 2077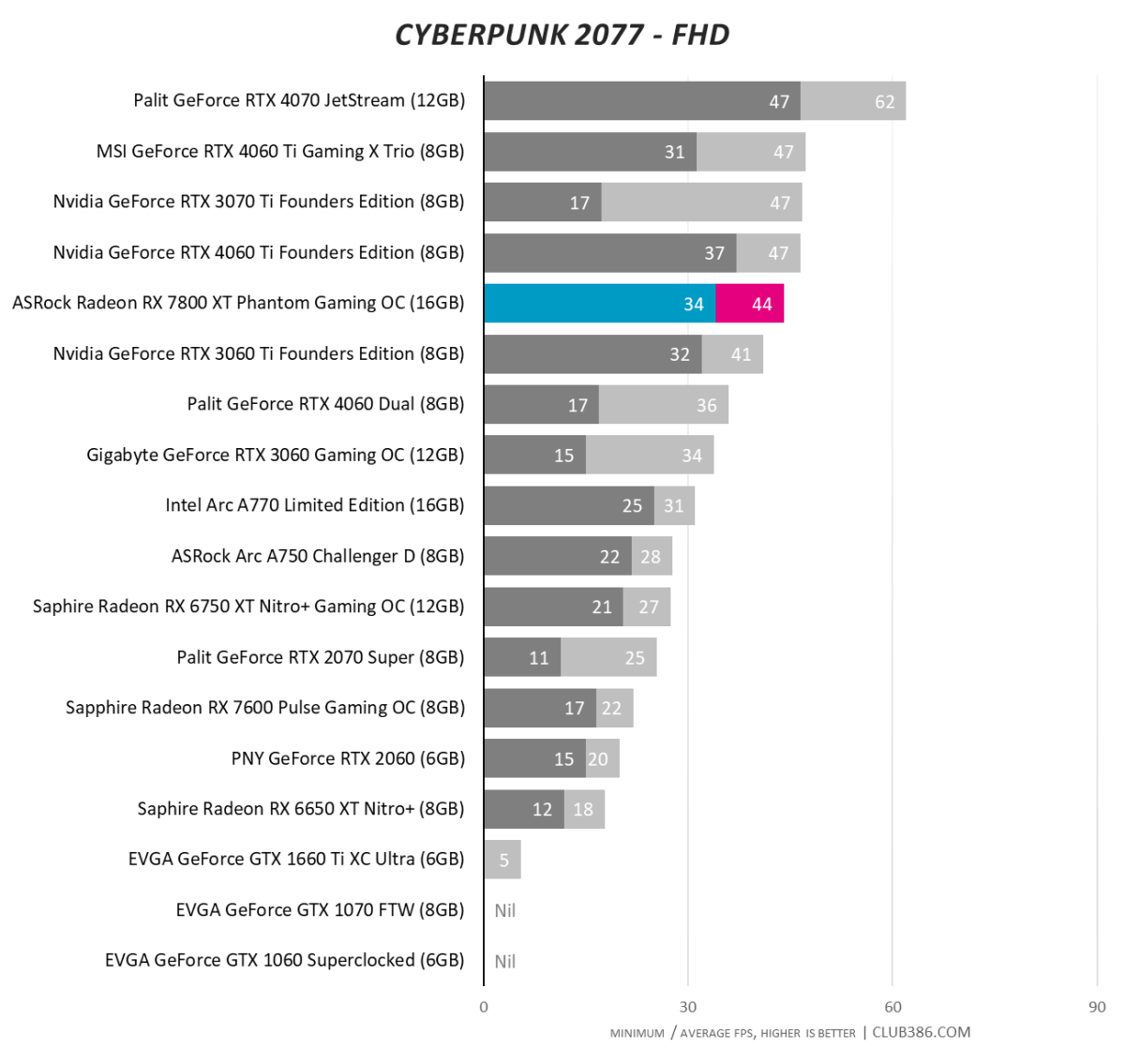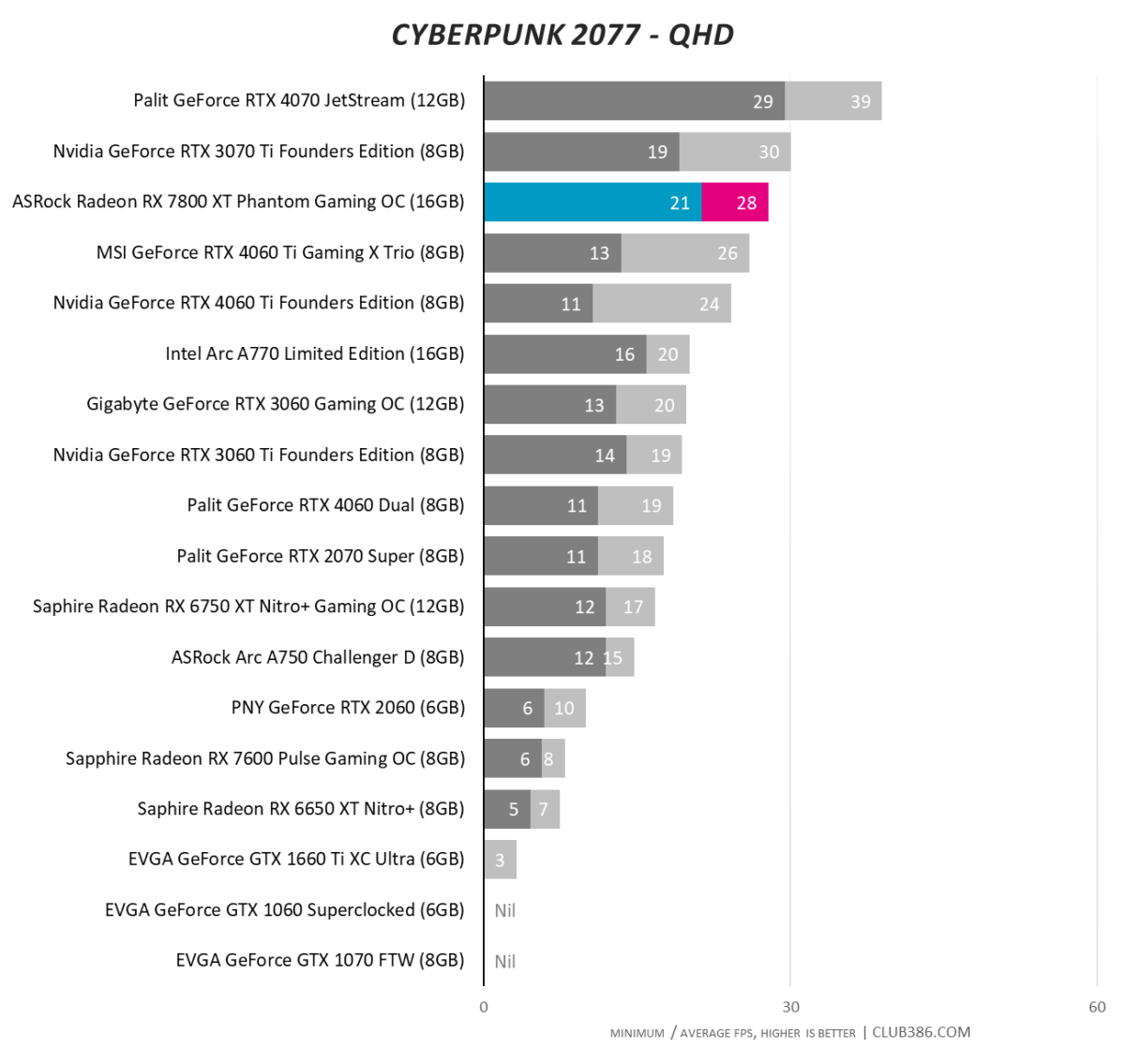 Run with the ultra preset and ray tracing turned on to maximum, no card shines, though we note RX 7800 XT OC has the beating of RTX 4060 Ti.
Far Cry 6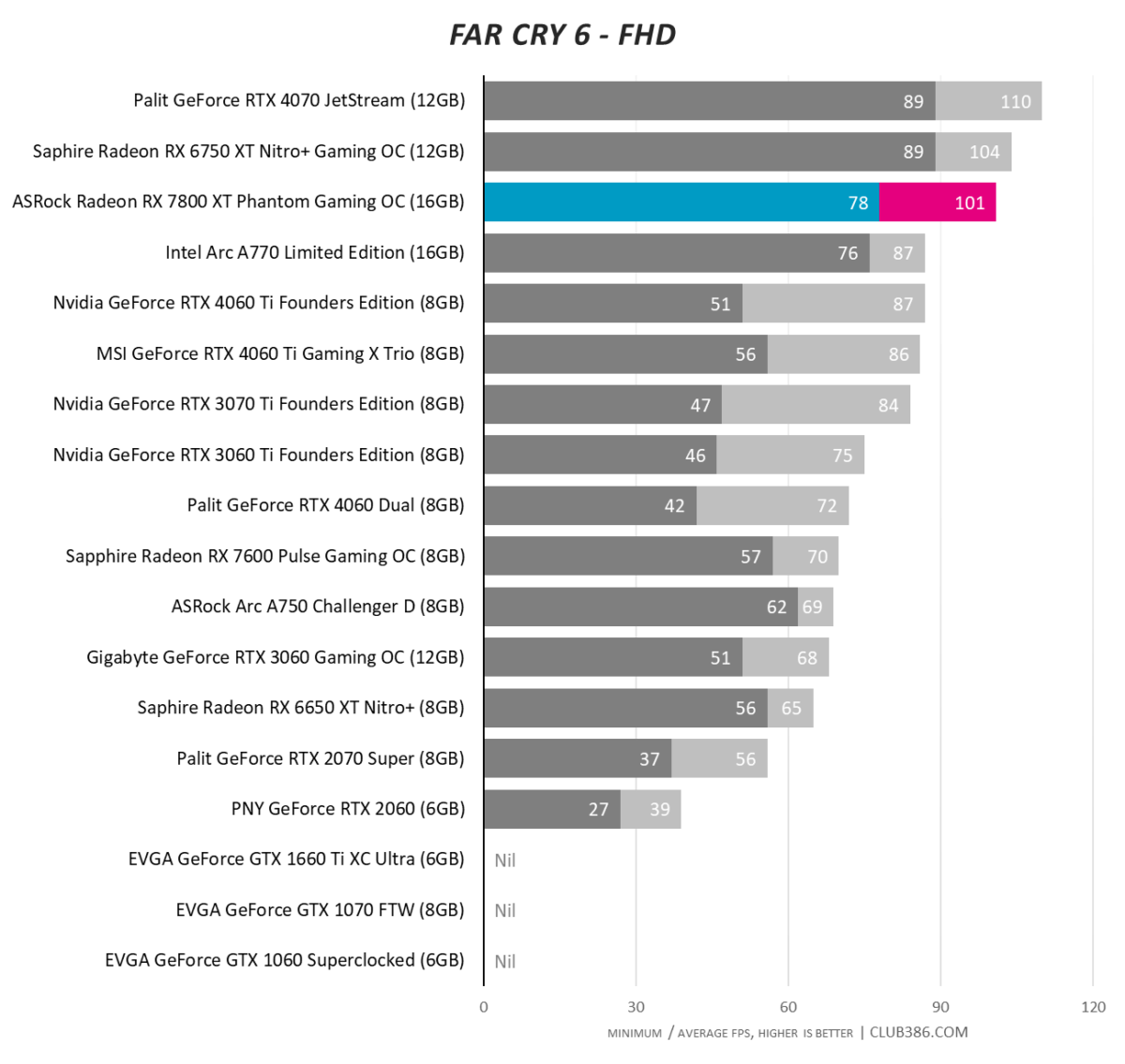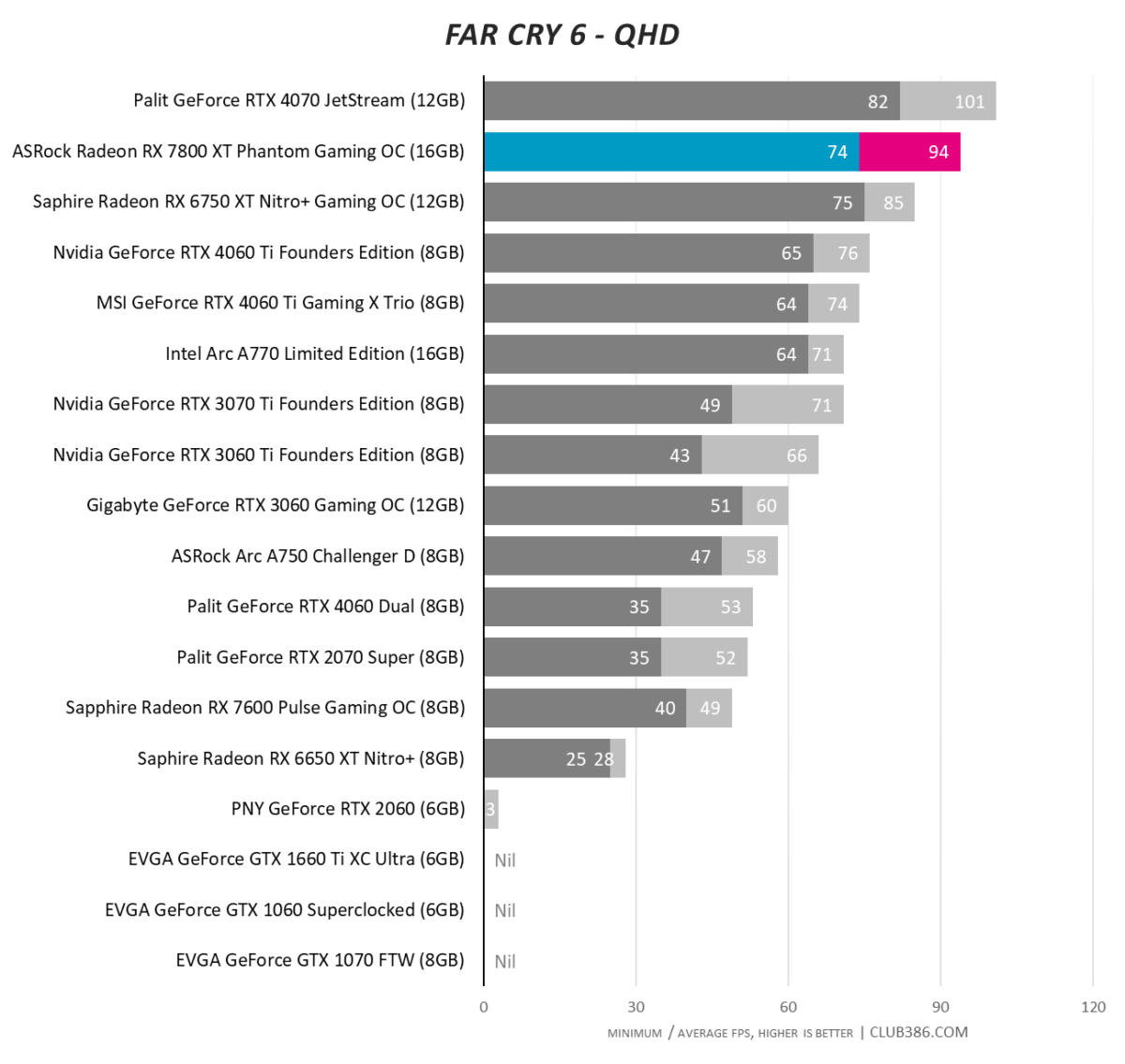 Lusty framerates at QHD prove no problem whatsoever.
Final Fantasy XIV: Endwalker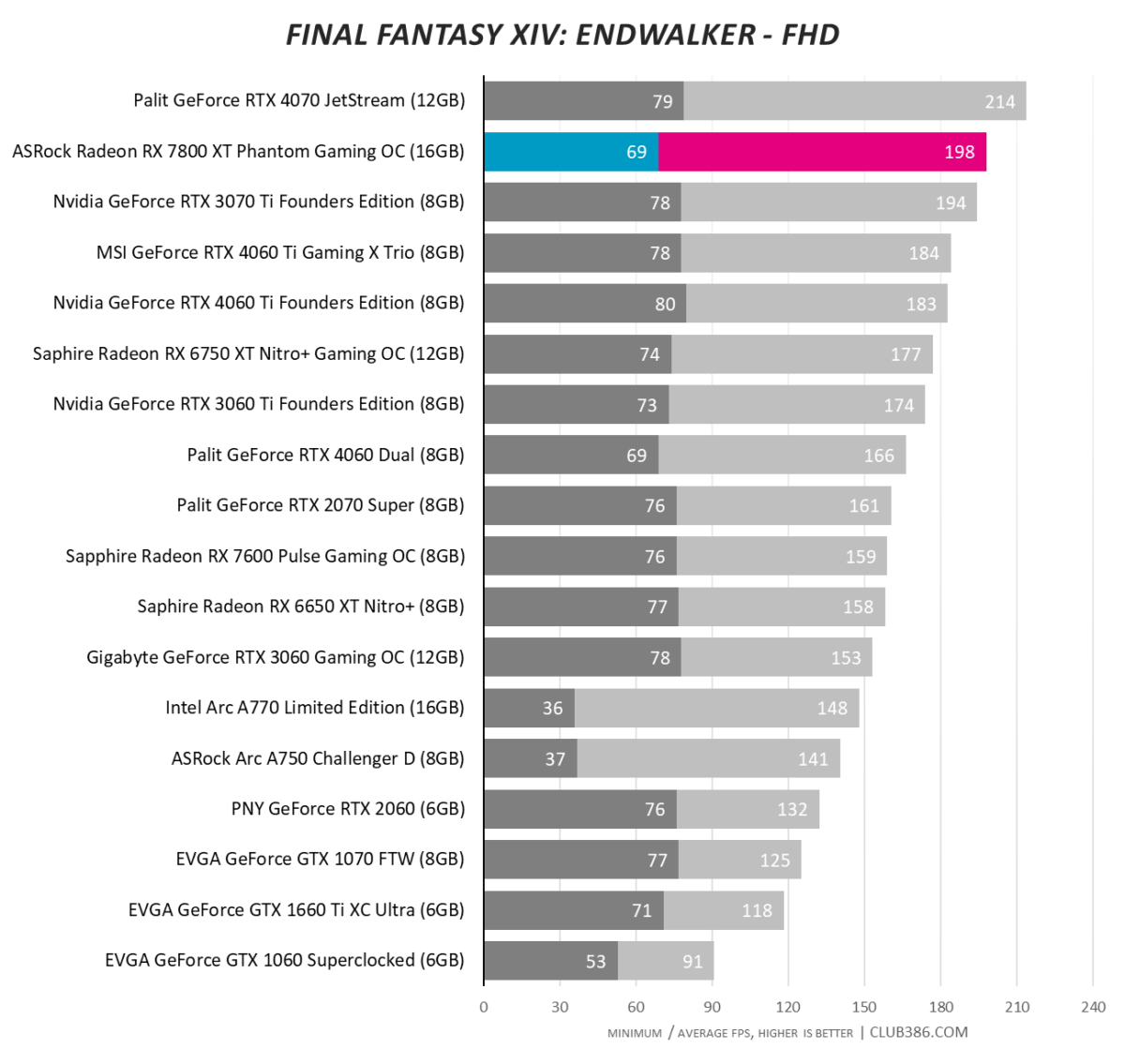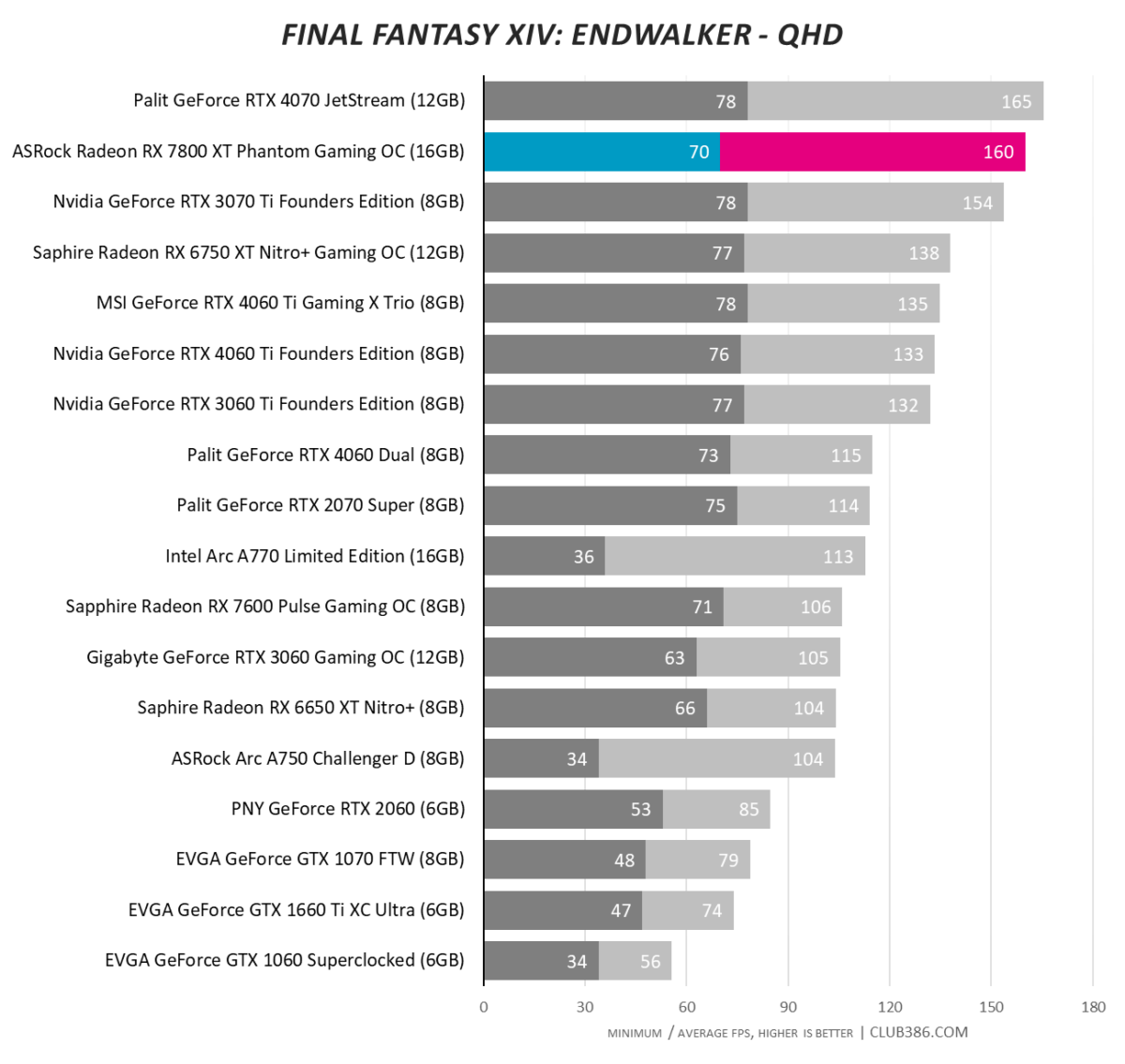 Typical of older titles that rely on rasterisation alone, fantastic performance here.

Show your support for impartial Club386 reviews
Club386 takes great pride in providing in-depth, high-quality reviews built on honest analysis and sage buying advice. As an independent publication, free from shareholder or commercial influence, we are committed to maintaining the standards our readers expect.
To help support our work, please consider making a donation via our Patreon channel.
Forza Horizon 5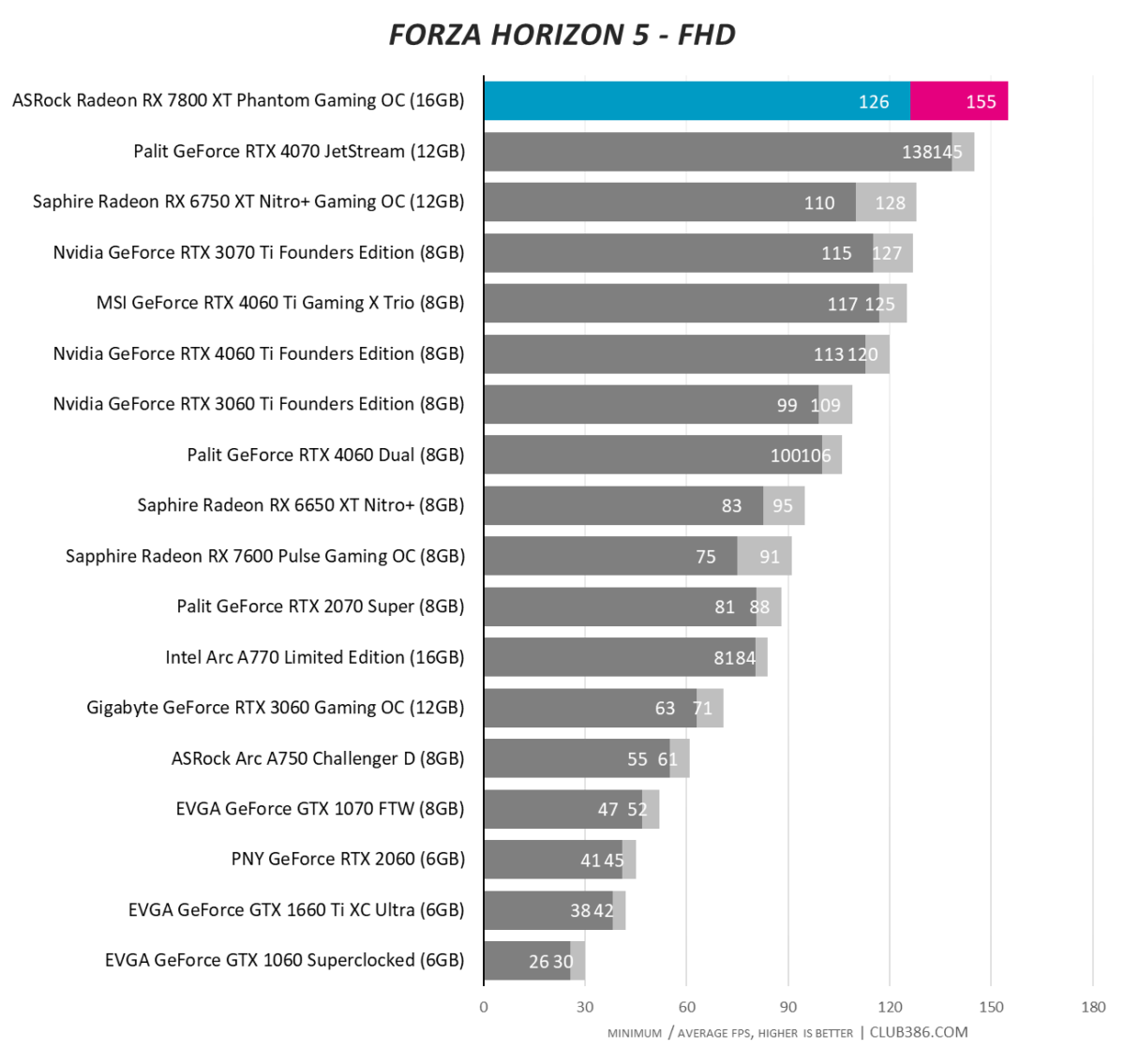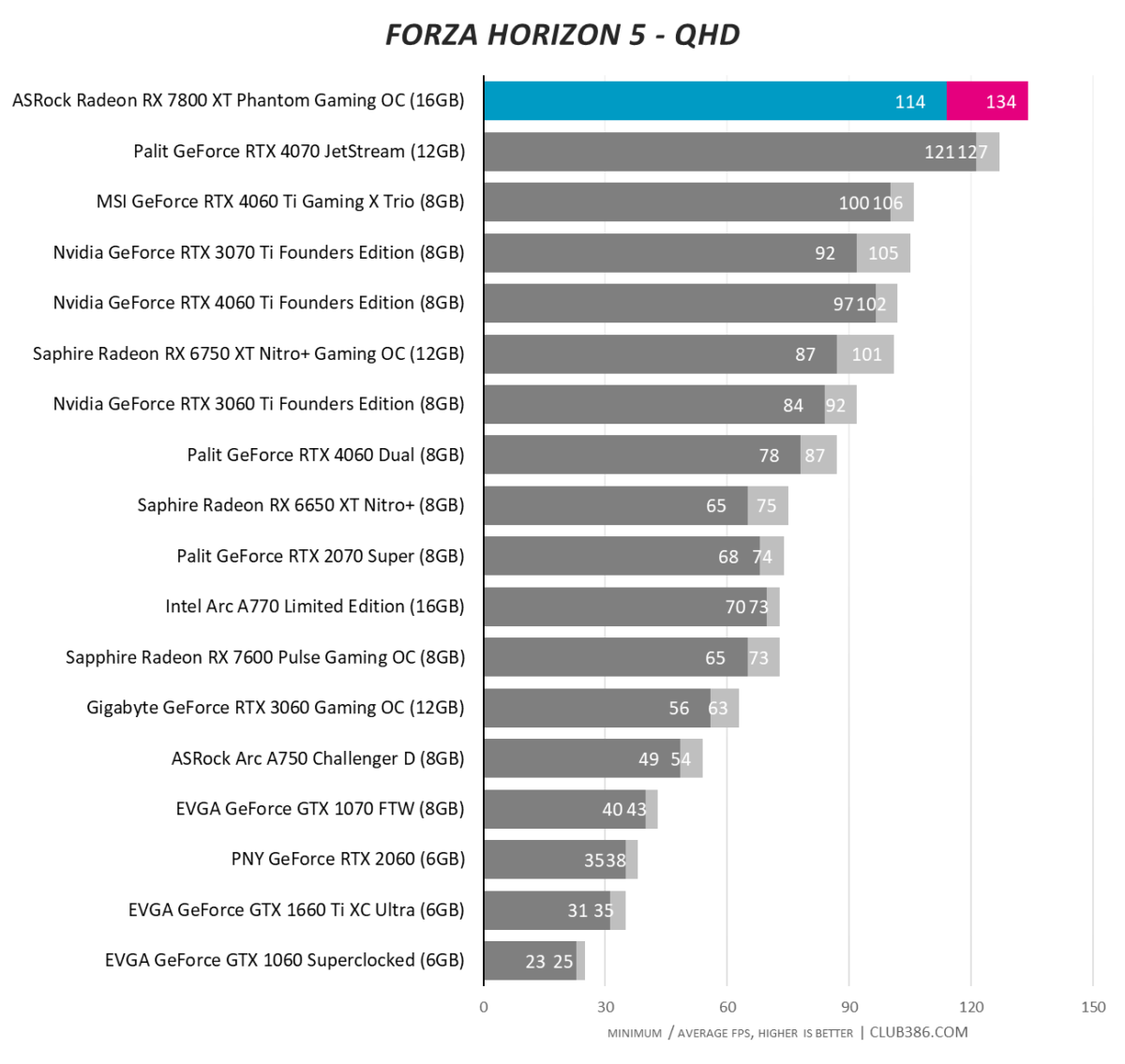 Rocking that old GeForce GTX 1070 and desperately want a performance upgrade? You can comfortably triple performance by shifting over to RX 7800 XT.
Tom Clancy's Rainbow Six Extraction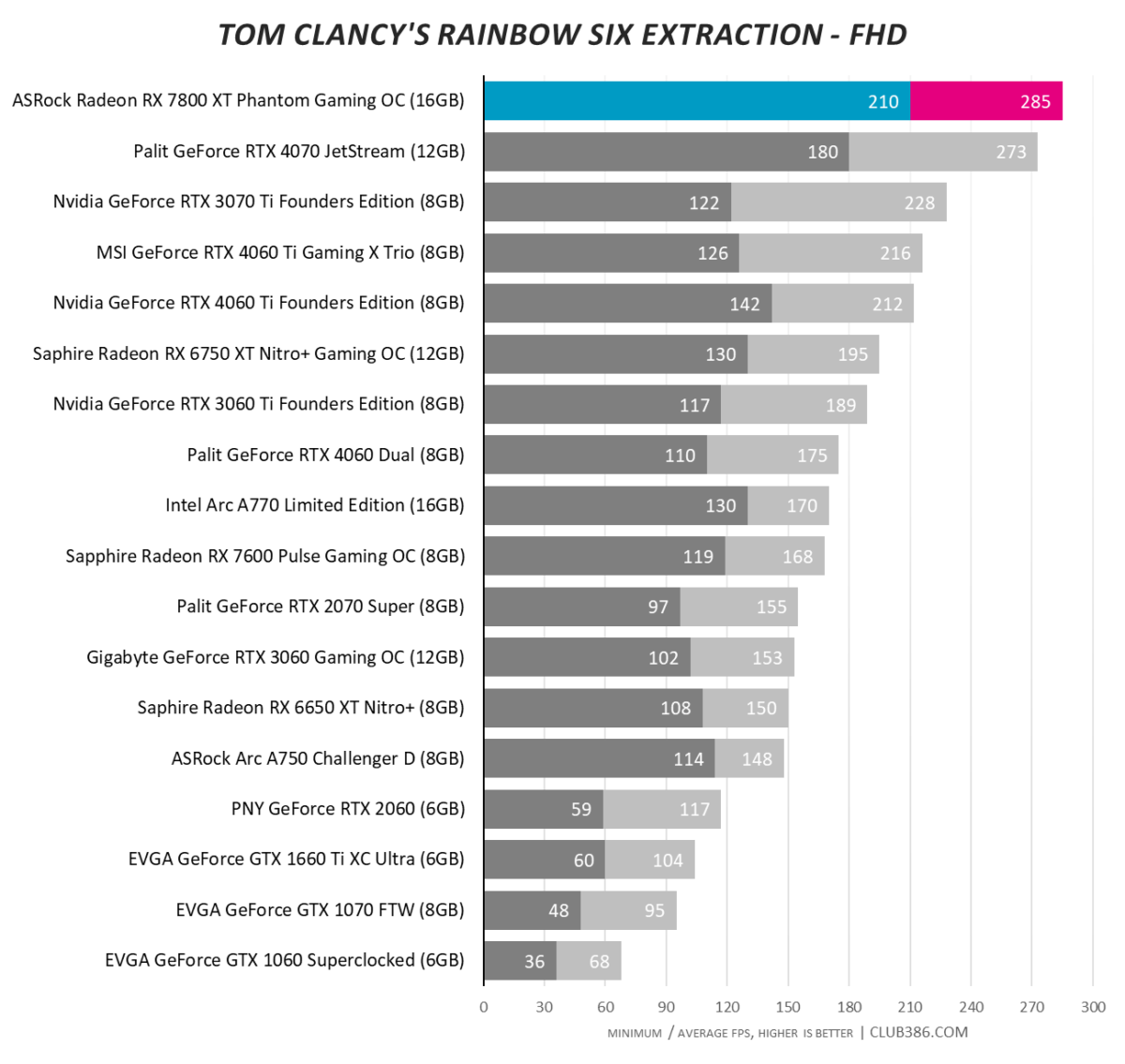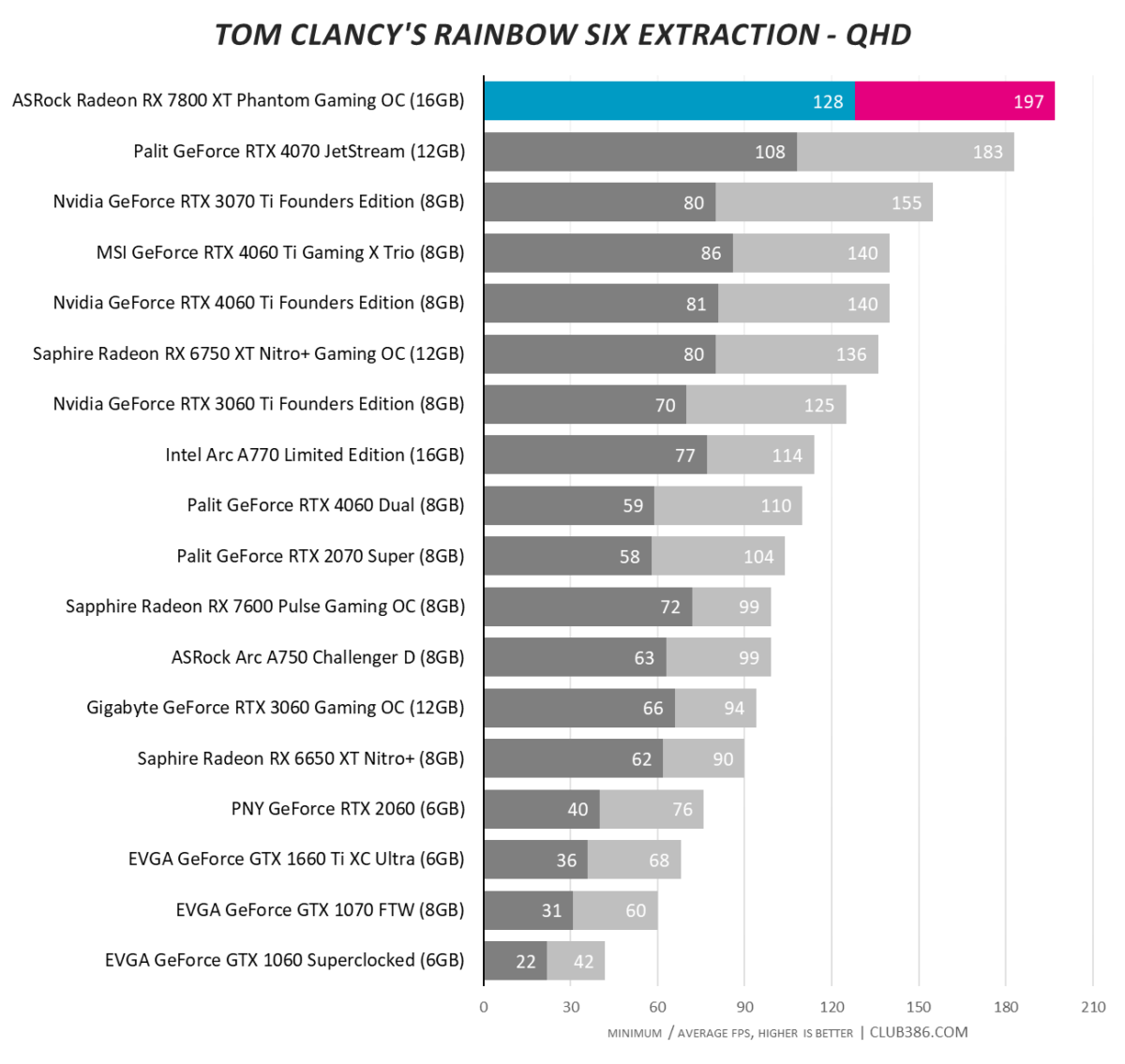 The ASRock Radeon RX 7800 XT Phantom Gaming OC is an excellent addition to the burgeoning lineup. No qualms on performance.
Power, Temperature and Noise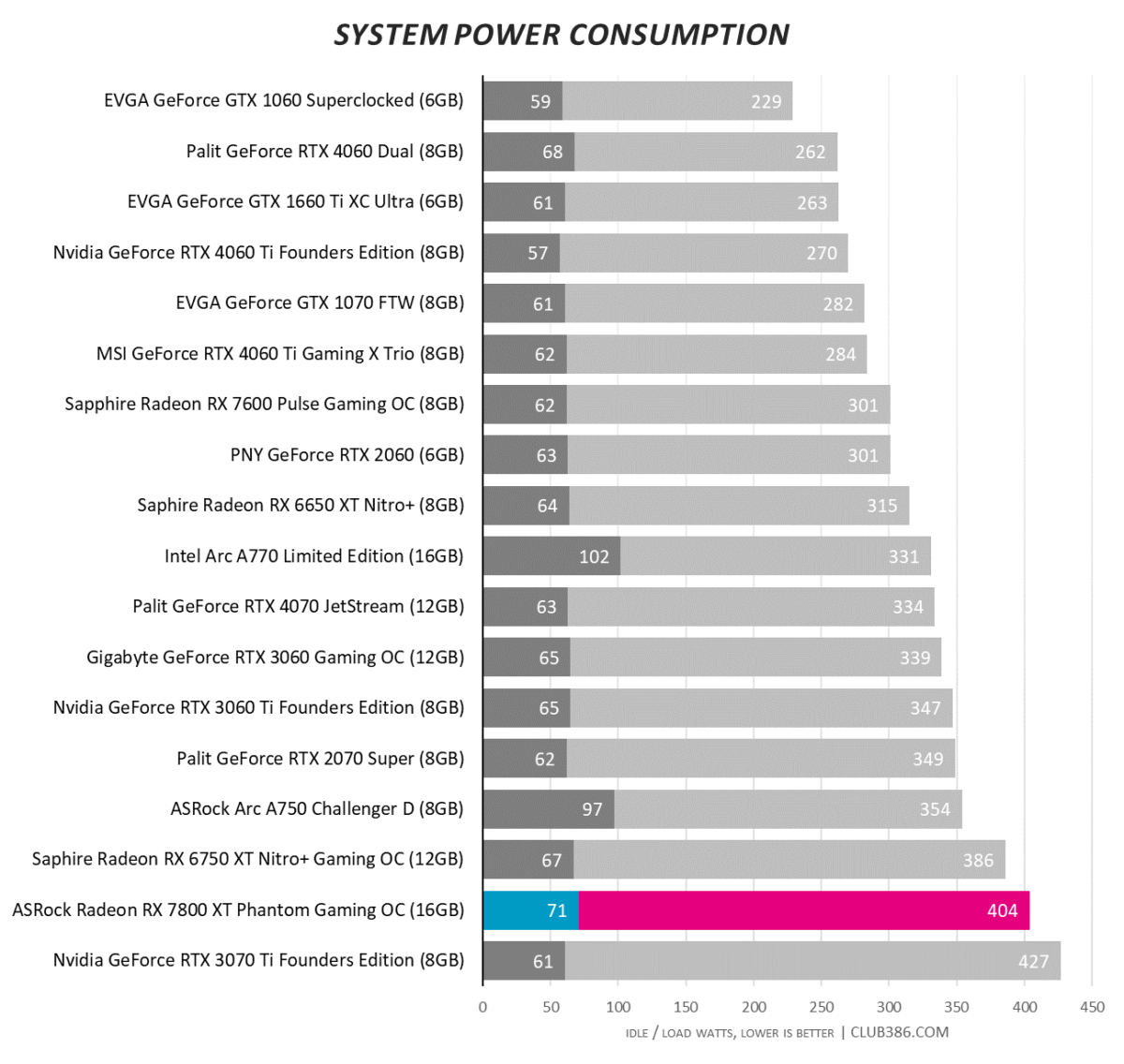 Having nearly 300W reserved for the GPU means power consumption is 50W or so higher than we'd ideally like, yet there's not much ASRock can do about that when building a pre-overclocked Navi 32 card.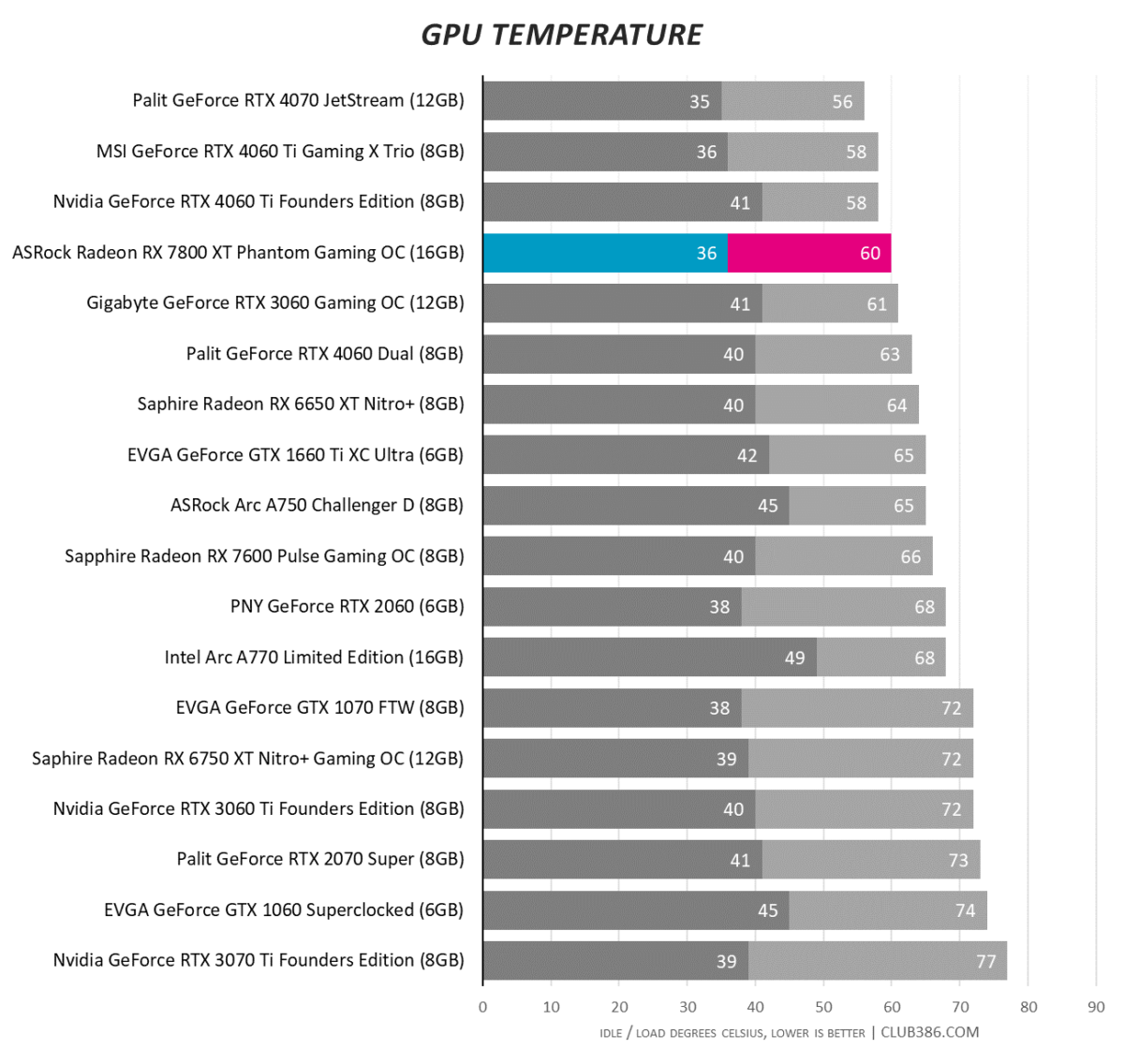 Credit where it's due, Phantom Gaming's oversized heatsink does a tremendous job in keeping the GPU cool. For full disclosure, there's a mild hint of coil whine when gaming scenes cause rapid fluctuations in framerate. Nevertheless, it is better than most in this regard.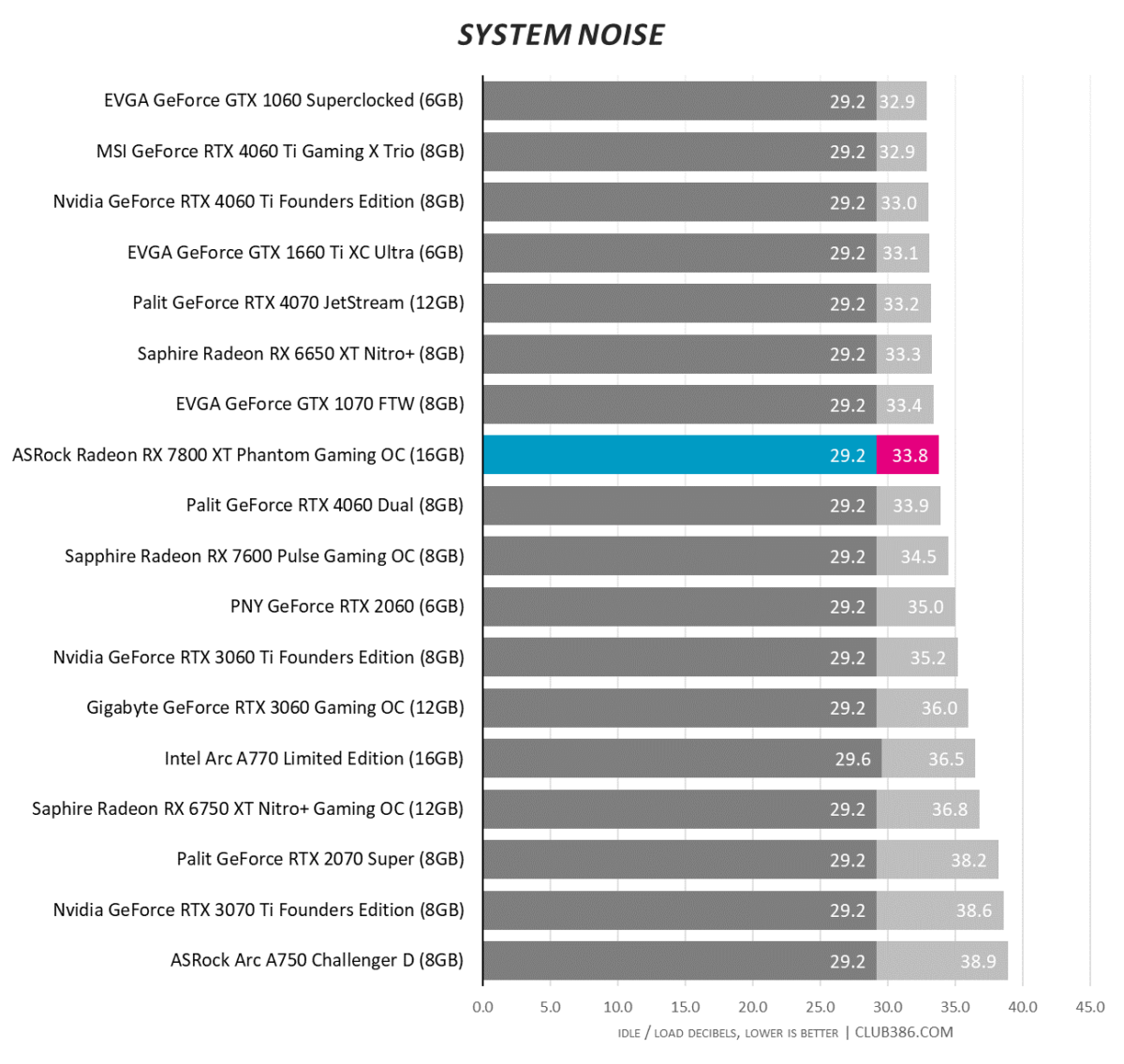 The three fans spin up to 1,050rpm when under the pump. We'd characterise the overall noise and pitch as perfectly acceptable inside a regular PC chassis, which is exactly how we test it.
Relative Performance, Efficiency and Value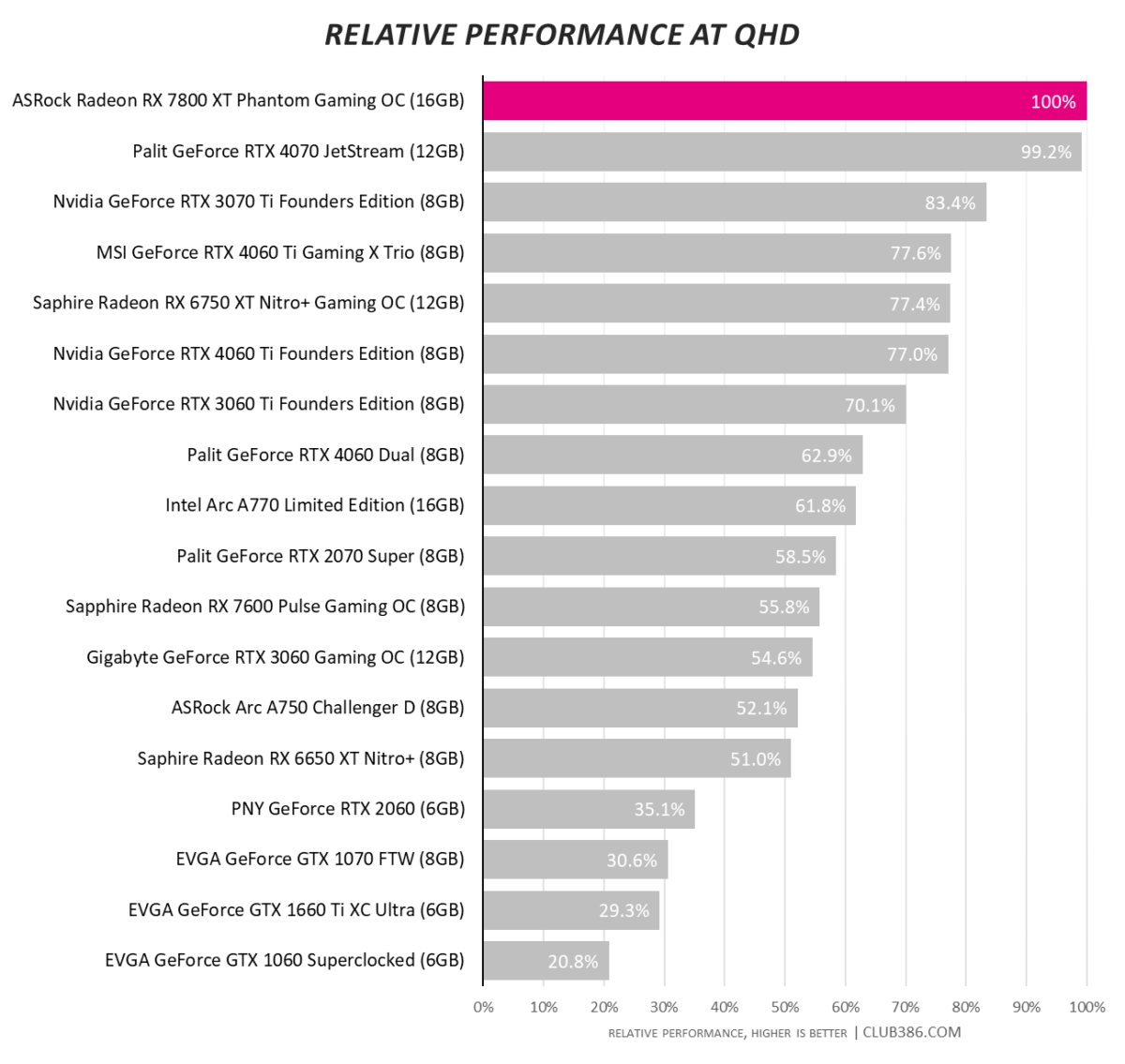 Summing up relative performance across our games at the desired QHD resolution leads to the narrowest of victories For ASRock, and it's clear RTX 4070 and RX 7800 XT are in a different league to other mainstream cards.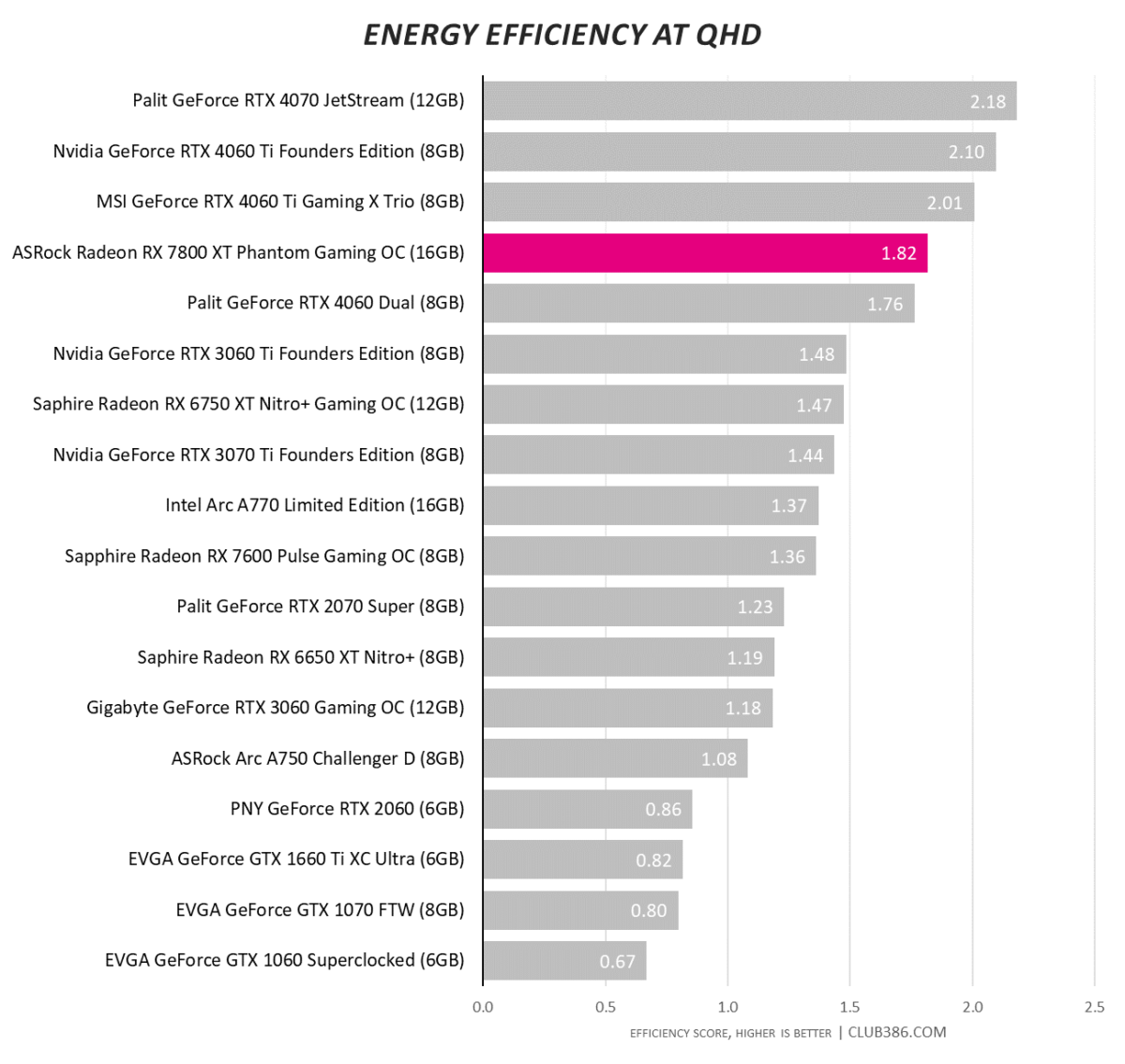 Dividing the cumulative score by observed system-wide power consumption avails this graph. In this regard, RX 7800 XT OC is relatively power efficient.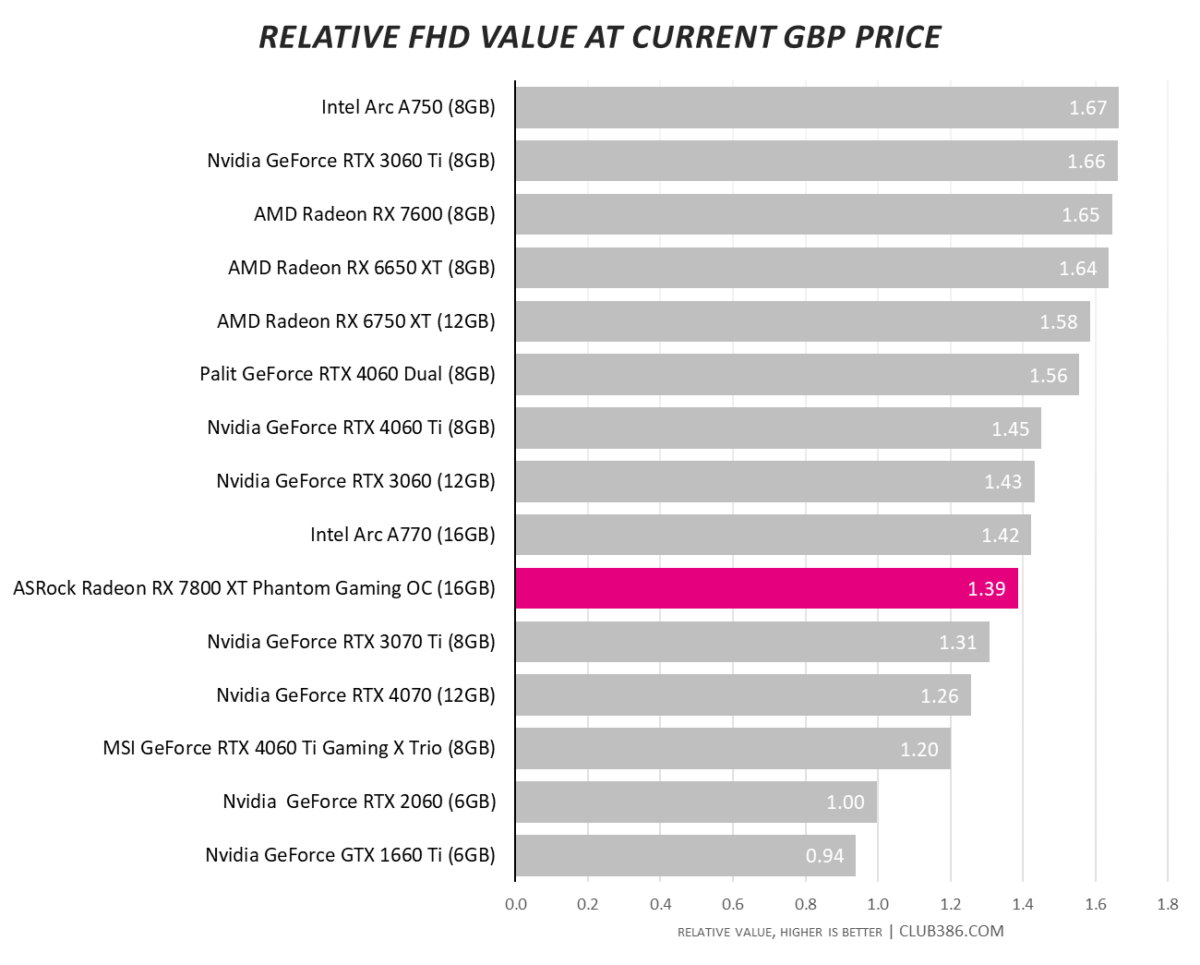 Installing a £530 street price and also factoring performance into account, the ASRock RX 7800 XT Phantom Gaming OC offers middling value. That's perfectly okay for a card whose performance is at the top of the tree, and importantly for ASRock / AMD, is better than Nvidia RTX 4070's.
Overclocking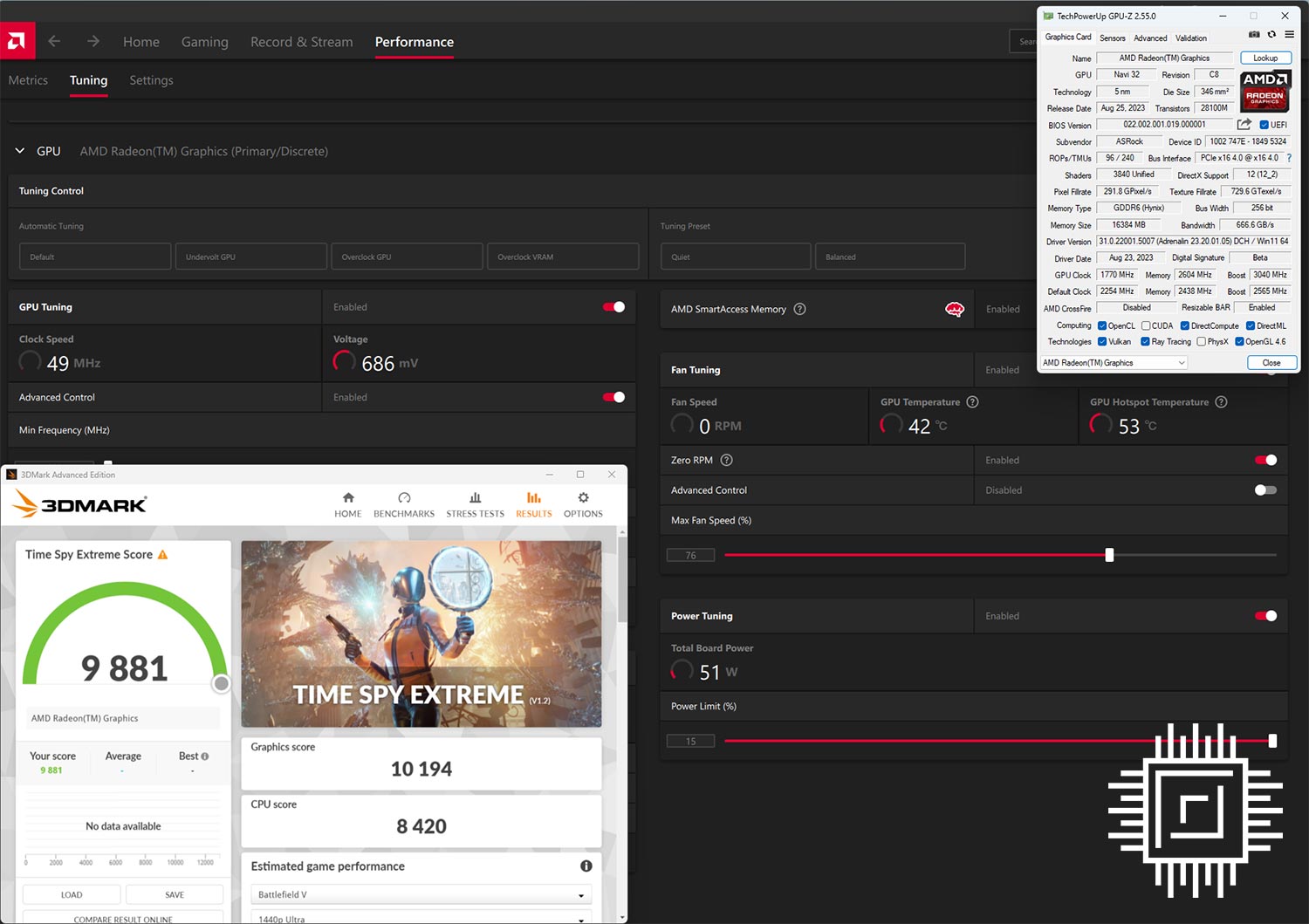 Overclocking is somewhat of a faff on the latest Radeon cards. We do so by increasing the power target to a maximum 15 per cent, dropping core voltage to 1.069V so the card can run at higher frequencies more easily, and then toggle clocks until failure.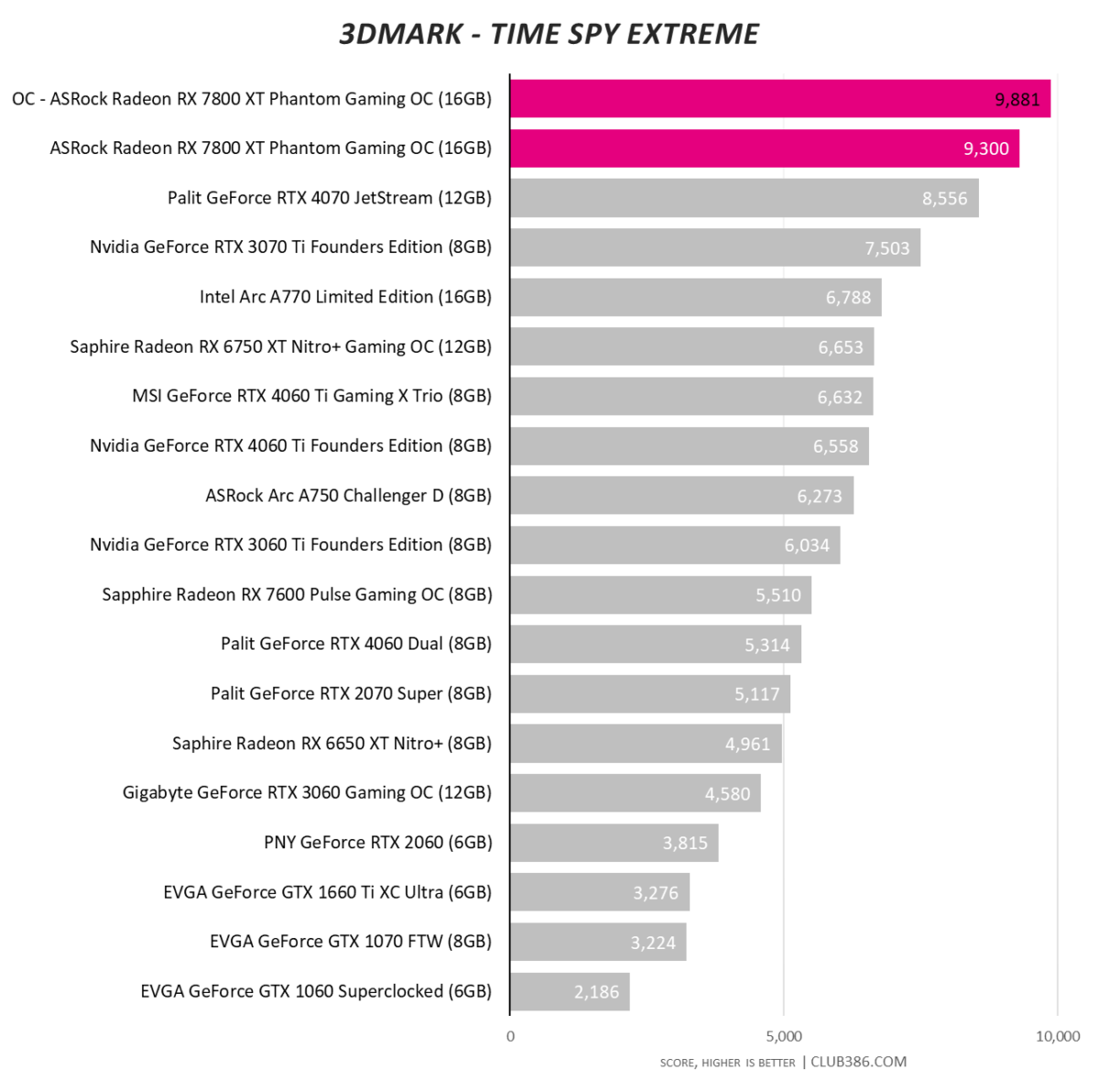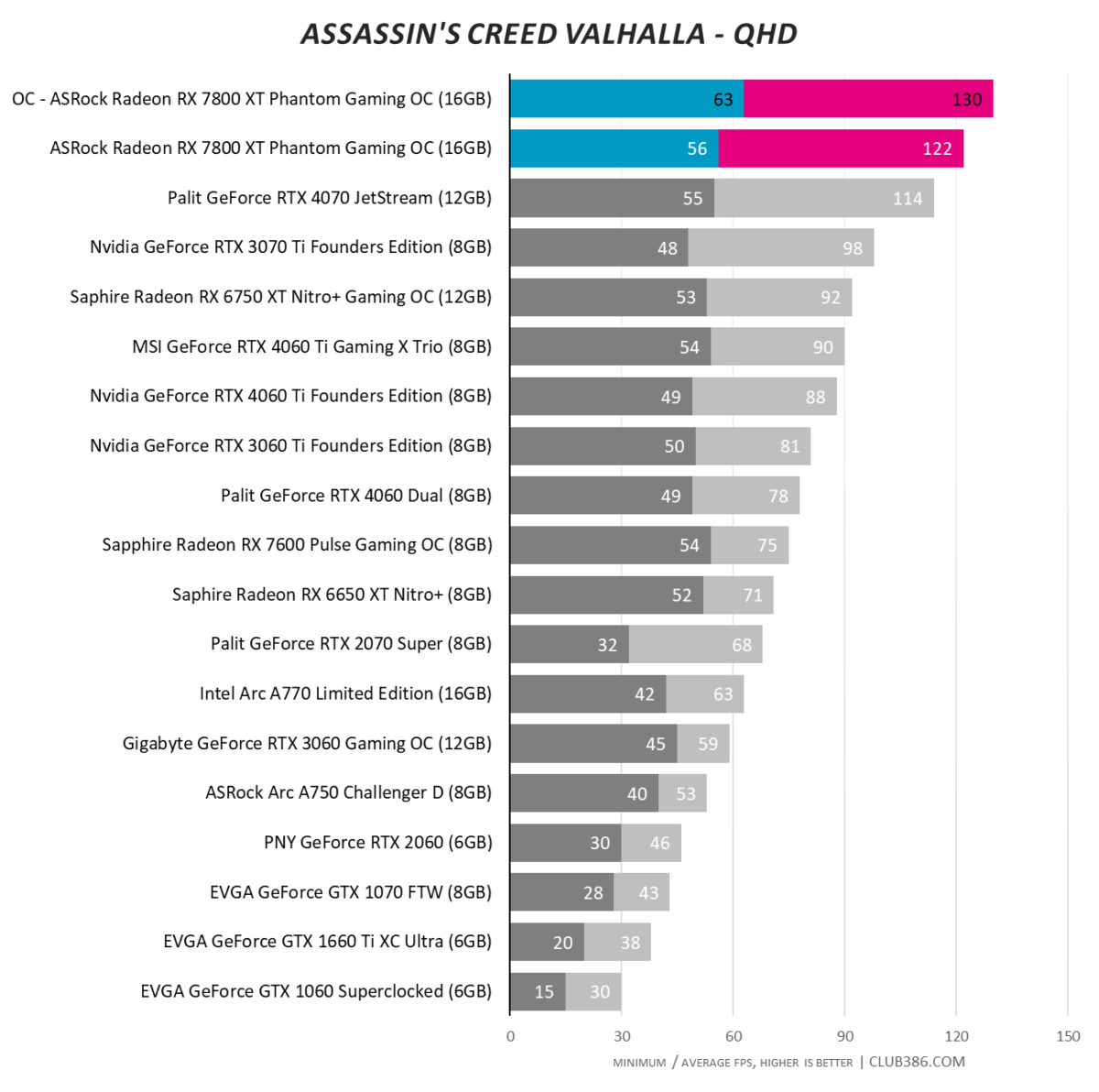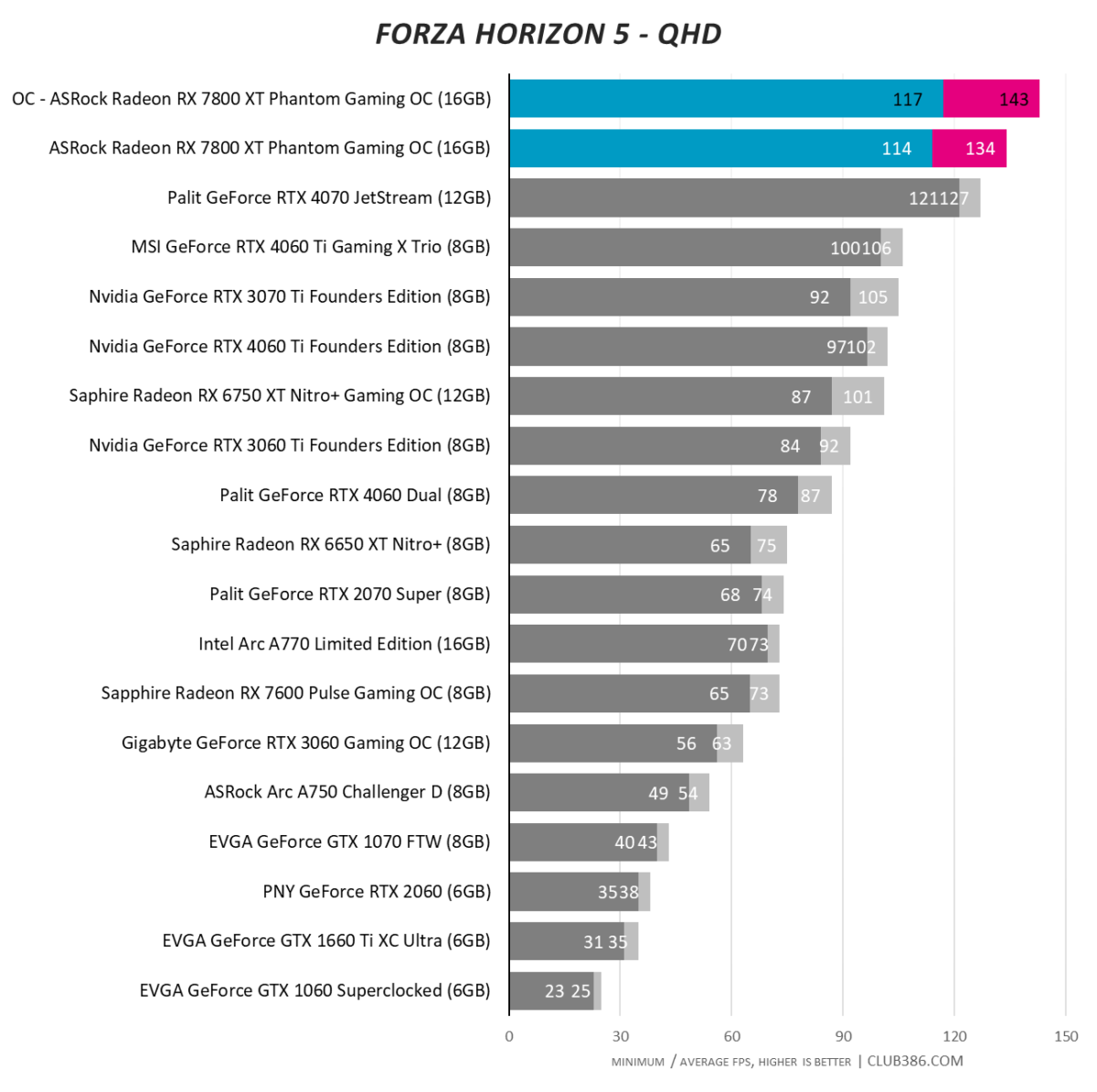 End result is a solid uptick in performance, and RX 7800 XT is one of the rare GPUs that does respond well to user overclocking.
Conclusion
Jumping on the back of AMD being sensible and pricing Radeon RX 7800 XT 16GB from $499 / £479, ASRock's trio of partner cards all offer something different. Prospective buyers are rewarded by spending an extra £30 or so on best-of-breed Phantom Gaming OC through notable extras. A handsome design and restrained RGB lighting draw you in visually, while the overclock helps this RX 7800 XT beat out dearer rival GeForce RTX 4070 12GB in pure performance.
But it's not modern cards RX 7800 XT is truly aiming to displace. Enthusiasts still holding on to olden goldies such as GeForce GTX 1070 or Radeon RX 580 will find the ASRock card a compelling upgrade, enabling them to enjoy the latest gorgeous games the way they're meant to be played.
Keeping temperatures wonderfully low and not making a racket in the process, ASRock's Phantom Gaming has a lot going for it. Bored of staid reference designs and want a well-rounded card that's more Mr Dependable than Flash Harry, be sure to check out Phantom Gaming OC.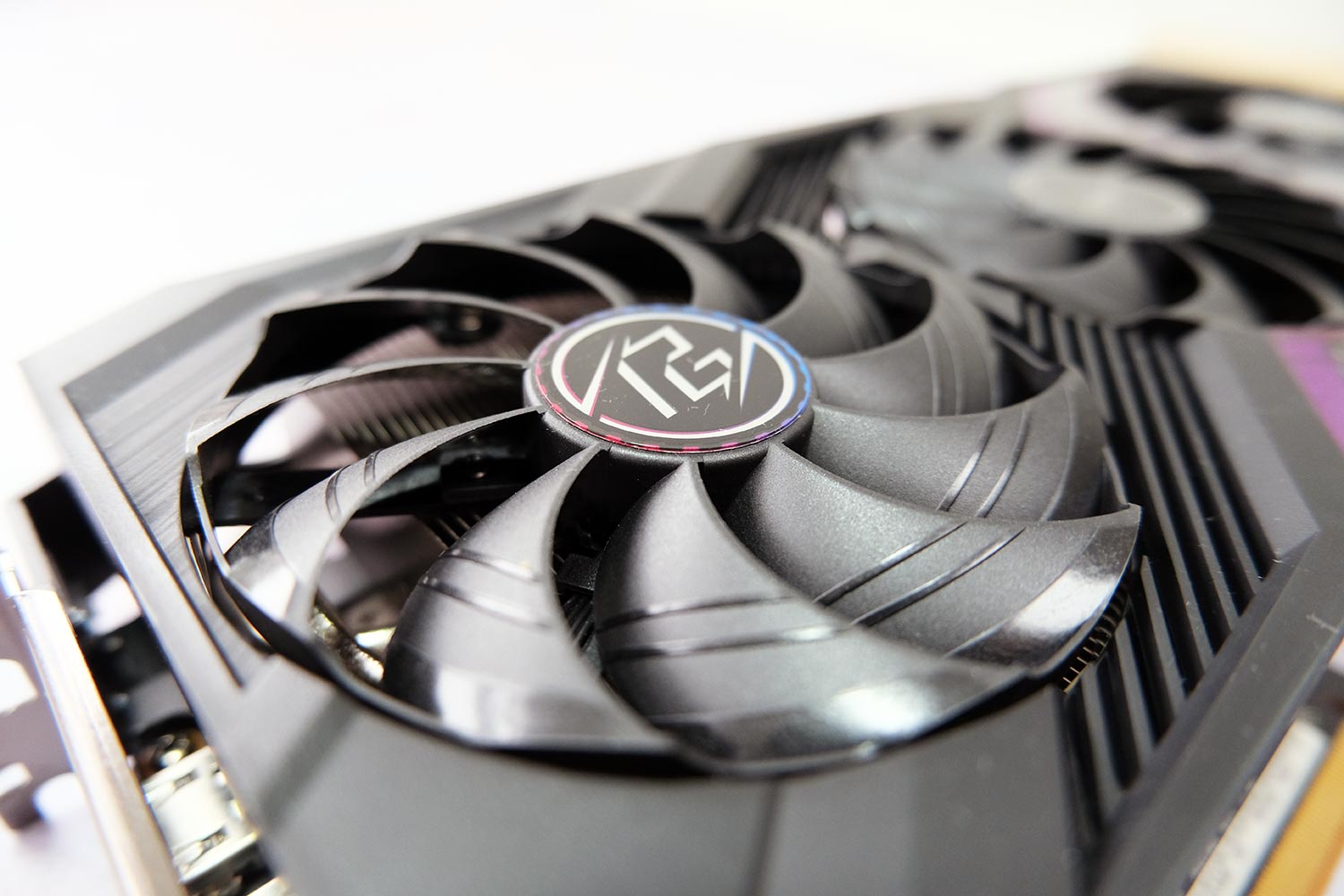 ASRock Radeon RX 7800 XT Phantom Gaming OC
Verdict: Big and bold, the Phantom Gaming OC is a fine way to build a quality RX 7800 XT.
---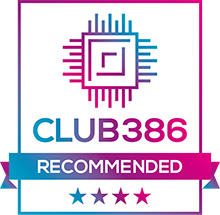 Pros
Oh so cool
Excellent performance
Overclocks well
Starfield Premium

Cons
GeForce ray tracing better
---
Club386 may earn an affiliate commission when you purchase products through links on our site. This helps keep our content free for all.
Rest assured, our buying advice will forever remain impartial and unbiased.