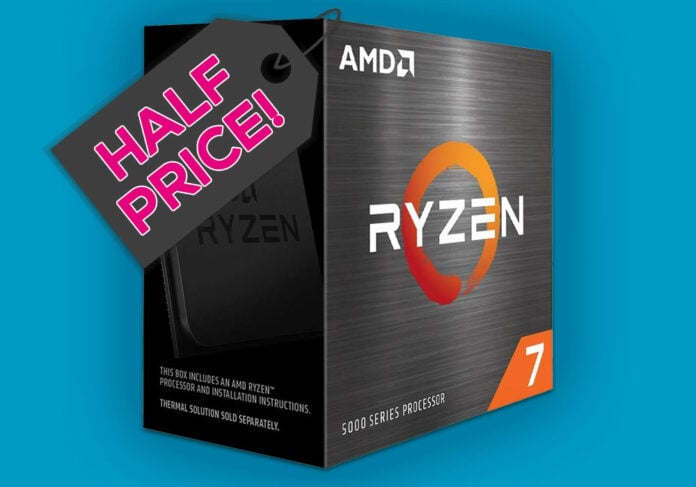 AMD Ryzen 7 5800X
---
"AMD Ryzen 7 5800X elite gaming desktop processors comes with 8 cores optimized for high-FPS gaming rigs."
We earn a commission if you make a purchase, at no additional cost to you.
There's always a temptation when upgrading your PC to look toward the latest and greatest, but for the savvy shopper, new releases often mean bargains among older parts that still pack a punch.
That much is certainly true of AMD Ryzen processors. Right now, a revered Ryzen 7 5800X CPU is retailing for £180 GBP / $220 USD direct from Amazon. Said chip launched at $449 not so long ago, meaning it is now comfortably better than half price.
Capable of a 4.7GHz top speed, the eight-core, 16-thread processor remains a powerhouse by most standards, and a fitting upgrade for a wide range of users. It also has the benefit of a mature AM4 platform whose kinks have long since been ironed out. Having put together a Ryzen 7000 Series build at the weekend, I can assure you, BIOS and memory training issues remain present, and by comparison, tried-and-trusted Ryzen 5000 Series just works.
At this price, 5800X is also a noteworthy choice for early adopters of an AM4 motherboard seeking one last upgrade on AMD's long-standing platform. Want more cache for your cash? We'd be remiss not to mention the innovative Ryzen 7 5800X3D, also reduced to £280 GBP / $320 USD,
Given you can get a capable AM4 board for under £150, and factoring in the tumbling cost of RAM and SSD storage, it's easy to put together a potent PC without breaking the bank. All that's needed is a compelling mid-range graphics card. Here's looking to you, Radeon RX 7800 XT.
AMD Ryzen 7 5800X3D
---
"The AMD Ryzen 7 5800X3D is the first desktop processor with stacked L3 cache, delivering unmatched 96MB of L3 cache paired with incredibly fast cores to create the world's fastest gaming desktop processor."
We earn a commission if you make a purchase, at no additional cost to you.