Jump to: Performance | 1080p | 1440p | 2160p | Conclusion
AMD is responding to Intel's impressive Alder Lake showing the only way it knows how; through innovation. The two chip giants are embroiled in a race to develop the world's fastest gaming processor, and it is Ryzen that has taken the more thought-provoking route.
Whereas Intel's Core i9-12900KS adopts a brute-force approach with heightened frequency on top-binned die, the challenging Ryzen 7 5800X3D is a wholly unique proposition for its best CPUs.
Introduced as the first consumer CPU to feature AMD 3D V-Cache technology, the chip's claim to fame is an extra 64MB of L3 cache, stacked vertically upon an existing eight-core, 16-thread CCD die. Onboard cache climbs to 100MB (4MB L2, 96MB L3), and such a configuration makes Ryzen 7 5800X3D a specialised part purpose-built for gaming enthusiasts.
| Model | Cores / Threads | TDP | L3 Cache | Base Clock | Boost Clock | Launch MSRP |
| --- | --- | --- | --- | --- | --- | --- |
| Ryzen 9 5950X | 16 / 32 | 105W | 64MB | 3.4GHz | 4.9GHz | $799 |
| Ryzen 9 5900X | 12 / 24 | 105W | 64MB | 3.7GHz | 4.8GHz | $549 |
| Ryzen 7 5800X3D | 8 / 16 | 105W | 96MB | 3.4GHz | 4.5GHz | $449 |
| Ryzen 7 5800X | 8 / 16 | 105W | 32MB | 3.8GHz | 4.7GHz | $449 |
| Ryzen 7 5700X | 8 / 16 | 65W | 32MB | 3.4GHz | 4.6GHz | $299 |
| Ryzen 7 5700G | 8 / 16 | 65W | 16MB | 3.8GHz | 4.6GHz | $359 |
| Ryzen 5 5600X | 6 / 12 | 65W | 32MB | 3.7GHz | 4.6GHz | $299 |
| Ryzen 5 5600G | 6 / 12 | 65W | 16MB | 3.9GHz | 4.4GHz | $259 |
| Ryzen 5 5600 | 6 / 12 | 65W | 32MB | 3.5GHz | 4.4GHz | $199 |
| Ryzen 5 5500 | 6 / 12 | 65W | 16MB | 3.6GHz | 4.2GHz | $159 |
| Ryzen 5 4600G | 6 / 12 | 65W | 8MB | 3.7GHz | 4.2GHz | $154 |
| Ryzen 5 4500 | 6 / 12 | 65W | 8MB | 3.6GHz | 4.1GHz | $129 |
| Ryzen 3 4100 | 4 / 8 | 65W | 3MB | 3.8GHz | 4.0GHz | $99 |
Indeed, perusing specifications reveals the chip runs a fraction slower than existing Ryzen 7 5800X – boost clock drops from 4.7GHz to 4.5GHz – and performance in regular IPC benchmarks will highlight such a deficit.
The tables should, however, be turned in gaming workloads whose randomised datasets are well suited to more cache per CCD. There is, inevitably, an increase in latency – access to the larger pool costs somewhere in the region of 3ns, going by AMD's internal numbers – but remember this is offset by a reduced need to spool out to main memory, typically at the expense of up to 70ns latency.
AMD reckons gaming performance is improved by as much as 15 per cent compared to Ryzen 9 5900X further up the stack, and though gaming is the focus of today's review CPU, 3D V-Cache will no doubt play a big part in upcoming Ryzen and Epyc launches.
Third Pillar of Performance
While Ryzen 7 5800X3D carries plenty of merit as a proof of concept, this is ultimately a niche product aimed at select gamers eager to experience the latest innovations in CPU technology.
Whereas performance gains have historically been tied to architecture and process advancements, a so-called third pillar is emerging in the form of package.
Looking at the bigger picture, AMD wants 3D V-Cache to alter our perception of CPU development in years to come. Whereas performance gains have historically been tied to architecture and process advancements, a so-called third pillar is emerging in the form of package.
Citing previous innovations in the field – HBM memory in 2015, multichip modules in 2017 and chiplets in 2019 – AMD's introduction of 3D chiplets is the culmination of many years of roadmap planning and close collaboration with key manufacturing partner TSMC.
In the case of Ryzen 7 5800X3D, the underlying 81mm2 Zen 3 die, built upon a mature 7nm TSMC process, offers a familiar setup of eight SMT-enabled cores allied to 32MB of L3 cache. The special sauce is an additional 41mm2 L3 die built on the same 7nm process and stacked atop. The upper die is then flanked by structural supports to aid thermal dissipation for underlying CPU cores that are now pushing heat through an additional layer.
Vertical stacking is achieved via a direct copper-to-copper bond, with a dense array of Through Silicon Vias (TSVs) providing up to 2TBps of bandwidth between dies. Crucially, the 96MB stack of 3D V-Cache behaves as a single pool, requiring no driver or operating system support. The only requirement to Ryzen 7 5800X3D compatibility is an updated BIOS featuring AGESA 1.2.0.6b or later.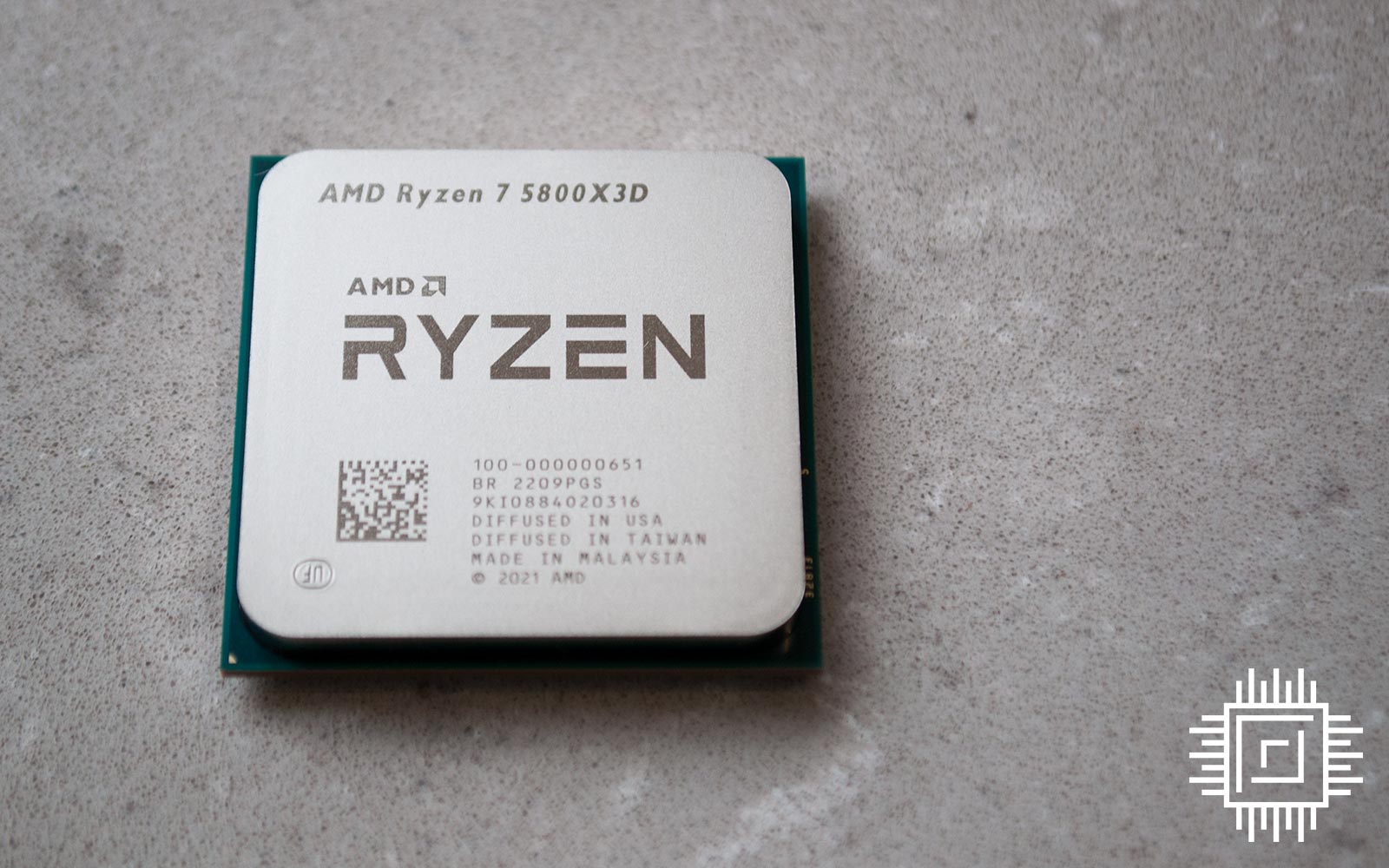 3D V-Cache Considerations
For consumers, the first desktop 3D V-Cache processor ushers in unusual product segmentation. Having spent the last few years reassuring customers that Ryzen is a good fit for gaming, 5800X3D now has the dubious benefit of being a gaming-first solution that isn't quite as robust during regular workloads.
AMD's decision to cap the CPU to 4.5GHz suggests heightened thermal restrictions imposed by vertical stacking are an obstacle the firm's engineers are yet to overcome. Conjecturing somewhat, if cache-laden 'X3D' models are unable to run at the same frequency as denuded counterparts, next-gen Zen 4 product stack could become particularly interesting; will we see, say, a regular Ryzen 7 7800X as well as a Ryzen 7 7800X3D Gaming Edition?
5800X3D has the dubious benefit of being a gaming-first solution that isn't quite as robust during regular workloads.
Only time will tell, but these are clearly early days for 3D V-Cache tech, and getting to this stage is no small feat. AMD's vertical configuration requires each die be shaved thinner via Chemical Mechanical Polishing (CMP), ensuring the chip retains the same Z-height as existing Ryzen parts for socket and cooler compatibility.
You might also be wondering why top-of-the-range Ryzen 9 didn't get the X3D treatment. Economic and manufacturing considerations aside, more cache and lower clocks don't make a great deal of sense for a productivity powerhouse such as the Ryzen 9 5950X. As an eight-core, 105W configuration, Ryzen 7 5800X is a natural fit for gaming, and yet AMD's hands are tied when it comes to pricing. We imagine the firm's bean counters would like to attach a higher MSRP, putting Ryzen 7 5800X3D in line with Intel's premium Core i9-12900KS, but charging more for a lower-clocked part is clearly untenable, hence the same $449 MSRP as regular 5800X.
No cooler is included in the box, yet AMD's commitment to the long-serving AM4 socket allows 5800X3D to serve as an intriguing upgrade path. Supporting BIOS updates for 500 and 400 Series chipsets are expected to land on or around April 20, coinciding with CPU availability, and 300 Series support arrives next month.
Even so, gamers shouldn't expect a like-for-like experience. Whereas most Ryzen 5000 Series parts allow for a variety of overclocking methods, Ryzen 7 5800X3D is multiplier locked and does not officially support CPU voltage or frequency adjustment. Suggesting that overclocking capabilities are unlikely to appear at a later date, AMD states its innovative packaging technology "does not offer the same voltage/frequency scaling as conventional chiplet implementations." In case you're wondering, that means undervolting is out, too.
Performance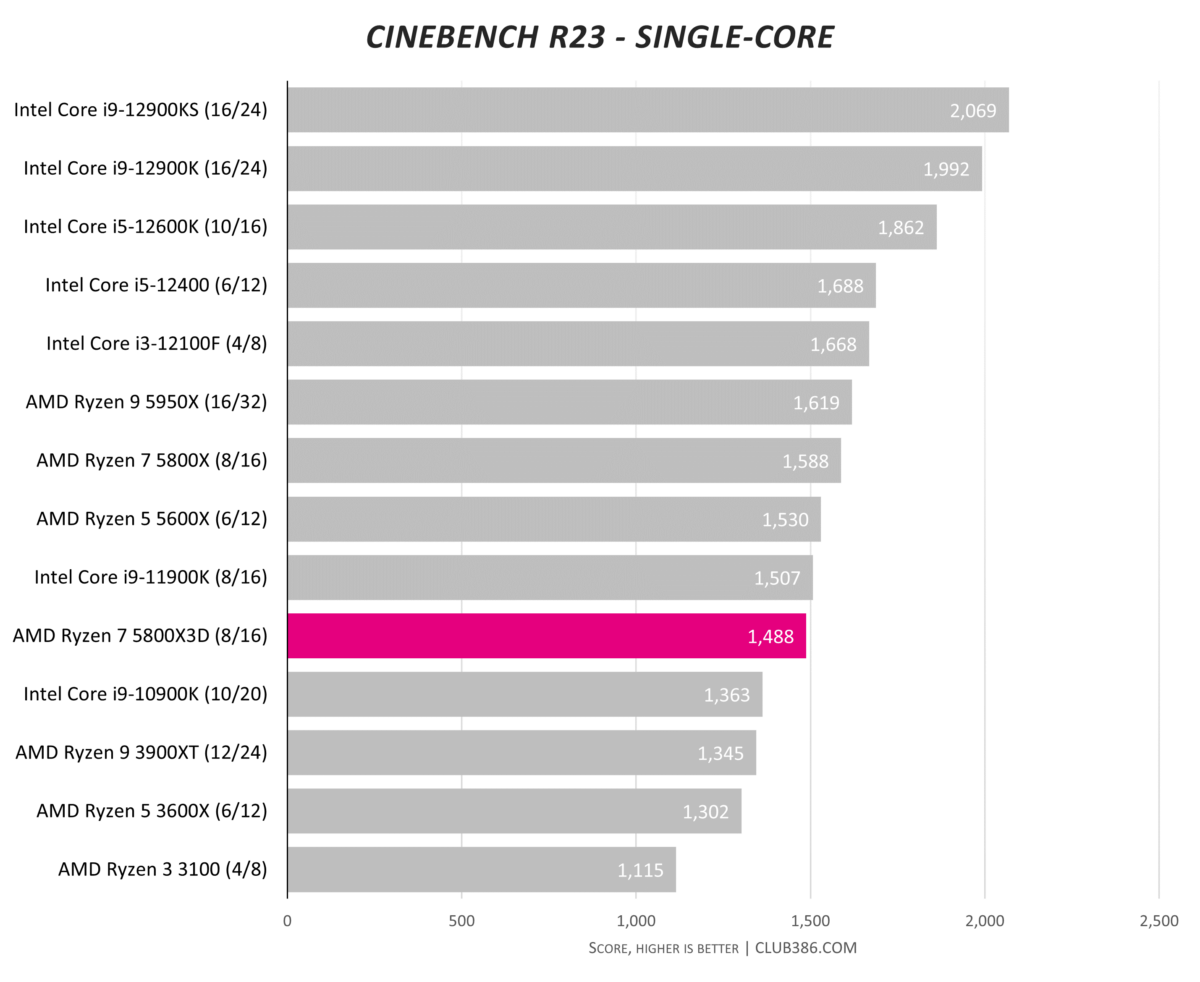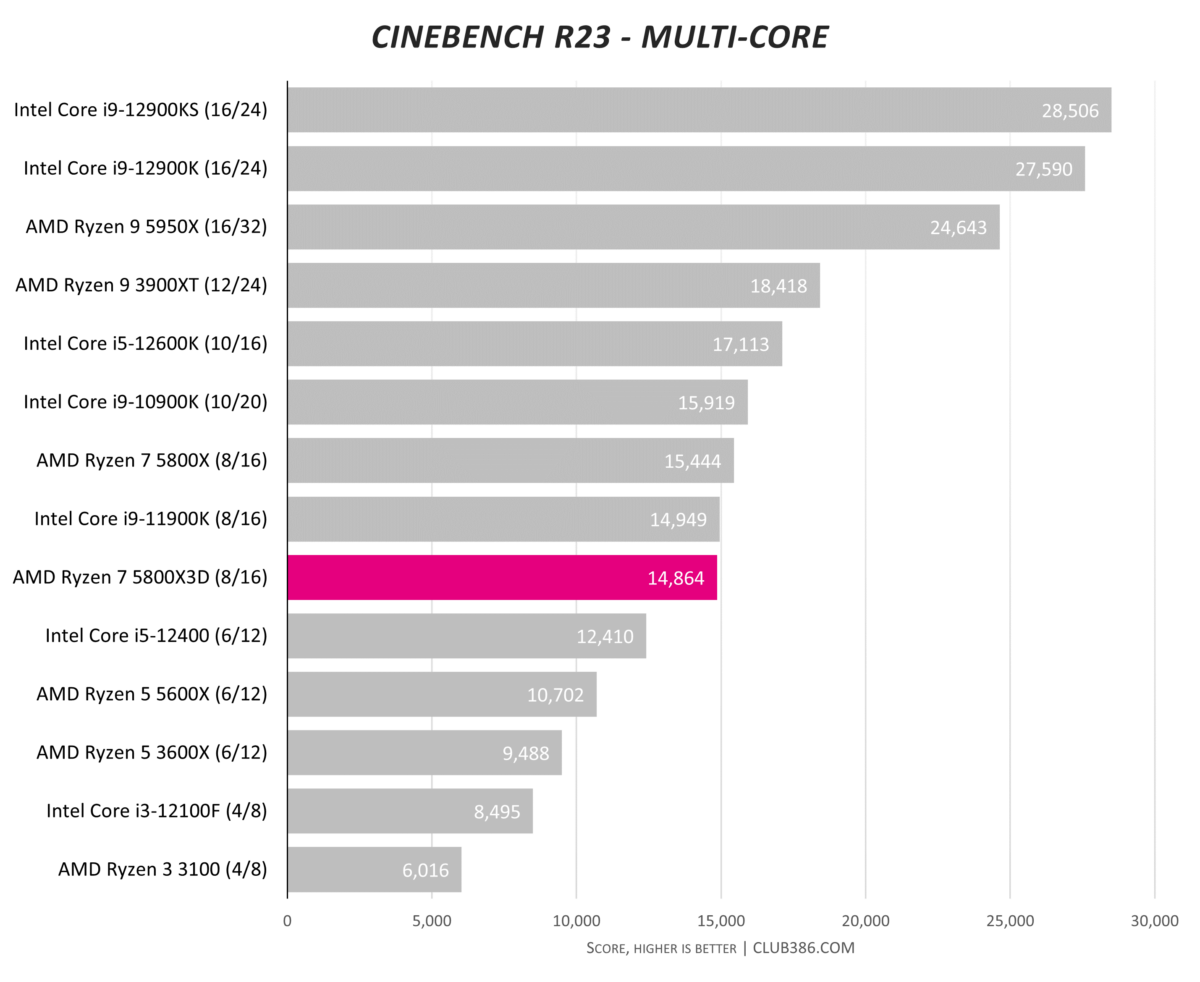 You're here for numbers and we have benchmarks aplenty. Cinebench starts proceedings with expected results; Ryzen 7 5800X3D during common IPC workloads is fractionally slower than existing 5800X.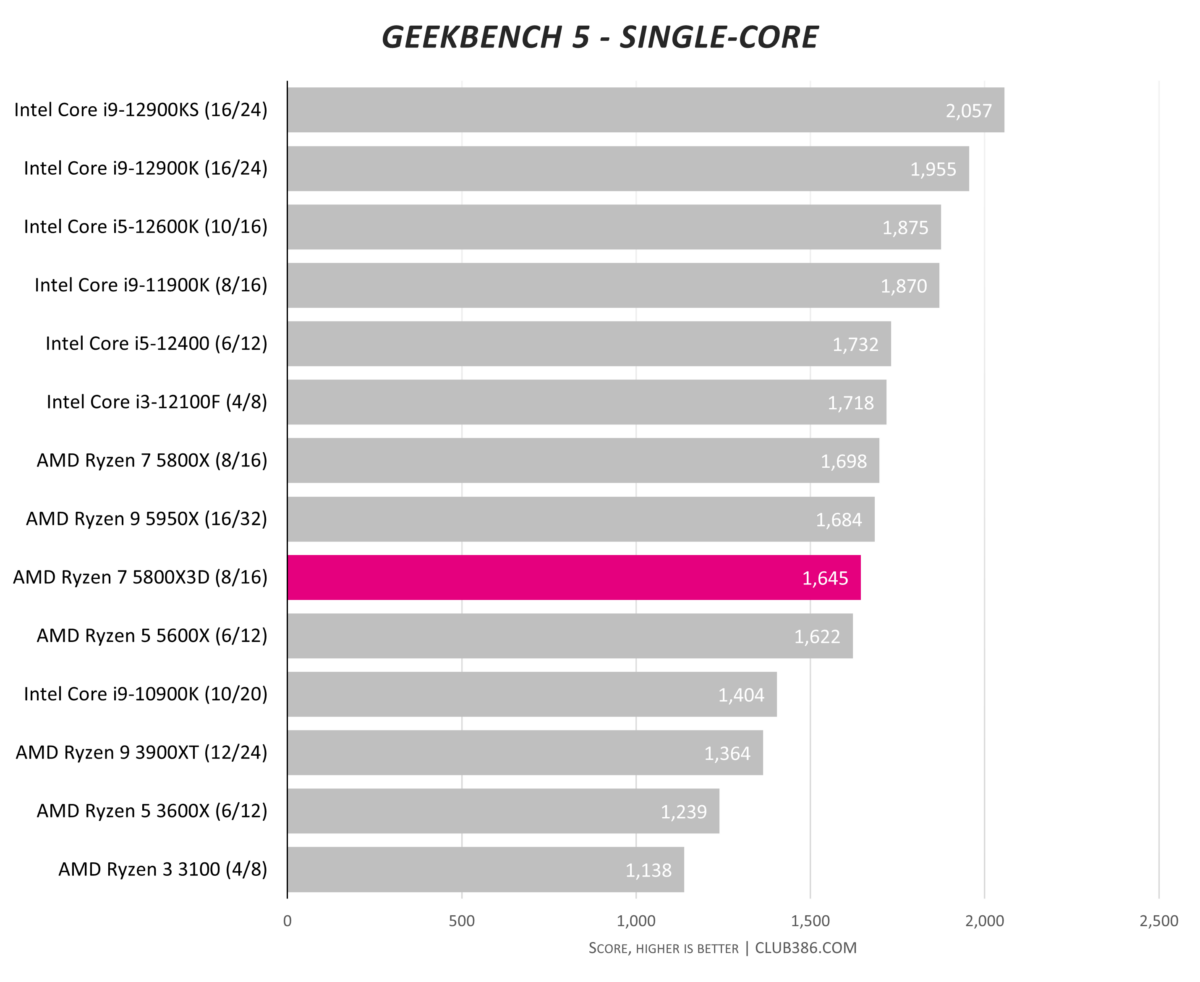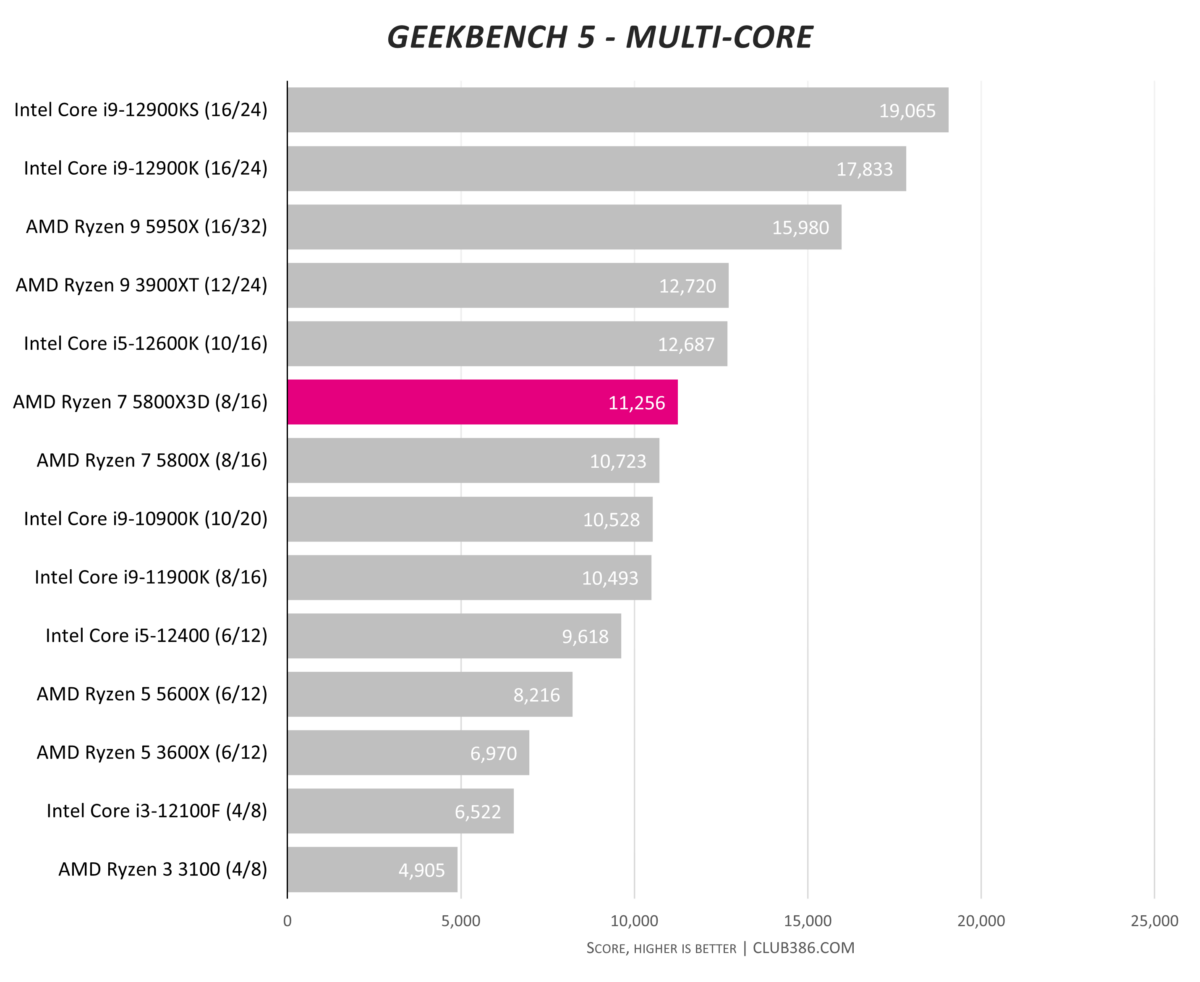 The same is true in Geekbench's single-core run, though 5800X3D's supplementary cache does appear beneficial in select multi-threaded workloads. A sign of things to come, perhaps.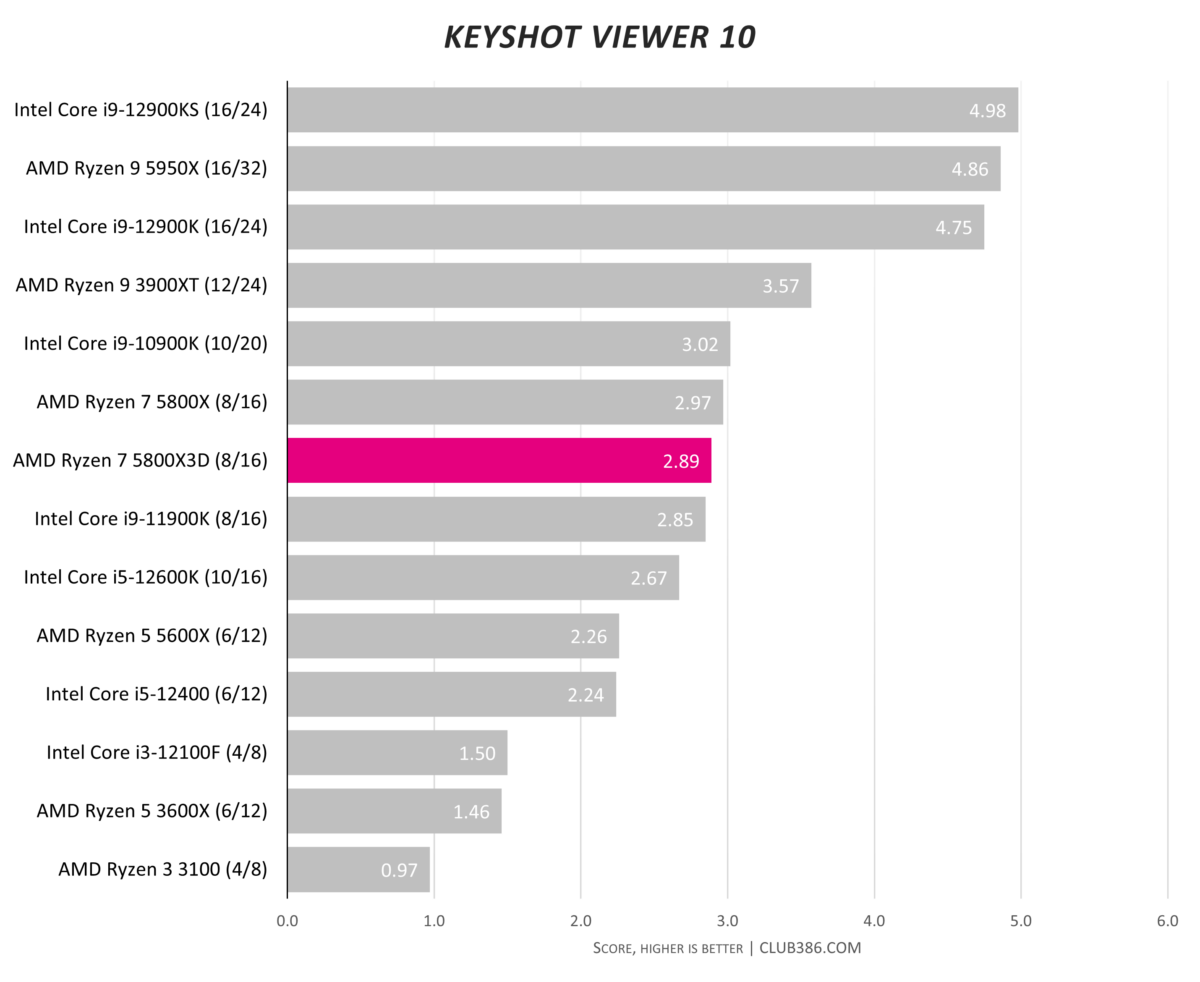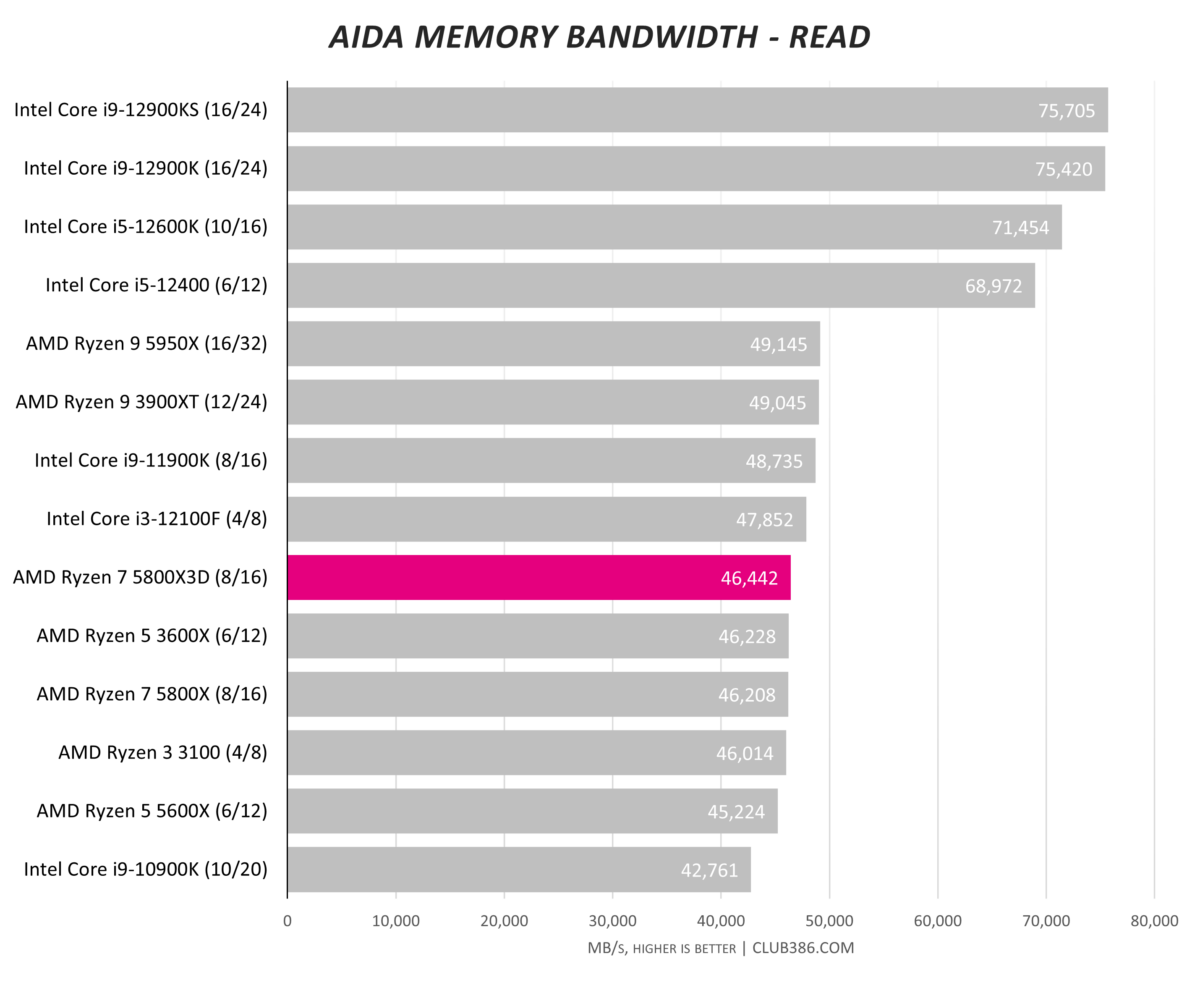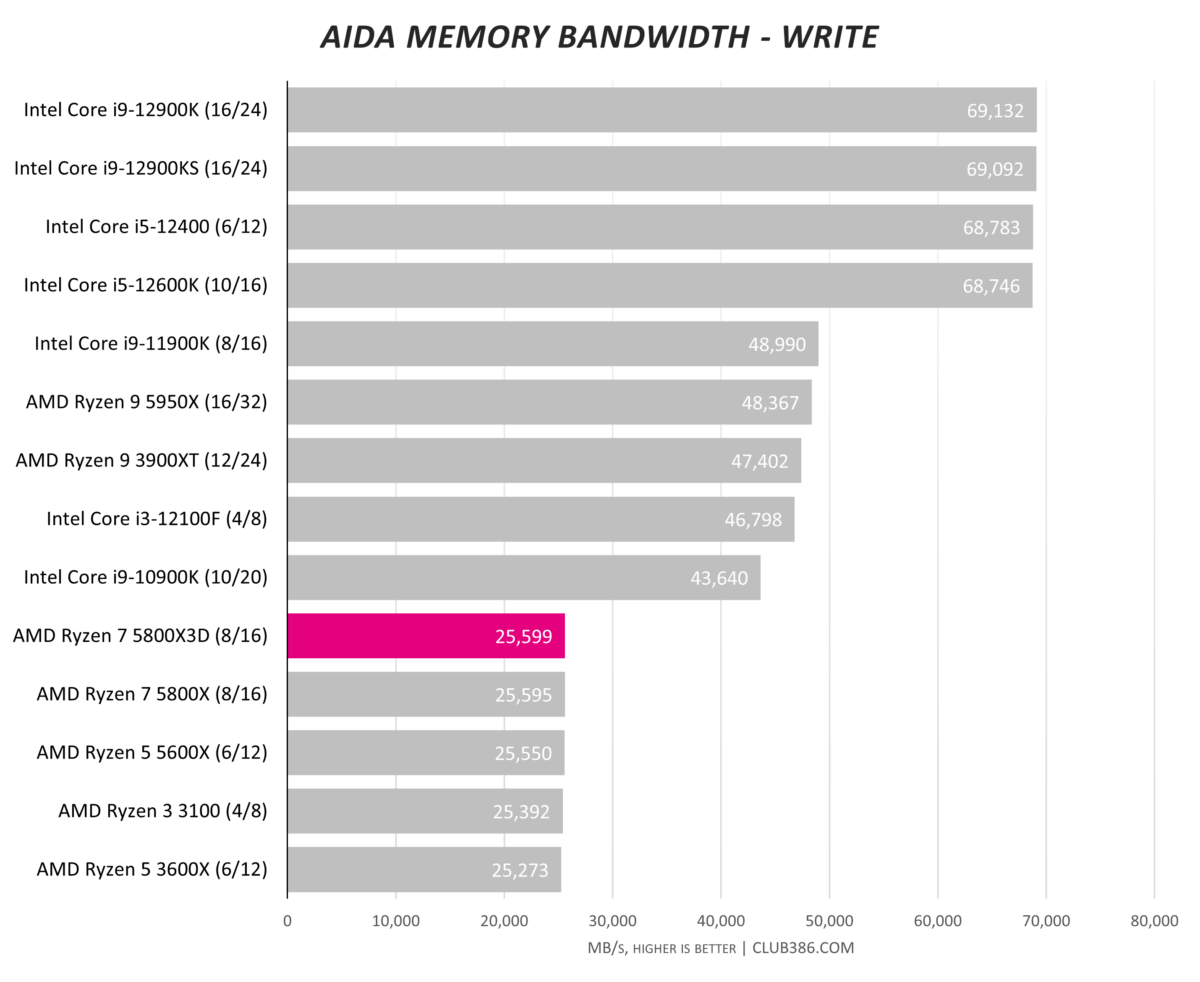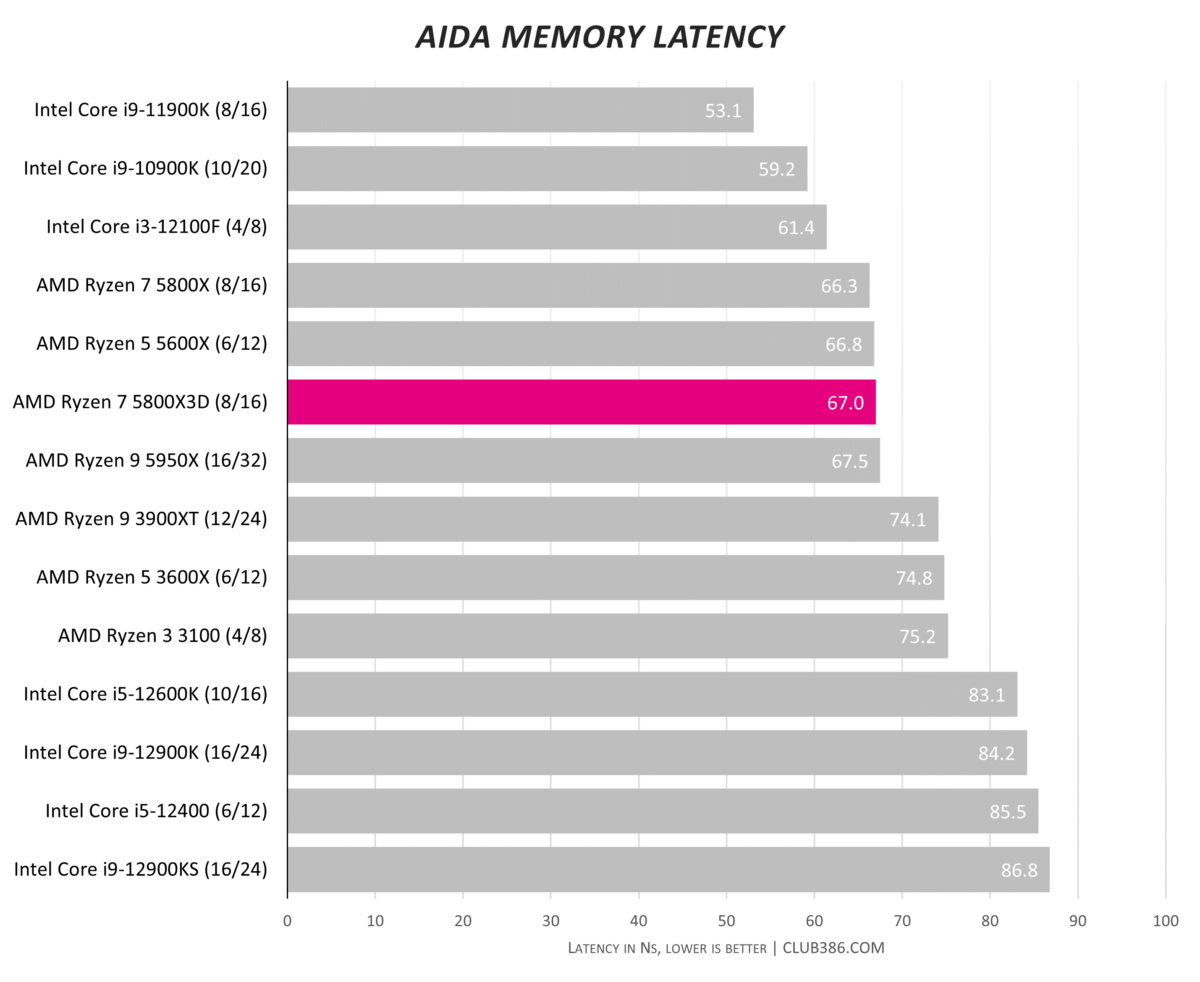 There's not a great deal to get excited about thus far. In common 2D benchmarks, Ryzen 7 5800X3D behaves much like a downclocked Ryzen 7 5800X.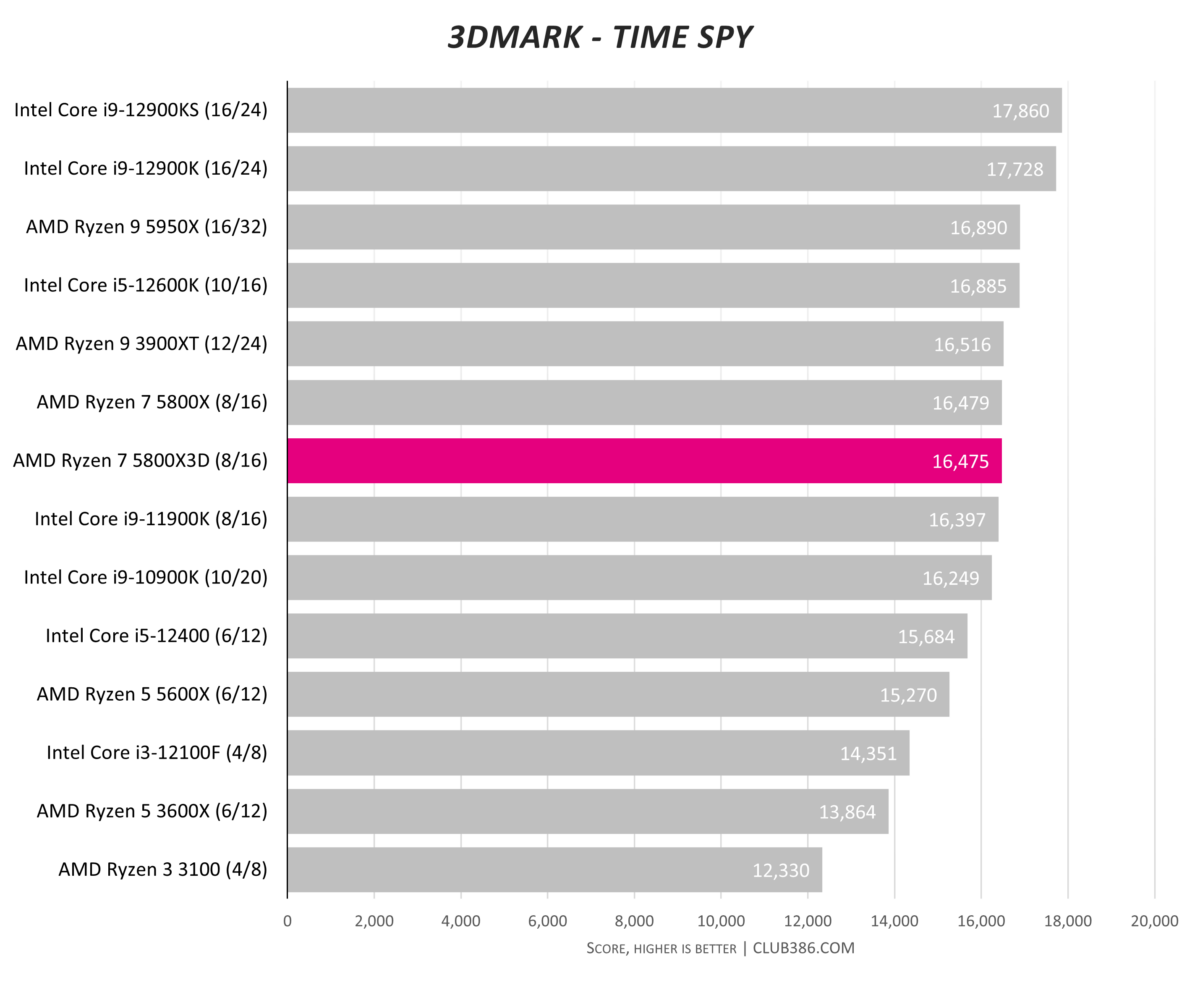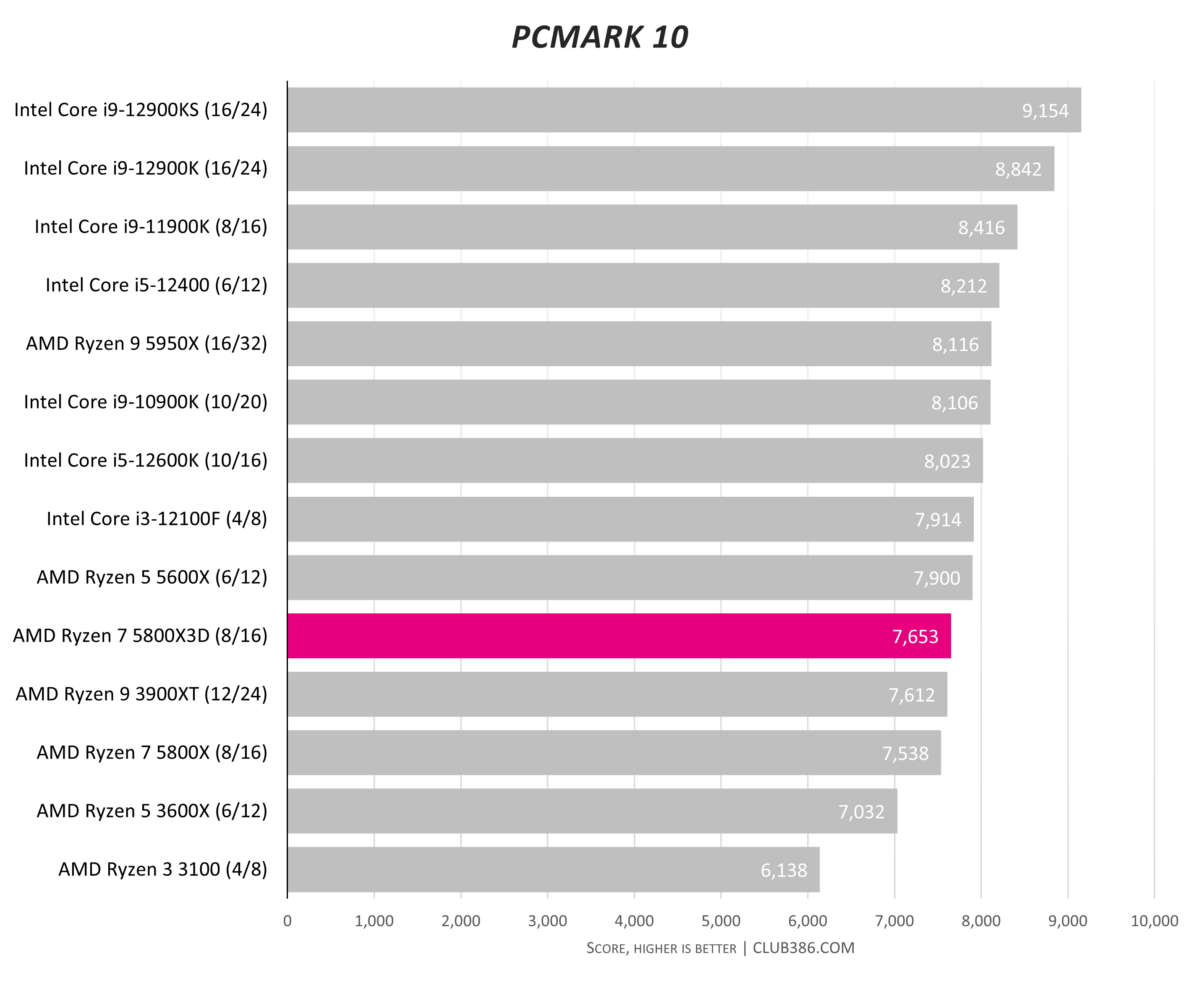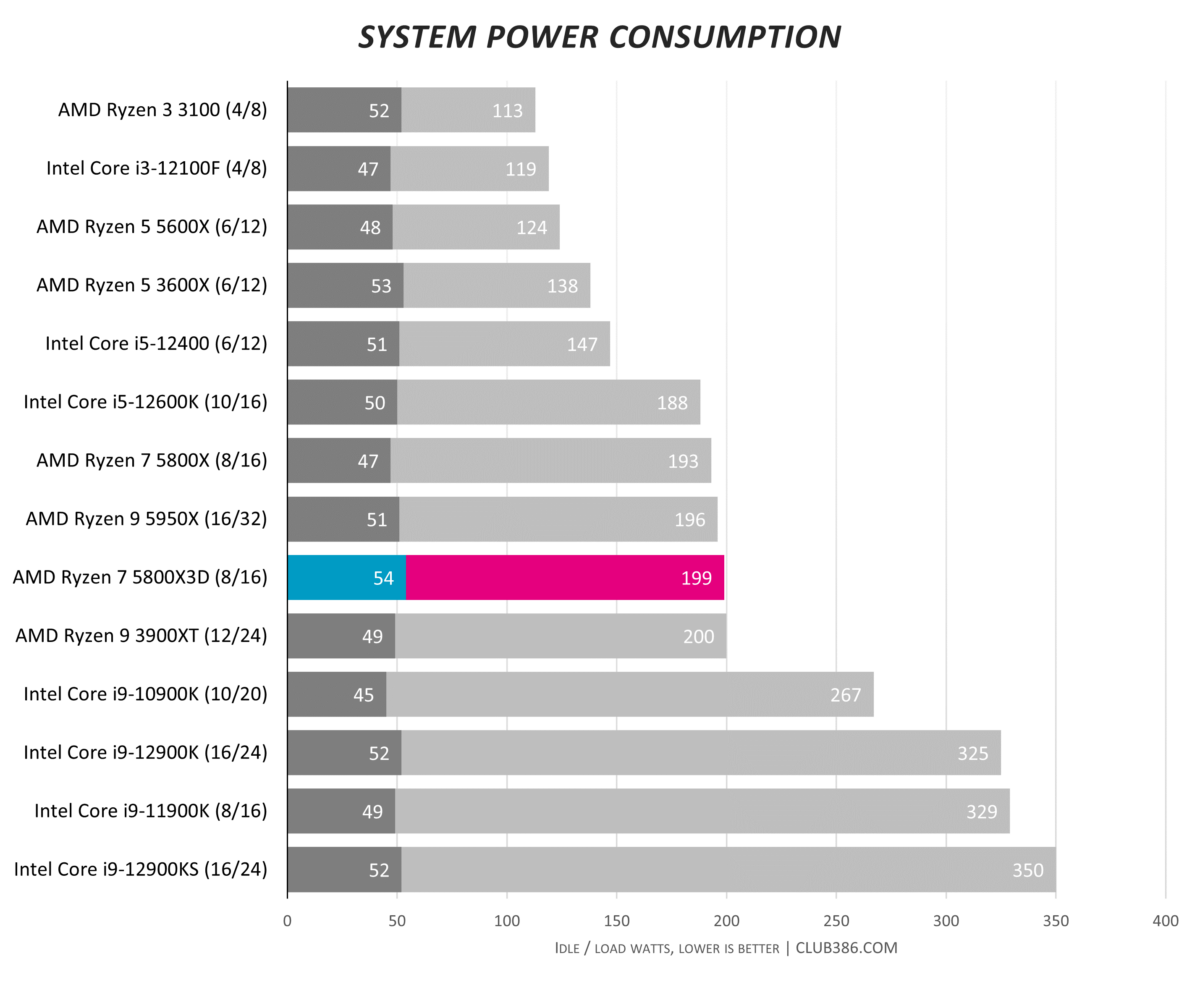 3DMark and PCMark are partial to CPU frequency, negating the benefit of an increase in cache, and power consumption looks awfully familiar, too. Let's cut to the chase and focus on gaming performance when paired to GeForce RTX 3080.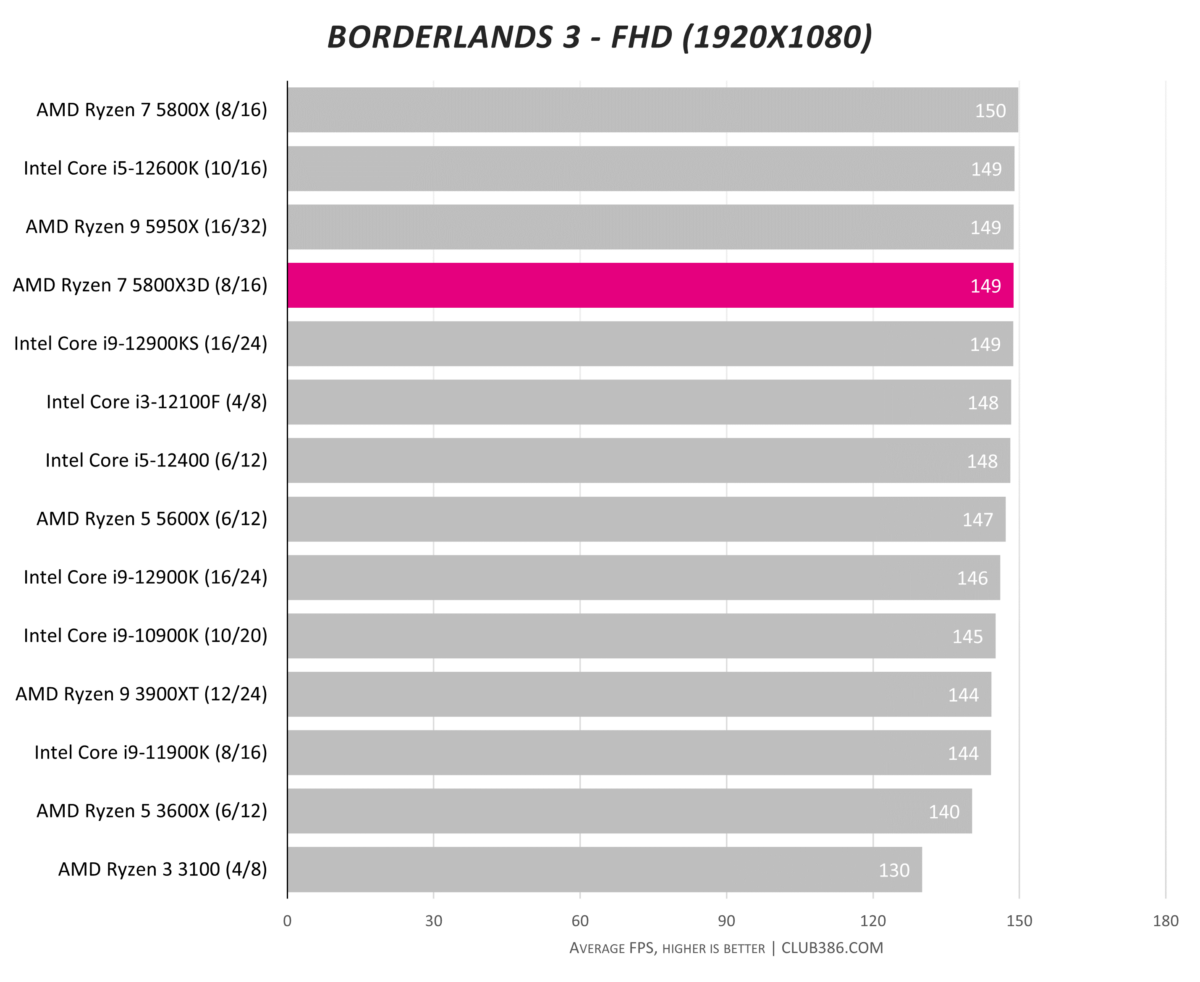 Borderlands 3 provides a note of caution, in that not every game will benefit from additional L3 cache.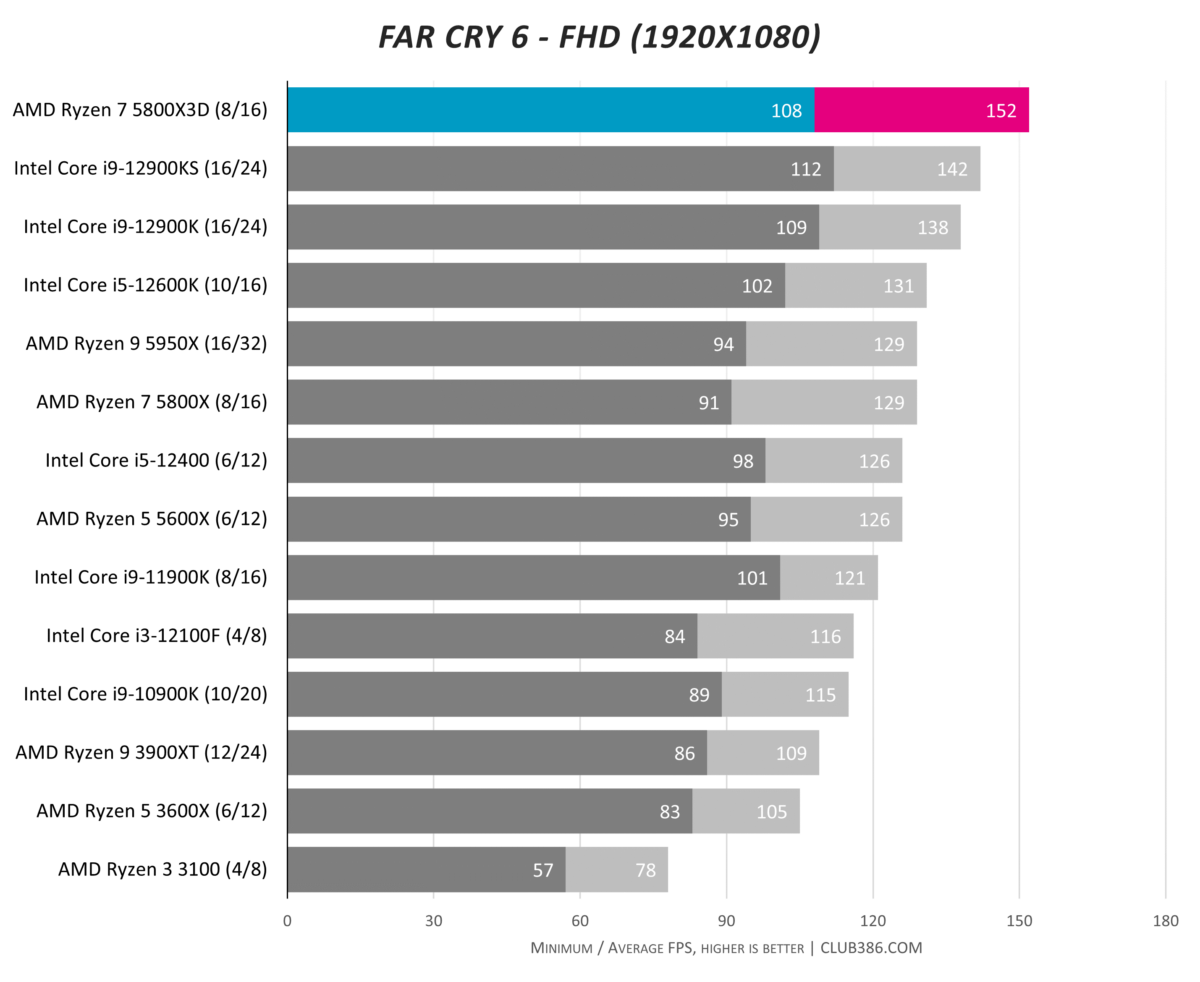 Hello, V-Cache! The first noteworthy uptick in performance is recorded in Far Cry 6, where 1080p framerate ramps up from 129 on the Ryzen 7 5800X to an impressive 152 on Ryzen 7 5800X3D. An 18 per cent increase is not to be scoffed at.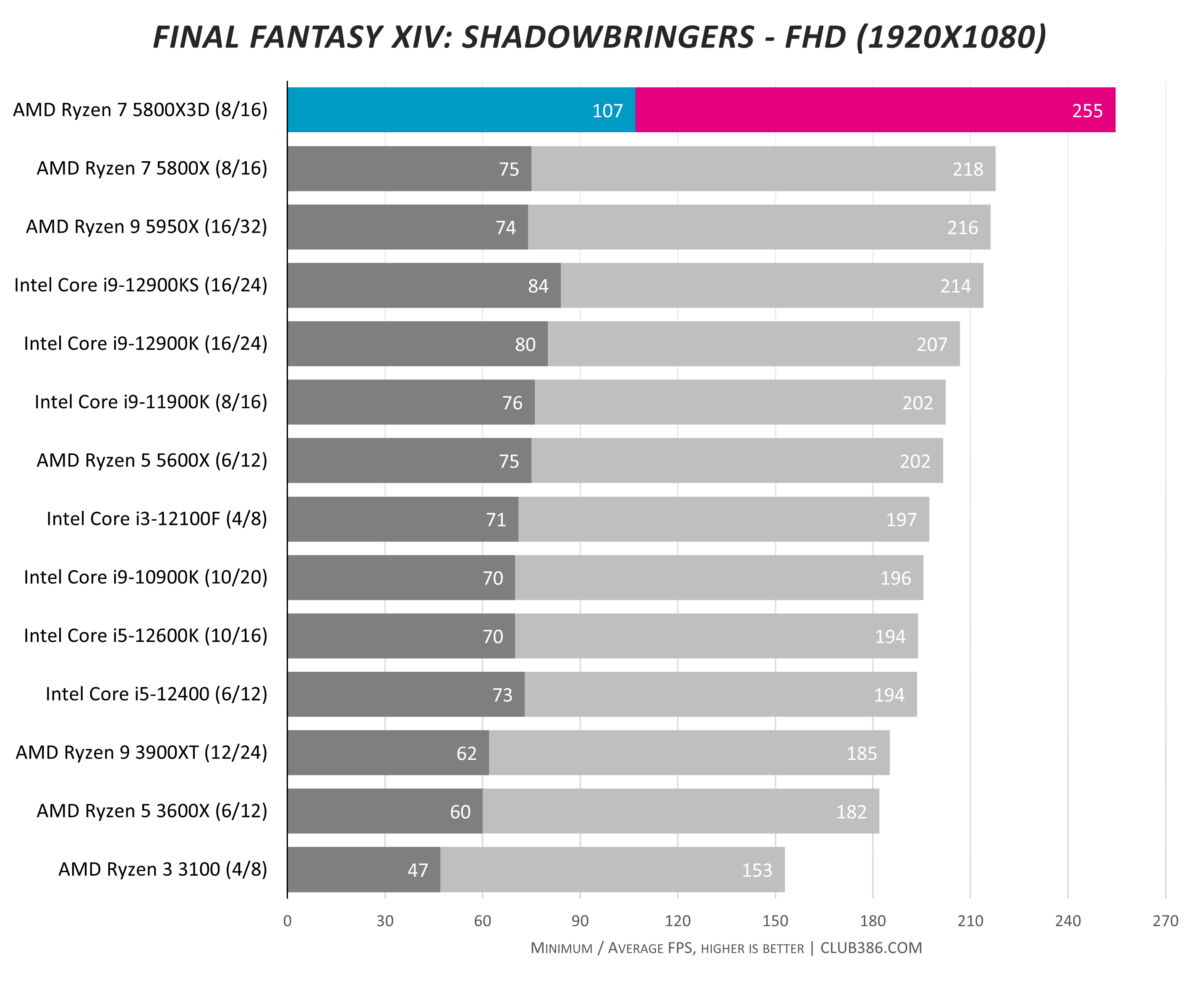 Final Fantasy XIV: Shadowbringers is equally impressive. Ryzen 7 5800X3D storms to the top of the chart, with 3D V-Cache leaving regular 5800X trailing in its wake.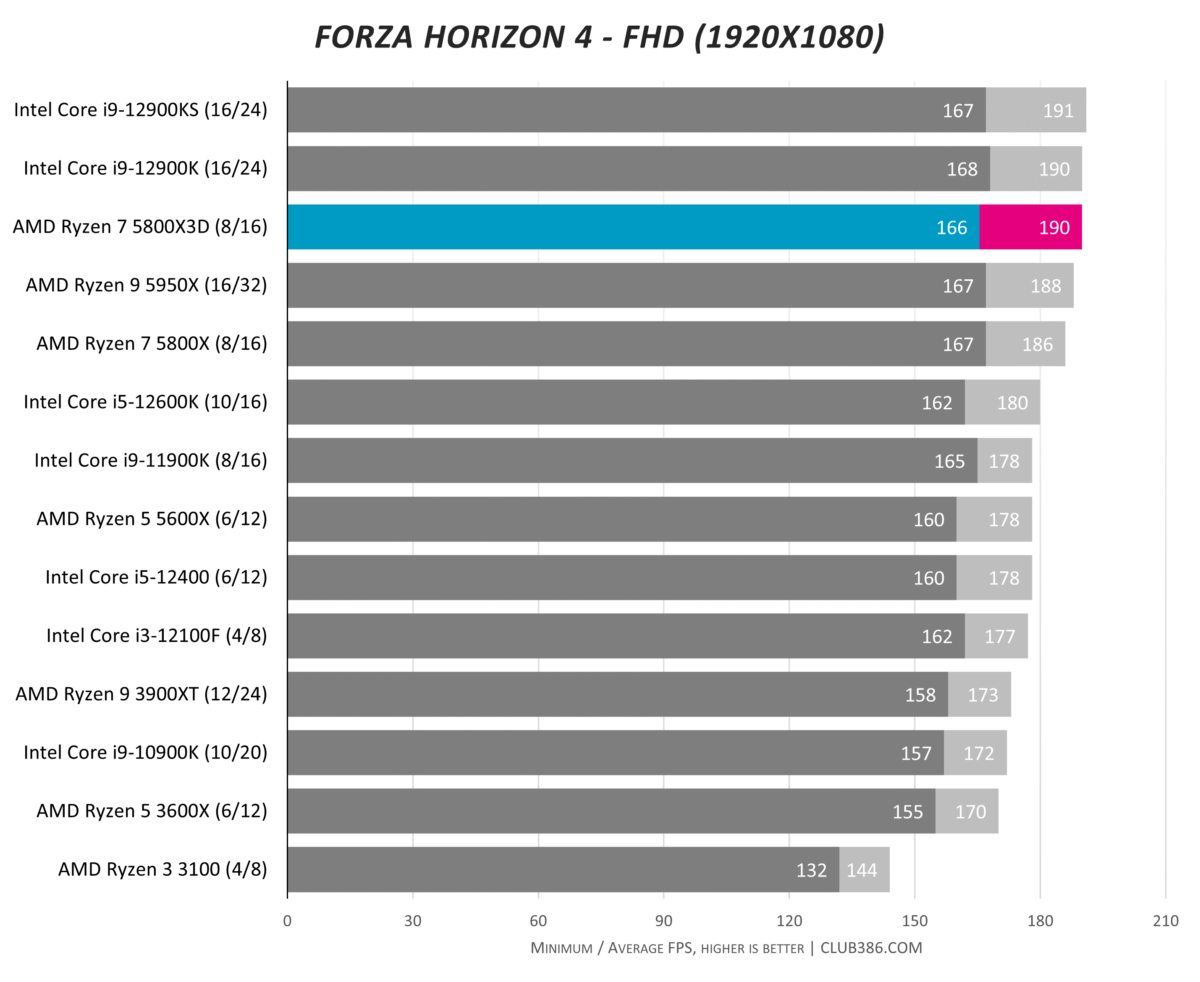 Forza Horizon 4 puts a dampener on proceedings. Not all games stand to benefit by a significant amount, yet there's no doubt about it, Ryzen 7 5800X3D is staking a firm claim as world's fastest gaming CPU.

Show your support for impartial Club386 reviews
Club386 takes great pride in providing in-depth, high-quality reviews built on honest analysis and sage buying advice. As an independent publication, free from shareholder or commercial influence, we are committed to maintaining the standards our readers expect.
To help support our work, please consider making a donation via our Patreon channel.
1080p Gaming





High-framerate gameplay is Ryzen 7 5800X3D's raison d'etre, so it makes sense to examine a further selection of titles using current drivers. AMD's latest is typically top of the charts, or thereabouts, and we see a meaningful performance uplift in Far Cry 6 with raytracing enabled.
1440p Gaming





This is a fine gaming chip, but a $449/£410 price point suggests the target audience will be looking beyond ubiquitous 1080p. At a QHD resolution the onus begins to shift to the GPU, though we're pleasantly surprised to see the benefit of 3D V-Cache remains present in some titles.
2160p Gaming





At 4K UHD the top AMD and Intel CPUs are practically inseparable. As expected, 3D V-Cache can't perform miracles when the GPU is the bottleneck.
Conclusion
3D V-Cache giveth, and 3D V-Cache taketh away. Through a combination of heightened L3 cache and reduced frequency, AMD's innovative Ryzen 7 5800X3D delivers on its promise of enhanced gaming performance, albeit at the expense of all-core speed.
Shaving off a couple of hundred megahertz – our review chip typically settles at 4.3GHz all-core, compared to 4.5GHz on Ryzen 7 5800X – the tripling of L3 cache can boost average framerate between 10 and 15 per cent in some titles. Meaningful in-game gains are offset by minor reductions in everyday performance and the inability to overclock; sacrifices AMD is hoping gaming enthusiasts are willing to make.
PC gamers put off by high GPU pricing may be eager to invest elsewhere. Ryzen 7 5800X3D's framerate uptick is appealing in that regard, yet the chip's attraction is diminished by aggressive pricing in AMD's stack. At the time of writing, tried-and-trusted Ryzen 7 5800X is readily available at a discounted fee of £310, representing a sizeable £100 saving over 5800X3D.
AMD set out to deliver the world's fastest gaming CPU and the coveted crown returns to Ryzen. Vertical stacking is here to stay, and if AMD's first 3D V-Cache implementation is anything to go by, next-gen Zen 4 parts will have plenty to offer.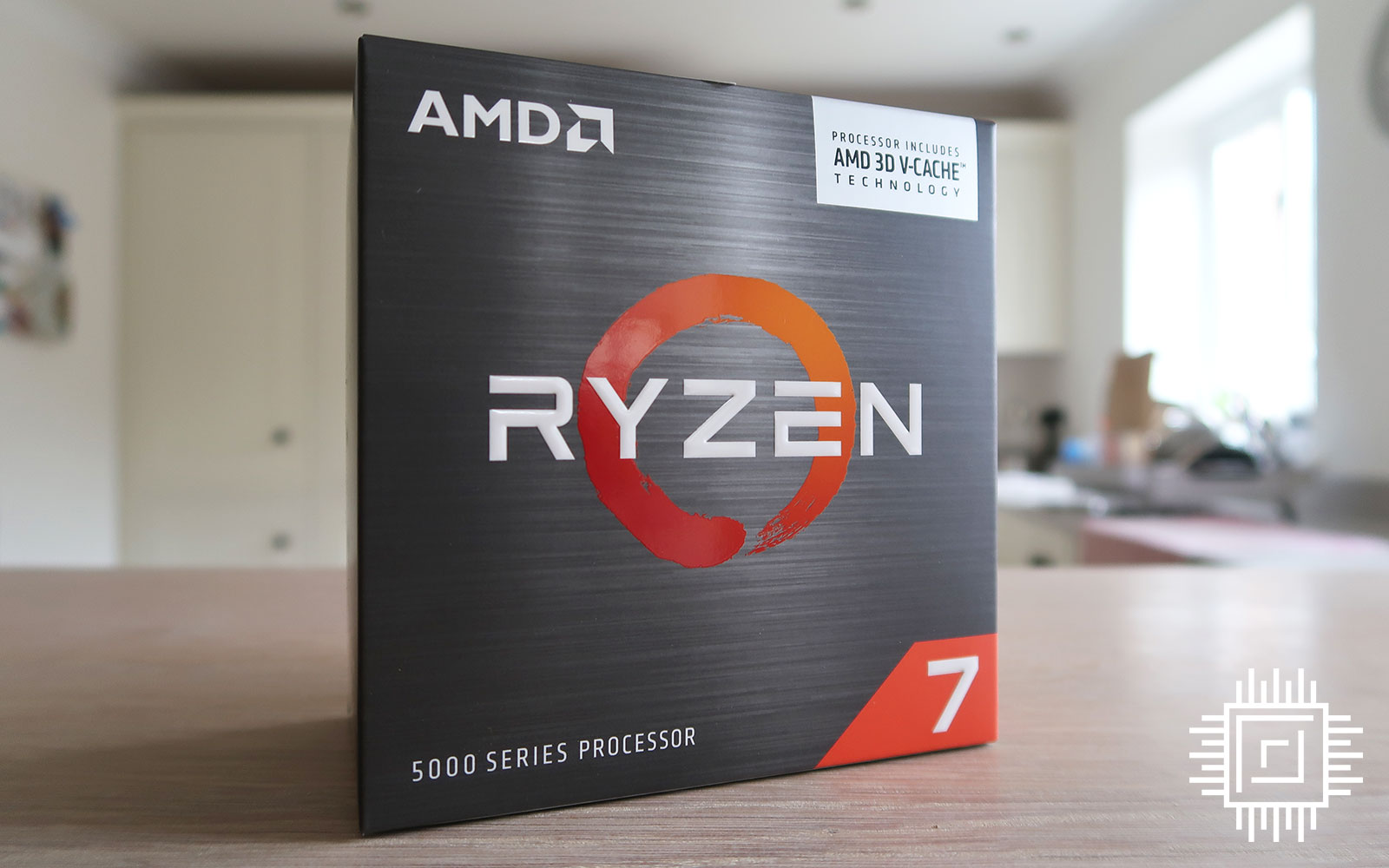 AMD Ryzen 7 5800X3D
Verdict: A fascinating last hurrah for Zen 3, Ryzen 7 5800X3D gives gamers a final AM4 upgrade path and a taste of what's to come.
---
Pros
Innovative L3 cache
Excellent gaming performance
Another AM4 upgrade path
Cons
Reduced frequency
No overclocking
---
Club386 may earn an affiliate commission when you purchase products through links on our site. This helps keep our content free for all.
Rest assured, our buying advice will forever remain impartial and unbiased.