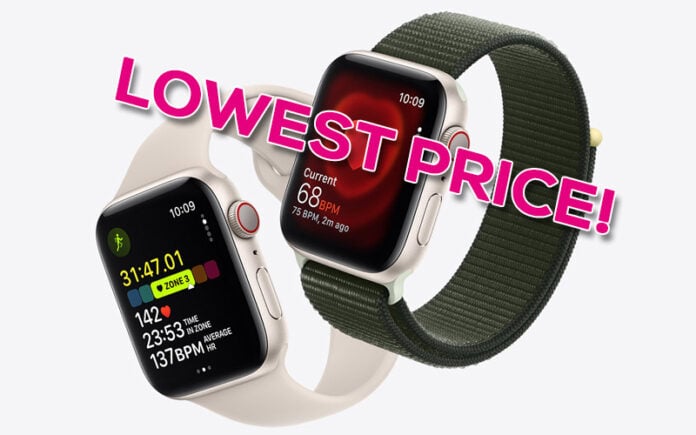 Apple Watch SE 40mm
---
"Easy ways to stay connected. Motivating fitness metrics. Innovative health and safety features. And now with carbon-neutral case and strap combinations. Apple Watch SE offers totally loveable features at a feel‑good price."
We earn a commission if you make a purchase, at no additional cost to you.
Forgive us for mentioning the C word in September, but err, how shall we put it, the holiday season is nearly upon us! Apple products tend to be a hot pick for something to put under the tree, and this year it's the Watch SE that represents good value.
With the arrival of Series 9 and Ultra 2, select retailers have reduced last year's mainstream offering to the lowest price we've ever seen. Right now, the 40mm Apple Watch SE is available for £199 (down from £219), while the larger 44mm model fetches £239 (down from £249).
Apple Watch SE does come with a few select limitations – there's no always-on display, fast charging nor support for blood oxygen readings and ovulation estimates – yet for the vast majority of users, we suspect the savings are worth the trade-off.
The 2022 watch features a 1,000-nit retina display, S8 processor, and 18-hour battery life in a familiar choice of form factors. The question that'll puzzle most prospective buyers is whether 40mm or 44mm is the best bet. We can't help you there as it's very much a case of personal preference, but if you really want to know, I'm 6'3 with slim wrists and prefer the 44mm.
Apple Watch SE 44mm
---
"Apple Watch SE has a water resistance rating of 50 metres. Track your splits and sets in the pool. Map your route in open water. See accurate metrics even when using a kickboard. Whether you're splashing, swimming or surfing, the water's fine."
We earn a commission if you make a purchase, at no additional cost to you.
Many will be examining the imaginary crystal ball in the hope that prices will come down further on or around Black Friday. That remains to be seen, yet if you're in the market for your first smartwatch, or you're upgrading from a much older model (say, Watch Series 3), this is the best offer to date.
Club386 is always on the lookout for unmissable tech deals. Follow on Twitter or Facebook to stay up to date with the latest discounts, and subscribe to our free weekly newsletter to be kept abreast of all the developments in the world of technology.