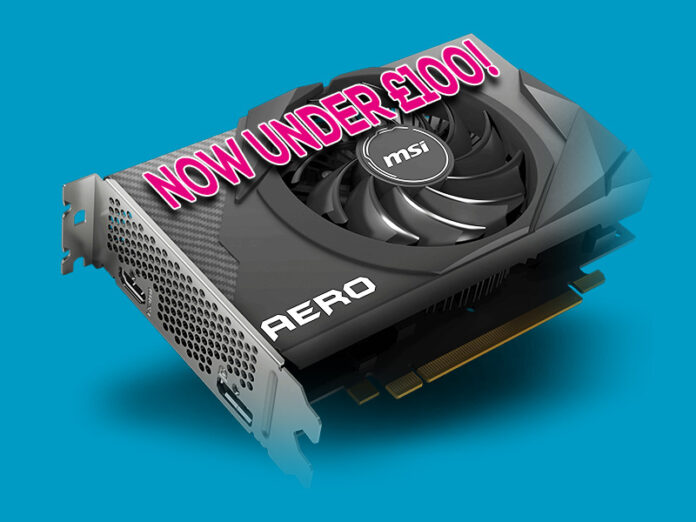 RX 6400 Aero ITX 4G
---
"MSI Aero ITX graphics cards are perfect for small form factor systems and HTPCs as they only take up a fraction of the space of a full size graphics card."
We earn a commission if you make a purchase, at no additional cost to you.
While we all crave the latest and greatest tech, let's be honest, most hardware gets better with age. Bugs are ironed out, drivers are matured, and most importantly of all, prices come down to more attractive levels.
That is very much true of Radeon RX 6400. A damp squib when launched back in July 2022, AMD's entry-level card targets mainstream 1080p gaming but didn't make a whole lot of sense alongside a £150 MSRP. Fast forward to today and the very same GPU can be found for £99.99 at Amazon UK, transforming it into an entirely different proposition.
The discounted card in question is MSI's RX 6400 Aero ITX, a compact variant that looks ideal for small-form-factor builds, HTPC duties, or as a modern GPU for a second PC.
To recap, Radeon RX 6400 is a 6nm part based on the RDNA 2 architecture. Armed with 768 processors and 4GB of GDDR6 via a 128-bit bus, it won't set the performance benchmarks alight but has its place for 1080p gaming, particularly in less demanding esports titles. Do be mindful of the PCIe 4.0 x4 interface, which translates to PCIe 3.0 x4 in older systems hindering performance by a further 10 per cent or so, yet for media duties, this is a cool, quiet and composed card that requires no external power connectors.
So what's the catch? Well, RX 6400 isn't the only card to be slashed in price. If the budget can extend just a little further, the more capable Radeon RX 6500 XT Mech 2X has also dropped to a lowest-ever price of £119.99 for what is arguably a better buy. Either way, these are welcome options for a low-cost build.