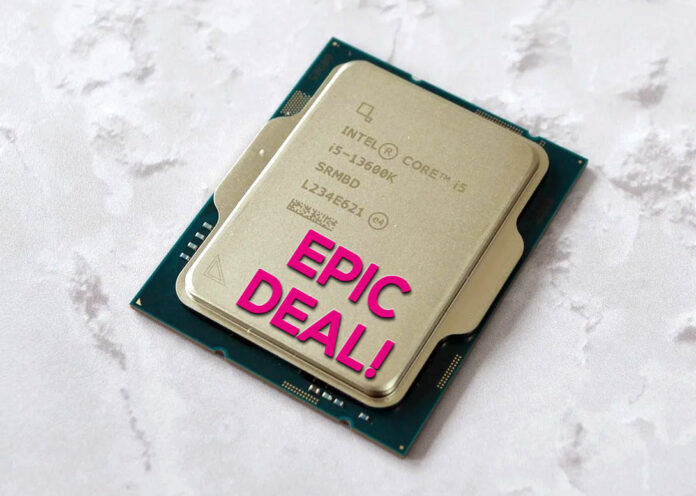 Intel Core i5-13600K
---
"With high clock speeds, Performance-cores and Efficient-cores, more cache, and AI acceleration, you can game, stream, edit, video chat, browse or just take care of business faster and better than ever."
We earn a commission if you make a purchase, at no additional cost to you.
In these times of rampant inflation and soaring living costs, it's good to know there are fantastic deals to be had in the world of PC tech. Anyone contemplating a new build early in 2023 ought to have the Core i5-13600K on their radar, particularly now that £40 has been lopped off the asking price.
A healthy 13 per cent saving, and let's not forget, even at RRP, this 14-core, 20-thread chip already offered enough wow factor to be deemed our favourite CPU of 2022. A reduced £279 UK asking fee arrives as part of the Amazon Spring Sale, and marks the lowest price we've ever seen for one of the best desktop processors currently available.
Putting total build cost into perspective, you could get the Core i5 CPU, motherboard and 1TB SSD for less than £500. Even memory is cheap as chips, be it DDR4 or DDR5. We like the fact an IGP is included, but if you deem it surplus to requirements, it's worth noting the graphics-less Core i5-13600KF is also reduced, down to £265.
How long the promotional price lasts is anyone's guess, but we would be surprised to see the chip go any lower in the coming months. At £279, it's an excellent deal, and a terrific response to recent AMD price cuts. Core i5-13600K or Ryzen 5 7600X? Either is a fine choice right now.