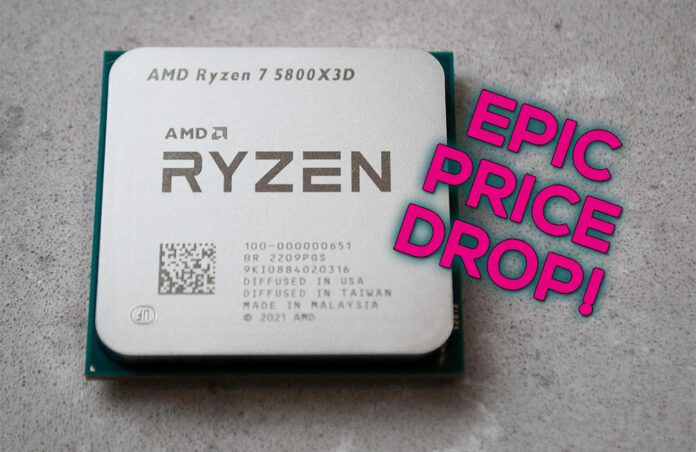 AMD Ryzen 7 5800X3D
---
"The AMD Ryzen 7 5800X3D is the first desktop processor with stacked L3 cache, delivering unmatched 96MB of L3 cache paired with incredibly fast cores to create the world's fastest gaming desktop processor."
We earn a commission if you make a purchase, at no additional cost to you.
It's no secret that AMD's all-singing, all-dancing Ryzen 7000 Series is off to a stuttering start, and there are good reasons for sluggish sales. Intel Raptor Lake is a thorn in Zen 4's side, a cost of living crisis doesn't help, and there's serious threat from within, too, as AMD's last-generation processors continue to be available at enticing price points.
For enthusiast gamers, the pick of the bunch right now has to be the Ryzen 7 5800X3D. Introduced to critical acclaim back in April 2022, the world's first desktop processor outfitted with 3D V-Cache technology delivers a meaty framerate uplift and is currently available for $322 across the pond and £302 here in the UK. That's a 25 per cent reduction over RRP.
The performance bump is so impressive in certain games that 5800X3D can quite easily leapfrog high-end chips from the latest generation. It remains a processor to be reckoned with, and given the cost of current-gen parts, 5000 Series remains immensely attractive.
A major upside to last year's chip is that it slots easily into widely available AM4 motherboards. There's no need to splurge on a new board or costly DDR5 memory, and unlike flagship 7950X3D, there's only one CCD, so you can rest assured the extra cache is performing optimally at all times. 5800X3D just works.
One caveat for users seeking a drop-in upgrade is that other AMD Ryzen 5000 Series chips may offer broader appeal if gaming isn't your primary activity. The 12-core, 24-thread Ryzen 9 5900X is another mighty impressive CPU, whose price has also plummeted to a new low of $310/£310. A great deal and a tempting upgrade.
Don't fancy shelling out £300? Don't blame you, so we encourage you to enter our worldwide competition to win a $699/£699 AMD Ryzen 9 7950X3D.