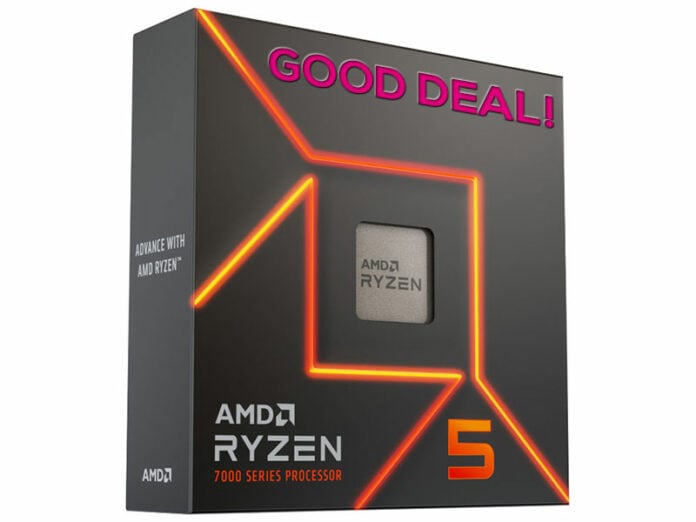 Graphics card pricing may still be out of whack, but there are good deals to be had when building a new PC.
Fierce competition on the CPU front has resulted in AMD and Intel jostling for position, and it is the former's AM5 platform that has benefited most. More affordable motherboards are steadily filtering through, DDR5 memory – a requisite for AM5 – has dropped to its lowest price ever, and the cherry on top, Ryzen 7000 Series CPUs are keen to undercut the nearest Intel equivalent.
That means price cuts across the board, and right now, mainstream Ryzen 5 7600X is particularly tempting. Down to £220 / $240 at Amazon, the latest-generation chip touts six cores and 12 threads in a 105W power envelope. AMD typically doesn't stray from such targets, meaning power consumption and temperatures will be kept in check, and yet the chip's base and boost clocks of 4.7GHz and 5.3GHz, respectively, bode well for gaming.
There's no cooler in the box, so bear that in mind, however you do get basic AMD Radeon onboard graphics. Don't expect much in terms of high-quality gaming, but the IGP may well tide you over until discrete cards make sense.
AMD Ryzen 5 7600X
---
"AMD Ryzen 5 7600X is a desktop gaming processor built for intense gaming action that comes with 6 CPU cores and a base clock speed of 4.7GHz."
We earn a commission if you make a purchase, at no additional cost to you.
Ironically, Ryzen 5 7600X struggled to make waves in our original review due to inflated launch pricing. Back in 2022, we described the chip as "a more futureproof outlook than its rival," with the caveat that "AMD simply needs to lop some cash off for entry-level Ryzen 7000 Series to make implicit sense. $249 ought to do it," we said. You don't ask, you don't get.