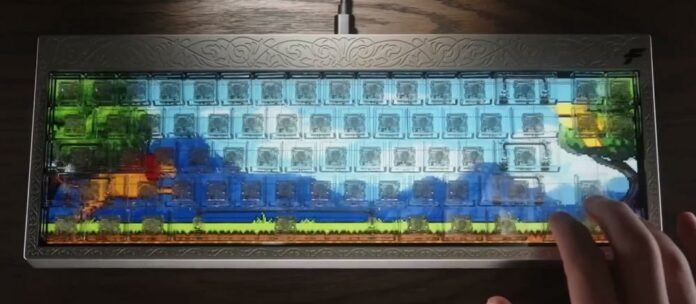 Finalmouse, maker of lightweight mice, has announced a striking keyboard featuring a screen beneath its keycaps, shining multiple effects customisable by the user.
The Centerpiece is a 65 per cent-format keyboard that retains arrow keys but ditches the Numpad and Function row. Its frame is made of CNC-engraved aluminium adorned with some beautiful patterns. But the centrepiece (pun intended) is its integrated LCD panel that's used to project multiple-coloured skins – some are even interactive – powered by Unreal Engine 5. You can store up to three skins and switch between them with a click of a button.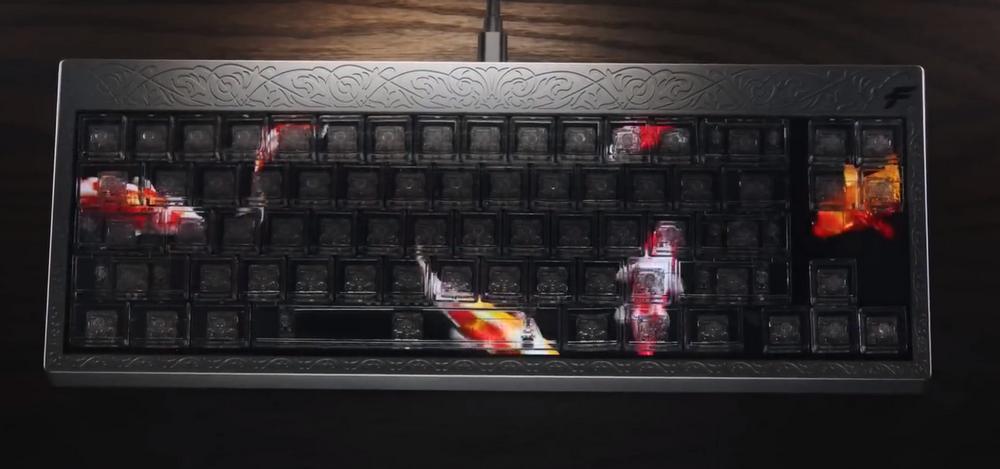 Seeing what is going on below each key, the brand uses fully transparent caps. Obviously, transparent keycaps mean no text on them, so you better know the layout of the keyboard, right? Well, no, there is a catch. For those unfamiliar with this layout, Finalmouse printed small black legends on the front of each key in a way not to block or disturb the effect displayed below, while still being visible if you look closely enough.
The Centerpiece houses custom linear mechanical switches codeveloped with Gateron – inspired by the Gateron BlackInk switches. For those interested, Finalmouse has also announced future availability of hall-effect analogue switches. Users can set their preferred actuation and release points, all the while enjoying fast 8KHz scanning for fast keystroke detection. There is no word about the polling rates, though, but it should be at least 1KHz, preferably 4KHz, to take more advantage of the quick scanning.
The Centerpiece is plug and play using a USB-C cable, and importantly enough, carries its own CPU and GPU to power the display. Brightness can be adjusted using a dedicated knob, so rest assured that all your computer resources are targeted towards active tasks.
More skins and effects are available through Finalmouse Steam App, and if you fancy being a designer, you can submit them for money. These skins can also be traded between friends via Steam – we assume something like Steam card trading.
Now, as for pricing, the Finalmouse Centerpiece will set you back a whopping $349, available in early 2023. A hefty price indeed, but for such a unique piece it may be worth it for some, especially when 'normal' keyboards are already costing above $250 at the high end.