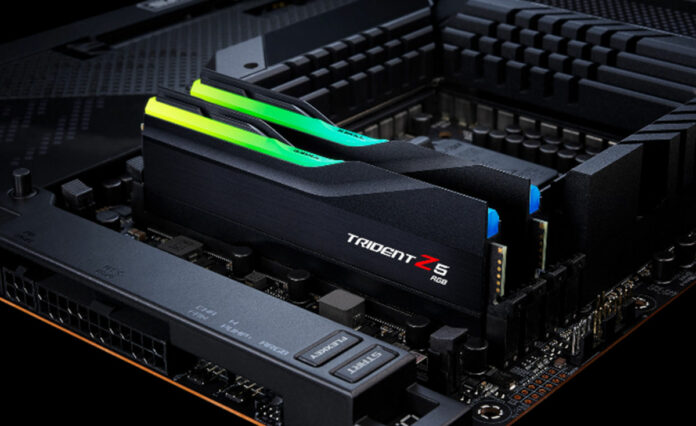 Memory manufacturer G.Skill reveals a new 64GB kit achieving high clocks while staying at reasonable latency.
Joining the Trident Z5 family, the DDR5-6000 CL30 64GB (2x32GB) offering is a dual-channel kit featuring high-density 32GB sticks clocked at blistering 6,000MT/s, all while having 30-40-40-96 (CL, tRCD, tRP, tRAS) timings.
For reference, some of the fastest kits available for purchase now are 6,400MT/s 32-39-39-102. This one is not far from the top with a bit quicker CL timing. But as all things are in this world, giving numbers in a vacuum doesn't mean anything. To find the real speed of your RAM, you must look at the entire picture. Speed in MHz or MT/s, timings CL, tRCD, tRP, tRAS, and the number of signals per clock cycle (SDR, DDR, QDR).
G.Skill has validated this kit at its rated speeds on an Intel Core i7-12700K processor paired to an Asus ROG Maximus Z690 Hero motherboard. See picture above.
The DDR5-6000 CL30 64GB (2x32GB) Trident Z5 RGB series memory will be available in Q2 2022, via G.Skill's worldwide distribution partners. No current estimate on pricing, however.