Taiwanese manufacturer G.Skill, best known for high-speed consumer memory, is broadening its horizons with an entirely new range of DDR5 kits aimed squarely at workstation systems.
Dubbed Zeta R5, the R-DIMM modules tout familiar 16GB and 32GB capacities – newer 24GB and 48GB tech hasn't yet made the transition – and are intended for use alongside Intel Xeon 'Sapphire Rapids' processors on a W790 platform.
G.Skill's quickest kit offers 128GB (8x16GB) of memory at DDR5-6400 with 32-39-39-102 timings. The octo-channel configuration is said to deliver read and write memory bandwidth of 303GB/s and 227GB/s, respectively, when paired with an Intel Xeon W9-3495X processor, offering huge attraction to bandwidth-sensitive workloads such as 3D rendering and scientific computing.
Larger 256GB (8x32GB) kits are available at DDR5-6000 and DDR5-5600 speeds, but there's no getting away from G.Skill's core beliefs. Performance is the name of the game, and the firm is keen to tap into the overclocking potential of Intel's latest platform.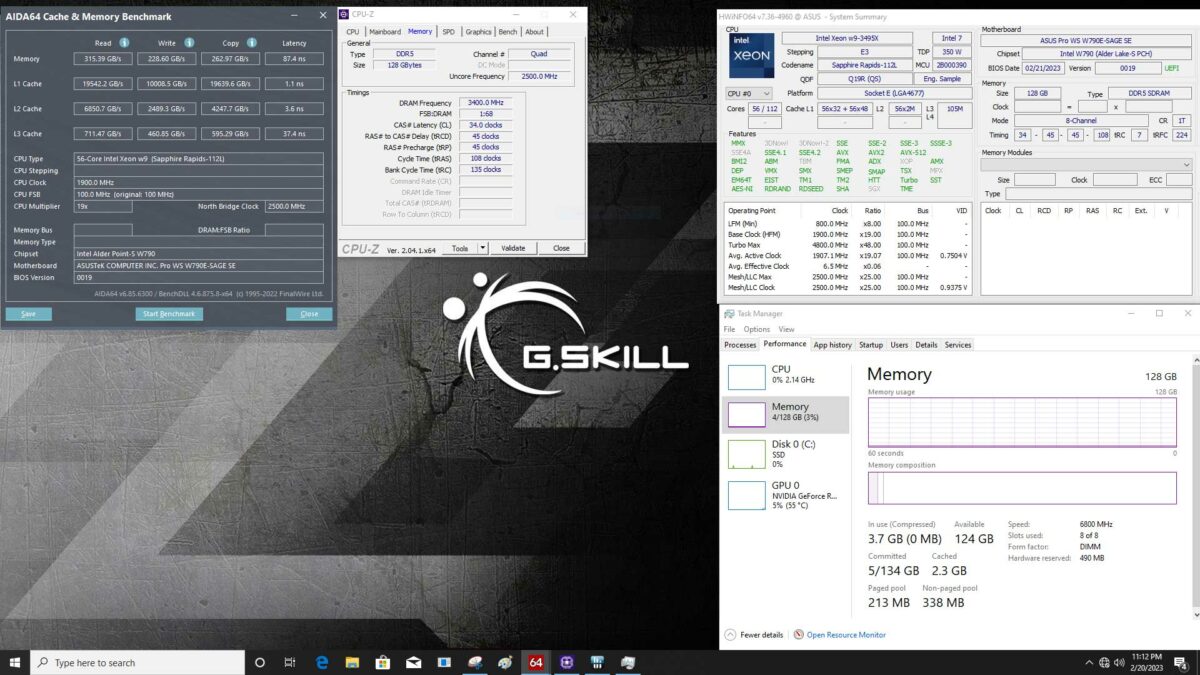 Equipped with XMP 3.0 profiles, the Zeta R5 series allow for one-click overclocking in system BIOS. Always keen to show off the top-line potential, G.Skill demoed an eight-channel setup overclocked to DDR5-6800 with loosened 34-45-45-108 timings on an Asus Pro WS W790E-SAGE SE motherboard outfitted with the same Intel Xeon W9-3495X processor. The end result? A whopping 315GB/s of read bandwidth.
Not to be confused with ECC memory, Registered DIMMs (R-DIMM) place a hardware register between the DRAM modules and system memory controller, helping stability and improving signal integrity.
G.Skill will be bringing the Zeta R5 Series to market in over a dozen unique flavours, as summarised in the table below. Availability is expected to begin starting March 2023, however pricing is yet to be confirmed.