Jump to: Performance | Overclocking | Conclusion
Desktop DDR5 memory received further impetus this year as AMD moved the premier Ryzen 7000 Series and AM5 platform exclusively over to the fastest RAM standard. Intel, of course, is already there with 12th Gen and 13th Gen Core processors and associated chipsets.
As DDR5 hits prime time in 2023, enthusiast memory manufacturers rightfully want in on the high-speed action. No one is more vociferous in extolling the virtues of fast RAM than G.Skill, so it's natural we take a look at a high-end kit boasting JEDEC-busting speeds of 6,800MT/s. Enter the £300 Trident Z5 RGB 32GB twin-module pack.
G.Skill has a long history in super-long names. This kit is no exception, as it's officially known as the, wait for it, F5-6800J3445G16GX2-TZ5RK. Quite the mouthful.
Though AMD has made strides with EXPO one-click memory, G.Skill only offers 6000MT/s-plus kits with Intel XMP certification. Our 6,800MT/s set is considerably faster than the 5,600MT/s specifications attached to 13th Gen Core processors but isn't the quickest in G.Skill's burgeoning stable. You see, the Trident Z5 RGB range cranks up the MT/s by offering models with 7,200, 7,600, 7,800 and even 8,000MT/s speeds. In short, these are crème de la crème modules.
Trident Z5 adopts a two-textured approach to design. The central, shinier brushed-aluminium section juxtaposes well against the matt finish on the upper and lower sections. Build quality is excellent, but be mindful of sharp edges defining both corners, especially when pushing modules down into slots. Your fingers will thank us for this observation.
If the black-on-black colour scheme doesn't fit in well with your build, G.Skill offers all Trident Z5 RGB kits with a silver finish on all but the middle black strip.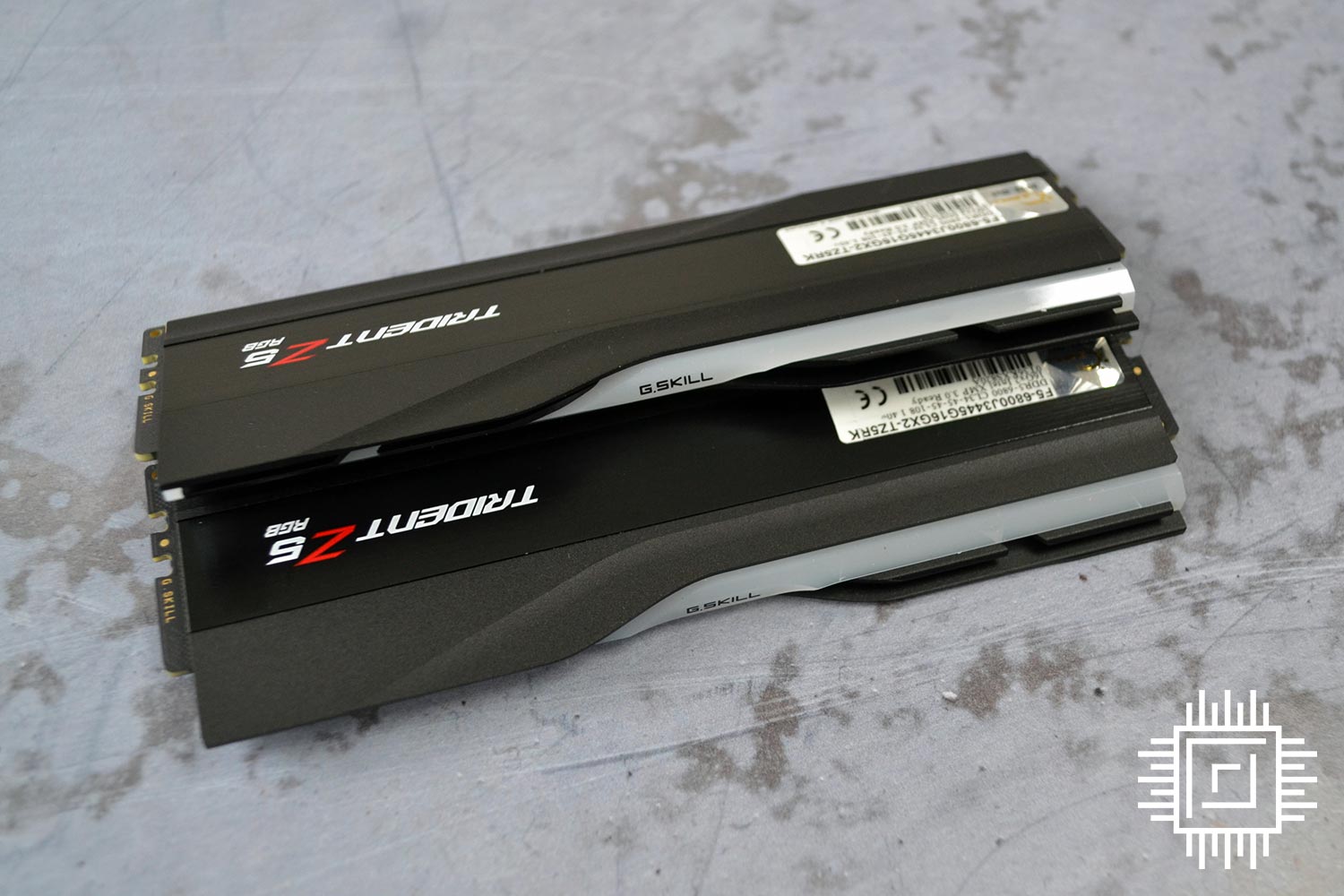 These 44mm-tall Trident Z5 modules arrived with 34-45-45-108 timings at the specified 6,800MT/s speed. Pushing way past normal frequencies, G.Skill needs to jack the voltage up from a DDR5 default 1.1V to 1.4V in this instance. Achieving such lofty timings and speeds is remarkably straightforward in all XMP 3.0-supporting motherboards – a couple of clicks in BIOS is all it takes.
On first glance, it may appear the modules are taller on one side than the other; that is not true, as the tail-shaped aluminium heatspreader is identically positioned on the front and back. The net effect is only 60 per cent or so of the diffused RGB lightbar is visible when looking directly side on.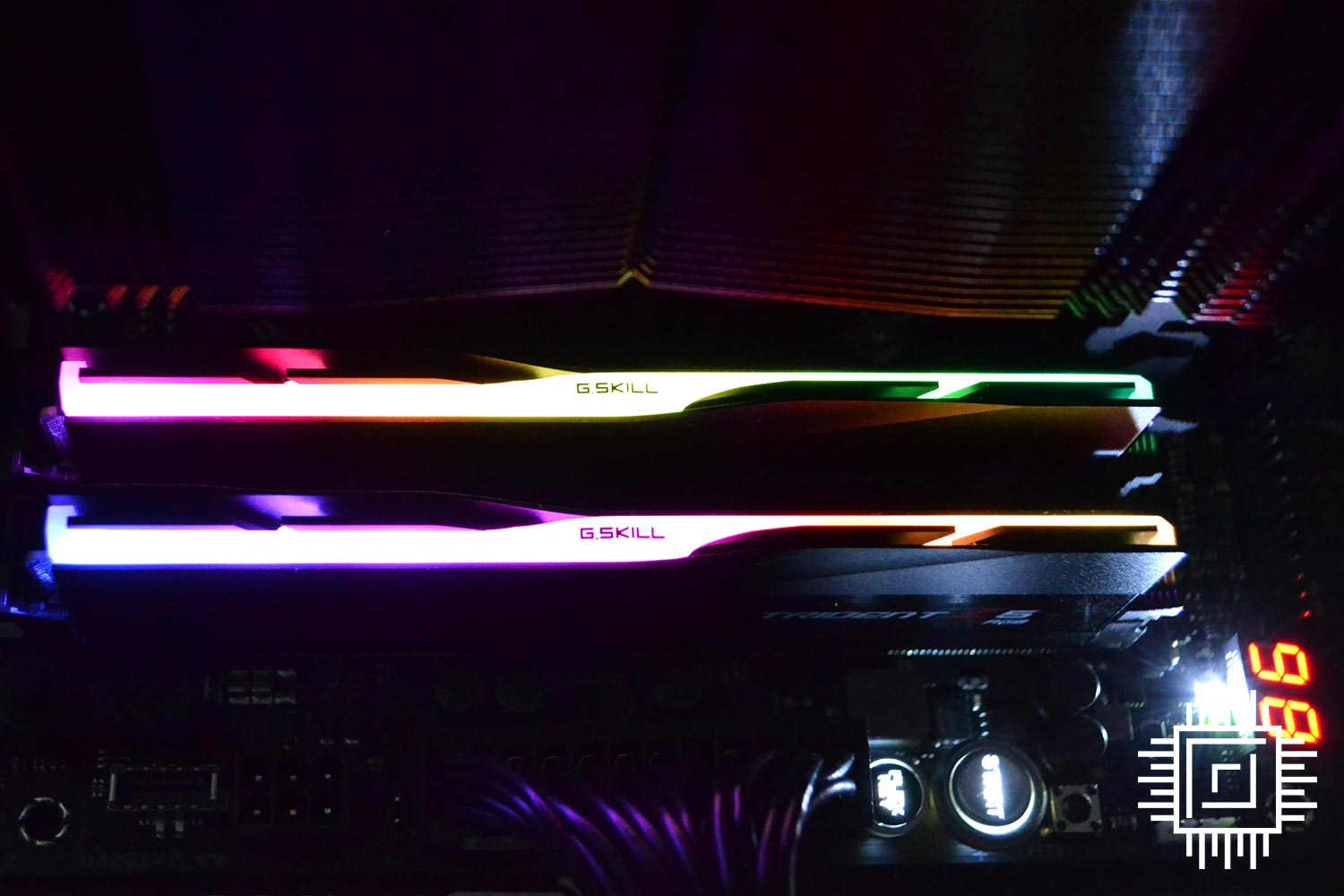 G.Skill devotes plenty of real estate to chunky heatspreaders, so much so that the lightbar's thickness appears reduced compared to previous modules. That said, the lighting is even and bright – easily controllable by the big-four motherboard manufacturers' RGB systems – and no hotspots are visible. As an aside, the QVL list is useful in identifying guaranteed compatibility with a range of motherboards from the likes of ASRock, Asus and MSI.

Show your support for impartial Club386 reviews
Club386 takes great pride in providing in-depth, high-quality reviews built on honest analysis and sage buying advice. As an independent publication, free from shareholder or commercial influence, we are committed to maintaining the standards our readers expect.
To help support our work, please consider making a donation via our Patreon channel.
Performance
The only question that needs answering is whether it's worth investing in DDR5 memory running faster than the officially supported processor speeds. We know 13th Gen Core handles 5,600MT/s by default, so increasing to a lofty 6,800MT/s ought to make a difference on the most powerful chips.
Benchmarks are run on an Asus ROG Maximus Z790 Hero motherboard (0703 BIOS) housing an Intel Core i9-13900K CPU and Nvidia GeForce RTX 3080 FE graphics card (526.98 drivers).
Benchmark
Trident Z5 RGB
@ 5600MT/s CL34
Trident Z5 RGB
@ 6800MT/s CL34
Improvement (%)
AIDA Read (MB/s)
88,423
103,290
16.8
AIDA Write (MB/s)
78,111
90,694
16.1
AIDA Copy (MB/s)
80,070
94,118
17.5
AIDA Latency (ns)
76.2
68.1
10.6
Geekbench MT (score)
25,139
26,398
5.0
Cinebench MT (score)
38,224
38,371
0.4
7-zip (MIPS)
198,398
207,427
2.5
Blender (score)
577.235
588.673
2.0
y-cruncher (time)
136.071
126.816
6.8
PCMark 10 (score)
9,512
9,634
1.3
3DMark TS (score)
17,923
18,049
0.7
Endwalker FHD (FPS)
241.0
245.6
1.9
Far Cry 6 FHD (FPS)
129
130
0.8
Forza Horizon 5 (FPS)
130
131
0.8
AC Valhalla (FPS)
136
140
2.9
TC: Rainbow 6 (FPS)
273
275
0.7
Remember all we've changed in the premium Intel setup is memory speed. It is entirely expected that synthetic analysis numbers improve by a significant degree, and AIDA tests duly confirm the 15-20 per cent uptick by going from 5,600MT/s to 6,800MT/s.
Application performance improvement is dependent upon how sensitive it is to changes in the memory subsystem.

As a test to underline the benefits of faster memory, calculating the constant Pi to 5m places takes some beating. A simple change from DDR5-5600 to DDR5-6800 results in a near-10-second advantage when all other parameters are left the same. Impressive.
As every benchmark gains either a little or lot from faster memory, high-speed DDR5 makes most sense when paired with the best 13th Gen Core chip available. Doing so exposes the memory subsystem to a greater degree, as it fights to keep the cores and threads fully saturated.
The numbers paint a clear picture insofar as anyone contemplating a high-end Raptor Lake or Zen 4 chip is leaving performance on the table when using official memory specifications of DDR5-5600 and DDR5-5200, respectively.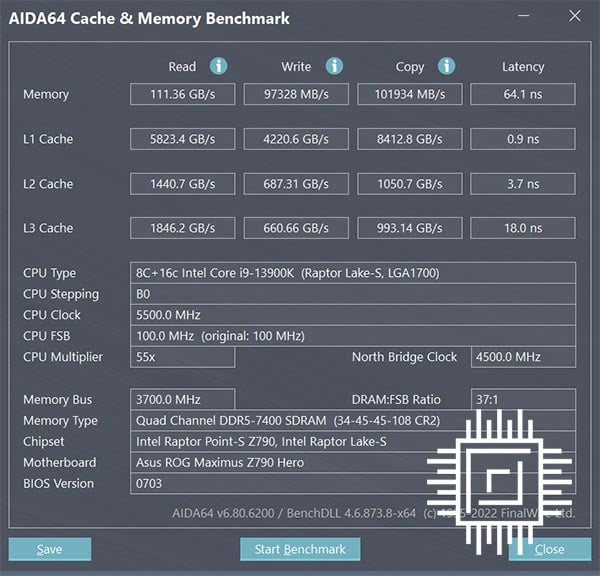 Thought there was nothing more in the tank? Think again. Keeping to the shipping latencies and voltage, overclocking was done by increasing the memory bus speed until the system could no longer complete benchmarks flawlessly. DDR5-7400 certainly isn't shabby at all, suggesting the ultra-high-speed Trident Z5 RGB family shares memory ICs across the range.
Conclusion
Getting the most out of either leading desktop platform requires DDR5 memory. Though both AMD and Intel have added further on-chip cache to processors, the case for high-speed DDR5 can still be made in numerous applications. G.Skill jumps on this fact by releasing high-speed Trident Z5 RGB memory in speeds all the way up to a stratospheric 8,000MT/s.
Not aiming quite as high, the 6,800MT/s kit is a fine performer in its own right. Offering handy performance upticks over standard 5,600MT/s memory, anyone contemplating a top-notch build this winter should do themselves a favour and opt for speedy RAM.
A good-looking kit befitting a quality PC, the G.Skill Trident Z5 RGB deserves serious attention for deep-walleted enthusiasts.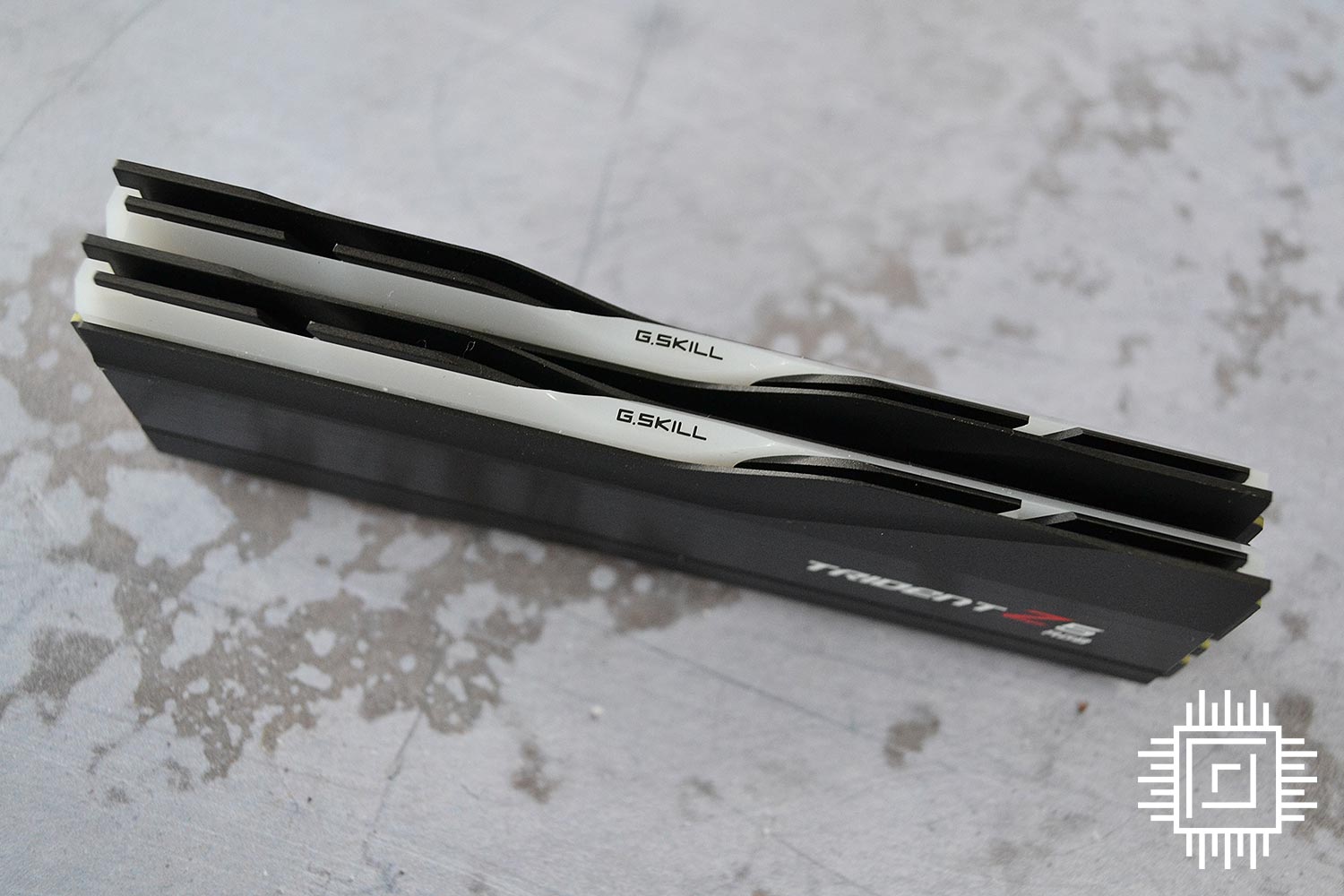 G.Skill Trident Z5 RGB DDR5-6800 32GB
Verdict: Those in need of fast DDR5 memory need to look no further.
---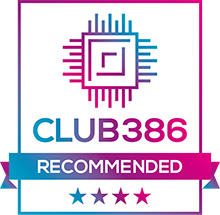 Pros
Great looks
Useful performance gains
Tasty RGB
Overclocking potential
Cons
Price premium
No EXPO variant
---
Club386 may earn an affiliate commission when you purchase products through links on our site. This helps keep our content free for all.
Rest assured, our buying advice will forever remain impartial and unbiased.