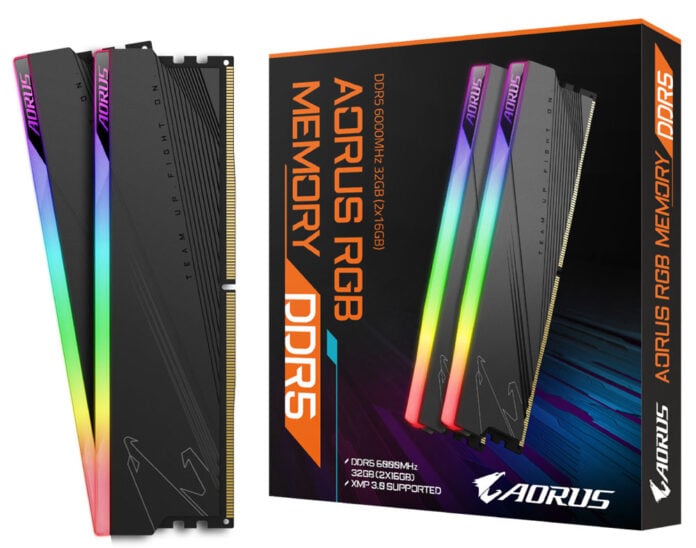 Intel 12th Gen Core Alder Lake CPUs are novel insofar as they support DDR5 memory on the desktop. Offering higher bandwidth, albeit at looser latencies, DDR5 will continue to build market share. AMD is also set to offer DDR5 compatibility with Ryzen 7000 Series Zen 4 CPUs and associated AM5 platform released in the second half of this year.
Getting ahead of the curve is Aorus, known to many enthusiasts as the high-performance component arm of industry behemoth Gigabyte. To that end, Aorus has announced a DDR5-6000 32GB (2x16GB) kit imbued with 40-40-40-76 timings.
Outfitted with 'copper-aluminum composite heat spreaders with nano carbon coating,' Aorus jacks up the standard 1.1V to 1.35V in this instance. This is typical for any memory running at speeds in excess of 5,000MT/s.

Eight LEDs reside underneath each diffused light bar, and users can tinker with colours and lighting flow via Gigabyte's overarching Fusion app. Subjectively speaking, these are some of the prettiest-looking modules we've seen, and their 40mm height shouldn't be a major problem with most coolers.
As DDR5 continues to be in constraint, pricing is uncertain. Knowing that a regular 32GB kit fetches £250 at retail and almost twice as much on auction sites, we expect supply to be extremely limited for these Aorus modules.
They are arguably best paired with Gigabyte's highest-end Z690 boards, of which the Aorus Xtreme WaterForce is currently top dog. Heck, if you can afford £1,700 for a motherboard, you can probably stretch to the £500-plus for these modules.